Your girls are back with the tea (apologies, we had to). This time around, we're sharing our unfiltered thoughts on Cha Tuk Chak!
Cha Tuk Chak burst into the milk tea scene in Manila just two years ago, but it's quickly become a go-to place for if you want that authentic Thai flavor. Thai tea is usually made up of three key ingredients: black tea, condensed milk, and ice, but when it started getting picked up by Western taste buds, people started adding food coloring to make it more ~appealing~.
People were talking, and we had to find out what all the hype is about. For this review, we ordered two of Cha Tuk Chak's bestsellers (according to their server at the SM North City Sky Garden branch, hello!): the Cha Yen (original) and the Koko Yen (dark chocolate flavored). She also recommended the Nom Yen, apparently a strawberry-flavored version, but we passed for now.

ADVERTISMENT - CONTINUE READING BELOW ↓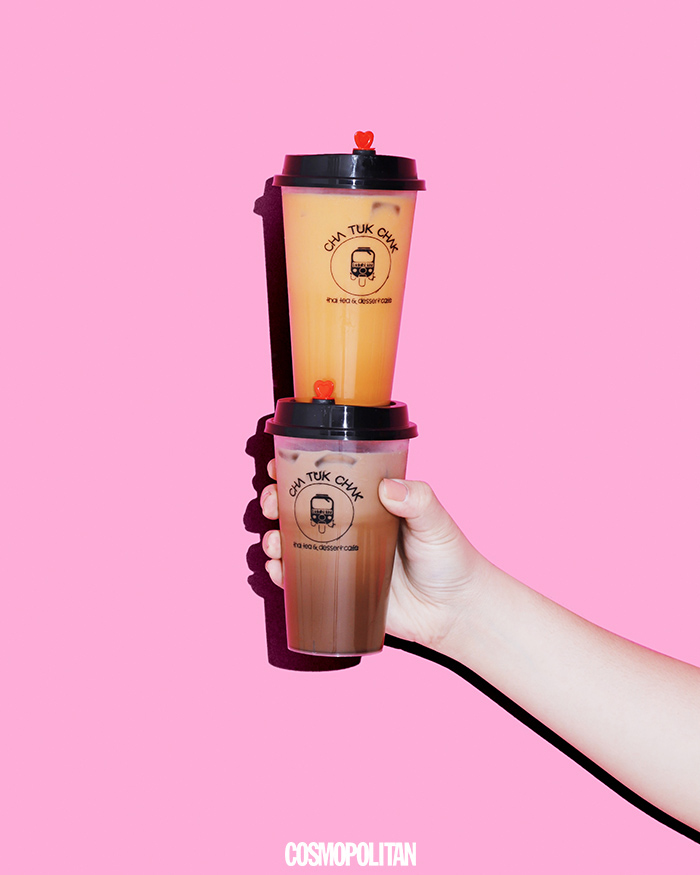 An Honest Review Of Cha Tuk Chak:
Ysa: I've been to Thailand twice, and both times, I drank my body weight in Thai coffee and milk tea. For me, it's just one of those things that has to be done whenever I'm there. Another thing you have to know before we get into the good stuff is that I used to prefer my drinks to be diabetes-inducing sweet, but I've grown to be more dependent on strong coffee and tea (I have the bitterness of adulthood to thank for this). In general, I expect a lot from Thai teas—even from brands that attempt to mimic the flavor.
When I heard about Cha Tuk Chak, I literally only got good reviews. Between the two bestsellers, I stuck with the OG flavor, Cha Yen. While ordering, I was told it would take 10 to 15 minutes to brew the tea—and I was elated. BREW THE TEA. REAL TEA. NOT POWDERED SHIT. Or if it is, they hid it *really* well. Praise be, Cha Tuk Chak. And it was worth the wait. I felt like I was walking around Bangkok again. Not sweet. Authentic tea flavor. Reasonably priced.
The packaging is similar to Macao Imperial Tea's, which makes me think they're from the same supplier (just a theory, not a claim, don't sue me). But if you read our review, then you know that I am a fan of how sturdy it is. It also has that cute, red stopper; for Cha Tuk Chak, it was a heart naman. And it really did make it easier for me to have sips of the Cha Yen, which is all milk tea (no pearls).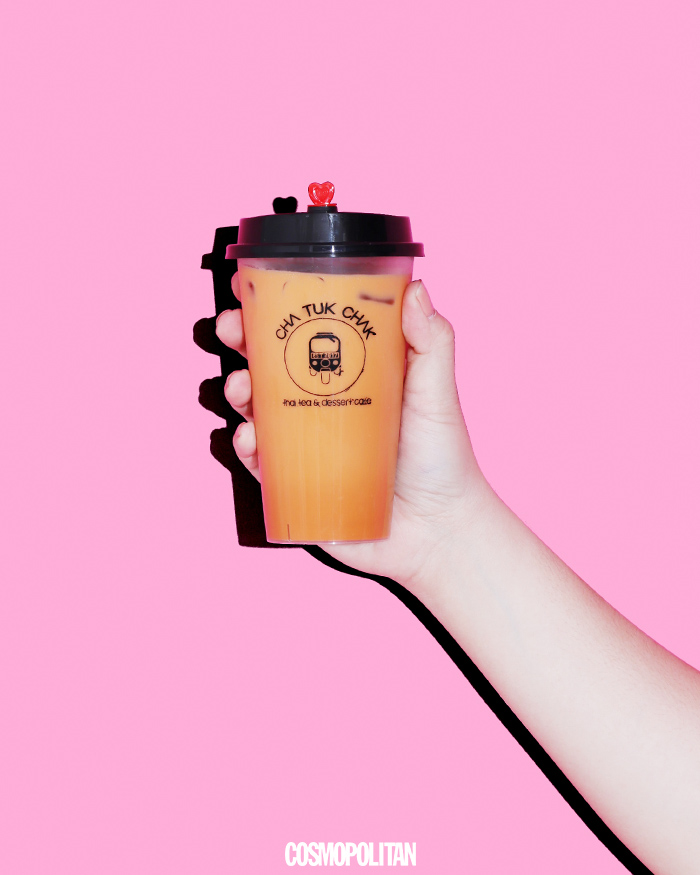 Lou: Let me start by saying that I will never get tired of milk tea. It's a drink that I truly enjoy, especially when paired with a savory snack or meal. I'm more into Taiwanese milk tea though, so I didn't really set expectations when it came down to the Thai milk tea (Cha Yen) from Cha Tuk Chak. Overall, the drink was pretty good! It was creamy but it felt light at the same time. The consistency was just right. It definitely had that smooth, silky, and milky taste. In terms of sugar level, this drink wasn't too sweet. And that's okay! You could taste the spice with every sip and even without pearls, I think this drink would be good enough on its own.
ADVERTISMENT - CONTINUE READING BELOW ↓
What I liked most about Cha Tuk Chak is that it tasted authentic. To be honest, this drink tasted similar to the ones I've had in Bangkok. I could tell that the tea really is tea. My officemate who bought the drinks even mentioned that when she was ordering, Cha Tuk Chak really took their time in brewing the tea. I'm glad that it's not the type of drink that just relies on flavored powder. No rip offs here. I look forward to trying the other choices on their menu! I would buy this drink again. The signature Thai milk tea taste is legit and my taste buds are incredibly grateful.
Jikka: This isn't my first time to try something from Cha Tuk Chak, but this is my first time to try their Koko Yen milk tea—their gourmet dark chocolate Thai milk tea. I remember ordering the Cha Khiao (which is their Jasmine aroma Thai green milk tea) and thinking it was just okay. It was light and "flowery" (if that makes sense), just like your usual Jasmine milk tea. The Koko Yen, however, is MEMORABLE. It is probably the richest and creamiest chocolate-flavored milk tea I've ever had. Think cafe hot chocolate kind of richness, but icy with a hint of tea. I'm also not a fan of ~sweet~ milk tea (really, my go-to sweetness level is usually just 25 to 50 percent), so I love that Cha Tuk Chak's Koko Yen doesn't compensate for the "chocolate" flavor by simply adding more sugar. Unlike other milk tea brands where you can easily confuse their chocolate flavor with their caramel and dark chocolate offerings, the same can't be said for this particular drink. It is dark, creamy, and distinctly chocolate. It's the perfect summer drink for chocolate lovers. 10/10 would order again.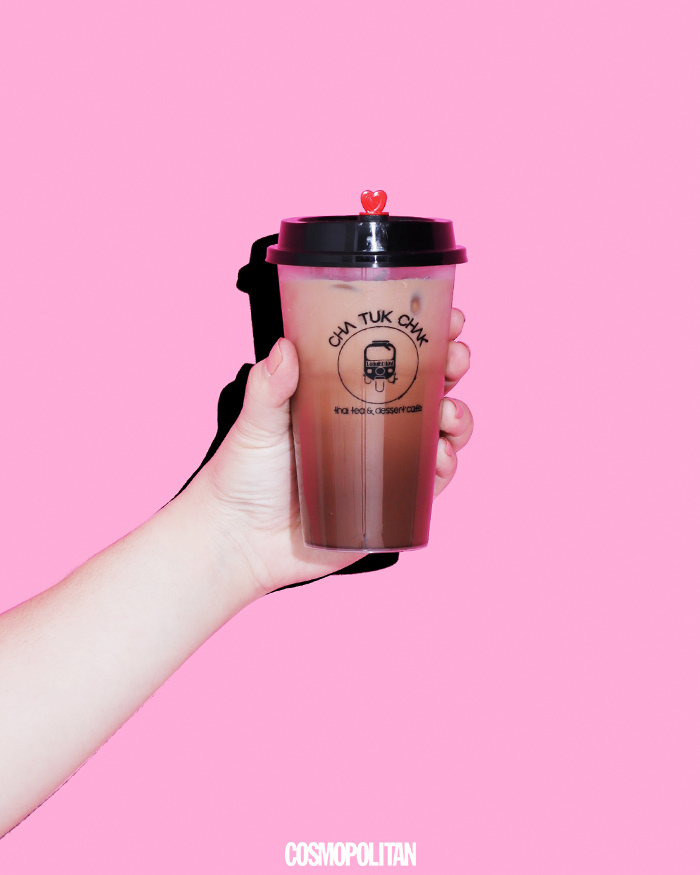 Marj: Full disclosure: I'm not a huge fan of milk tea. I like chocolate, though, because who doesn't, right? So when I was offered to try Cha Tuk Chak's chocolate-flavored Thai milk tea (Koko Yen) for a quick review, I figured, why not? It took one sip for me to notice that rich chocolatey taste, which I personally prefer; but if you're an OG milk tea fan, I'd say this probably should not be at the top of your list. The chocolate flavor is too strong that I barely tasted the milk tea. It also had this powdery taste that reminded me of the instant chocolate milk drink I used to make as a child—just add water and sugar! Overall, I don't think I'd spend P110 for another tall cup of this chocolate-flavored Thai milk tea... although I still would consider trying what other bestsellers their store has to offer!
ADVERTISMENT - CONTINUE READING BELOW ↓
TL; DR: It's worth the hype!
Check out our other milk tea reviews here: