There are a lot of desserts you can choose to indulge in, from over-the-top cakes to fancy layered tortes. But somehow, we always find ourselves going back to the humble chocolate chip cookie. At its core, they're made with simple pantry ingredients and are one of the easier things you can bake but a number of bakers around the Metro have proven that there's more to chocolate chip cookies than their basic form. And while different versions go by different styles, some totally stand out and prove to be crave-worthy long after you've emptied the cookie jar. Here, we round up our favorite chocolate chip cookies in the Metro that you can get delivered right to your doorstep.
Check out these excellent chocolate chip cookies available for delivery:
Mo' Cookies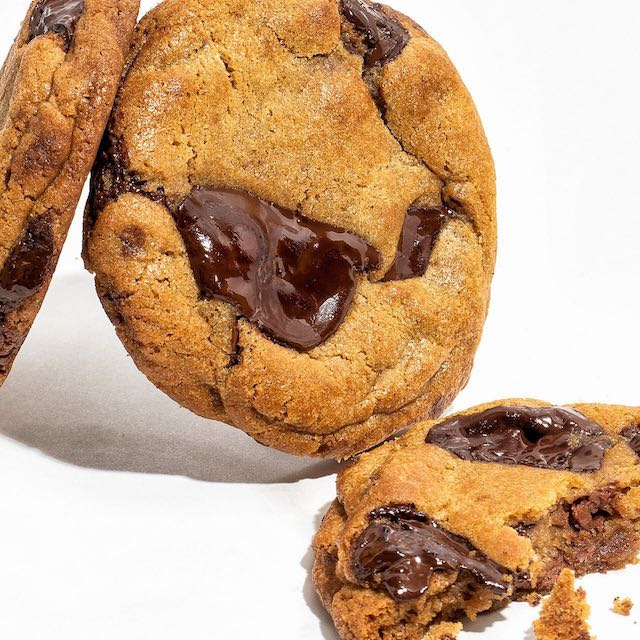 ADVERTISMENT - CONTINUE READING BELOW ↓
The Moment Group's foray into cookie-dom has won us (and many other cookie monsters) over with their thick, larger-than-your-palm cookies. Their The Chocolate Chip (P135) is our favorite chocolate chip cookie in Manila, thanks to its crisp edges, chewy but sturdy interior, and gooey pools of chocolate in every bite. They give you the perfect ratio of chocolate to cookie, too, such that no one element overpowers the other. Order via the Moment Group's website, or call their shops directly for same-day orders.
For orders, visit The Moment Group's delivery website or see a list of open branches and their contact numbers.
Hella Good Cookies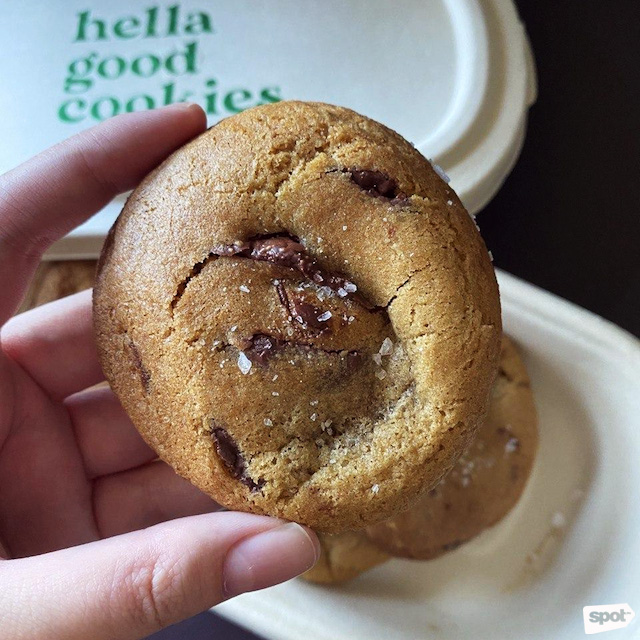 Simply put, these Sea Salt Chocolate Chunk Cookies (P295/pack of six) absolutely live up to their name of being, well, hella good. Each cookie's palm-sized, half-inch thick body holds a blend of French and Filipino chocolates that melt in your mouth as you take a bite, and the finishing touch of Maldon sea salt keeps you up on your toes wanting more. They're committed to being good to the environment, too—their IG-worthy packaging is made from sugarcane which is hella (we just had to) sustainable. 
For orders, check out this order form. You can also check out Hella Good Cookies' Instagram page.
Old Boy Bakery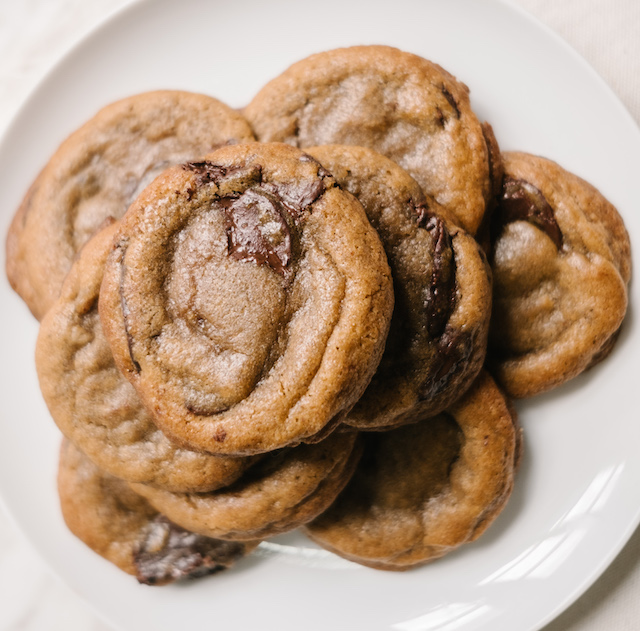 ADVERTISMENT - CONTINUE READING BELOW ↓
Old Boy Bakery is the place to go for Chocolate Chip Cookies (P360 half-dozen, P720/dozen) that are classic and no-frills, yet superb in execution. Around two-and-a-half inches in diameter each, these cookies have plenty of chewiness and deep, toffee-like flavor, thanks to their use of a high ratio of brown to white sugar. Old Boy Bakery also shares that they employ more butter compared to most cookie recipes, which makes for an especially rich cookie balanced out with just the right amount of salt and bittersweet Belcolade dark chocolate. They take orders from Tuesdays to Thursdays with a 6:00 p.m. cut-off, and take payments via Metrobank bank deposit.
For orders, check out this form. You can also visit Old Boy Bakery's Facebook or Instagram pages.
Moloko Cookies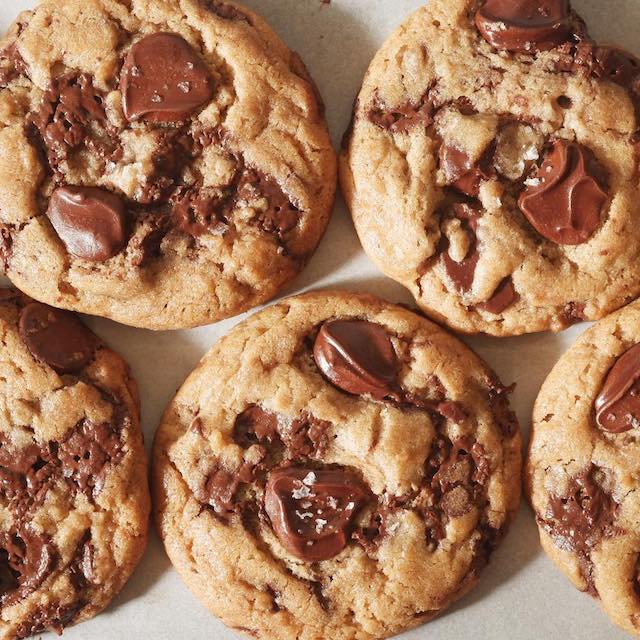 ADVERTISMENT - CONTINUE READING BELOW ↓
Moloko Cookies has a wide range of unusual offerings like the Unbirthday Cookies, or over-the-top like the 5-Chocolate Cookies, but even their basic chocolate chip variants are stellar in themselves. There's the Super Brown Butter (P530/six pieces, P980/dozen), which live up to their name with a deep, nutty undertone from browned New Zealand butter and oh-so-robust Guittard Chocolate. Like it big? Go for the NY-Style Chips n' Chunx (P570/three pieces, P1,090/six pieces), which are wonderfully thick and gooey within. You can also go local with their Malagos Classic (P480/six pieces, P910/dozen) and Auro Dark (P480/six pieces, P910/dozen), made with the Filipino bean-to-bar chocolates of their respective names.
For orders, send a message to Moloko Cookies' Facebook or Instagram pages.
Banhof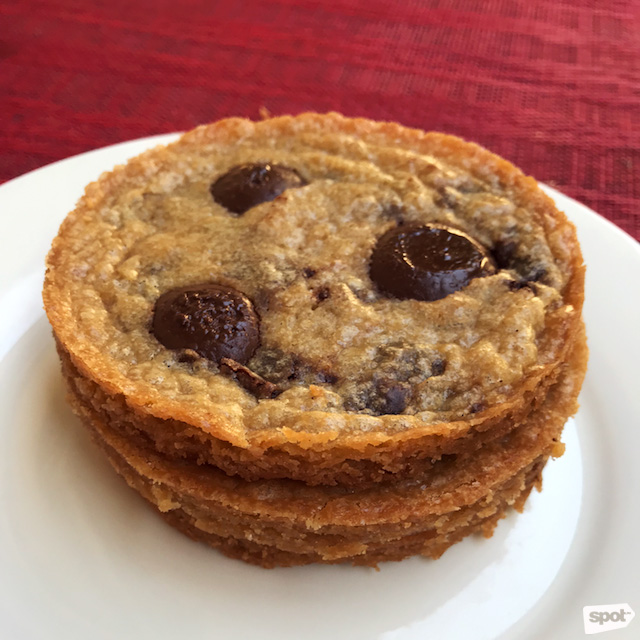 ADVERTISMENT - CONTINUE READING BELOW ↓
Banhof's take on Chocolate Chip Cookies might not look like your typical cookie, being about four inches in diameter and rather flat. But don't let that steer you away-these cookies are crispy around the edges and mega-chewy in a peculiar sturdy way we can best liken to the edges of the pan when you bake brownies. With plenty of richness from the butter and depth from the dark chocolate, they might just change the way you view chocolate chip cookies forever. 
For orders, check out this form. You can also visit Banhof's Facebook or Instagram pages.
GourmetFinds
ADVERTISMENT - CONTINUE READING BELOW ↓
This Forbes Park-based bakery was one of the first few who offered thick, New York-style cookies locally, in the form of their Chocolate Chip and Walnut Cookies (P230/box of one, P460/box of two, P920/box of four). Comparable to the famous cookies of Levain, these are hefty, hefty beasts that are bigger than your palm and about an inch thick. There's just the slightest hint of crispness around the edges before making way to a slightly doughy center that's wonderfully buttery and studded with Valrhona chocolate chips and toasted walnut chunks. Each cookie is meant to be good for sharing, but you'll want to hog it to yourself. Call or text their phone number to order.
For orders, contact 0921-762-2240. You can also check out GourmetFinds' Facebook page.
Aly's Cookie Bar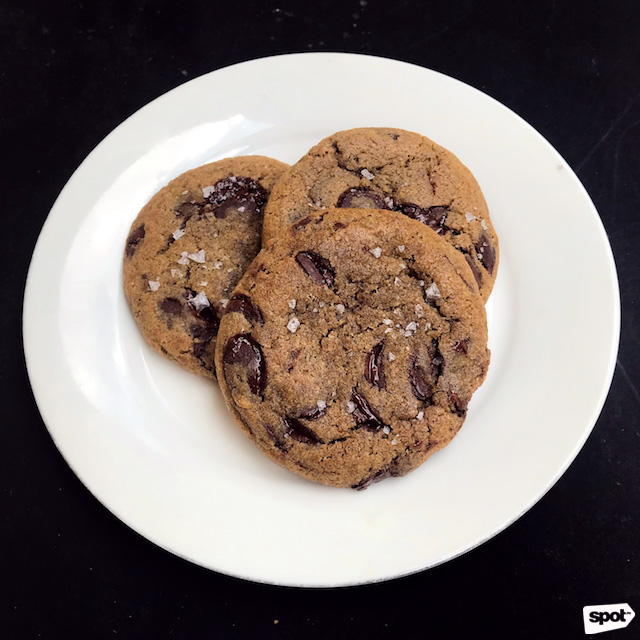 ADVERTISMENT - CONTINUE READING BELOW ↓
Cookies are generally best enjoyed the day they're made, as they have the tendency to turn dry or stale in the days that follow. But Aly's Cookie Bar's creations manage to stay moist and chewy for days, even a week, after they're baked. They're especially known for their Triple Chocolate Chunk (P450/box of six), but we're also big fans their newest creation-the sweet-and-salty Dark Chocolate Fleur de Sel (P450/box of six), which has the perfect balance of rich cookie base, dark chocolate, and sea salt. Send them a message on their Instagram page for orders, and pay via BPI or BDO bank deposit.
For orders, send a message to Aly's Cookie Bar's Facebook or Instagram pages.
Aperitif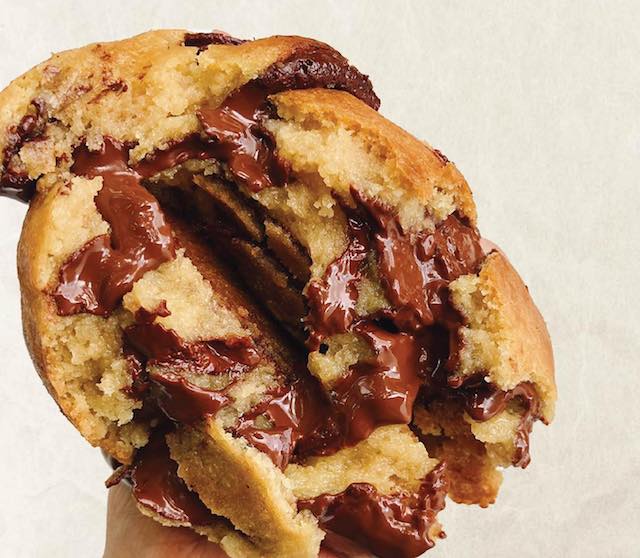 ADVERTISMENT - CONTINUE READING BELOW ↓
Like your cookies huge and appropriately thicc? Aperitif's Classic Chocolate Chip (P180/piece, P720/box of four, P1,080/box of six, P1,440/box of eight, P2,160/dozen)'s got you-trust us when we say they totally live up to what you see in the photo. The dark chocolate goes well with the chewy and gooey cookie base. It's great as is, but even better when reheated for a few minutes, which turns its decadence into overdrive. 
For orders, visit Aperitif's website. 
Amy's Oven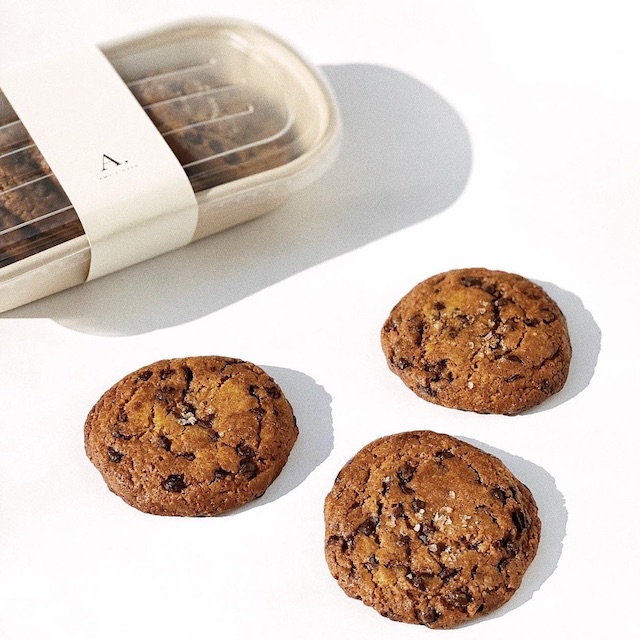 ADVERTISMENT - CONTINUE READING BELOW ↓
Amy's Oven explores the many possibilities with sourdough, employing it to make other pastries like doughnuts, babka, and even cookies. The Brown Butter Sea Salt Chocolate (P400/six, P800/dozen) is on the dense, chewy side, with a wonderfully nutty backbone thanks to the use of browned butter. The sourdough adds a mild yeasty tang somewhat comparable to that of bibingka, and it totally works with the semi-sweet chocolate and the finishing touch of sea salt. What's especially great is that it maintains its texture even the day after. You can send them a message on any of their social media accounts to order.
For orders, send a message to Amy's Oven on Facebook or Instagram.
Eric Kayser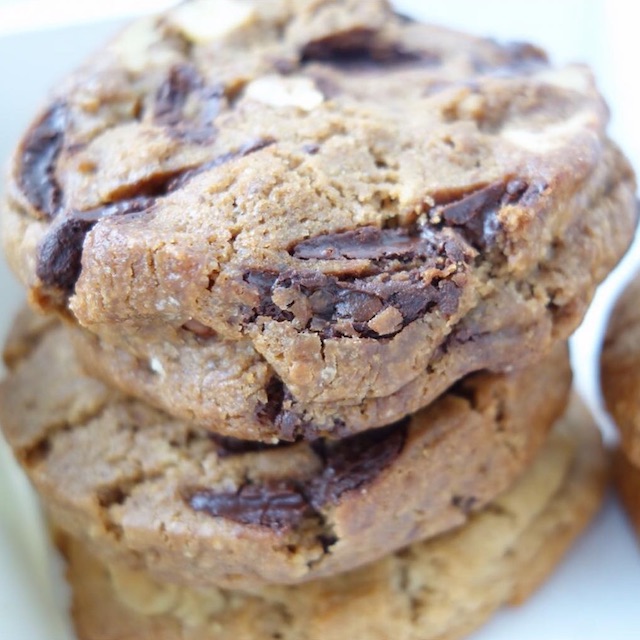 ADVERTISMENT - CONTINUE READING BELOW ↓
Eric Kayser may be best known for their baguettes and croissants, but this boulangerie also makes excellent cookies, among which is the Dark Chocolate Cookie (P120). Think of this as a chocolate chip cookie for grown-ups-with a buttery cookie base that's sturdy and crispy on the outside but slightly chewy toward the center, it's got melty chocolate that's bold and bittersweet, plus walnuts and pecan bits that balance out the cookie and keep it from being cloying. Eric Kayser delivers to selected areas in Manila and accepts payments via bank transfer and GCash.
For orders, contact 0956-799-2481.