We all have that *one* food or dish we see and immediately think, "meh." You know what I'm talking about: You aren't angry whenever it's served, but it also doesn't evoke joy or excitement, LOL. Well, that's exactly how I feel about tofu. I skip it when I'm browsing a menu, and when my parents ask if I want to try [insert some dish with tofu], I always ask, "Why?!" It's bland. The texture is unsettling. And it has no redeeming factor, imo. In fact, the only time I've ever tolerated tofu was when it was fried and buried in a sweet and sour sauce. It tasted like chicken!
But hey, I'm an adult. I know that some things just take some getting used to. I also know that compared to a lot of food, tofu is a healthier option. It's high in protein, and it "provides fats, carbs, and a wide variety of vitamins and minerals." Fun fact: According to Healthline, it generally only has 70 calories and is packed with nutrients. 
More than that, however, the real reason I'm inclined to give tofu another chance is because of all the delicious dishes I see in K-dramas. Every soup and stew they feast on have cubed tofu floating on top, and they make it look so freaking appetizing! 
Continue reading below ↓
Recommended Videos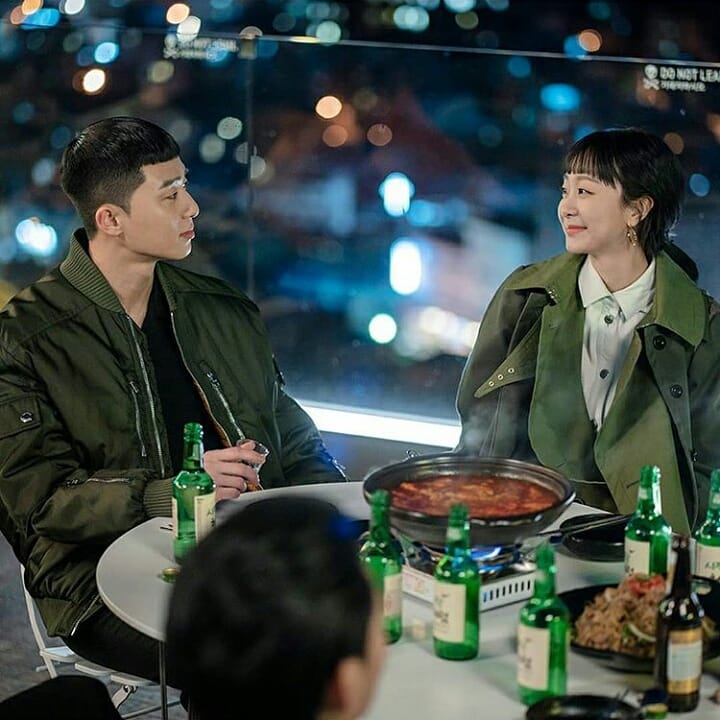 I also recently started watching Jenn Im's vlogs again, and if you're a fan, you know her "What I Eat In A Week" videos are pure heaven—especially when she whips up homey Korean meals. So I picked up a block of "firm" tofu at the grocery store and decided to give three of her easy recipes a shot. 
Let me preface this by saying that just like Jenn typically does, I made do with what was in my kitchen. Apart from the tofu, I didn't really want to spend too much money on ingredients I may not need again (or ones my parents don't regularly use when they cook). Sayang lang kasi. I also tried to stick to solo servings for each recipe 'cause what if I end up not liking what I made, 'di ba? I used one block of tofu for all of the recipes and simply divided it into three portions. 
Recipe #1: Doenjang Jjigae
Doenjang jjigae, a Korean soybean paste soup, is one of Jenn's staples; she makes it at least once a week. I can't think of any food I have to have that often, so I was naturally intrigued. Plus, the ingredients were so accessible!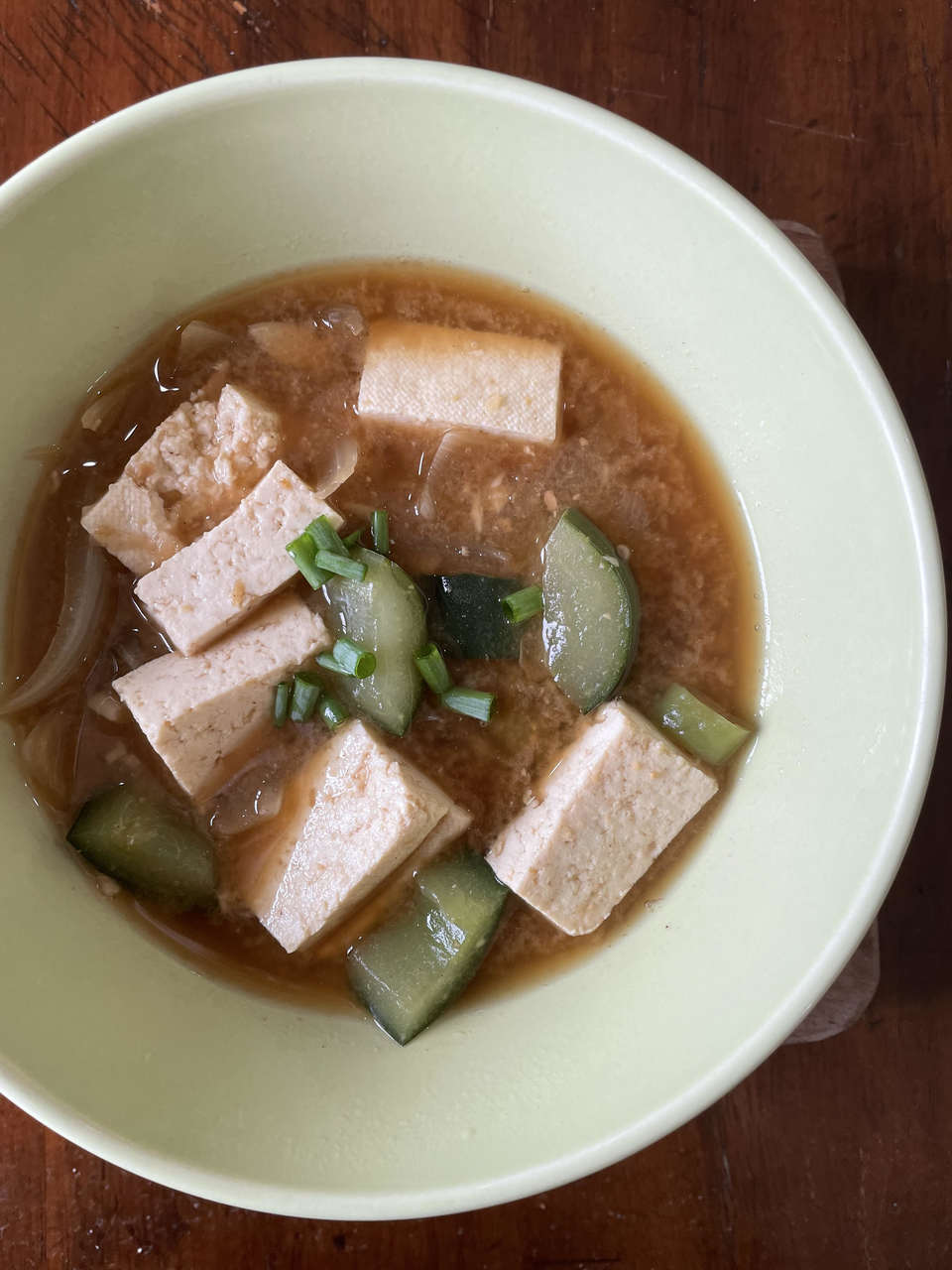 Ingredients:
Dried anchovies
1/2 Small onion
Miso paste
Potato
Zucchini
Minced garlic
Soft tofu
Green onions
Serrano pepper
How to make: 
Dice the onions into "chunky" sections. 
Fill a pot with water—Jenn eyeballs it—depending on how much soup you want, and let it boil. 
Add the anchovies and the minced garlic; this is basically the "stock". I used anchovy powder in my recipe because that's what was available to me. 
Chop the potatoes and zucchini. You can use other vegetables, so I used cucumbers instead. I decided not to add any potatoes because my parents aren't huge fans of it unless it's fried, so baka masayang. 
Take the moisture out of your tofu. Jenn prefers her tofu soft so that she doesn't have to use her teeth to chew it; I, on the other hand, like my food with a little resistance so I went for the firm type. 
Prepare the serrano pepper and green onions next. I skipped the pepper because my mom doesn't like spicy food and I wanted her to be able to eat the doenjang jjigae. 
Add miso paste to the pot and let it dissolve to create a "nice base".
Fish out the anchovies and then add the onions and potatoes. Leave it to boil for 10 minutes. 
Next, throw in the vegetables, peppers, and of course, the tofu. Cover the pot and let it boil for another five minutes. 
Add the green onions before serving!
My thoughts:
To be perfectly honest, I didn't enjoy this soup. There's a good chance I may have added too much anchovy powder (or not enough miso paste) because it was a little malansa to me. I was so distracted by the base that I didn't think to focus on how I felt about the tofu. What I'm trying to say is: It's not because this recipe is bad; I messed up.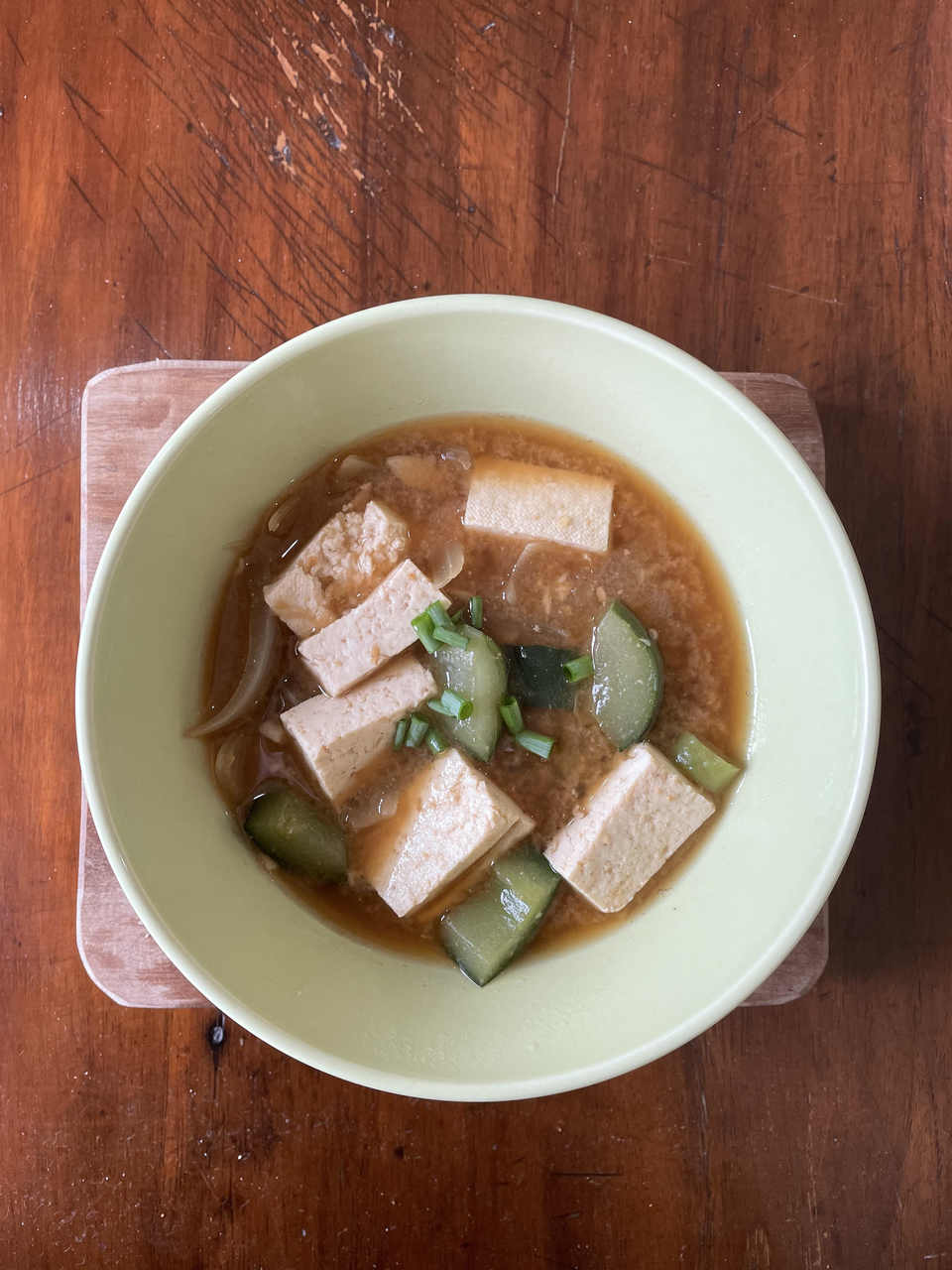 My parents loved it, though! They finished the bowl I prepared and even got two more scoops from the pot. I asked if they thought the doenjang jjigae needed salt or pepper but they said no. I'm convinced they lied a little to spare my feelings.
P.S. I will try cooking this again with the necessary adjustments, and I'm planning to add potatoes next time to see if it makes a difference. 
Recipe #2: Steamed Tofu
This mini steamed tofu guide is in a video filled with other drool-worthy recipes by Jenn's mom. It's the perfect cooking tutorial if you're in the mood for a Korean feast. When I saw how they prepared this tofu dish, I knew instantly it would be something I'd enjoy. (And not just because it takes five minutes to prepare!)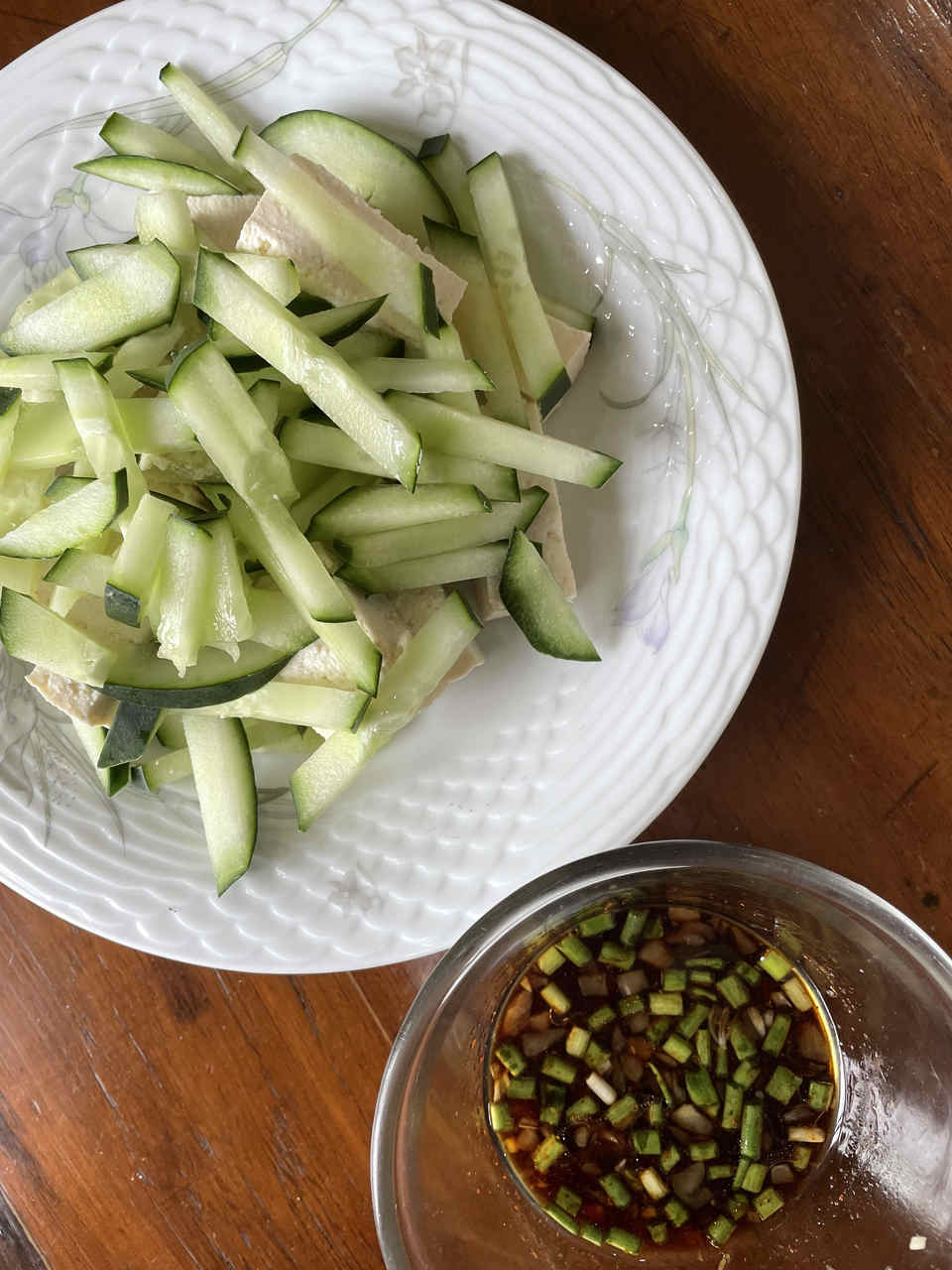 Ingredients:
Firm tofu
Cucumber
6 tbsps. soy sauce
Green onions
Minced garlic
1 tbsp. sesame oil
1 tbsp. vinegar
Sesame seeds
Korean pepper flakes
How to make: 
Boil the tofu for three minutes. 
Slice the cucumber into thin strips. 
Cut the tofu into cubes before topping it with the cucumber.
Cut the green onions and place them in a bowl.
Prepare the Korean seasoning sauce by mixing soy sauce, vinegar, a bit of Korean pepper flakes, sesame seeds, sesame oil, and minced garlic together. 
Add the green onions in, mix well, and then pour it over the tofu. I served my sauce on the side in case the flavor was overwhelming. 
Enjoy!
My thoughts:
10/10 would recommend! It's light, refreshing, and flavorful. I actually want to take this sauce and try it with every vegetable out there. We didn't have any sesame seeds at home but I imagine the impact would've been bigger had I added some to this dish. I liked that the tofu soaked up the sauce easily. The texture didn't bother me as much as it used to, maybe because the crunch of the cucumber helped balance it out. I can't wait to eat this again! 
Recipe #3: Kimchi jjigae
There was a week when all I ate for dinner was kimchi and a bowl of rice. That's how much I love this stuff. So it'd be almost wrong if I did a food experiment without highlighting my favorite Korean food. Thankfully, Jenn has a lot of kimchi jjigae recipes. Though she usually adds Spam to hers, I picked the recipe where she used canned tuna instead para maiba naman.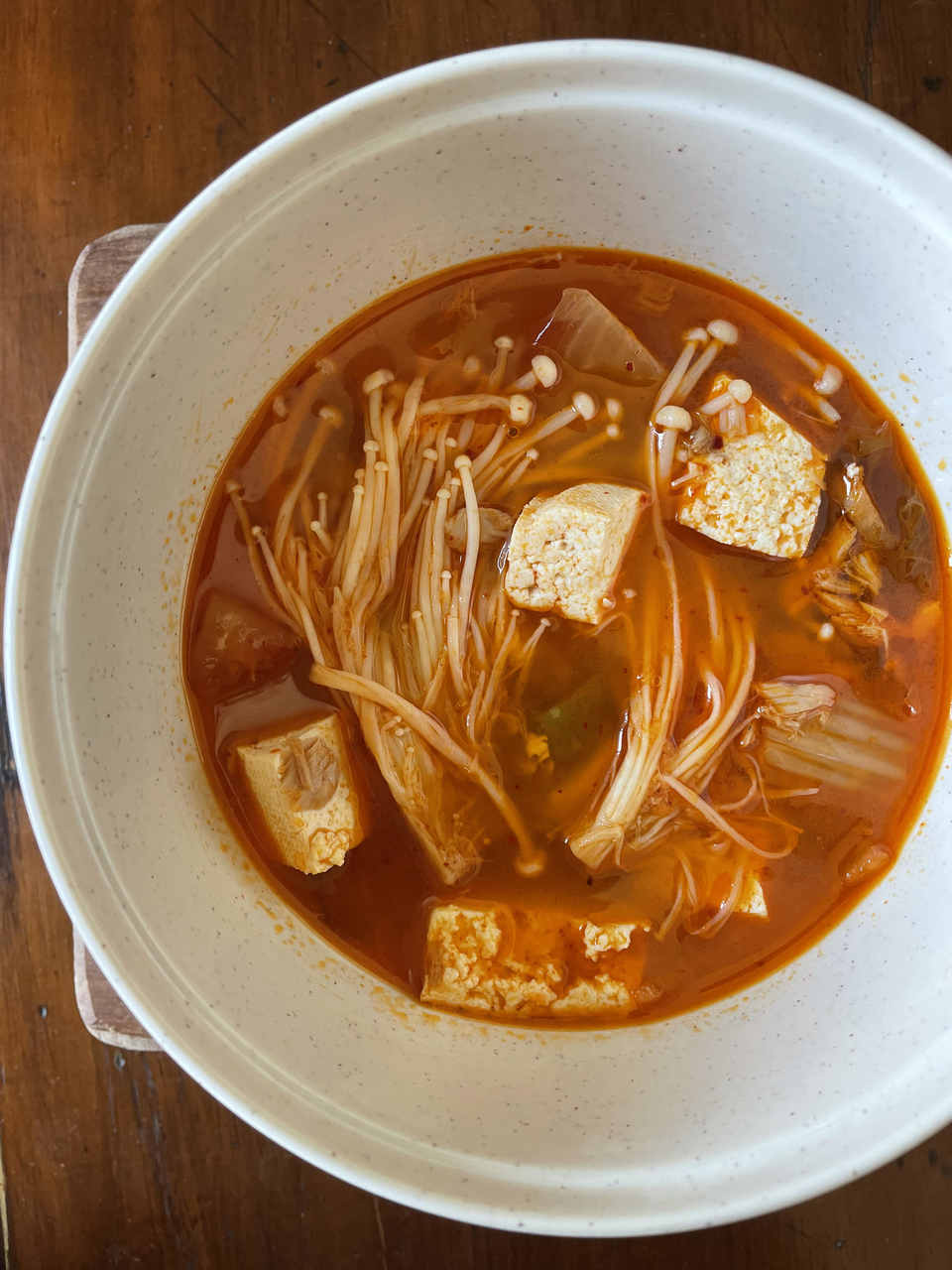 Ingredients:
Kimchi (preferably old kimchi)
Onion
Tofu
Canned tuna
Hot pepper flakes
Green onions
How to make: 
Dice the onion into large pieces. 
Cut the tofu into smaller rectangles. 
Heat up cooking oil in a pot and then throw in the canned tuna. Jenn uses a type that's specifically for kimchi jjigae. I'm sure you can find this in any Korean grocery store, but I used the only one in our pantry. 
After a couple of minutes, add the onions. 
Your kimchi goes in next, and make sure you add as much kimchi juice as possible. Let it cook for another minute. 
Add one to two cups of boiling water before letting it cook for seven minutes. 
If you want to spice things up, mix in some hot pepper powder. 
Add the tofu, let it cook for a few minutes, and then top it with green onions.
My thoughts:
For transparency, I threw in some enoki mushrooms in my kimchi jjigae because: 1) I love these babies and 2) Jenn uses some in her Spam kimchi jjigae recipe, so I figured...why not? Should be fine. Well, it was more than fine, you guys. I killed it.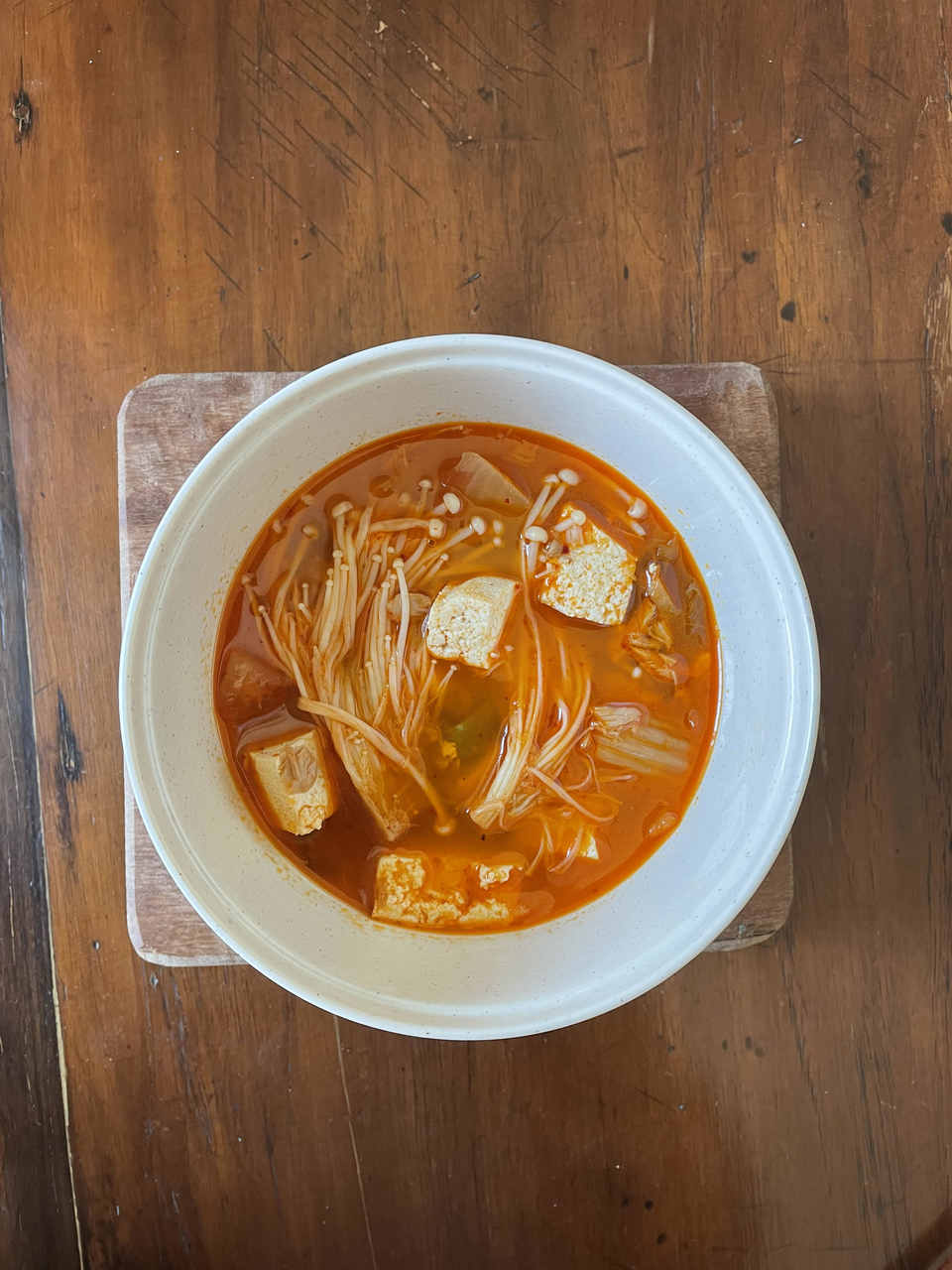 How I feel about tofu now:
I gotta say, I'm inspired to keep this tofu experiment going. I'm surprised by how much flavor tofu can soak up. Out of the three recipes I tried, I liked the steamed tofu the best, mostly because it retained its firmness. In general, I'm not a fan of mushy things unless it's a dessert, so when the tofu softened in the soup, it felt like it disappeared or dissolved too fast. But I'm hopeful I'll find more Korean recipes that'll help me enjoy tofu more. As I'm typing this, I'm already eyeing this dubu jorim cooking tutorial that's making my mouth water. Wish me luck!
LOOKING FOR MORE KOREAN FOOD? RIGHT THIS WAY:
Where To Order Tteokbokki In Manila If You're Craving It RN
Get A Taste Of Authentic Korean Rice Cakes From This Online Store!