11:08 a.m. That's when we arrived at SM Megamall, Building A. And already, there were *so* many people in line for Panda Express. If you attempted to check it out in the last few days, you'd know that the line is broken up into four sections (we're assuming to avoid crowding the floor). Eight minutes after the mall opened, we were at the last section, and it took around 90 minutes for us to order our food. 
ICYDK, Panda Express is a fast food chain that specializes in Chinese-American food. Of their selections, tried four entrees—String Bean Chicken Breast, Kung Pao Chicken, Beijing Beef, and of course the famous Orange Chicken. We also ordered two sides: the Fried Rice and Chow Mein. Each order was a large portion, with entrees priced at P350/box, and the sides at P175/box. If you order a premium entree of the same size, it'll cost you an additional P130.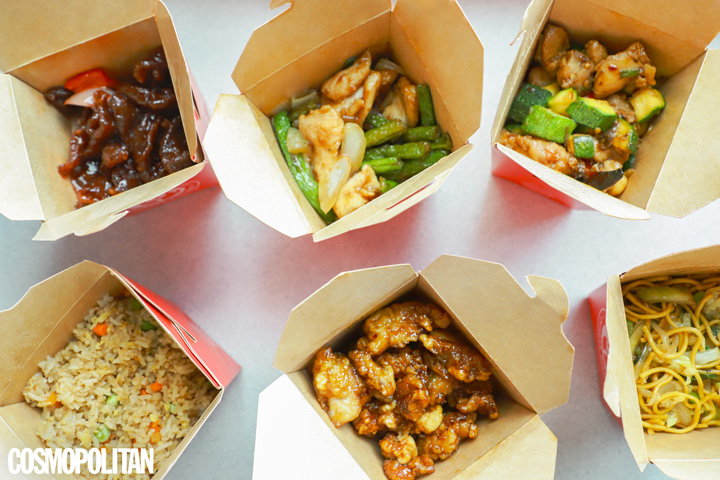 You can, of course, choose to get set meals instead:
1 bowl (1 entree + 1 side) - starts at P195
1 plate (2 entrees + 1 side) - starts at P245
1 bigger plate (3 entrees + 1 side) - starts at P295
Continue reading below ↓
Recommended Videos
Honest Reviews of Panda Express
Orange Chicken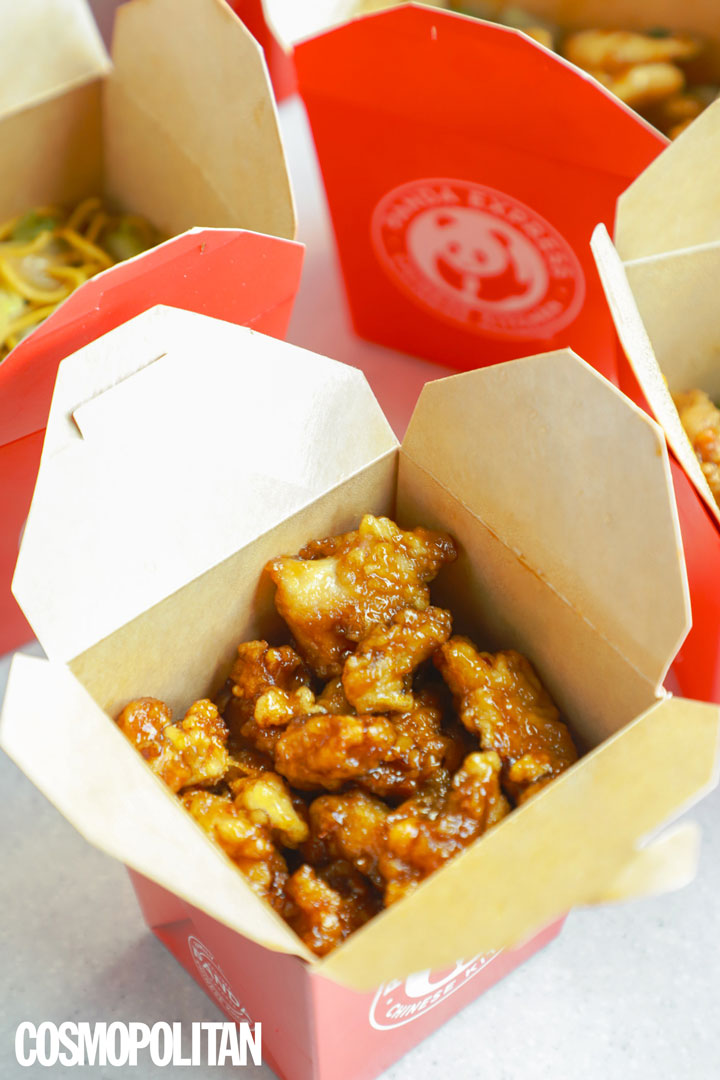 "Having lived within walking distance of a Panda Express for two years, I knew that the Orange Chicken carried a lot of clout, but it was never a must-have for me. Now, I don't know if it's because it's been almost six years since I've had Panda Express, but I'm singing a different tune this time around. I totally understand why people are hyping it up. It's a good balance between sweet and tangy, but not overpowering. Though it's still not my favorite, and this particular batch was a bit overcooked, I would order it again (when the hype dies down)." -Ysa
"My expectations were really high. I know for a fact that it's Panda Express' bestseller, so it was my priority. Kalimutan nang tikman ang lahat, 'wag lang yung Orange Chicken. I'm happy to say it's still a star entree for me. The chunks of meat were reasonably proportioned. In my opinion, even if you don't eat it with rice or noodles, it can stand on its own. Puwede ko siyang papakin lang, LOL. As for the taste, it's a good balance of sweet and savory." -Lou
"I loved it! I am not a fan of picking the meat off of my chicken, and these came in perfect bite-sized pieces. The menu says that it has a *sweet and spicy orange sauce* but TBH, it was more sweet than spicy—which is a good thing for me since I'm not really a fan of spicy food. Out of all the items I tried, this is the one I'd definitely order again." -Lily
"This was the first dish I tried from Panda Express. Friends were raving about it, so I had high expectations. I finally had a chance to taste it when I visited SF, and oh my, IT WAS A YES FOR ME. The Orange Chicken I tried from Megamall was quite different. I found the chicken to be overcooked. It was a bit tough, but it still had the zesty-sweet glaze I loved. I would still order this!" -Ira
String Bean Chicken Breast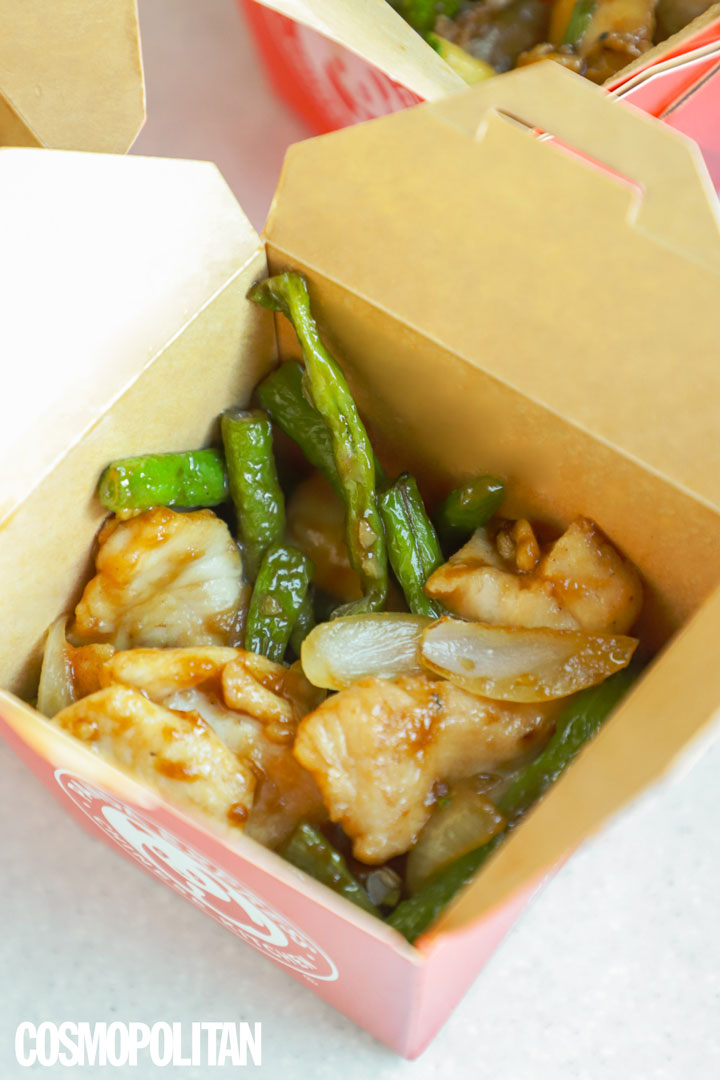 "I'm convinced that the String Bean Chicken Breast is Panda Express' secret weapon. It. Is. So. Good. If you're the type of adult who still can't fathom why you *need* to eat your vegetables, this will make that ordeal 100 percent better. 10/10, would endure a 90-minute line for this baby." -Ysa
"I've never been a fan of any dish with string beans, but Panda Express' version now has a soft spot in my heart. The meat was tender, and the ginger-soy sauce was super. I almost finished one whole serving. Protein gainz!" -Ira
"I liked that the meat was REALLY soft and the string beans were crisp and fresh! I take my veggies seriously, and if they're not *new*, I tend to not eat them. The flavor was very subtle, and I think I would've appreciated it more if I could taste the sauce more." -Lily
"I didn't really have high expectations for this dish. I thought it was going to be bland. Just a meat and veggie combo, nothing too special. This dish proved me wrong. It's one of the entrees I liked the most. The ginger and soy flavors of the sauce went well with the chicken. I also liked how the chicken was tender. But apart from the meat, what I enjoyed eating more were the vegetables. They were the true highlight of this dish. The string beans were cut just right and they, too, had lots of flavor. It's the type of entree I wouldn't mind getting another serving of." -Lou
Kung Pao Chicken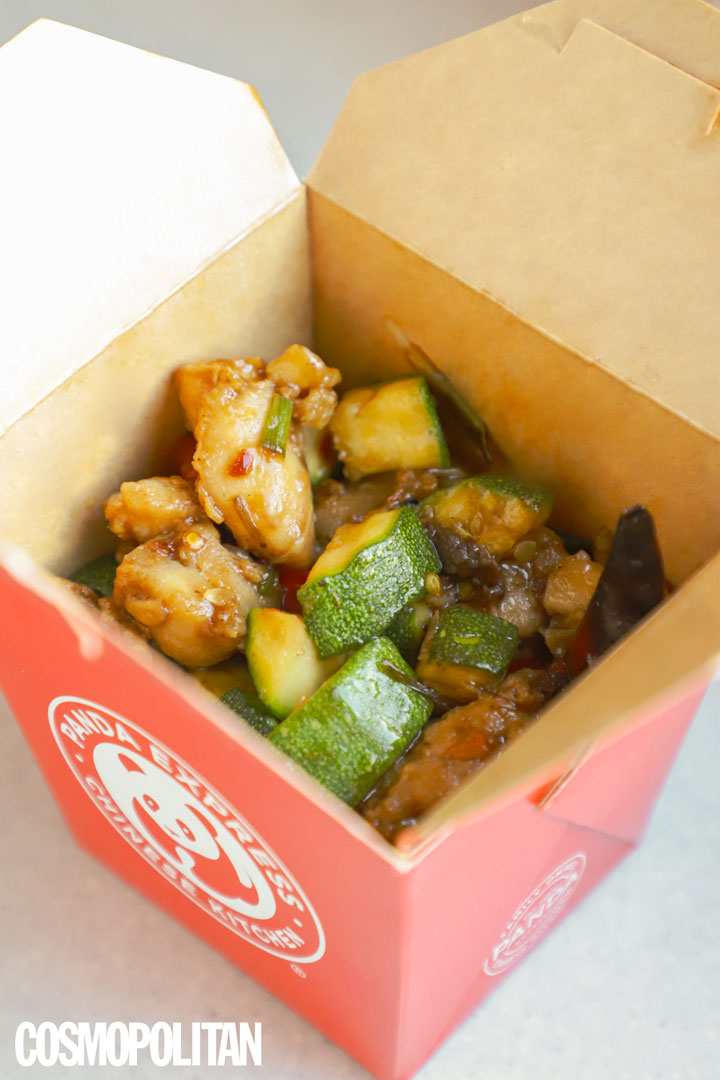 "Ok, so I was the only one who ate this dish, and I really believe it's because it had a lot of veggies, lol, which is apparently a deterrent—like picking the chocolate chips out of a bag of trail mix. Had they given it a chance, they'd know how delicious the Kung Pao Chicken is! Compared to the one in the States, it is significantly less spicy, but the chicken chunks are much bigger here. I hope this doesn't change." -Ysa
Beijing Beef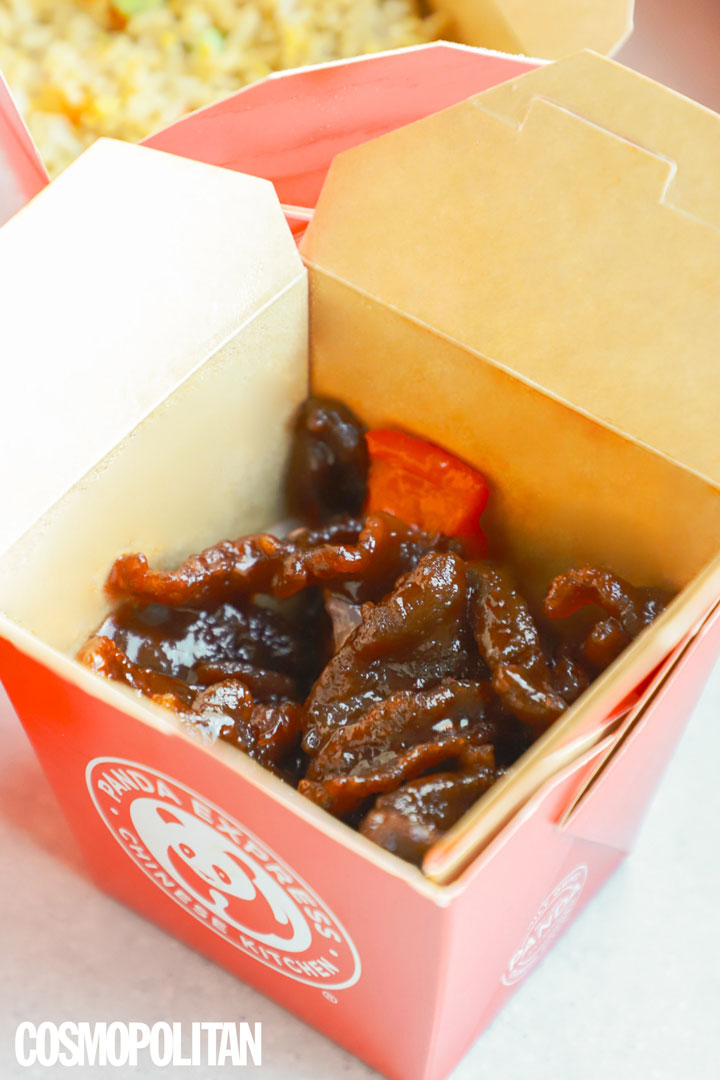 "If Orange Chicken were to be labeled as my favorite dish out of all the entrees, then I would consider the Beijing Beef as my second favorite. Though the strips of beef were a bit difficult to cut and chew, this dish made up for it through its taste. I'm actually not a fan of peppers. I'm the type of person who would take them out from the main dish and not eat them all. But this one was an exception. I finished ~*everything*~." -Lou
"It was my first time trying this dish, and I can say that I would order this if Orange Chicken wasn't available. I wish they would serve extra sauce on the side!" -Ira
Fried Rice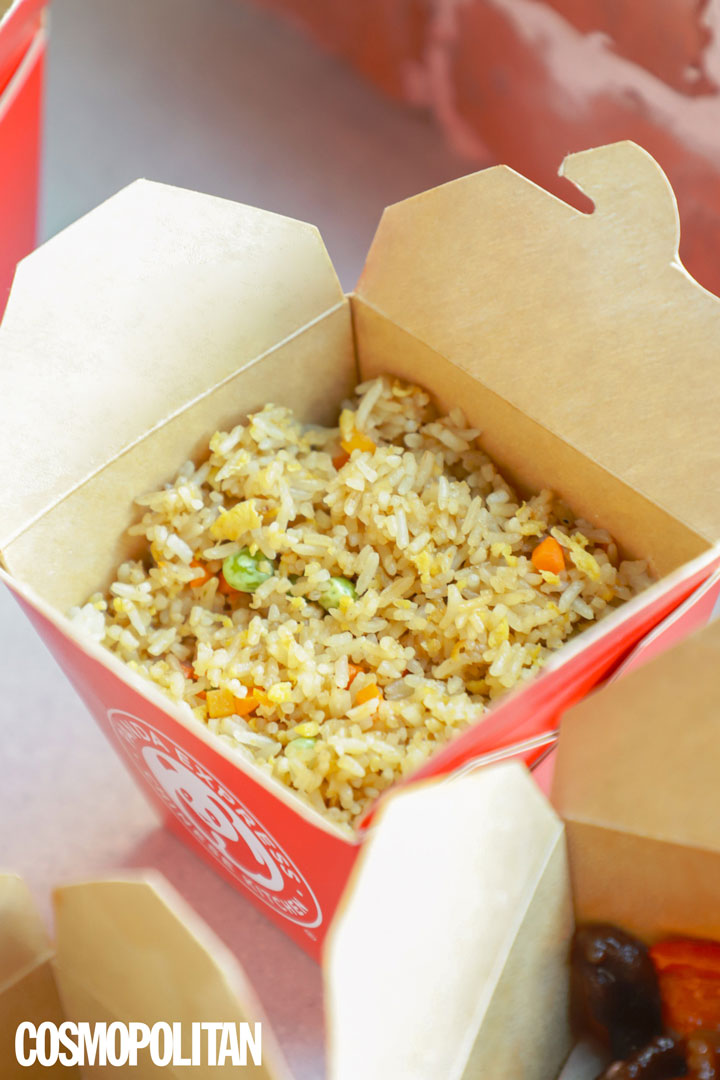 "This is a no-brainer. I will never say no to fried rice, LOL! What I like about Panda Express' fried rice was it did not drown the flavors of the entrees." -Ira
"To be honest, the fried rice did not really stand out for me. It was good, but I wouldn't consider it the best. The consistency of the rice was fair. It's not the type that would easily crumble or separate into smaller grains. I feel like there could have been a bit more sahog—egg, vegetables, or meat—literally anything that would make it more filling." -Lou
Chow Mein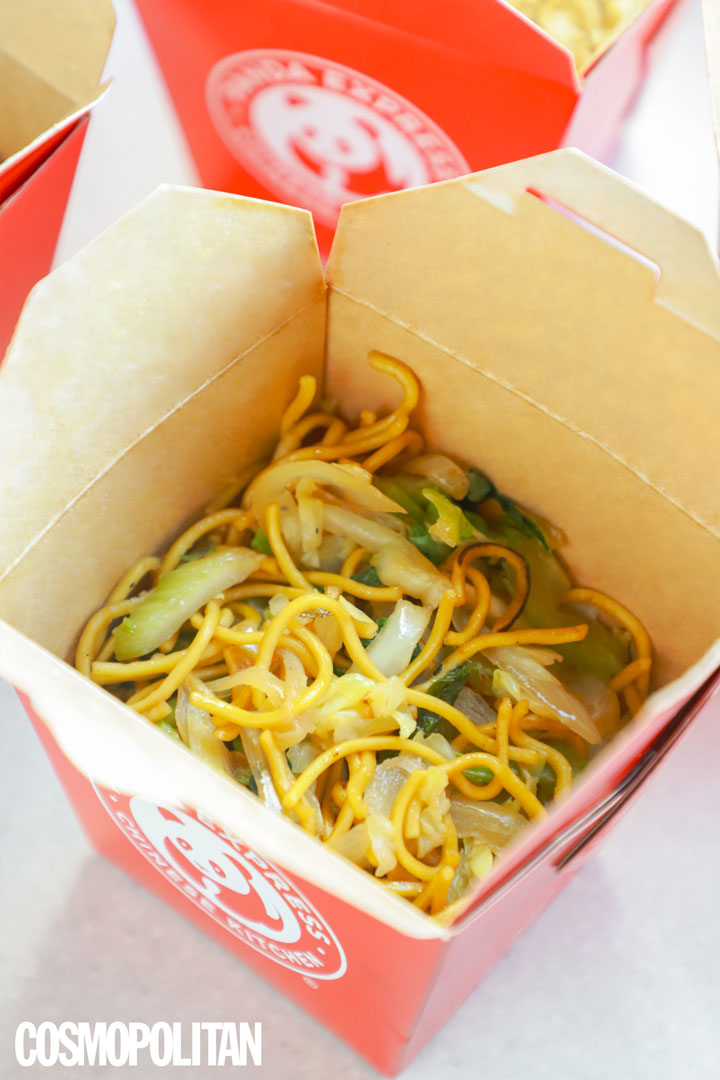 "TBH, it wasn't memorable for me. It was kind of...okay lang, if you know what I mean, but that made it the perfect side dish to pair with the super-tasty Orange Chicken!" -Lily
"First of all, let me start by saying that the chow mein deserves a little more credit. I would honestly consider it as a main dish and not just a side. One thing that stood out for me was its noodles to vegetable ratio. It did not disappoint. One twirl of noodles alone would give me a generous serving of celery and cabbage. The chow meins I've had in the past were too oily and nakakaumay, but this one was just right." -Lou
Panda Express is located at UG Floor, SM Megamall, Bldg. A, Mandaluyong City.