Do you have a pandemic passion project? For some Pinoys, it's home renovations and interior makeovers. It could be as simple as turning a blank space into a coffee corner. Or an extensive remodel like adding a second or third floor. Might as well turn cabin fever into something productive and ~*pretty*~, right? And what could be prettier than K-pop idols and all the things that represent our love for them? Enter: K-pop merch shrines.
Recently, I saw a few members of the Facebook group Home Buddies flex their merch corners or rooms. It wasn't really the collections that captured my attention (although they were really impressive upon closer look!) What really gave their photos a wow factor was the Pinterest-worthy ways they displayed their merch. They were so aesthetic! NGL, I wanted to buy shelves and organizers for my small collection, too!
For inspiration, Cosmo reached out to some members of Home Buddies to tell us more about their rooms. Aside from the kapitbahays, we also found fans of other groups who dedicated special spots for their collection. Check out these drool-worthy K-pop shrines by creative Pinays:
ADVERTISMENT - CONTINUE READING BELOW ↓
Jerlyn Lising, 28, chose a pink and white theme for her BTS and BT21 room.
"I started listening to K-pop in 2010. My first favorite groups were SNSD and SHINee. Since I was still a high school student back then, I only managed to get a couple of albums. When I left the Philippines, I realized I lowkey weaned off from listening to K-pop as my lifestyle changed a little and I really had no one to 'fangirl' with when I moved to Australia. But I guess, K-pop will always have my heart as I found my way back to it last December 2019. I was just randomly watching Ranz and Niana's vlogs when I came across their "Boy With Luv" dance cover. Being someone who used to love K-pop, the song captured my heart straight up, so I searched for the original artist and next thing I know, I'm in this Bangtan hole already."
ADVERTISMENT - CONTINUE READING BELOW ↓
Recommended Videos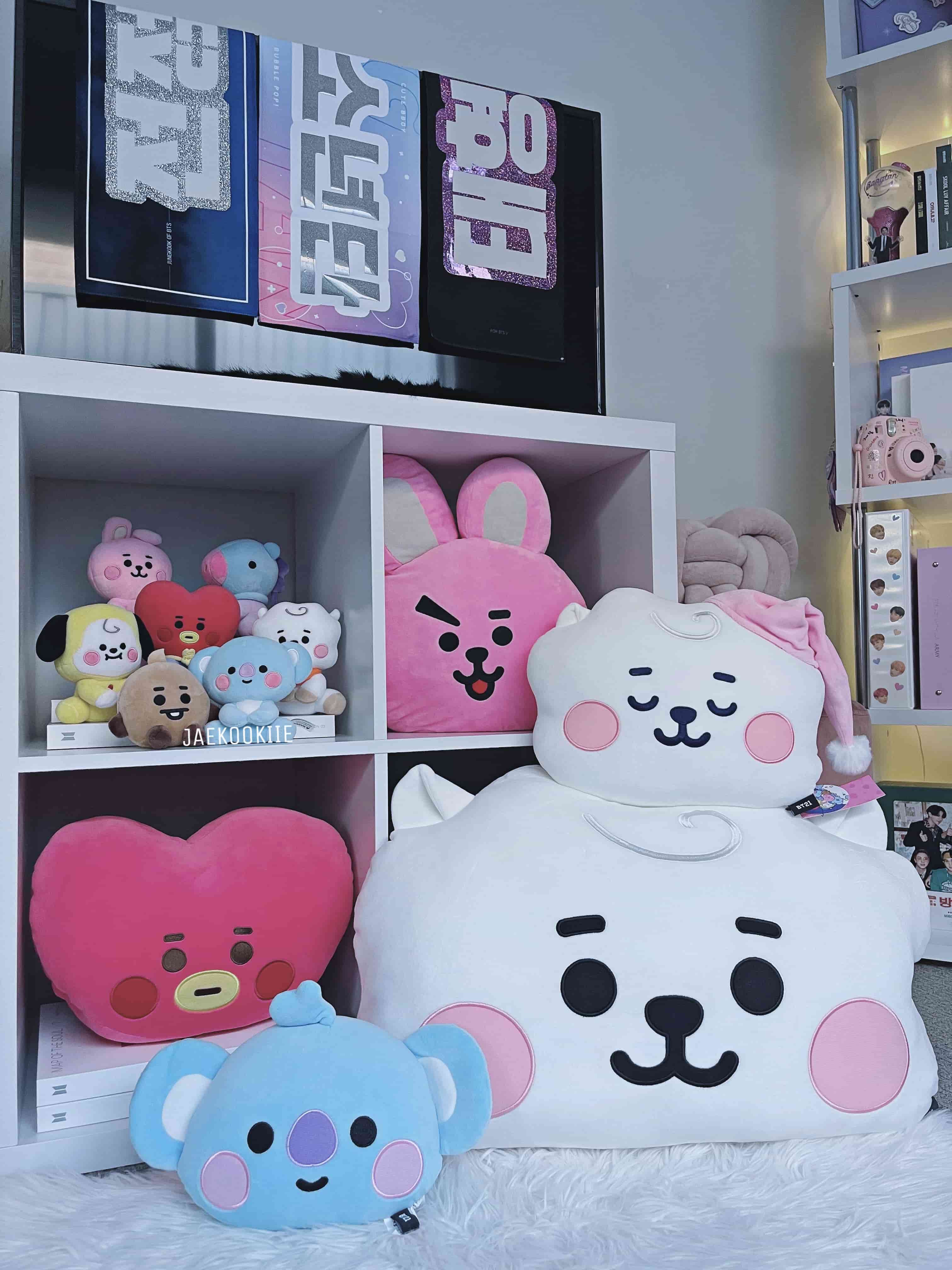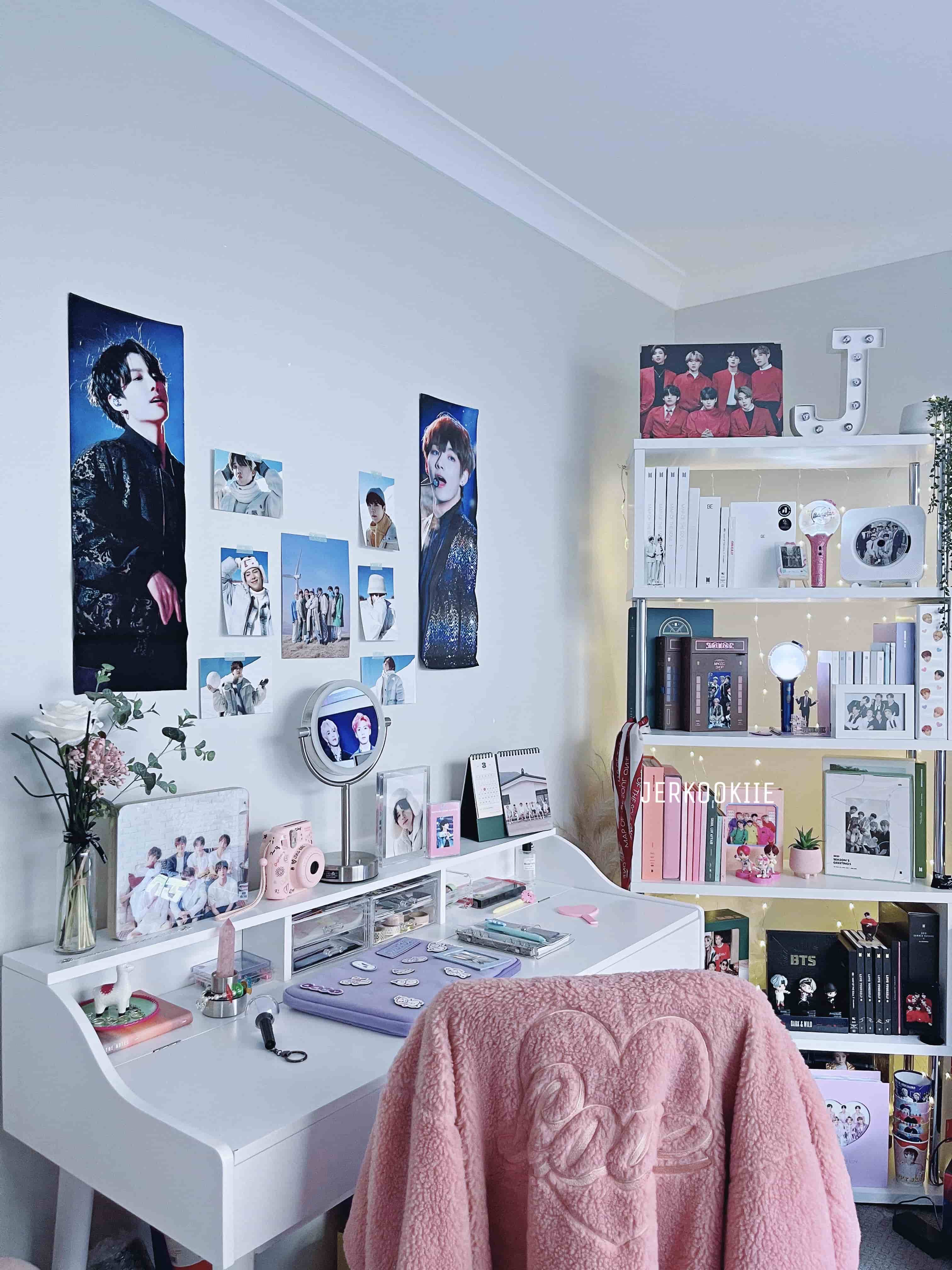 ADVERTISMENT - CONTINUE READING BELOW ↓
"I didn't have any plans on collecting their merch. I thought I was already contented with just watching their contents and listening to their music. But their merchandise are not just cute and irresistible, I love how some of them are useful, too! I thought these merch are too pretty to just stay in their boxes until one day, I found myself wanting to set up a den for my collection and I finally did it in March 2020. I never knew I'd be able to make my collection grow so much in a year's time but I definitely have no regrets. Every merch I own makes me happy, and being an ARMY is definitely one of the best things that ever happened to me, too. Alongside my current ultimate group, I'm also collecting ENHYPHEN [merch]. I think I will just be focusing on these two groups. I can't even keep up with their contents anymore (my wallet cries with every merch drop, too!)"
ADVERTISMENT - CONTINUE READING BELOW ↓
Pamela Ann Maapoy, 26, lit up her room like ~dynamite~ 
"I started being an ARMY in 2020 ("ON" era). I think the lockdown helped me to know them more. I started collecting merch during the last quarter of 2020 and since then, I've spent around P110,000 to 120,000 (and still counting!) The first [item] I bought was a BT21 cushion, a lightstick, and the BE album. After weeks of browsing Pinterest and watching BTS-related videos on YouTube, I decided to collect their other merch. I'm focused on collecting their DVDs—memories, concerts, Season's Greetings, etc. I learned that the older the DVD is, the higher the price attached, and it depends on the photocard included. It's somehow an investment for me. I also collect some RJ stuff since my bias is Jin and his character in BT21 is RJ. [For the decor, I've spent] P10,000 I think. My dad is an engineer and he really helped me a lot in renovating my room. I just spent on the materials needed for my bed and shelves. The fairy lights and other decorations were from Lazada and Shopee."
ADVERTISMENT - CONTINUE READING BELOW ↓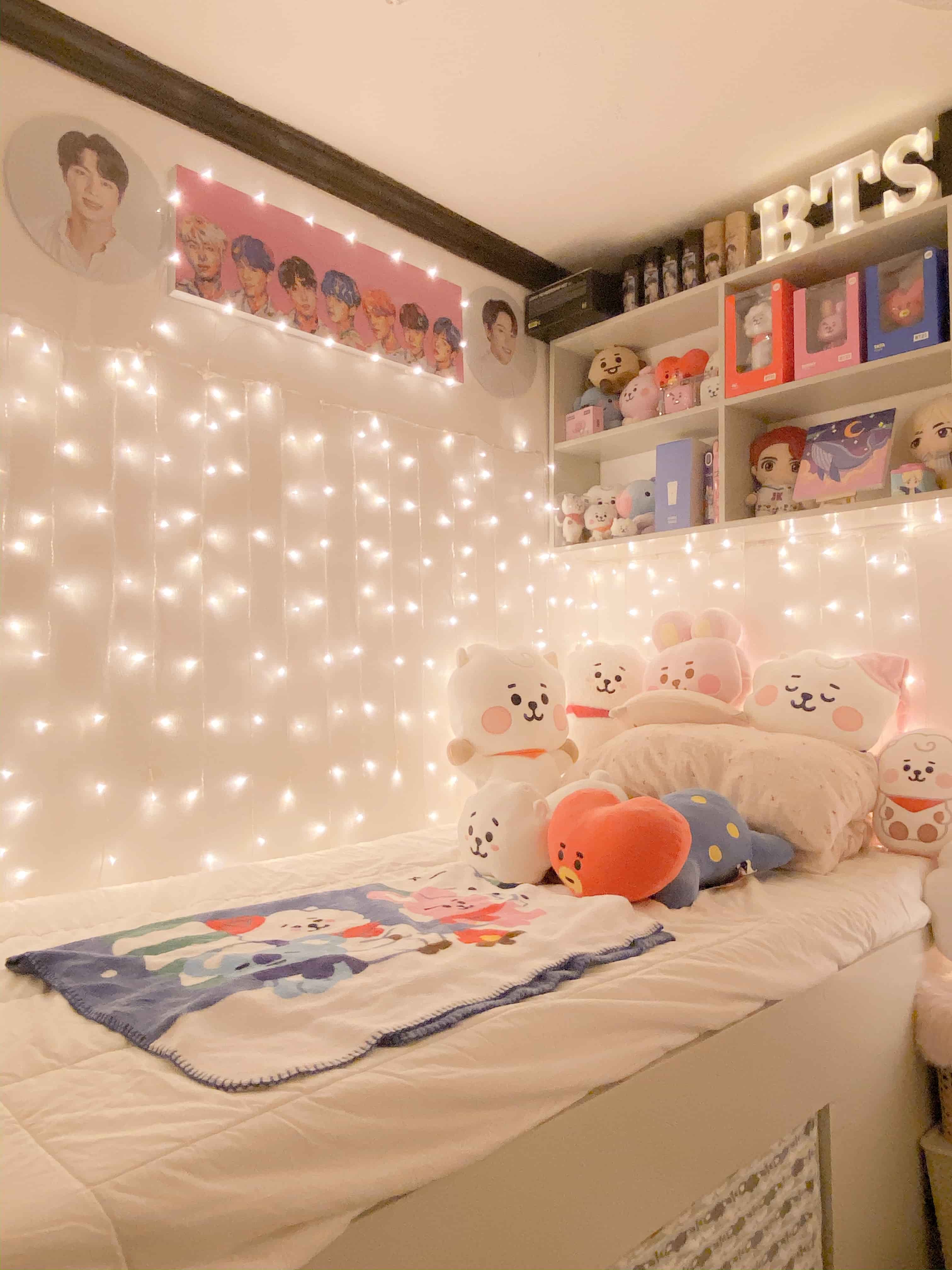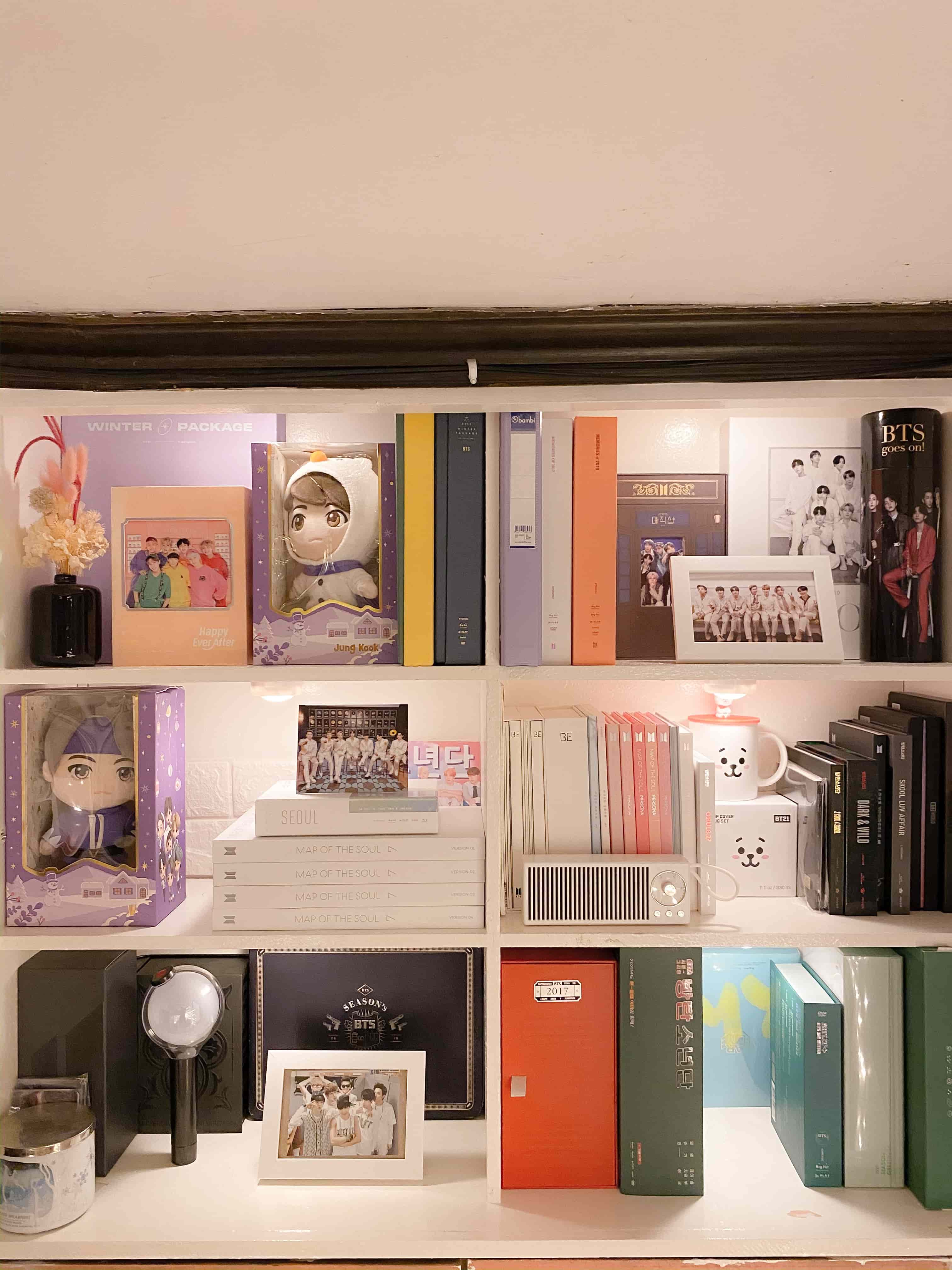 ADVERTISMENT - CONTINUE READING BELOW ↓
"Collecting merch is not as easy as 1,2,3. You need time, money, and patience. I've yet the full discography of BTS albums and their DVDs! Collecting is addictive but you need to control yourself and know where to focus. Since we're in a pandemic and concerts are still not allowed, agencies are releasing merch every now and then, so it's become overwhelming sometimes. That's why you should have a list of priority items to buy or what fits your budget. Ika nga, 'Collect at your own pace.' My collection is my prized possession. Seeing them makes me proud and happy. As I mentioned, it is somehow an investment for me, and I believe that anything that brings you happiness is an investment. But I always tell myself that having all the merch will not measure how big a fan you are, merch is just a bonus. Listening to their music and supporting them wholeheartedly are way more meaningful. After all, I became a fan because of their music, as they help me, fix me, and heal me."
ADVERTISMENT - CONTINUE READING BELOW ↓
Alexandra Jalgalado, 39, is a girl with luv for BTS (with a special luv for Jimin).
"I started to like BTS last July 2019 by watching their MVs and videos on YouTube. But I started buying and collecting their merch last October 2019. [I've spent] P600,000 or more, I guess. I just put and displayed all my merch in our room. I did not spend much on renovation. I only bought shelves and cabinets."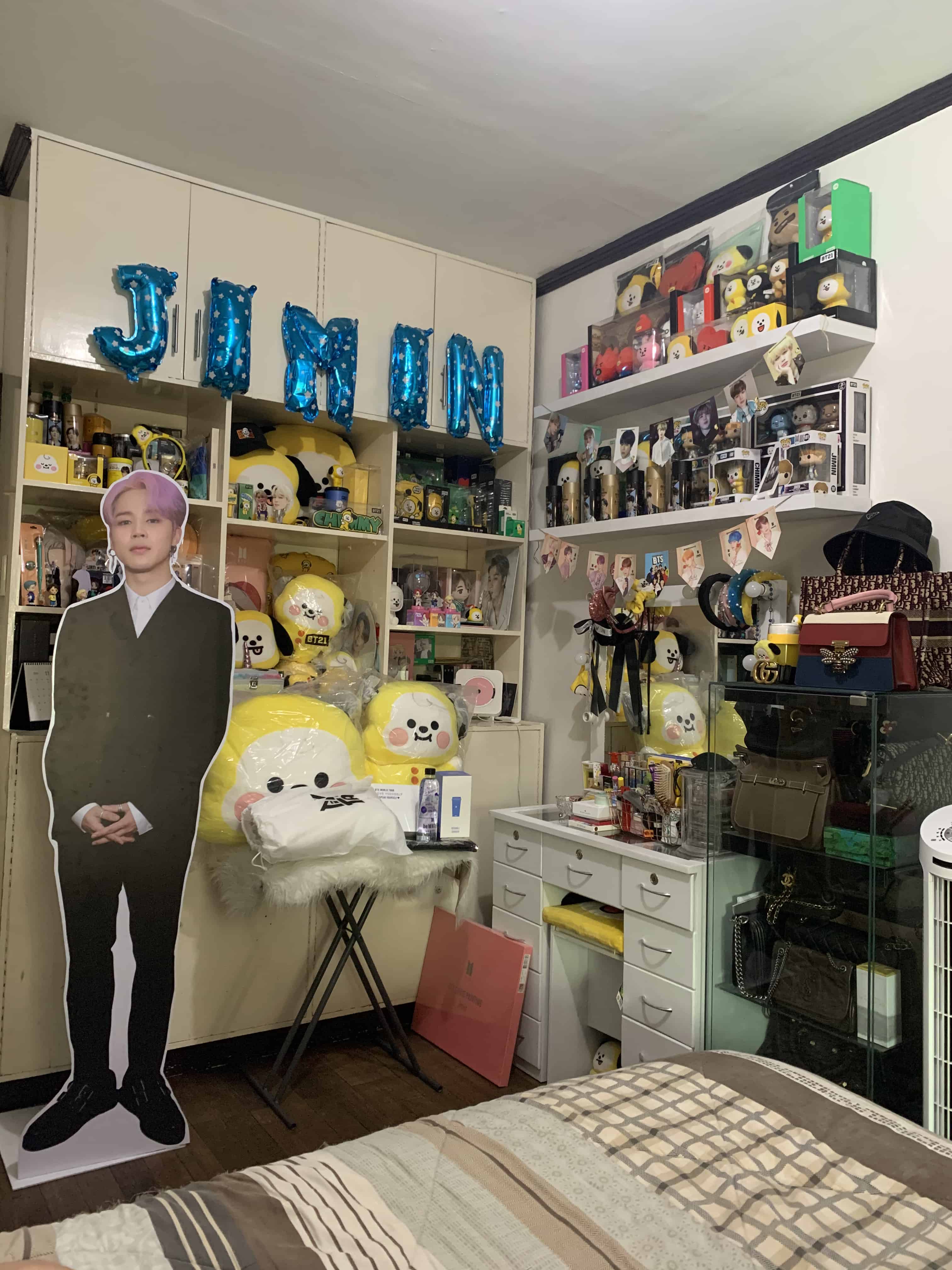 ADVERTISMENT - CONTINUE READING BELOW ↓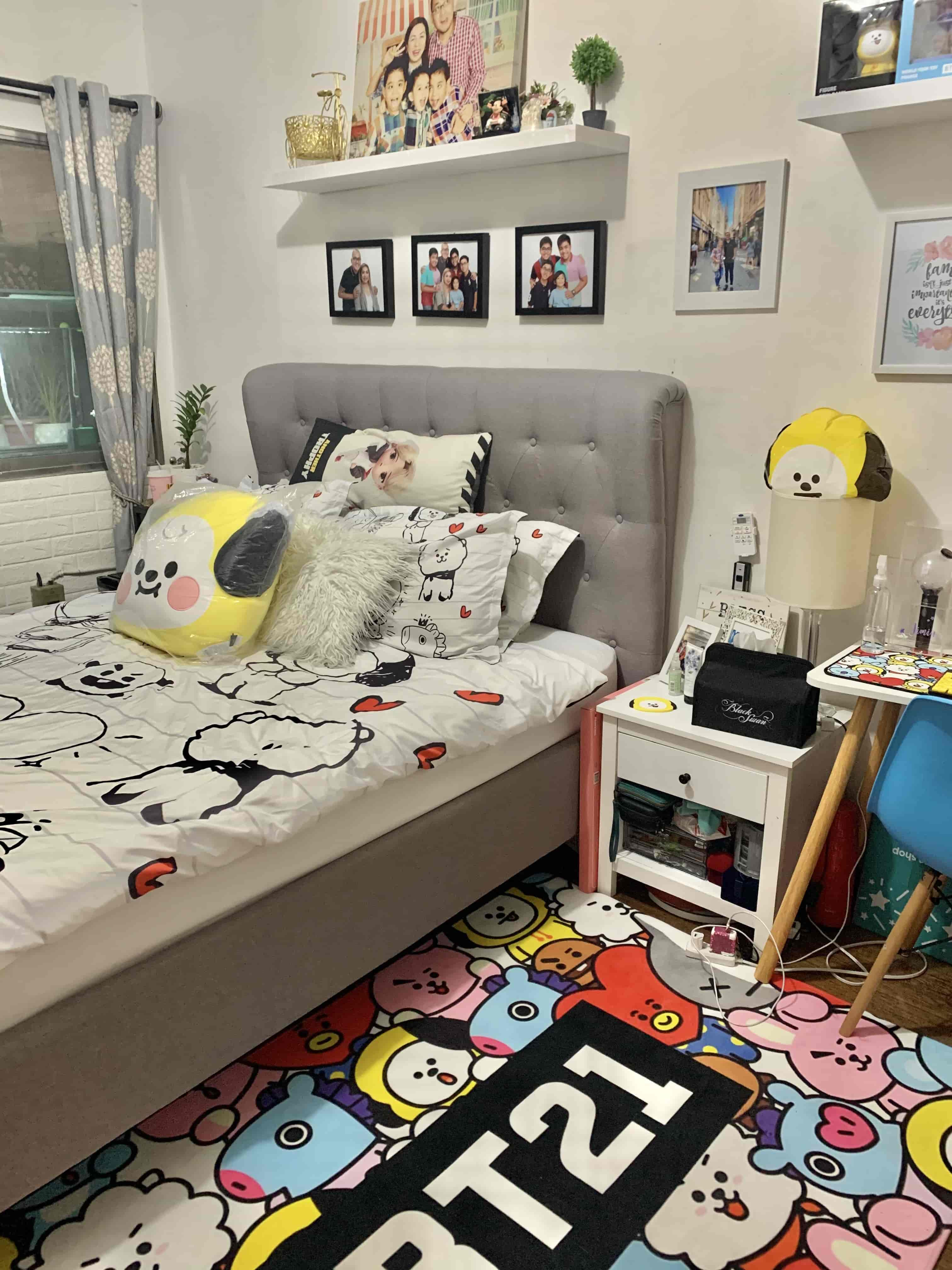 "Since we're still in a pandemic and cannot go out, I was inspired to display my collection in my bedroom. This is where I usually stay when I'm at home. By the way, I'm married and a mom of four boys. I'm putting up a BTS-themed cafe at the moment. So, if this is considered, then I already spent about P4 million."
ADVERTISMENT - CONTINUE READING BELOW ↓
Maricar "Char" Manigo, 29, also gave her home office a dose of BTS magic. 
"I knew BTS  back in 2018 but wasn't a huge fan then. When their Dynamite and the BE album were released, I started checking on the members one by one. Unconsciously, I've been playing their music on repeat. I started watching their YouTube videos (official MVs, choreography videos, Bangtan Bomb, etc.) I also got a WeVerse account, downloaded VLive, watched previous Run BTS episodes, Bon Voyage, In the Soop, BTS Gayo, concerts, docu-series—as in everything. I never imagined myself getting hooked to any K-pop groups, but the BTS magic is different. Their music and message bring so much love and. And being part of this massive fandom is one of the best decisions I have ever made. I am so proud of being an ARMY!"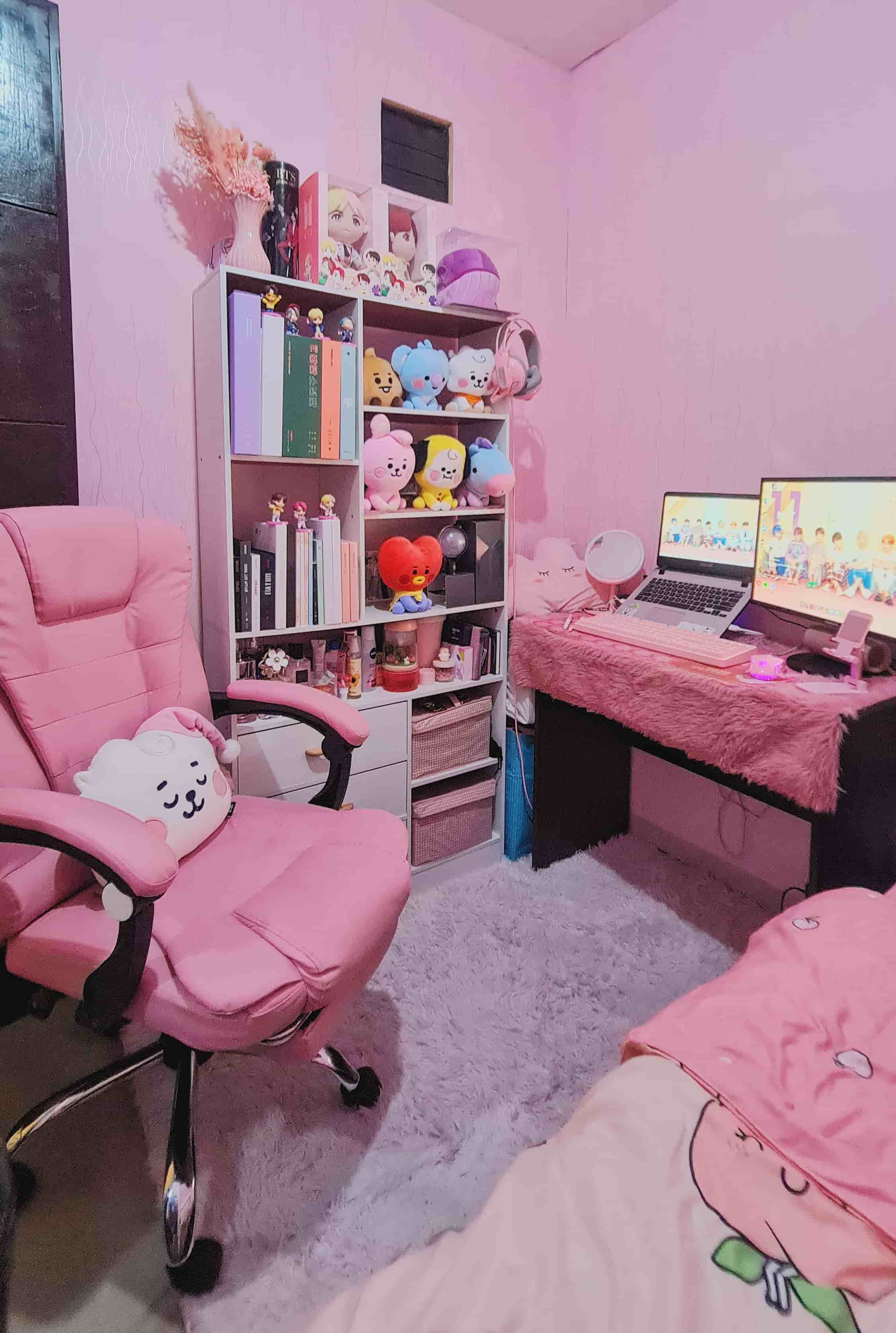 ADVERTISMENT - CONTINUE READING BELOW ↓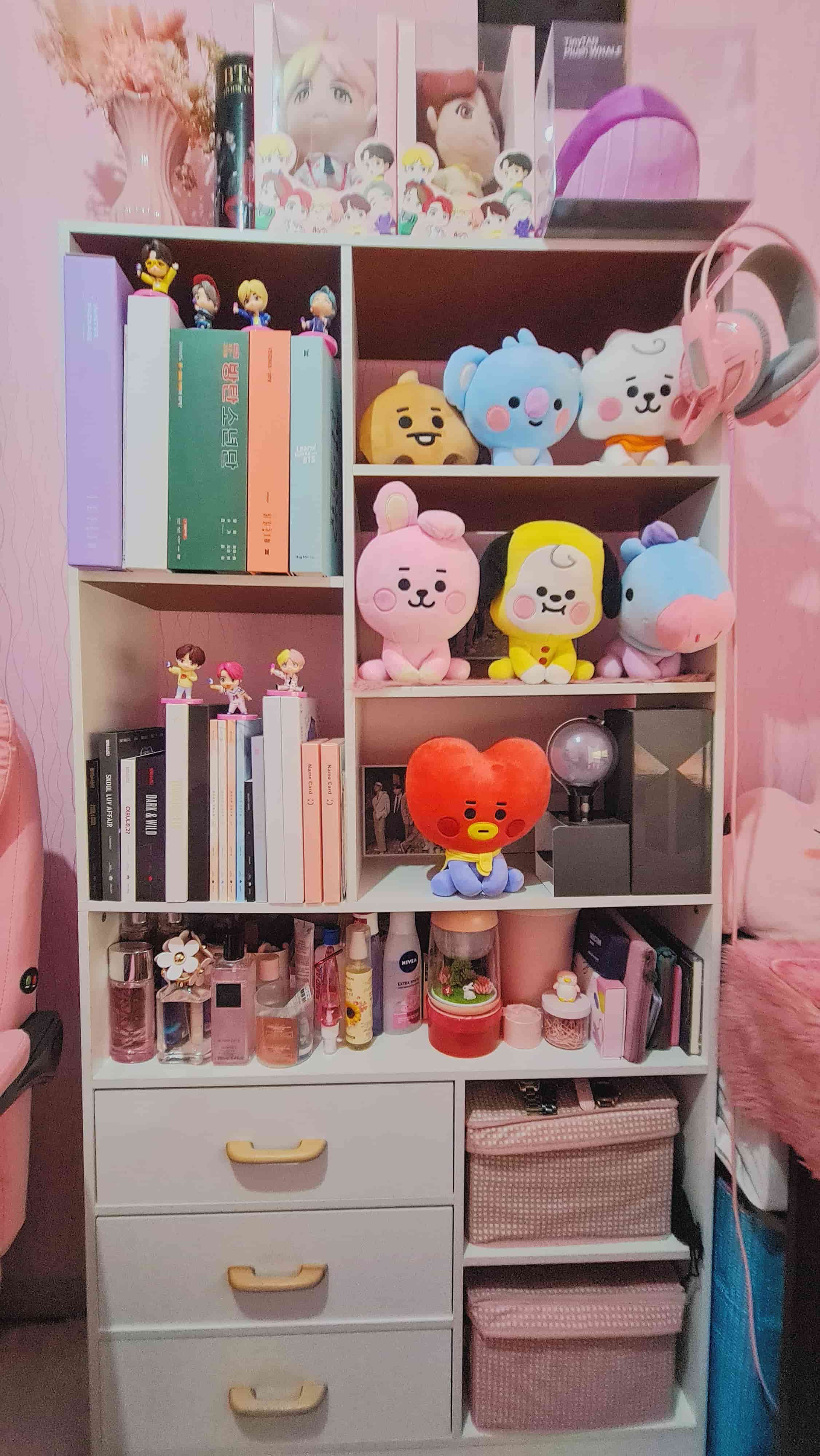 "At first, I never thought of purchasing any merch 'coz I find them very expensive. But like what RM said, 'People change!' Around December 2020, I pre-ordered my very first BTS merch. Then, I started buying their official albums around January 2021. Now, I'm so glad that I have already completed their discography. I have also purchased BT21 Official Line Friends, TinyTan, BTS collab merch, and some of the limited edition BTS merch released by WeVerse. The happiness I feel whenever I get to receive every merch package that I have purchased is incomparable! I guess I have already spent more or less P80,000. For the decor used and renovations made, so far, I think it cost me more or less P30,000. I have a very big admiration for BTS and I guess that inspired me to have these merch displayed in my own space at home. I've been seeing lots of beautifully arranged BTS ARMY nooks all around the world and I wanted to have one for myself as well. This nook gives me pride and voice that I am an ARMY."
ADVERTISMENT - CONTINUE READING BELOW ↓
Iriesh Dianne Bonganay, 23, doesn't need a map as her heart leads to EXO.
"My main is EXO! I casually listened to K-pop music for years, but it was 2013 when EXO got me into K-pop... HARDCORE! EXO was the turning point of my K-Pop fan experience and only then learned collecting K-Pop merch was a thing. Oh my, I'm not really sure [how much I've spent already] because I don't like calculating it HAHAHA! But, EXO is always worth the money so, I think around P400,000 to P500,000 thousand? Still excluding the concert expenses, OMG! I only spent a little on renovations because it was only for my working space. I think around P5,000. I'm planning to display more of my EXO merch in the other corner of the room, but I'm currently torn between keeping my space minimal and aesthetically pleasing or displaying everything because I didn't buy them just to be kept in storage boxes for years!"
ADVERTISMENT - CONTINUE READING BELOW ↓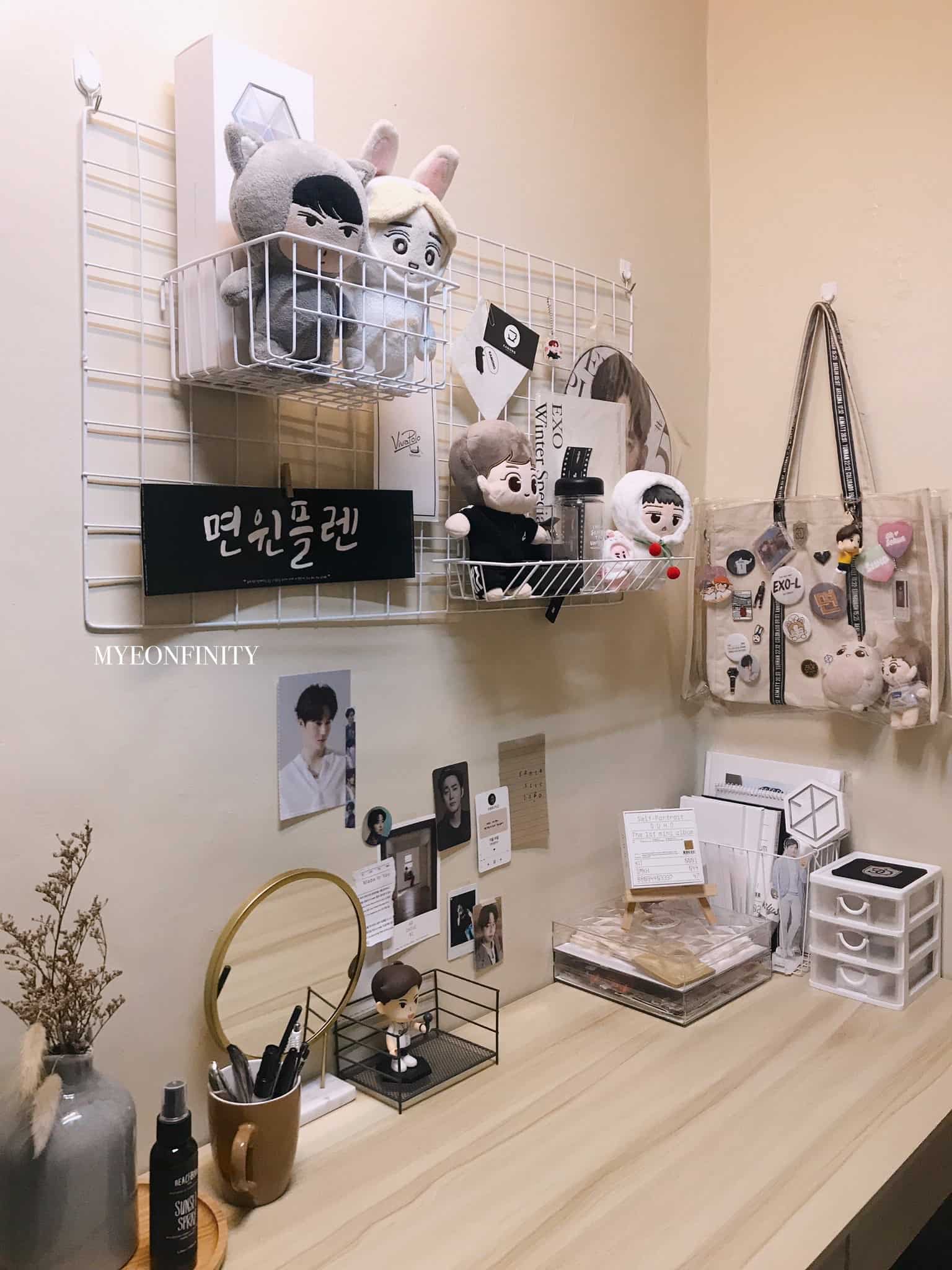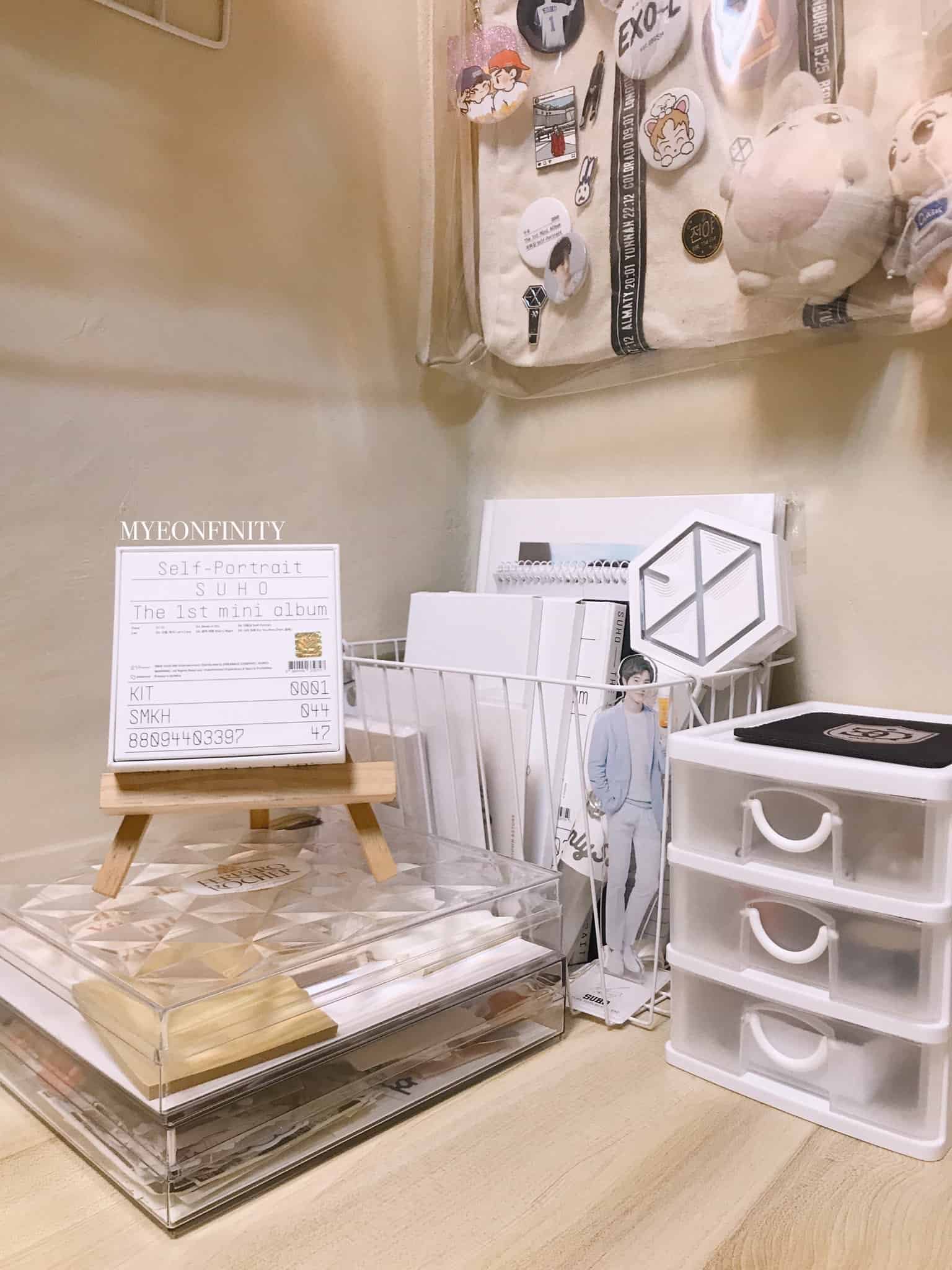 ADVERTISMENT - CONTINUE READING BELOW ↓
"I've always wanted to display my merch like the ones I see from Pinterest, so I decided to put them in my working space where I stay most of the time. I haven't displayed everything yet because of the little space I have but I'm currently happy with my setup! If you can also see from the photos, It's pretty obvious who my bias is! Hahaha! I also get inspired and motivated whenever I see him (Suho) and my EXO merch around, it makes my working space stress-free and fun! It also gives me the thought na, 'Kailangan ko mag-trabaho para madagdagan sila.' Char! But kidding aside, I love seeing the stuff I worked hard for. What I love the most about displaying them, aside from the fact that it gives me a serotonin boost, it reminds me of how independent I became at a very young age. I never did once ask my parents to buy me anything from the merch I currently have and that's one thing I am proud of! I learned how to save up, earn and work hard for the things I like."
ADVERTISMENT - CONTINUE READING BELOW ↓
Erika Jane, 24, renovated her room so her EXO merch won't escape from her vision.
"The main groups that I'm currently supporting are EXO, Girl's Day, and MAMAMOO. I started being a K-pop fan in early 2018 but I started collecting merch last 2019, when quarantine happened. I have various kinds of merch. There are sealed and unsealed albums, a lightstick, EXO dolls, photocards, magazines, pieces of jewelry, and some customized pieces. I don't usually compute the money I spent because I might regret spending that much. But this was the first time I computed the cost I spent for merch and it's estimated at P30,000. The estimated decoration I spent for my merch area was just more or less P5,000."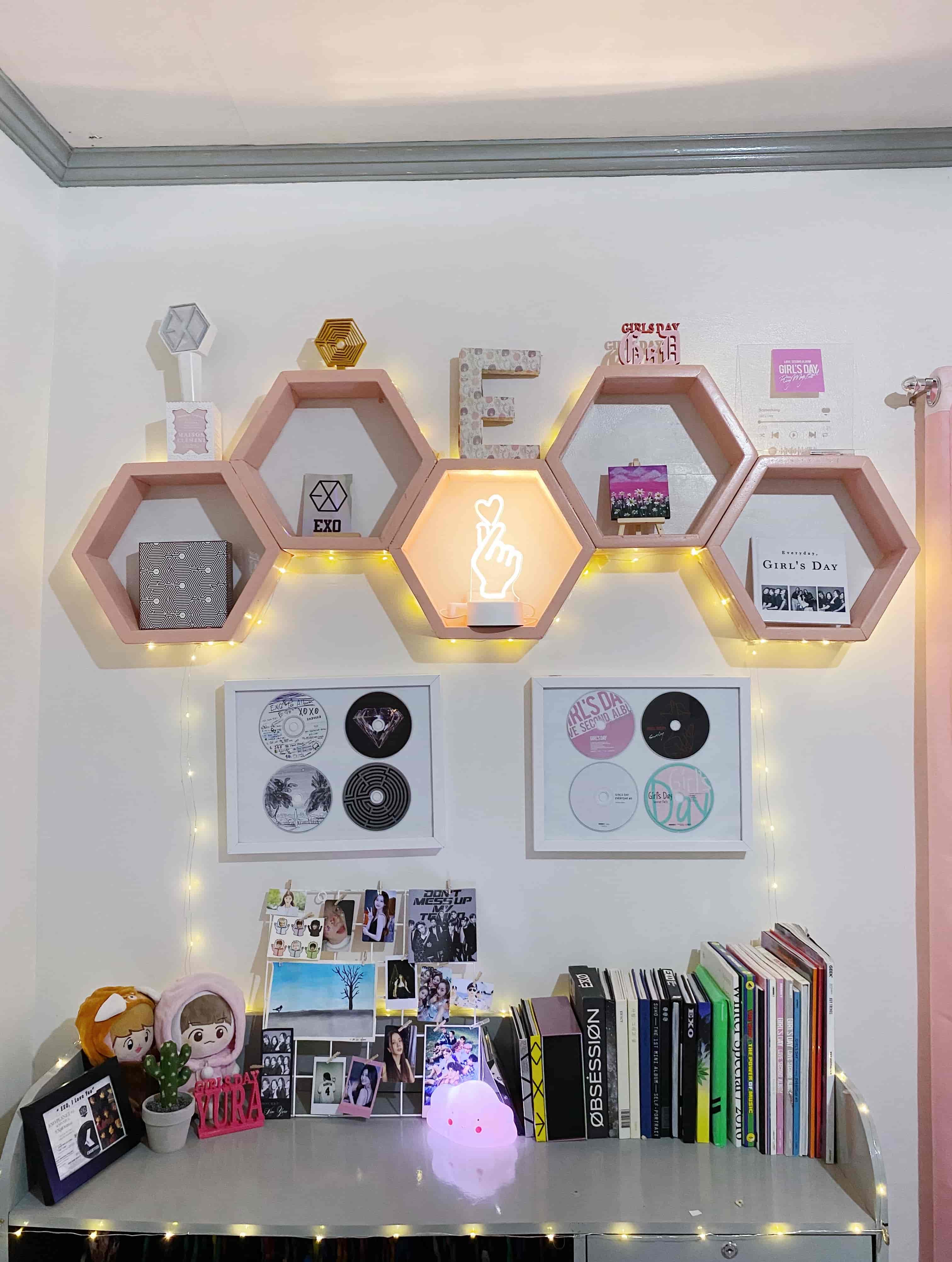 ADVERTISMENT - CONTINUE READING BELOW ↓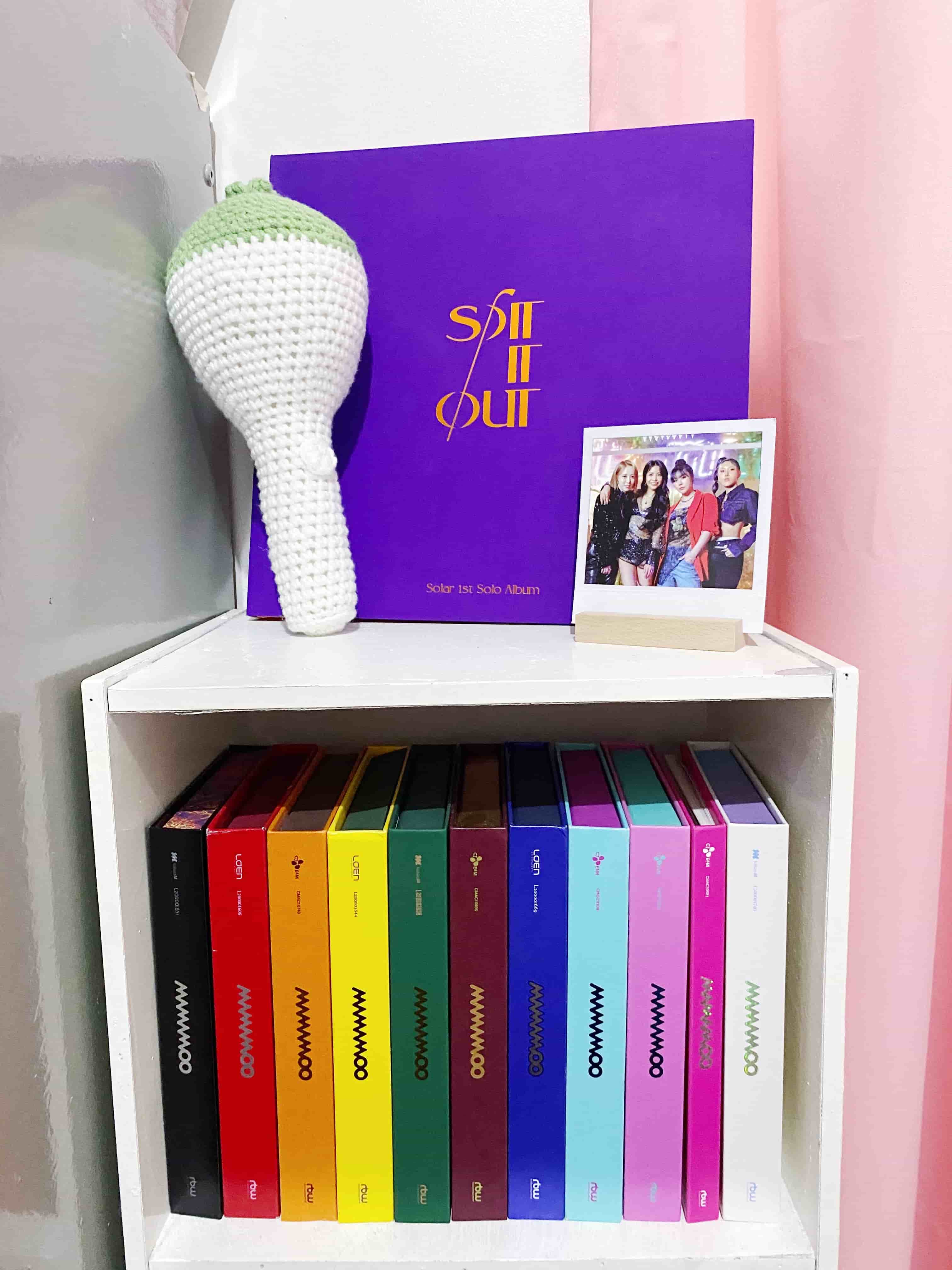 "At first, I didn't plan to display my collection in my room, but I was inspired by those cute photos I saw on social media by fans who have their own K-pop corner. Also, I was planning on renovating my room last year, so I was motivated to put a place dedicated to my collection as it signifies myself as a fangirl."
ADVERTISMENT - CONTINUE READING BELOW ↓
Hazel, 27, is a lovesick girl for Blackpink's Lisa, the idol is the star of her bedroom.
"I love BLACKPINK. [I became a fan during the] "Lovesick Girls" era. I only started collecting merch last February 2021 and to date, I spent roughly P15,000, including all the donations I made for the much-awaited "LS1" (Lisa solo). One of the unique merch I have is Pepsi cans from Thailand. For the decors, that cost me P3,500 for the three pictures."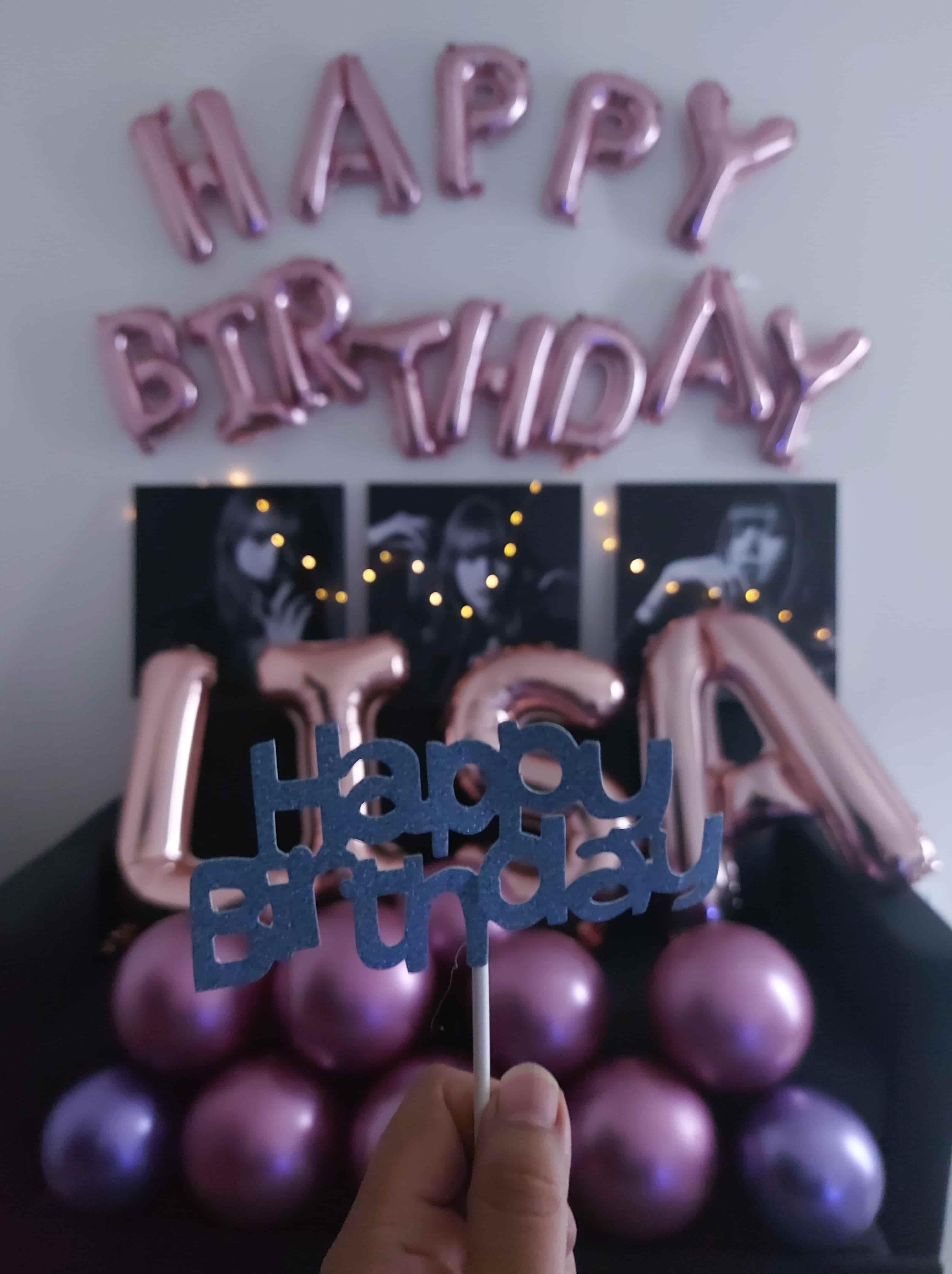 ADVERTISMENT - CONTINUE READING BELOW ↓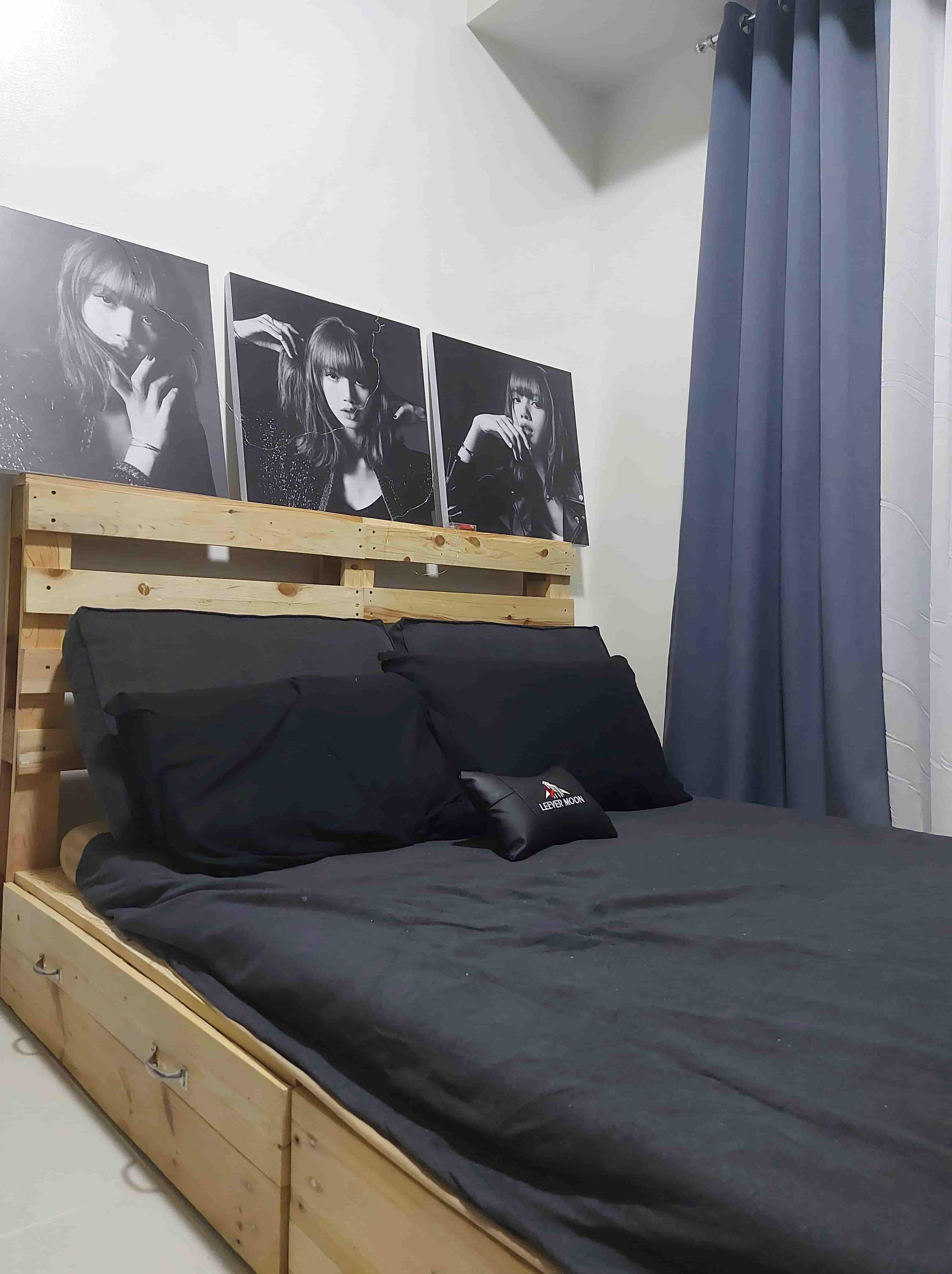 "My other merch hasn't arrived yet—the downside of group orders! Also, I am limiting my merch spending to prepare for"LS1". Lisa has been my safe haven since my last break-up. She lights up my life."
Dennisa Elido, 26, displayed things that made her happy. How you like that?
ADVERTISMENT - CONTINUE READING BELOW ↓
"I started being a fan of BLACKPINK last August 2018. The video that caught my attention was "As If It's Your Last." Since then, nagsimula na ako mag-collect ng merch and albums. The first merch that I bought was the Square-Up mini album. My estimated expenses so far amounts to P25,000 to P30,000. My estimated expenses sa pag-decorate and renovations for my "Blink Room" are worth P4,000 to P7,000. [That includes the] shelves, mood lamps, wall grid, etc."
"I like to display all my merch in my room kasi ang saya sa pakiramdam na makita mo 'yung mga collections mo na marami and that's how I show my support to them. I love BLACKPINK so much, so they deserve to be displayed in my room and I am proud of my own "Blink Room."
Sophie, 26, almost quit K-pop merch collecting… but did a room makeover instead.
"I'm a golden era fan way back in 2010, so that would be SNSD, 2NE1, After School, Secret, Miss A, AOA, Apink, Red Velvet, and Sistar. I'm also a huge MOOMOO. I love Mamamoo and Ailee, also a little bit of  BLACKPINK and GOT7. My Korean seatmate during college made my fangirling habits worse. HAHA! I also started collecting merch during those times, too. I would rather spend my lunch money on specialty merchandise than eat lunch. I would just pack food from home and bring it to school, then when mom picks me up, I would ask her to grab something to munch on before going home. Hahaha! Yes, I still have those things with me up to this day."
ADVERTISMENT - CONTINUE READING BELOW ↓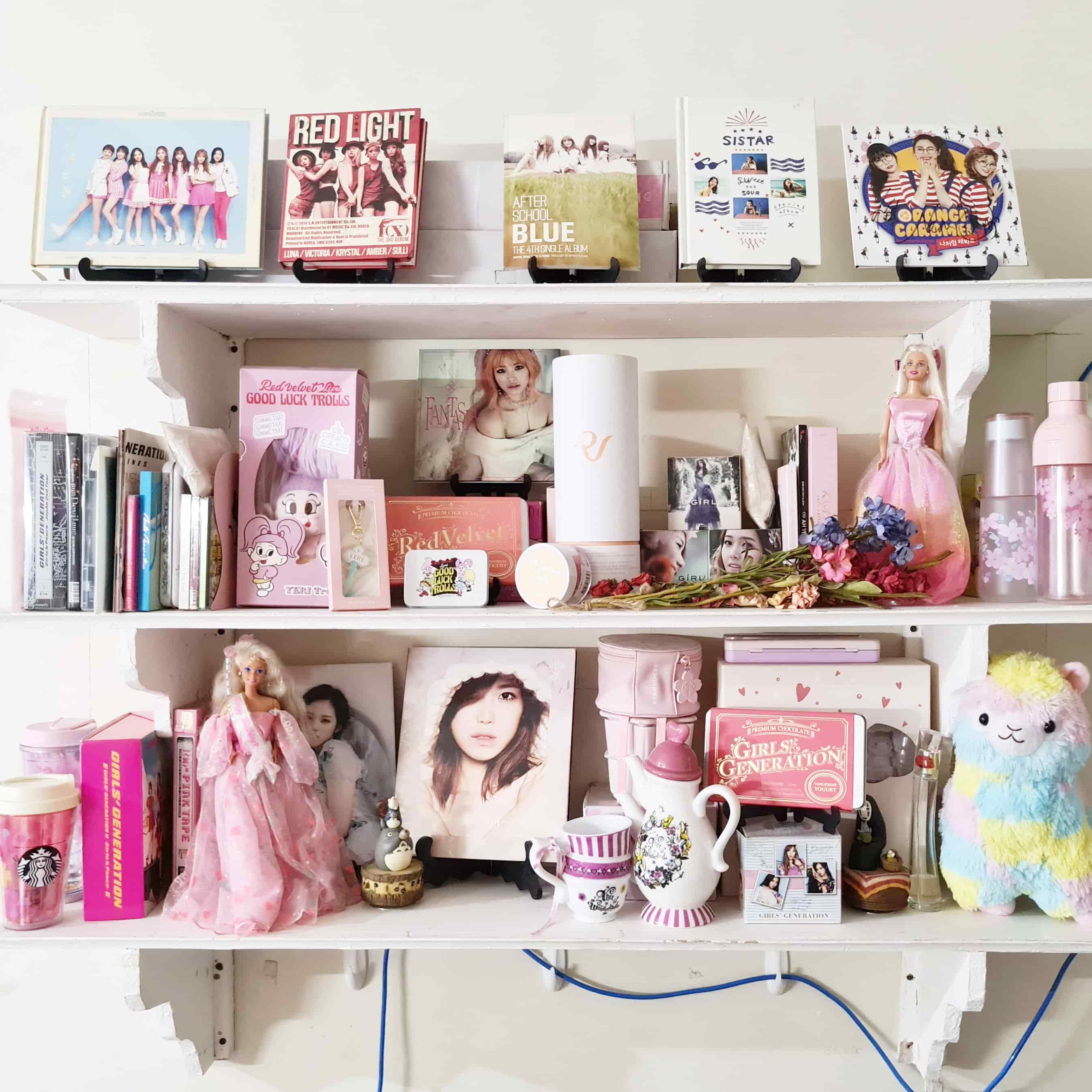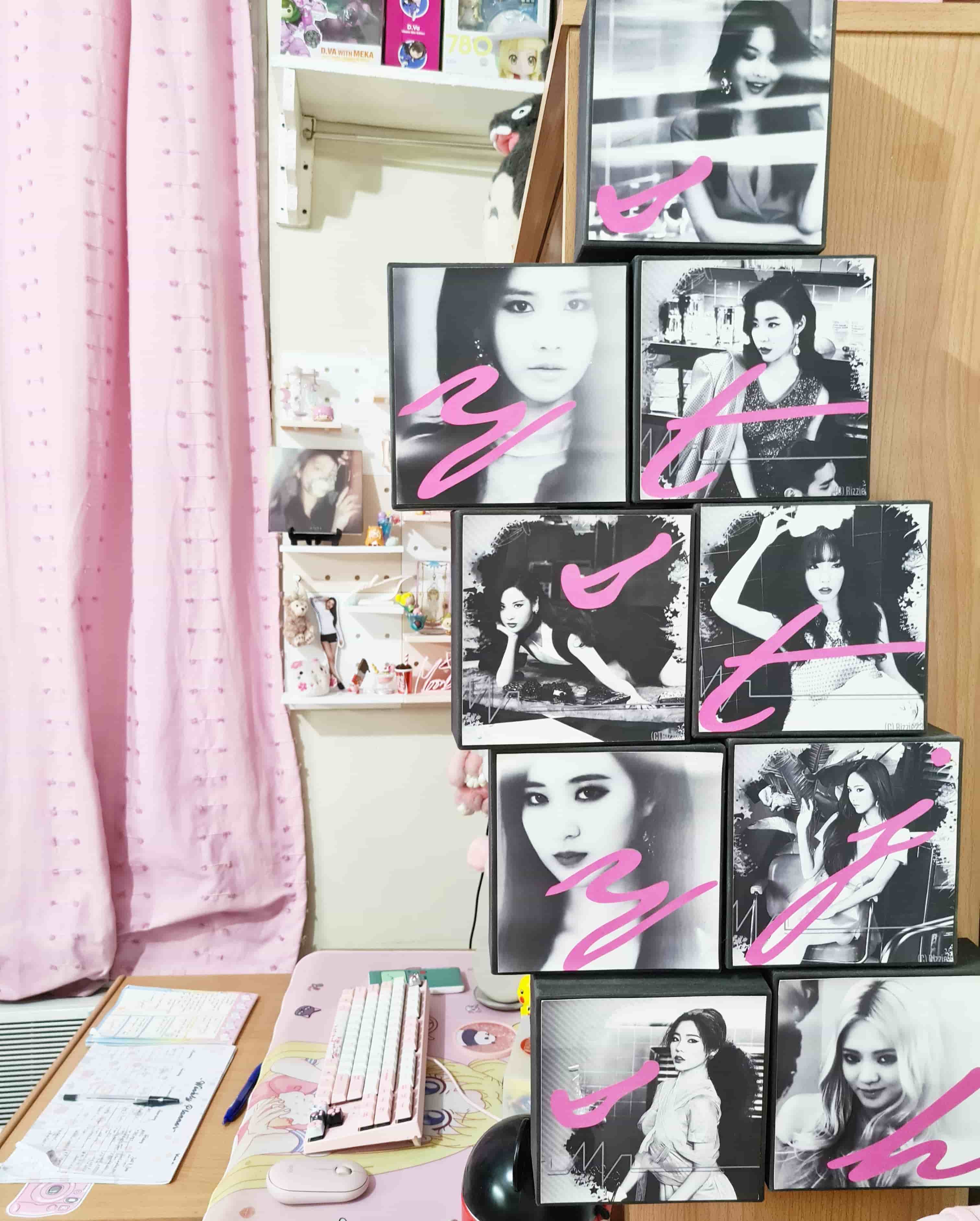 ADVERTISMENT - CONTINUE READING BELOW ↓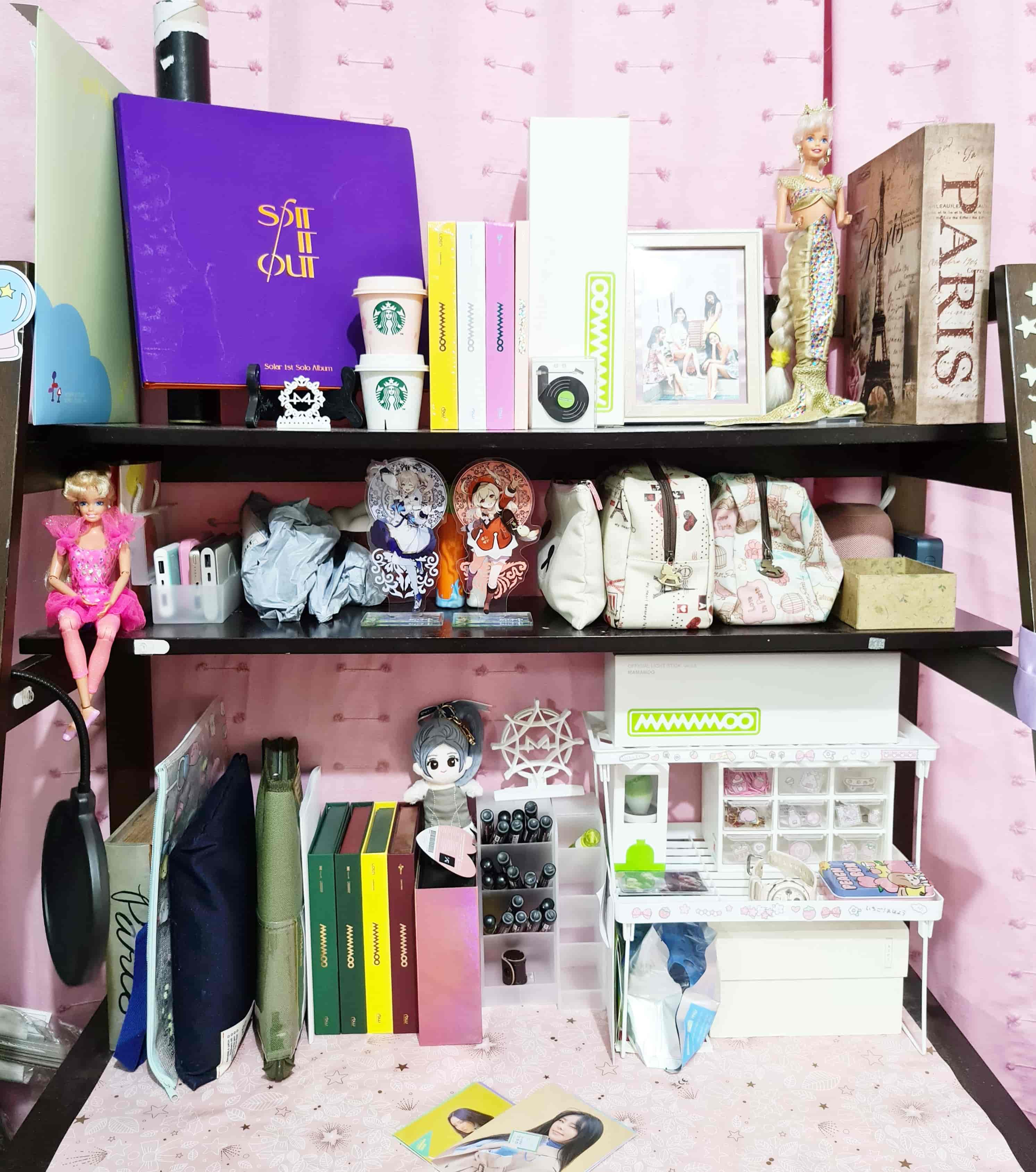 "Honestly, I was about to pack everything up and say goodbye to my fangirling days, like how Andy packed his toys and was about to place them in the attic. Hello, adulting! But my boss told me to not pack these precious things and just redecorate my room. I do not regret displaying all my merch again, because memories of my younger days just keep flowing every time I see these things. K-pop helped me go through my first college course. After graduating, it also inspired me to be better physically, and K-pop pushed me to chase my dreams. Although these K-pop stars may not know me, they shook the best out of a lot of people and inspired many—not just me."
ADVERTISMENT - CONTINUE READING BELOW ↓
"To maximize the upper wall space of my room, I thought of putting racks. I placed all my abubut there, which are my collectible toys, stuff toys, and my K-pop merch! I probably spent around P5,000. [For the merch spending,] MY GOODNESS! I kind of regret this in my life, buying merch, because when I think of it... I think I spent around P200,000 or probably P250,000?? MAAAA! I'M SORRY, MA!! KASI… charot. Honestly, I have sold all my 2NE1 albums and merch, along with my Apink and Red Velvet. But the money that I got back from those albums, I'm not sure where it is now! But I have stopped on impulse buying albums because they are just on display. I do not even use the CD to play the song. I use YouTube or Spotify! If the album and song appeal to me, yes, I will buy. But if not, I don't anymore. It also applies to merchandise. If the merch is useful, I buy it. But if not, I don't. I intendedly spread the whole merch around my room, because it's boring if everything is just in one corner."
ADVERTISMENT - CONTINUE READING BELOW ↓
Niki dela Cruz, 27, was tipid when it came to decorating with her merch collection.
"[I'm a fan of] TWICE, BLACKPINK, and Girls' Generation. In 2010, I found a Girls' Generation album [while I was strolling] Robinson's Galleria. It was the first time they released Korean albums in Philippine music stores. Funnily enough, I have not spent a lot since then. In that span of 10 years being a fan, it's probably around P10,000 or less. Most of my early merch were gifts."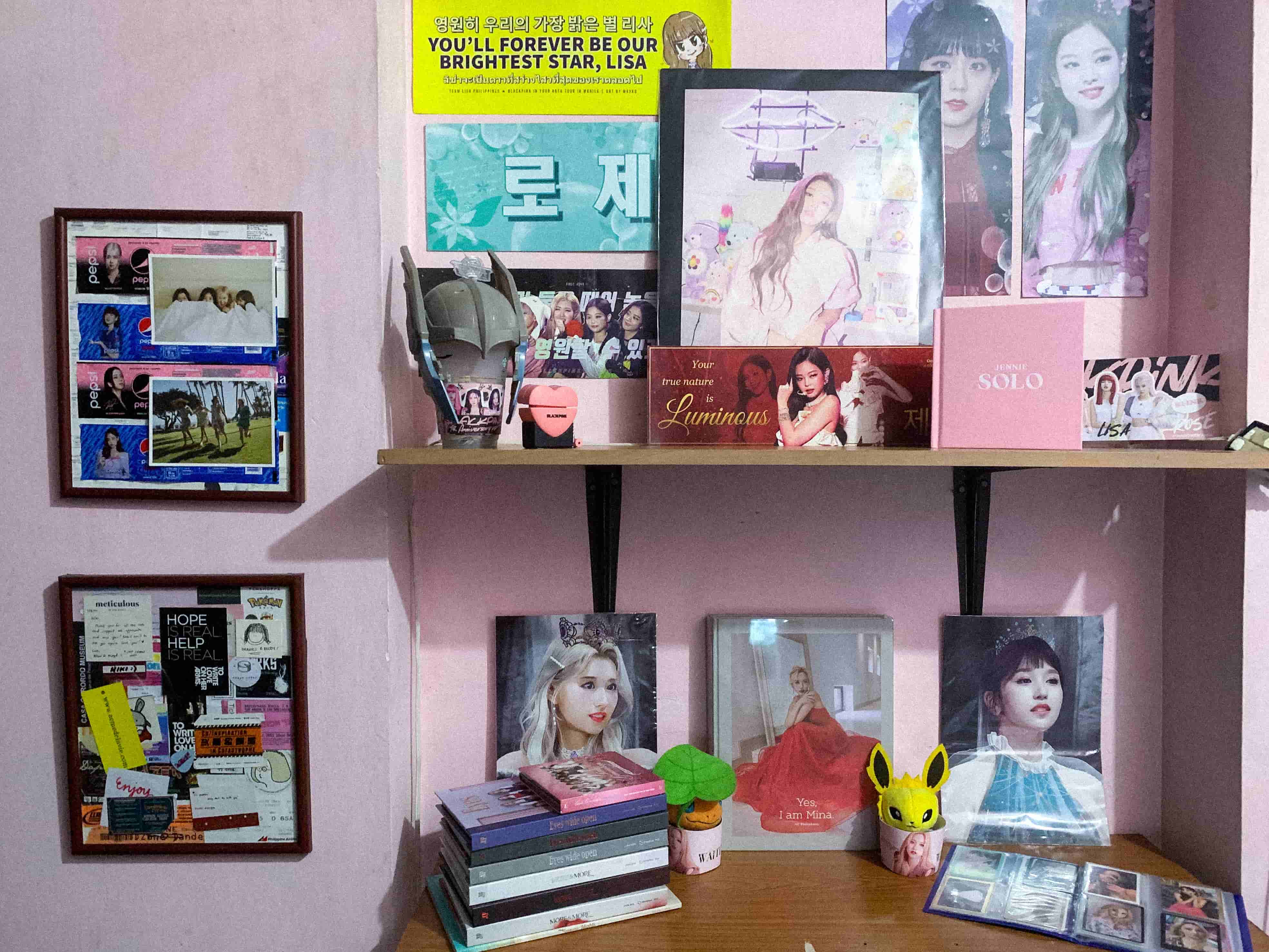 ADVERTISMENT - CONTINUE READING BELOW ↓
"When I finally got a room of my own, I wanted a space for my merch, and I needed to fill the spaces and empty walls. I spent little to none on decorations! The shelves I had to house my merch were upcycled. Wall space for posters too, didn't need any renovation or tweaks."
Andie, 28, can't ELF but spend CASSIOPEIA on merch.
"[I'm a fan of] Super Junior and TVXQ. I learned about K-Pop in 2011-ish, but I only truly came back to the fandoms around 2017. I started collecting merch around the same time. In total, I've spent around P60,000 on just merch (albums, lightsticks, season's greetings, photobooks, concert DVDs, etc.)"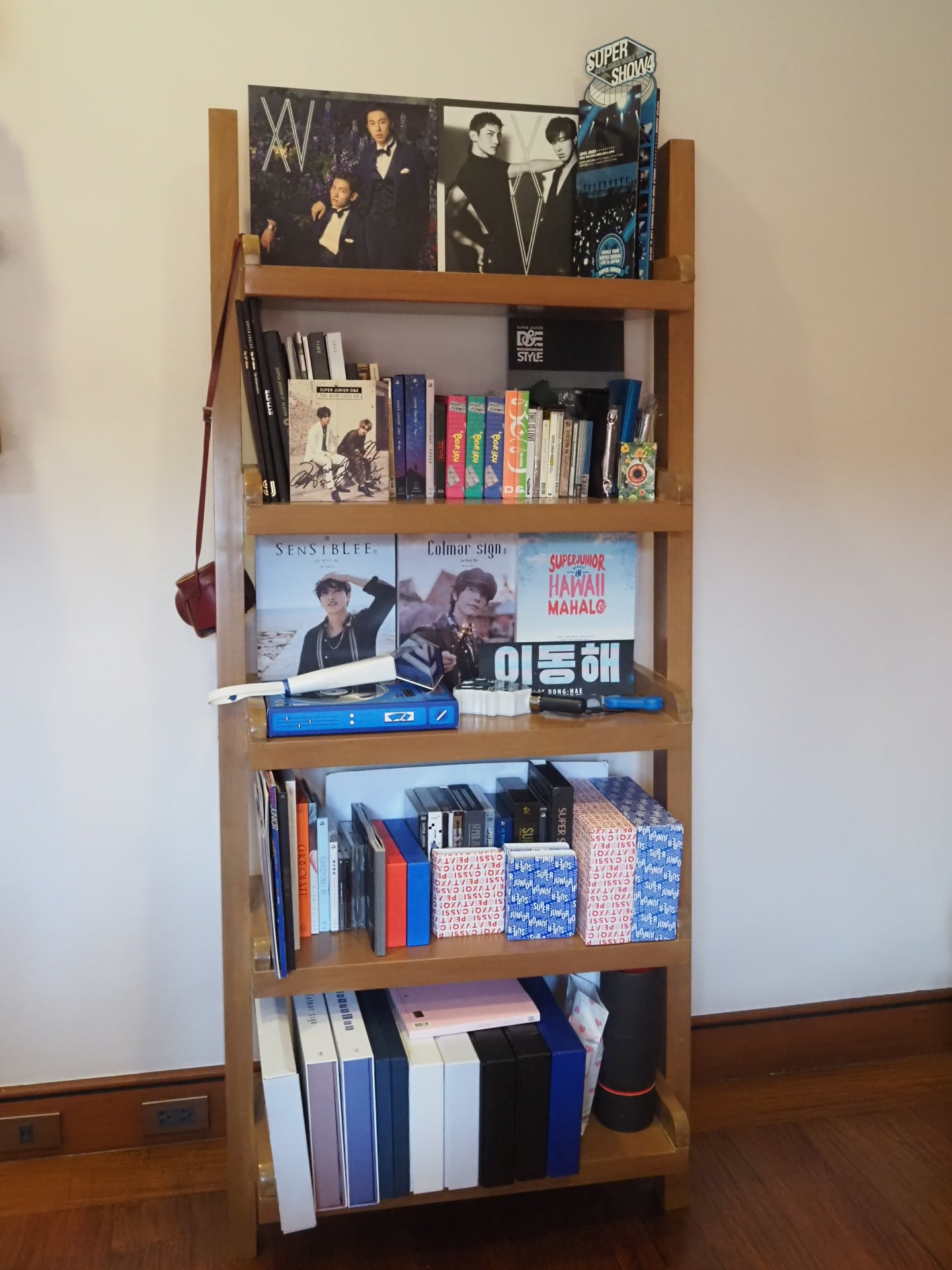 ADVERTISMENT - CONTINUE READING BELOW ↓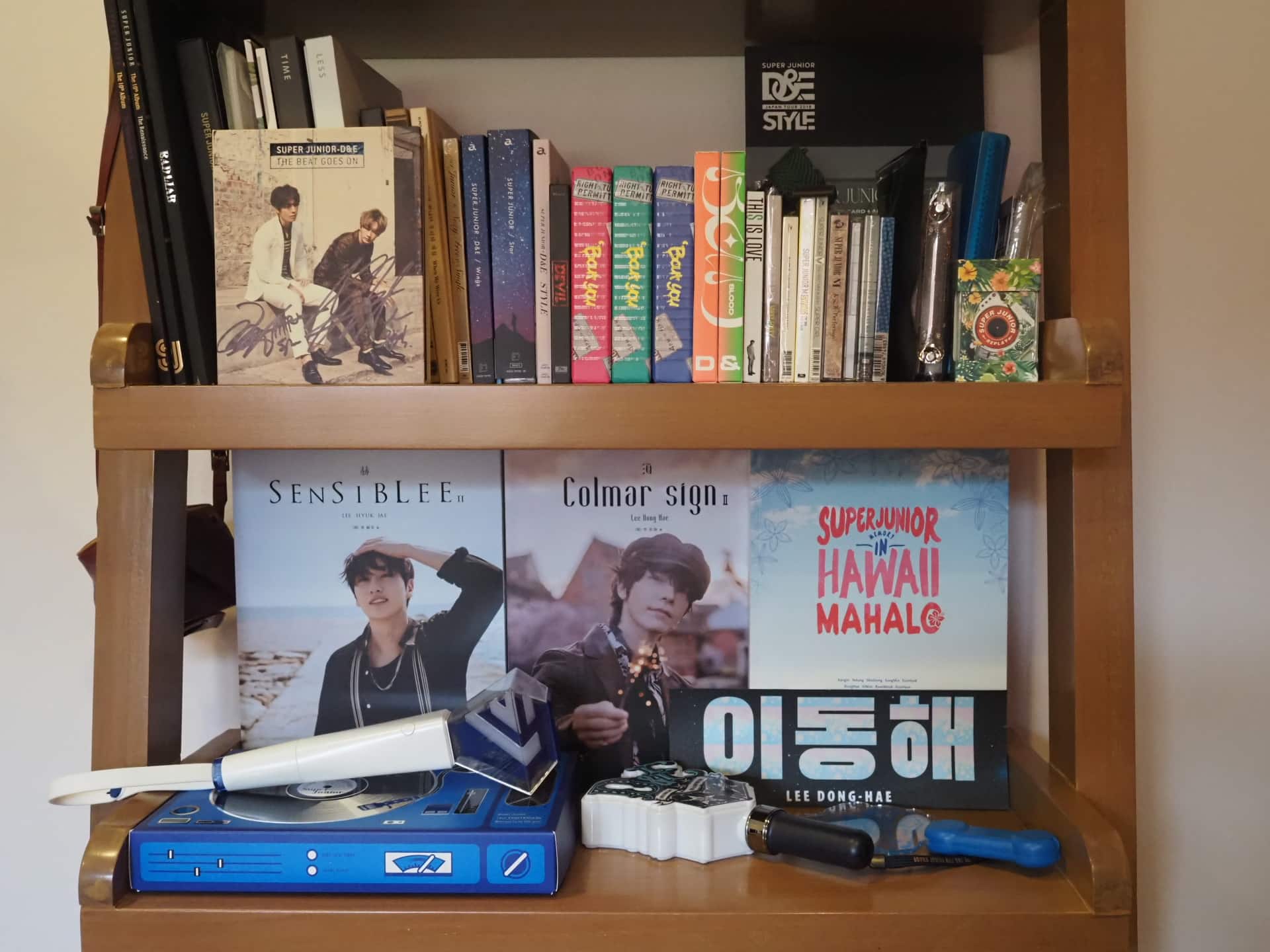 "When ECQ first started in March 2020, I knew I wanted to renovate my bedroom because I'd be working from home. Aside from buying a desk and office chair, I wanted a place to display my K-pop merch collection so it wouldn't all just be in boxes in my closet. It looks really pretty now, and I love to see the rarer items front-and-center! Since my family and I were having several pieces of furniture built at the time, my parents decided that my ladder shelf would be a 'gift'. I definitely thanked them a lot after finding out!"
ADVERTISMENT - CONTINUE READING BELOW ↓
Ezra Augusto, 29, started with TVXQ merch but expanded to collecting merch from other groups like NCT and WayV during quarantine last year.
"[I started collecting] in college, around 2008 (in Zamboanga City, there honestly wasn't much during the time I got into K-pop, which was around 2004. It only became more accessible to me in college). [On estimate, I spent] more than P100,000? *chuckles nervously as we will never know [the actual total], if including the tickets to fly to watch those concerts where I bought the official merch and the high shipping fees from direct orders* I honestly lost count since I have been collecting for a long time. Albums, DVDs, and papel budols are for a different conversation. LOL!"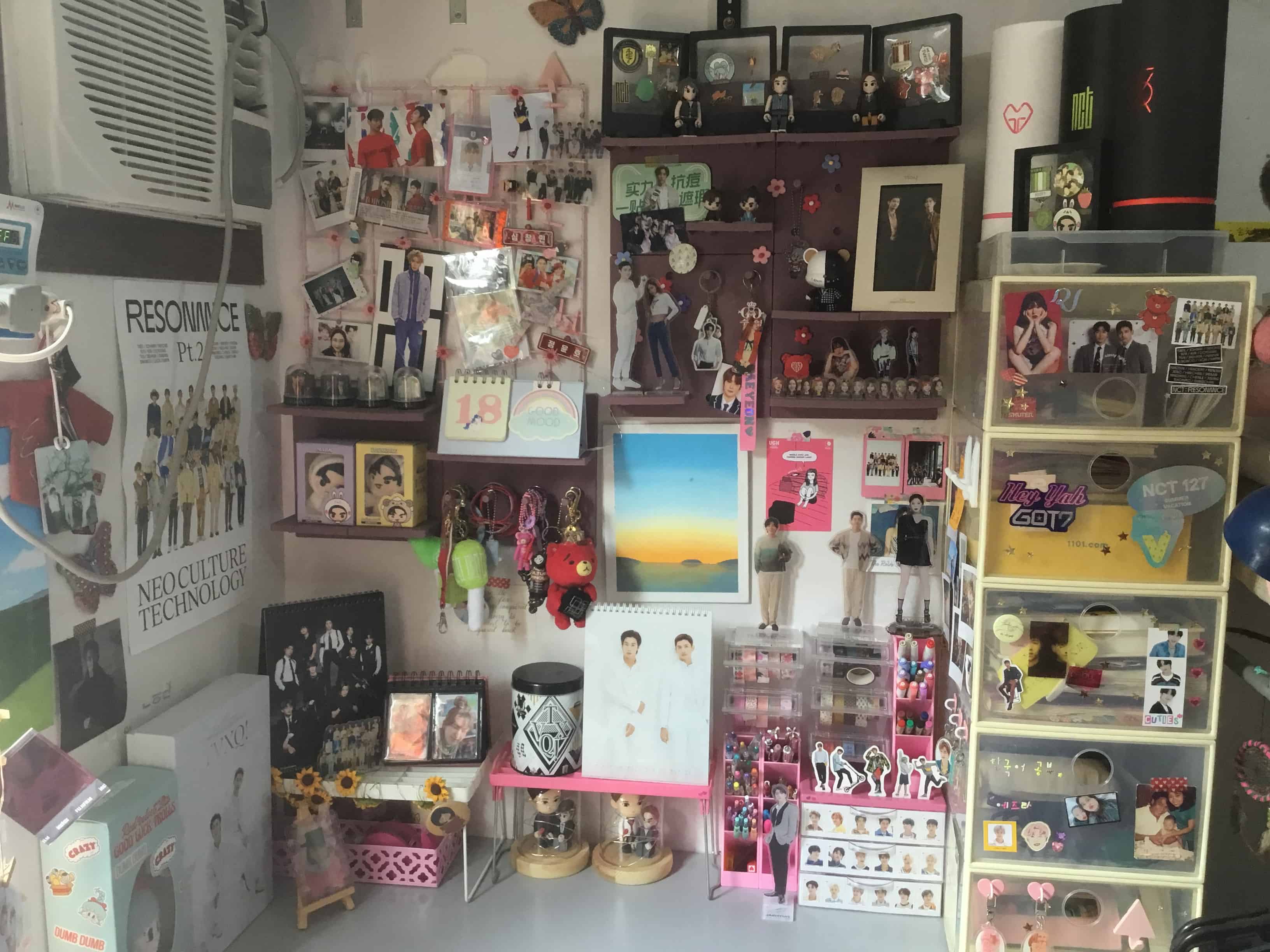 ADVERTISMENT - CONTINUE READING BELOW ↓
"I feel like it's a waste to just stash away merch inside a box to be forgotten, so I display some of them (especially my official standees and Season's Greetings calendars) on my worktable. I also like to be reminded why I work. I haven't spent much on decor since there are a lot of cheap stuff on Shopee and Mr. DIY—maybe P5,000 considering the fairy lights, acrylic containers, pegboard, and fan-made acrylic standees to name a few)
Tintin, 33, never questions, "Why did I fall in love with you?" when it comes to TVXQ
"I got into the K-pop fandom around 2000 or 2001, I can't clearly remember anymore but I only started buying merch around 2002 or 2003 because I was just a poor high school student. Honestly, I don't compute [how much I spent] and don't want to compute because it might bring tears to my eyes and maybe to my parents' eyes, too, haha! Perhaps readers can imagine or compute on their own how much I've spent for the past 19 years and counting…"
ADVERTISMENT - CONTINUE READING BELOW ↓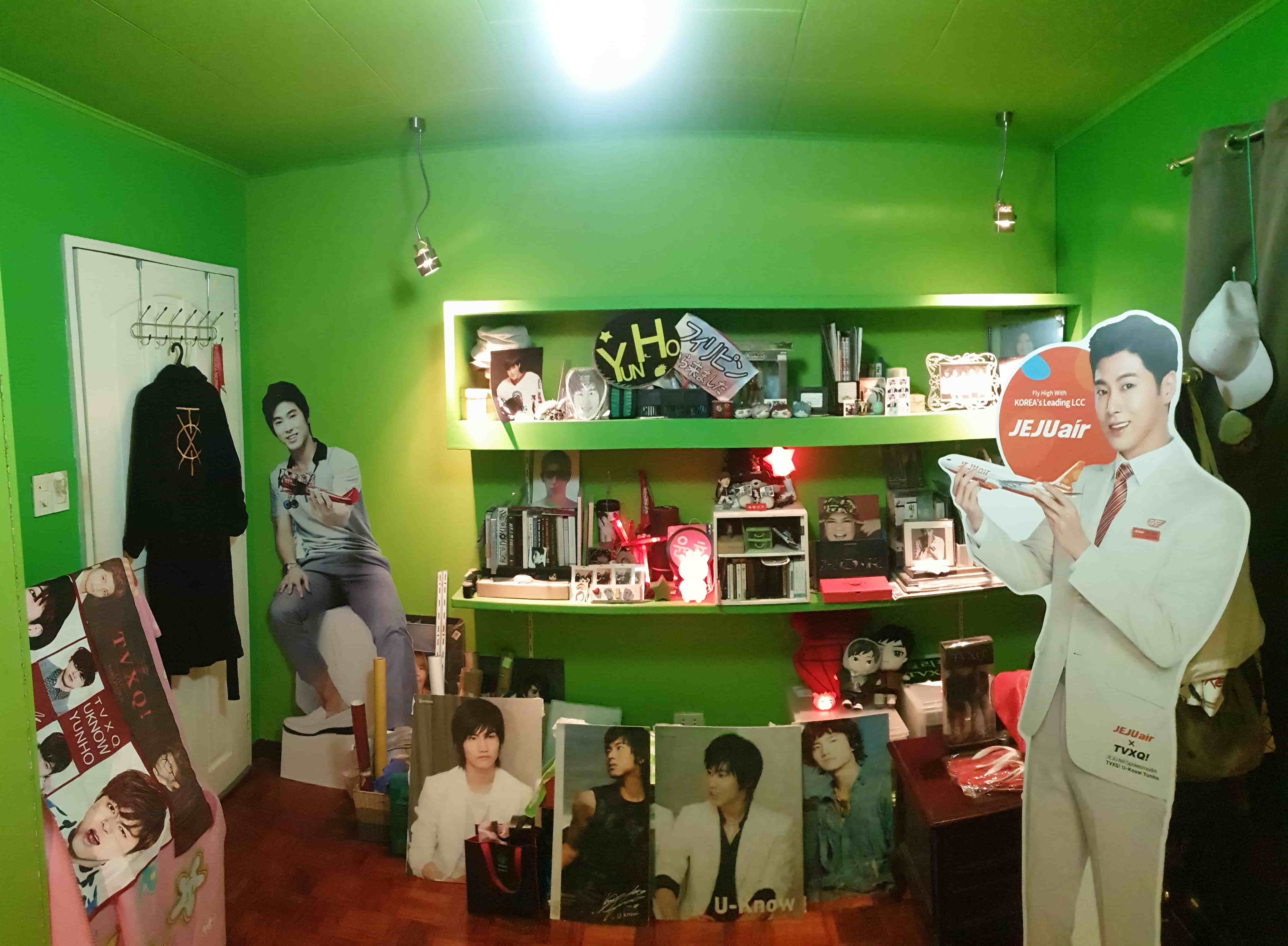 "TBH, I have nowhere else to place them, LOL! I even invaded my dad's wine display cabinet because I have nowhere to place my merch (for both anime and TVXQ) as of this moment. We are actually still in the middle of organizing everything in the house. From the fist renovations I did about nine years ago, maybe it cost around P5,000 at that time. Seeing the merch every day makes me smile. Like for example, you have a bad day or a very tiring day after work, you just look at your bias' face on the poster and it makes you feel lighter, happier, or giddy, hihi. Or when I wake up, his face is the one I see first. O 'diba ang saya!
ADVERTISMENT - CONTINUE READING BELOW ↓
Want to show off your K-pop shrine, too? Join the Cosmo Community and share them!
**Answers have been edited and condensed for clarity.
K-UPDATES