I have a love-hate relationship with fashion. Whenever I walk into a store, the items I'm drawn to are usually the ones I can't wear-and I hate it. At 5'5" and being a US size 10, I'm bigger than your average Pinay. There are days when I'd give anything to be called petite, but I'm also resigned to the fact that that day will never come.

Nonetheless, I occasionally enjoy flipping through fashion magazines (other than Cosmo) and keeping myself abreast with the latest trends-or just observing what people in the Summit Media office are wearing. Not all trends are curves-friendly, but there's nothing wrong with some wishful thinking from time to time. So, without further ado, I present to you my in-your-dreams list. If I had a model-esque figure, I'd love to rock...
[readmore]
A Super Sexy, Sleek Bodycon/Bandage Dress
The first time I saw one of these dresses was when we shot Angel Locsin for our February 2009 issue. The genius behind said masterpiece is designer Estien Quijano. I remember being amazed at how garters that are roughly four or five inches thick could all be sewn together to create a fabulous dress. Angel isn't reed-thin at all. In fact, she's quite the opposite. She has curves where curves should be, and the dress looked smashing on her. Of course, if I were to wear it, it'd probably cut circulation in various parts of my anatomy...but, looking back, maybe this could be an achievable goal.

Ripped Leggings...Or Anything Ripped, For That Matter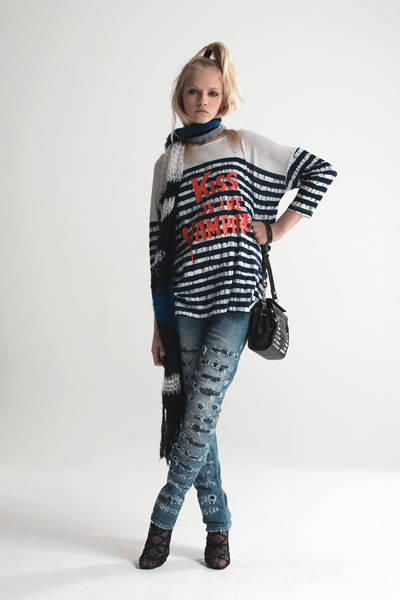 When our Fashion Editor Kat first came to the office in ripped leggings, I was under the impression that it was one of her DIY projects. I was wrong. Apparently, she bought it from a stylist in one of her shoots. A couple of months down the line, ripped leggings, tops, skirts, and dresses became a staple in every A-list celebrity's closet. I thought they were hot the first time I saw them, and even more so when variations of ripped apparel started coming out. Grunge may have died with Winona Ryder's movie career, but it has been successfully resuscitated with the onslaught of tattered and torn clothing. Unfortunately, unsightly bulges will never be hot, so I really can't wear ripped anything unless I lose a considerable amount of weight.
Some Ultra Hotpants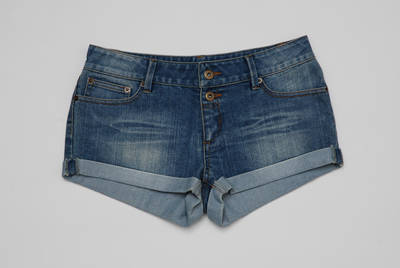 Ever since I was in high school, I've always envied girls with spaces between their legs-partly because they don't have to worry about chafing thighs, but mostly because they can make your everyday pair of shorts happen. When wearing shorts to dressy events became acceptable, I was envious of girls with slender legs because they could be sexy and comfortable at the same time. I want that too. I want to be able to wear a decent pair of short shorts without them riding up my thighs while I walk. That's all, really.


A Pair Of Wicked, Fuck Me Thigh-High Boots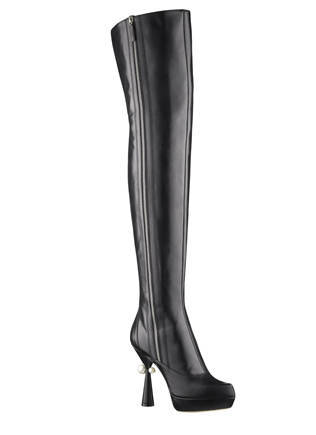 Earlier today, I spotted our Beauty Editor Nicole in a dress and thigh-high boots. She looked really cute...in a superhero kind of way, which I thought was really cool. The thigh-high boots brought her dress to a completely different level. It was the right kind of sexy, and definitely not skanky at all. With a pair of thigh-high boots, you can show a lot of leg without actually showing skin. If I had the money, I'd buy a pair just so I can stare at them, because they're rather eye-catching. That's also how I'll console myself over the fact that they probably won't even go past my calves.
And, Finally, A Damn Fine Bikini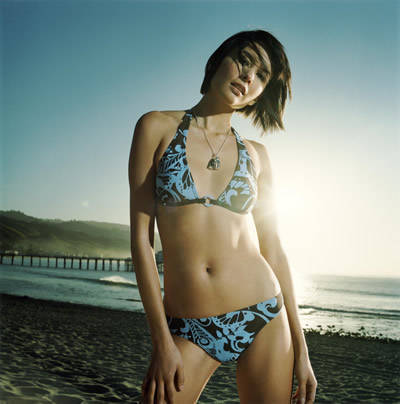 For one of our planning trips, the entire Cosmo team went to Sabangan Resort in Batangas. It was a lot of fun, but I can't help but feel sorry for myself when I see all these dainty girls prancing around in their bikinis, while I stick out like a sore thumb in my tankini. I want to be able to wear a really nice bikini without having to worry about whether my chest area looks too obscene or if my love handles are spilling over the sides of my bikini bottoms. Although I know that I'll never be able to pull off a string bikini, I really don't mind. I'm fine with looking halfway decent in swimwear.

Ultimately, fashion isn't about following the latest trends. It's more about figuring out what works for you and what doesn't. I understand that I may never get to wear everything on my list, but that no longer bothers me. There are other ways to work it, and I'm determined to find out. Thanks for reading!