Like many other people, my mental health suffered in 2020. I'm an introvert, and I normally thrive on alone time, just preoccupying myself with my hobbies like reading or watching K-dramas. But because of the quarantine, I realized that while I could be okay with not talking all day, I liked being surrounded by people. Being cooped up made me feel trapped. Not being allowed to leave was different from choosing to stay home. Working from home also added to my stress levels. I was lucky to have a job, but I felt exhausted and anxious, and this resulted in physical symptoms like heart palpitations. I couldn't figure out what work-life balance meant anymore.
It was with this state of mind that I first got into tarot. I've had a couple of readings done before, and I found the experiences helpful (I even cried once!). The concept of reading for myself intrigued me, but I never got around to learning. There was no big "Aha!" moment when I finally bought my first deck. I was just at the mall one weekend last year when I came across a deck called City Tarot (P550) at a hobby shop. I really liked the images on the card box, so I decided to buy it.
As the reader, you're the one who gives your cards power.
What I didn't realize was that I'd just bought a counterfeit deck. It only came with a folded paper manual for The Smith-Waite Centennial Tarot Deck instead of my cards. When I did my research, I discovered my deck was actually called The Urban Tarot and that the card images I had were stretched vertically compared to the original. I was really disappointed that my first deck turned out to be fake. Thankfully, The Urban Tarot had an equivalent mobile app, so I started my learning from there. (Side note: If you do end up buying a counterfeit like me, don't feel disheartened. Know that using your deck doesn't make your readings any less meaningful. As the reader, you're the one who gives your cards power. It's important to support the artists and makers who worked hard to create the original decks, though, so I became more vigilant with my future purchases.)
Continue reading below ↓
Recommended Videos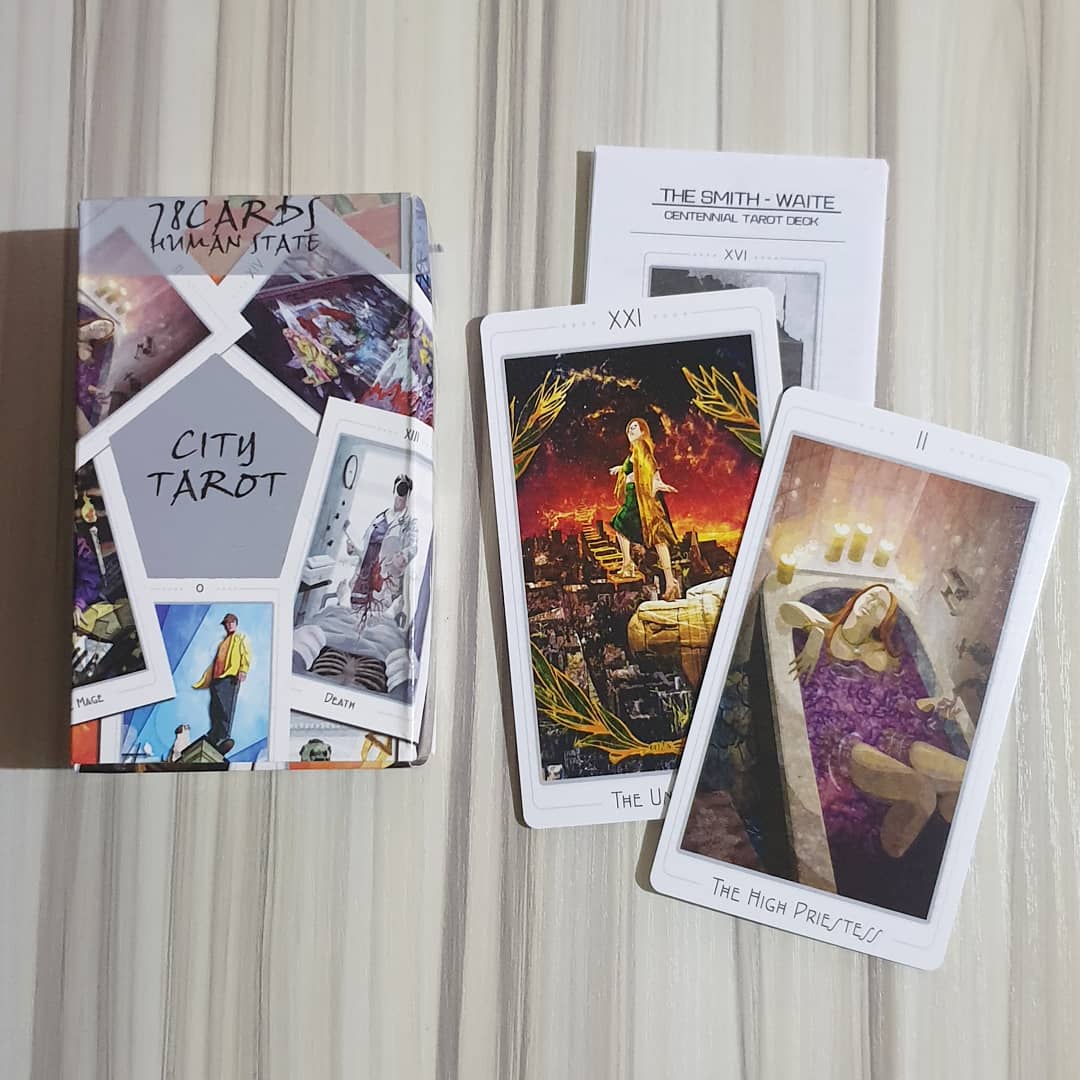 Reading Tarot Cards: What Tarot Is
When people hear "tarot," they usually think of fortune tellers or psychics, and it's often associated with predicting the future (I think of one of my fave MMFF entries, The Boy Foretold by the Stars and their tarot reading character, Baby R). The truth is, anyone can learn to read tarot if they want to. Some readers do identify as mystics, but I personally don't. As for my tarot philosophy, rather than a tool for prediction, I see tarot as a way to connect with the inner self, like I'm looking deeper into myself and pulling out the messages that I currently need the most. We can see possible outcomes based on our actions, but that doesn't mean they're going to happen for sure.
Nowadays, it's not uncommon to get into tarot to read for yourself and use it as means of self-reflection. I think, as people, we just naturally seek answers and want to make sense of ourselves and our actions. 
I made an Instagram account called The Soul Care Journal for my tarot thoughts just this year, and I saw a lot of people like me who started their tarot journeys in the middle of the pandemic. Nowadays, it's not uncommon to get into tarot to read for yourself and use it as means of self-reflection. I think, as people, we just naturally seek answers and want to make sense of ourselves and our actions. That need for guidance became even more pronounced because of our situation.
To be clear, tarot isn't a replacement for getting expert medical or legal advice, and no tarot reader will advertise it as such. While I use it to improve my mental health, I don't think of it as replacement for professional therapy (and full disclosure: I've gone to therapy myself). My problems didn't magically go away just because I started reading tarot cards, but it did help me center myself so that I could be more confident in my decisions. I think of it as like having a life coach—and that life coach is myself. 
How I Learned To Read Tarot
Some of my friends thought it was interesting that I gravitated towards tarot. My day job has to do with data, so they thought it was completely at odds with what I do. But tarot actually involves a lot of thinking, practice, and learning. You rely on your intuition to read, but it helps to have a solid foundation to draw from.
A regular tarot deck has 78 cards: 22 Major Arcana cards and 56 Minor Arcana cards. I won't get into the nitty gritty details here, but I did feel daunted when I was starting out. My first deck was beautiful, but it wasn't suited for beginners (it was a Thoth deck, which uses a different system). I switched to a traditional deck, the Rider-Waite Tarot. It uses images and symbols that are easy to interpret, so I didn't have to rely heavily on a guide when I read. If you don't find yourself relating to the images in the Rider-Waite, there are plenty of decks out there that use it as a base. This means you can find a deck with more contemporary or more fantastical elements and still be able to connect the imagery to Rider-Waite.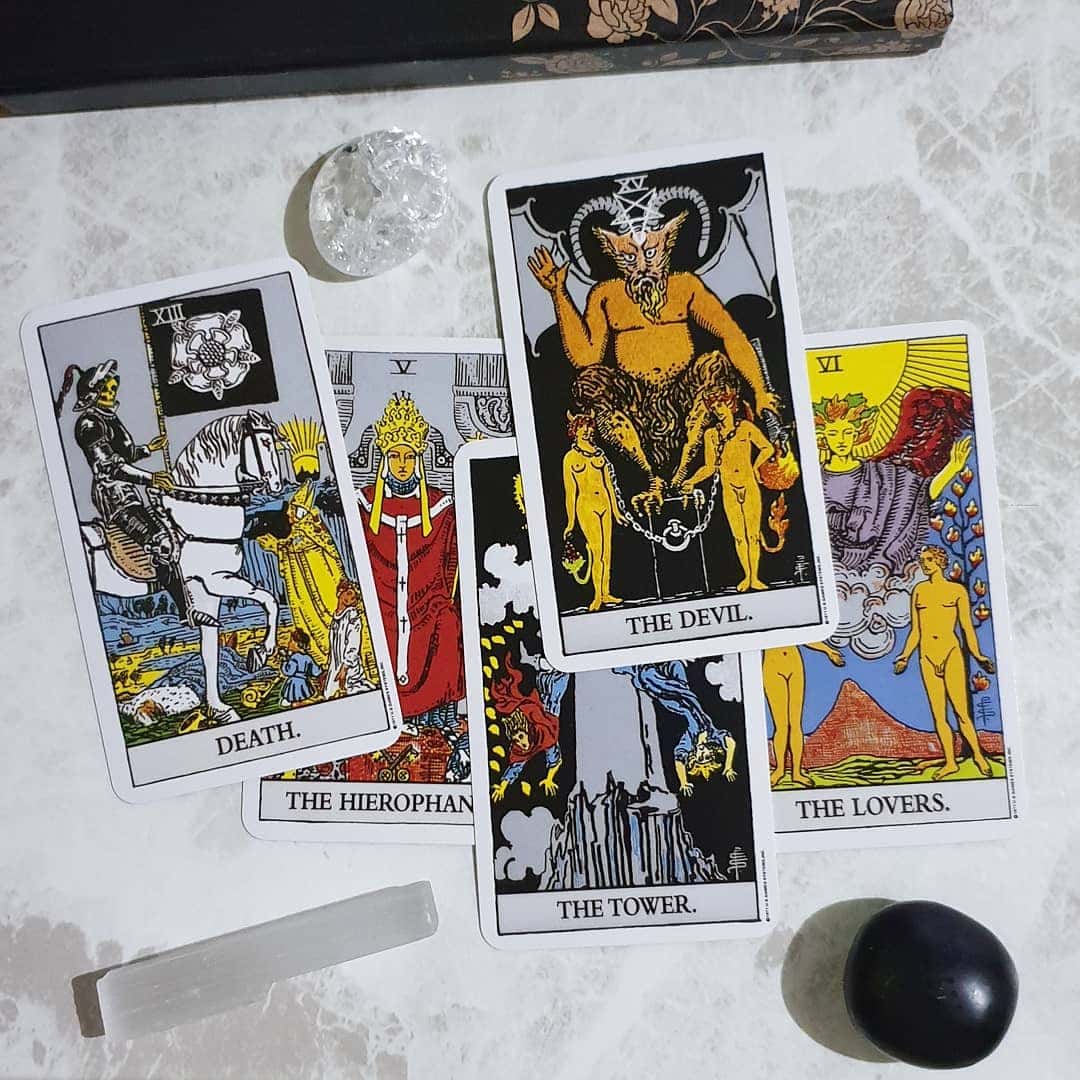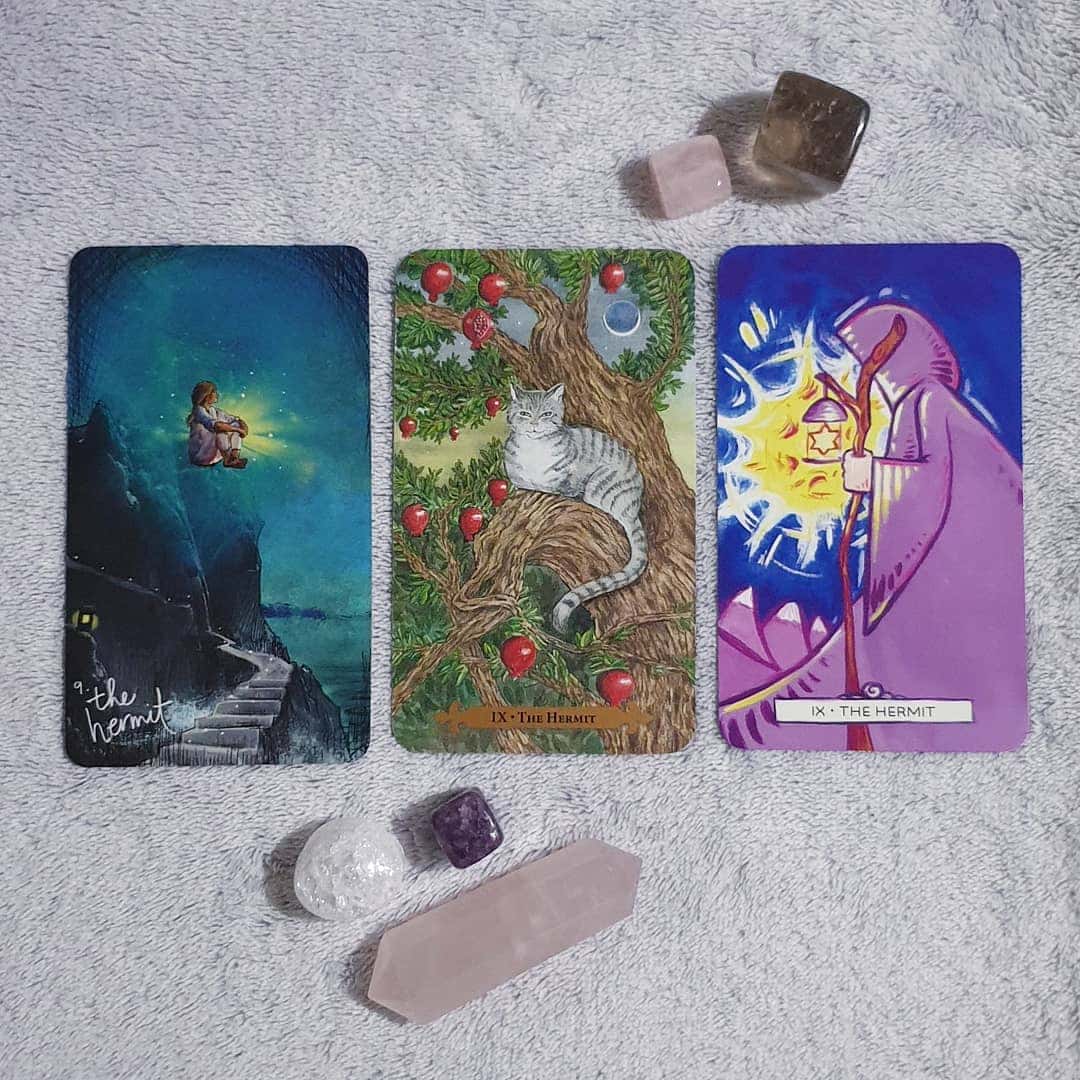 Reading tarot can be an affordable hobby (if you don't end up buying a lot of tarot decks like I do!). If you can't spend on a deck yet, there are apps like Labyrinthos Tarot, which allow you to practice and study for free. I grasped the basics from sites like BiddyTarot.com, which has books available like The Ultimate Guide to Tarot Card Meanings. I loved local reader Chinggay Labrador's philosophy, so I read her blog, Practical Magic. The tarot community on Instagram is pretty friendly and open, too. There will always be someone willing to answer your questions. I've tried exchanging tarot readings, and it's so helpful to get other people's perspectives.
For me, studying tarot was kind of like falling into a blackhole. I just wanted to learn more, so I kept reading blogs and books (I still do). I now also spend more on my hobby, like buying more decks and doing an online intuitive tarot course with my favorite tarot mentor, Gina Spriggs. These aren't requirements for studying tarot. Tarot mentors encourage you not to memorize card meanings and to exercise your intuition. You will naturally draw meanings from the cards (but it's definitely okay to reach for a guidebook when you're starting out and you feel confused).
 I didn't ask the cards any questions at first. I would just ask for what to focus on for the day, and that was enough. 
The best way to learn is to just build a relationship with your cards and practice. I started pulling one tarot card a day and recording my thoughts on each card in a journal, even before I fully recognized all of them. I didn't ask the cards any questions at first. I would just ask for what to focus on for the day, and that was enough. After the day was over, I would go back and check on what I'd written. I progressed to doing spreads, where you lay down a series of cards in answer to a question or topic. As I practiced more and sharpened my intuition, I found that reading became easier.
I now start each day with a tarot pull (although, of course, there are days when I miss, haha), and I do plenty of spreads for myself. I've done readings to help me work through my thoughts about my career, and I've used it to take a closer look at my weaknesses. I ended up resigning from my job in the middle of all this, and my tarot practice kept me from going crazy and second-guessing my decisions.
The possibilities are endless when it comes to tarot, so you can pretty much deep dive into anything you want. It just depends on what your intention is. Reading my cards can get painful sometimes when they push me to see truths I don't want to acknowledge about myself, but I also find that that's when they're the most helpful. Although it's an ongoing process, I feel like I've gotten to know myself better and become more confident, thanks to my practice.
Reading tarot cards has also become a calming ritual for me. Just the act of setting an intention and shuffling cards makes me feel centered. I sometimes use guided meditations as well, which I found really helpful for my anxiety. One of the most important gifts my practice has given me is that it helped me rediscover journaling. I now write regularly, something I'd stopped doing once I shifted careers.
How I Started Reading Tarot For Others
I got to a point where I felt the urge to read, not just for myself, but for others. The first-ever reading I did was for my sister. It was also my first and last face-to-face reading this pandemic. I had a unique dilemma. I was now more confident and wanted to read for more people, but I didn't feel comfortable doing live video sessions for readings. Thanks to Chinggay's own tarot reading services (she does email readings), I saw that doing written readings was something I could work on.
I started doing email readings for friends and family. They encouraged me to branch out and let them know once I felt comfortable offering paid readings (they were a lot surer of my skills than I was, at first). Eventually, I did progress to offering readings as a paid service. Doing readings takes energy, so I'm careful about how I use it. I only do a limited number of readings, but I feel really happy when they resonate with the people I read for. I have lots of ideas for developing my practice as a way of helping others learn about themselves, and I hope I get to improve them and share them with more people this year.
I personally feel like anyone can benefit from reading tarot, especially if you're looking for guidance. There's no standard way of learning to read tarot, so I hope you see my own experience as just one example out of many. Maybe you'll be doing spreads as soon you unbox your first deck. Maybe you'll decide to pull cards on special occasions only. There's no right or wrong answer when it comes to your own experiences—just plenty of opportunities to learn and grow.
Follow Belle via The Soul Care Journal on Instagram.
EXPLORE COSMO