A favorite hiking destination among newbies and seasoned mountaineers alike, Mount Pulag is Luzon's highest peak standing at a height of 2,926 meters above sea level. It is just one of the many cold-weather hiking destinations in the Philippines, and the mountain's coldest months are from December to February. 
The mountain is also known for its otherworldly sights: montane forests, endemic dwarf bamboo plants, rolling hills, uphill trails, and of course, the famous "sea of clouds" phenomenon, which is best viewed at the break of dawn.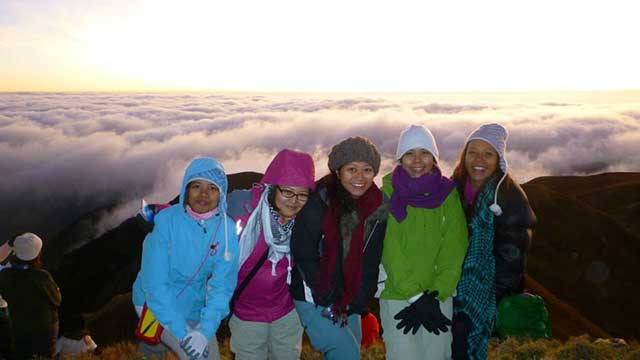 How to get to Mt. Pulag:

Traveling to Mt. Pulag is already an adventure in itself. From Manila, you can opt to ride a bus bound for Baguio or hire your group's own van for more flexibility in your schedule. From Baguio, take a monster jeepney to Kabayan, Benguet, where the DENR Visitor's Center is located. Travel time is about three hours from Baguio.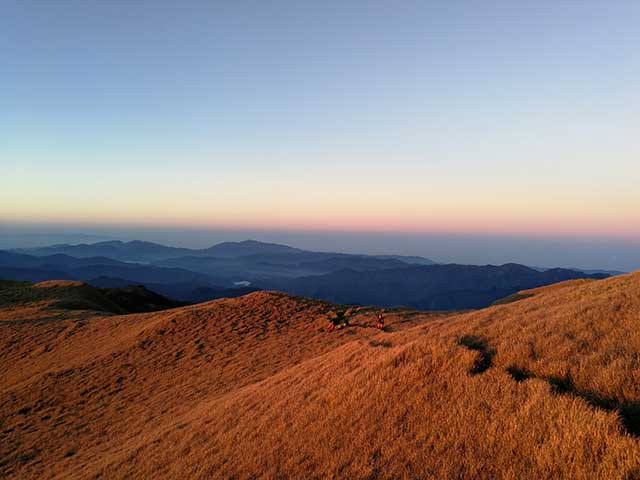 Continue reading below ↓
Recommended Videos
What to bring:
An important travel tip when packing for hiking is that you need to pack light and take only what you need. Some basics include:
Hiking clothes: moisture-wicking shirt, leggings or trek pants, underwear, socks, arm sleeves, lightweight rain jacket, cap or visor, down jacket or fleece, hiking shoes with good traction and lugs, gloves, and a beanie. Layering will come in handy when you reach camp.
Personal gear: backpack, trekking pole, umbrella, camera, head lamp with extra batteries, sleeping bag, first aid kit, mess kit, emergency blanket, personal water, waterproofing (big plastic bag inside your backpack), lip balm, sunblock, toiletry kit, and change of clothes
Trail food: A good combination of trail food should be a mix of fat, sugar, and salty food. 
Group equipment: stove, tent, food load
The four trails to the summit of Mount Pulag:
There are several ways to enjoy Mt. Pulag, and they vary in difficulty. 
Ambangeg trail, which is the easiest, has been described as a "walk in the park." Think rolling trails and open spaces. Hikers taking the Akiki, Tawangan, and Ambaguio trails will usually exit via Ambangeg trail.
On the other hand, the Akiki trail, also dubbed as the "Killer Trail," is more physically demanding compared to Ambangeg, and it takes three days to cover. At the trailhead, hikers are welcomed with a cemented ascent and more uphill trails on the second day. Hikers usually exit via the Ambangeg trail. While difficult, the trail offers scenic views like the Eddet River and Marlboro Country.
Tawangan trail is the farthest jump-off for hikers. Mark Julius Meneses, the current president of AMCI Mountaineering Club shared, "The trail gives hikers a glimpse of the nearby Mt. Tabayoc, Luzon's second-highest peak, as well as the four lakes: Tabeo, Ambulalakao, Iculus, and Detanapco. Hikers usually spend a night in Tawangan Village, a mystical hamlet deep in the forest. The trail also consists of many river streams, lush mossy forests, and of course, blood leeches."
Starting from Nueva Vizcaya, the Ambaguio trail is considered to be the longest trail out of the four. It is rarely used because the trail has been cemented. Its characteristics include steep ascents and mossy forests.
Tips for first-timers:
Attend your group's pre-climb meeting. This pre-climb meet gives you the lowdown of everything you need to know about the hike and what to prepare. 
Don't skip leg day. Make sure that you are physically fit prior to climbing. Some exercises that will get you ready for hiking include running, circuit training, HIIT, and core exercises.
Make sure that your group has a climb permit before hiking Mt. Pulag. Likewise, secure your medical certificate from your doctor to ensure that you are physically fit for hiking.
No equipment? No problem. If you have friends who are into mountaineering, ask to borrow gear, but make sure to clean them before returning (and maybe throw in a pasalubong from Baguio?).
Go for a tune-up climb. A week before the big day, take a day hike that can serve as your "practice climb." Find one near the metro!
Remember the mountaineer's creed: "Take nothing but pictures, leave nothing but footprints, kill nothing but time." 
Pack in, pack out. Whatever you bring up to the mountain, make sure you bring back down with you.
Have fun! The beauty of mountaineering is that not only do you get to take home priceless memories, you can make new friends along the way!
Follow Monina on Instagram.