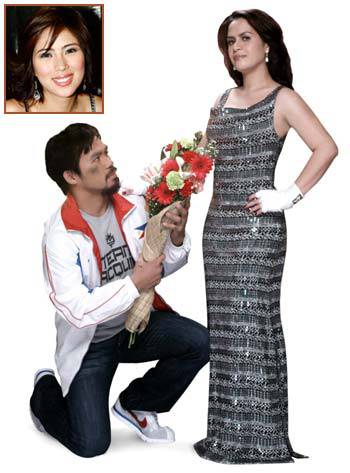 We didn't see it coming.
Manny Pacquiao may have been linked to other ladies in the past
, but despite all intrigues, his family has always been an integral part of both his public and private persona. Now that
reports of an alleged affair with sexy starlet Krista Ranillo
have broken out, it's clear that not even the strongest bonds are spared the crime of
infidelity
. It could happen to anyone--including regular folks like us.
Patricia, 29, a nurse, had been going out with Nathan, 29, an engineer, for nearly five years. To many, they were the perfect couple: Smart, good-looking, and easygoing, they both had stable jobs, the same circle of loyal friends, supportive families, and the same drive to succeed. Nathan, especially, was deemed as "
mabait
" by many, and had been faithful to Patricia. One night, while hanging out in a bar with friends, he was introduced to Jenny. Before he knew it, they were kissing.
Rhea, 20, a customer service representative, was about to meet up with her boyfriend, Dennis, for their usual Saturday date when she received a surprise phone call. He'd see her tomorrow instead, Dennis told her, because he had to pick up a friend from the airport. It seemed normal—except that the friend was his former fling. Before Rhea knew it, he had turned off his phone and didn't call again until late the following day.
Anna, 28, an editor, had been together with her beau, Tristan, for six years. Everything seemed fine until Tristan confessed one day that he had met a girl in a convention he attended and "found her fascinating." Nothing happened between them, he claimed, but he couldn't stop thinking about her. Anna was horrified. "I thought we were safe," she says. Jealous fights soon ensued. "We were on a downward spiral because of this third person."
What happened? Just when you thought that things were going well and couldn't be any better,
you're confronted with the specter of a third party
—someone your partner may have connected with emotionally or sexually. Can even the closest couples be completely safe from temptation?
According to relationship expert Caterina Christakos, "Finding a man and seducing him is the easy part, despite our occasional slumps.
It is the work that you put into keeping the seduction, flirtation, mystery and romance that will keep him on board or send him scurrying to abandon ship.
"
"For most of us, the trouble isn't in finding someone, the challenge comes in
keeping that special someone interested and intrigued
," says Seattle-based writer and radio person Bruce Joseph.
Need a few more tips or suggestions on how to do this successfully? Read the rest of the article on the next page.
Photo of Manny and Jinkee Pacquiao courtesy of Belo Medical Group
Photo of Krista Ranillo courtesy of FHM.com.ph
[nextpage]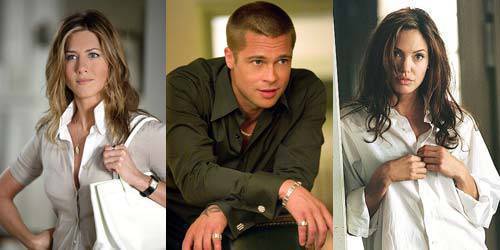 The Brad And Jen Phenomenon
Once the premiere power couple of the decade,
Brad Pitt
and
Jennifer Aniston
seemed to have it all: stellar careers, beautiful looks, and down-to-earth demeanor. They had a great group of friends and were Hollywood's most darling couple. It seemed as if they had a good foundation, that they were going to last. But last January, rumors of
Angelina Jolie
affecting and "changing" Brad emerged. Working together on their movie
Mr. and Mrs. Smith,
Brad and Angelina are said to be living out their reel relationship.
More and more men and women are working side by side—widening the doors for deep emotional connections that previous generations have not experienced.
"Platonic friendships and work relationships are turning into emotional affairs,"
says Shirley Glass, author of
Not "Just Friends": Protect Your Relationship from Infidelity and Heal the Trauma of Betrayal
. "Parties cross boundaries of emotional intimacy sharing intimate information with a friend that is usually appropriately the exclusive territory of their partner."
"
Many individuals who think of themselves as 'just friends' are becoming lovers.
Men and women today have the opportunity to meet as equals, develop collegial relationships and mutual interests, and escalate those relationships into love affairs," she adds.

The Angelina Factor
Let's take a look at Angelina: She's cool,
astig,
crazy...yet is not afraid to take care of kids, play Goodwill Ambassador for the UN and...fly planes. Reports say that when she learned that the love of her life, ex-husband
Billy Bob Thorton
was allegedly canoodling with girls at a bar while he was on tour with his band, she stood her ground, refused to tolerate his behavior, and instead upped and left. She's not afraid to live and be on her own. She's even openly admitted that she's into casual sex with her male friends. That, on top of her being drop-dead gorgeous. What man wouldn't fall for and be seduced by her? Brad was said to have "changed" when he met and started working with Angelina. Sources say they didn't have an affair, but that "she got under his skin."
Being strong and self-empowered, says Sherry Argov, author of
Why Men Love Bitches: From Doormat to Dreamgirl—A Woman's Guide to Holding Her Own in a Relationship
, are powerful traits. Men are drawn to strong women, those who can stand up for themselves. "I'm not recommending that a woman have an abrasive disposition," she says.
"The woman I'm describing is kind yet strong. She doesn't give up her life, and she won't chase a man."
That being said, here are TEN ways to keep your man strapped to your side:
KEEP YOUR MAN STRATEGY 1: Be passionate for him—and for YOU.
"Never let go of yourself," says Anna, 28, an editor. "Pursue your passions, not just for your man—but for you also." She says, how many times have we seen a girl unable to pursue her own passion because she was too caught up in the relationship? "Women forget their own needs and become absorbed in the needs of their partners," says John Gray, author of
Men, Women, and Relationships
. "A woman's greatest challenge in a relationship is to maintain her sense of self."
KEEP YOUR MAN STRATEGY 2: Have that Fun, Feisty Factor.
Nice is good, but not all the time. Feistiness is magnetic.
Don't just be a "yes" girl.
Command respect by standing up to your beliefs and telling him what you want when you want it. Don't settle for anything less, but show him that you're not afraid to try new things and break the rules.

KEEP YOUR MAN STRATEGY 3: Keep the surprises coming.
"Do the unexpected from time to time," suggests Vince, 24, a creative director. "Have an air of mystery, and that spontaneous factor," says Joanna, 29, a stylist. Many couples fall into a routine, so
introduce novelty into your relationship
by trying out new things together, like traveling to a new place or learning a new language. Better yet, suggests Vince, "Choose activities that you know he'll be interested in doing more than anything."
See the rest of the strategies on the next page.
The Break-Up
courtesy of Universal Pictures

Ocean's Twelve
courtesy of Warner Bros. Pictures

Mr. & Mrs. Smith
courtesy of 20th Century Fox
[nextpage]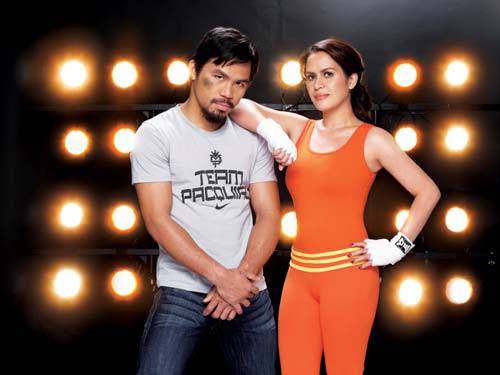 KEEP YOUR MAN STRATEGY 4: Clinginess is unbecoming.
"I used to call Nathan and ask what he had done during the day, where he went, and who he went with," says Patricia, 29, a nurse. "Our phone calls and conversations became 'reporting time' for him." Patricia also insisted that Nathan go on shopping trips with her, and demanded she come with him to all his activities, including office outings. "I also got mad or sulked if he didn't reply to my text messages," she confesses. "The reason that people feel clingy tends to stem from insecurity more than anything else," says US-based psychologist Dr. Dennis Neder.

KEEP YOUR MAN STRATEGY 5: Keep jealousy in check.
"I go ballistic whenever I catch him looking at other girls," says Mela, 22, a PR assistant.
"Kakainis!"
Why do guys look? "We simply appreciate beauty," says Joel, 30, an entrepreneur. "Trust is a firm belief in the ability, honesty, integrity, reliability and sincerity of another person," says John Gray, author or
Men, Women, and Relationships
. "When a man is not trusted, he will automatically begin to withdraw." We don't want that, right? "It is a woman's trust in a man that draws him to her," says Gray. ""If she trusts that he can and will help, then he gets the message that he is of value and that his best is enough for her to accept and appreciate."
KEEP YOUR MAN STRATEGY 6: Have your own life.

You count. Be it work, a business, or a tight circle of girlfriends, you have your own world where you are important.
Engage in activities you enjoy.
Don't be scared of being on your own. Anna recalls that Tristan was gradually drawn to her again when she stopped caring. "Show him that you can live without him," she advises.

KEEP YOUR MAN STRATEGY 7: Speak your mind.
Ask for what you want and say it.
According to author Sherry Argov, "A strong woman is much more desirable than a 'yes woman' who routinely sacrifices herself." Rhea never knew the real score about Dennis and his airport fling. She opted to believe Dennis, but realized that it must not happen again. "Establish how you want to be treated from the beginning of the relationship," she says. "Voice out any doubts you can't shake off before it gets out of hand and your emotions are unstable."
KEEP YOUR MAN STRATEGY 8: Be responsible for your own happiness.
The biggest mistake women tend to do is rely on anyone—especially their guy— to make them happy. The thing is, you cannot depend on anyone to make you happy. It's only you who can make yourself happy. "We have to be happy within ourselves, first and foremost," says Paul Munchline, author of
The Art of Loving
. "Establishing a relationship with the right person should only enhance our happiness in life." Find out what you really want to do, and pursue it.
KEEP YOUR MAN STRATEGY 9: Look out for his fragile ego.
Like it or not,
it needs to be stroked
. Admit it, we all like being complimented by the opposite sex. But apparently, men need it more. "Women are not the cause of infidelity nor should we be victimized by it," says Alexandra Penney, author of
How to Keep Your Man Monogamous
. "It doesn't happen because we're not sexy or savvy enough. It happens because a man's basic ego needs are not being met."
KEEP YOUR MAN STRATEGY 10: Be the best.
"No longer concerned with staying fit and attractive,
a committed woman might lose the allure she once had
." Anna admits that one thing that made Tristan take a second look at other girls was the fact that she had become boring. "I didn't take as much care of my appearance, I started dressing in ratty stuff," she says. "Instead of rising to the intellectual discussions that I knew he was fond of, I reduced our conversations to office
chismis."Photo courtesy of Belo Medical Group
Continue reading below ↓
Recommended Videos