"Never give a woman your credit card." This is the first thing that Echo 3 Lincoln, a fugitive human-in-training (played by Hollywood hottie Ewan Mcgregor) learns about females in the futuristic action flick
The Island
. Women and shopping malls may be made for each other, but there's a
hidden culprit that costs women empty savings accounts: Their tendency to splurge on their sweetie
.
As the more giving sex, a girl will unadmittedly make
tipid
on herself just so she can spoil her sweetheart or sometimes even "save" the relationship. But at what cost? And is it even worth it? Here are five bad
tipid
habits that women tend to have.
Tipid Habit #1
A Little Sugar Goes A Long Way


Whenever they went out on a date, Gel, 23, a student, always paid. Her boyfriend owned a car but she footed the gas bills. He'd often make
parinig
about the things he'd like to have and Gel would save her allowance just to get them for him. She expected his love and devotion in return, but got unfaithfulness instead. The lesson?
Spending money on your honey doesn't necessarily result in infidelity, but constantly trying to please him can make him take you for granted
.
Eve, 22, a PR officer, agrees. She remembers spending money on long distance calls to her boyfriend who was then based outside Manila. Her bills skyrocketed. For Eve, however, every minute was worth it. Yet in hindsight, she felt unappreciated.
"Minsan kasi nasasanay sila sa mga binibigay mo
and they take it for granted," she says. "They don't realize the efforts that you make."
"
You don't have to give more to make a better relationship
," assures Dr. John Gray PhD, author of
Men are from Mars, Women are from Venus
. "When you wake up and remember your needs, he also wakes up and wants to give you more."
Tipid Habit #2
Your Time Is Not Your Own


It's easy to get sucked into being a couple. You start making plans for two. Part of you feels missing when he's not there. Tessa, 28, a writer, edged out her loved ones before she realized it wasn't healthy. "You should give equal opportunity to the people that you value," she says.
There will be changes when you add a mate in your life, says Susan Swimmer, author of
Is He The One?
But the addition shouldn't change everything. "
If you're forced to choose between him and them, you'll probably lose both
."
Photo source
[nextpage]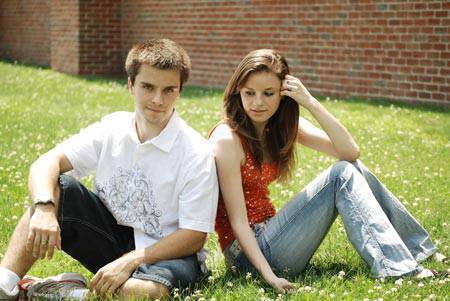 Tipid Habit #3
Mr. Right Is Always Right


Ever wonder why men don't ask for directions? It may be because he doesn't want to be viewed as the weaker sex. "A million years of not wanting to be seen as a failure seems to be wired into the modern man's brain.
When he is alone in the car, a man will ask for directions. But when his woman is beside him, he won't ask for fear that a lack of navigational skills will reflect badly on him
," explains Drs. Barbara and Allan Pease, authors of
Why Men Can Only Do One Thing at a Time and Women Never Stop Talking
.
Eve always deferred to her ex-boyfriend because she didn't have faith in her own ideas. "He was older so I felt he was more mature. He said things in such a way
na hindi mo ma
-question." The next time a fight gets blown out of proportion, ask yourself: "Can he give up being right in disagreements?"
Swimmer explains: "Couples who never fight are imaginary. Every couple disagrees from time to time, from the age-old cap off the toothpaste to buying a house. Knowing how to fight is important, but knowing how to stop fighting is even more important.
A good man knows how to give up being right. A great man will do it periodically, even if he is right
."
Tipid Habit #4
You Are The Only Girl For Him (If Only You Weren't You)


Lee, 22, an entrepreneur, is a conservative girl who likes comfortable clothes. When her boyfriend started picking on her wardrobe, suggesting outfits and even buying "visually appealing" clothes for her, she went along with him just so they'd stop fighting. Looking back, she regrets her choice. "I felt like a human Barbie doll. It was just a small thing but when I allowed him to change that part of me, I gave him permission to change me."
Alison James, author of
The 10 Women You'll Be Before You're 35
, might describe Lee as a
chameleon
, who "morphs into the man she's dating. It's not like she doesn't have her own interests and needs. In fact, she has plenty of opinions but something in her brain switches off her stronger self. She kisses her own interests goodbye and adapts his."
Sometimes a girl intuitively molds herself to fit his needs
(or what she thinks he needs).
Tipid Habit #5
A Lot Like Love (But Not Quite)


Ana, 27, a travel agent, has been dating Mark, 28, for several weeks, but is still not sure if he's The One for her. "I've been thinking of breaking up, but I'm scared to be alone," she confides. "Okay
lang kaya
if I'll still date him—until the right one comes along?"
Don't settle for an "in the meantime" relationship
, advises Ian Kerner, PhD, author of
Be Honest, You're Not That Into Him Either
. "'In the meantime' is the same as saying, 'This is only for now. Someday things will be different.' It's like putting your life on deferral, indefinitely. Well, let me tell you: Someday just arrived. Someday is right now.
If you're wasting your time, you may be missing out on a real chance for love
."
Photo source
Continue reading below ↓
Recommended Videos