Remember 20 years ago when people thought that if you were dating someone you had met online, you must be crazy, or desperate, or about to die in the hands of a serial killer? The Internet has changed how we date so much in the last two decades that these days, nobody bats an eye if you tell them you're going out for drinks with a Tinder date or flirting with some stranger whose IG feed you're hot for. But, with more online platforms through which to meet potential matches, so are there more proverbial frogs to kiss before you find your prince.
Here, nine Pinays now happily married or engaged tell us how they found their own princes online. Listen up; your own true love might just be a swipe away (or still buried in that heap of unread messages in your Friendster inbox).
The girl who gave a stranger a chance, all thanks to a nosy friend
Nikki and Gerald
Met through: Friendster
Together for: 7 years (married for 3 years, with 2 kids)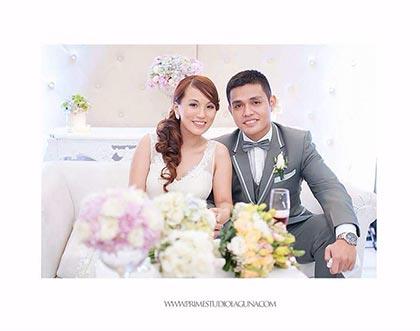 Continue reading below ↓
Recommended Videos
Nikki: "Gerald says he found me when, about to log into his Friendster account one day, he saw my thumbnail photo in the section on the log-in page parading random Friendster users. He then sent me a message saying hi. I, however, was wary; I wasn't interested in replying to people I didn't know and we didn't have any common friends, so I left his message ignored for weeks.
My gay best friend, so fond of meddling with my social media accounts, saw Gerald's message and stalked him. He found him cute, so he wheedled me into replying to the guy since I was single anyway.
Gerald ended up dating someone else soon after we met online, so nothing happened between us at first. But when they broke up a few months later, I became his online shoulder to cry on.
We spent eight months talking online and texting before we finally met in person. When we did, it seemed like we had known each other for so long—he was everything I had imagined, and more. I learned later on that right there and then, he knew I was The One, too.
Seven years down the road and here we are, married for three years and a family of four."
***
The girl who might not have met her match had she given up a minute earlier
Erika and Chris
Met through: Omegle
Together for: 7 years (married for 4 years)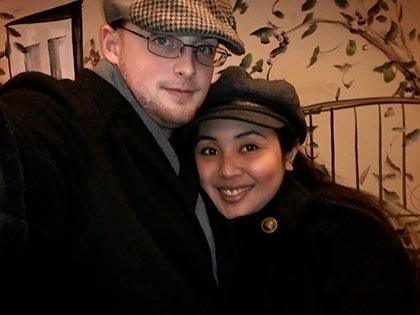 Erika: "I was waiting for the 2010 World Cup Finals on TV at 2 a.m. in Manila, while he had just gotten home from work in North Dakota. Both bored, we went on Omegle, a chat website where random strangers are paired with each other.
I had just previously exited four disappointing chat sessions in succession, and I told myself the next one would be my last random chat for the night. I pressed 'Start Chat' and ended up chatting with Chris. We exchanged Yahoo! ID's and didn't stop chatting till 8 a.m.
The more we talked to each other, the more we fell for each other. There were no mind games, no pakipot moves, no chasing after each other—just straightforward honesty. We mirrored each other's hopes, dreams, and values despite being raised with different backgrounds. It didn't take long for us to know that we wanted to marry each other and raise a family together.
We entered a three-year engagement, visited each other's families, traveled around Asia, and processed my fiancée visa. I moved to the US in 2013 and we got married in August that same year. We are now on our fourth year of marriage and looking forward to starting our own family in the near future."
***
The girl who had a whirlwind romance with an Italian celebrity (true story!)
Poline and Marco
Met through: Dating app
Together for: 1 year and 8 months (married for 1 year and 3 months)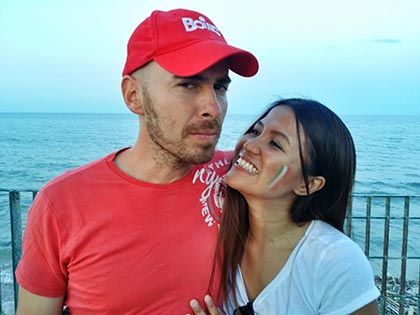 Poline: "We met on a dating website advertised on Facebook that we both assumed was a site for travelers. I think he found me first. Everyday he'd put a 'like' on my photos until I messaged him, 'Say hi to your dog for me'. It started there, but I didn't trust him at first. Turns out I could have easily searched him on Google as he was a bit famous in Italy (he's a TV and film director and comedian). And search I did. I stalked him online and would wake up at wee hours to watch him on TV.
We were dating online for two months when I was sent to Italy for work. When I finally met him, it was beautiful, he was beautiful, and my heart just exploded. He was dark-haired, strong-built, and I sensed that he had a good heart. Five days later, he proposed to me. I couldn't say no.
I went back home to announce the good news. My dad shouted at me, my grandfather was livid, and my sister cried in protest. They asked, how could I have done something so careless?! My career was great and he was a stranger! But I was in love.
I left my job, married my husband, and settled in Italy."
***
The girl who found her guy through a chance chat encounter—twice
Christine and Elmer
Met through: Yahoo! Chat
Together for: 6 years (married for 4 years)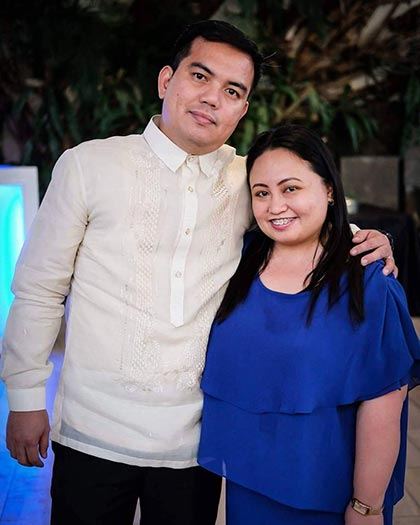 Christine: "In December 2009, I went online to research for Christmas songs for our barkada Christmas party. While researching, I logged into my Yahoo! Messenger account and joined a chatroom. I received a message from a stranger who turned out to be Elmer. He asked for my landline, called me, and eventually lost interest. I didn't add him to my contacts and forgot about him myself…until our second chance encounter on the evening of Jan. 1, 2010.
I was a third year law student at that time and even if it was New Year, I tried to do some homework and summarized cases. Again, I joined a chatroom and after a few minutes, someone messaged me. After chatting for about 10 minutes, my chatmate asked for my landline. When I gave it to him, he said my number was familiar. We then realized that we had encountered each other online for the second time in two weeks.
We talked on the phone from 10 p.m. that night until 4 a.m. the next day—he turned out to be frank, opinionated, and a good conversationalist.
We officially became a couple in 2011, got engaged in 2012, and got married in 2013."
***
The girl who was swept off her feet with a great opening line
Marylove and Pranas
Met through: Tagged
Together for: 8 years (married for 6 years, with 1 kid)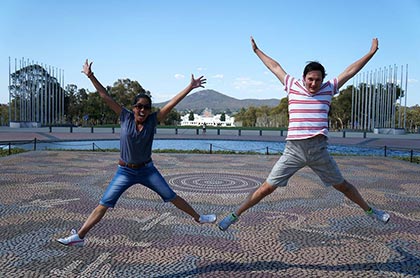 Marylove: "My friend created an account for me on Tagged.com back in September 2008. I wasn't too keen, but I eventually chatted with different guys online, from a sweet-tongued Italian to an indifferent Viking. I thought they were mostly pa-cute and non-conversational. Then along came Pranas, a Lithuanian who lives in Sydney.
I thought he'd be like the rest of them, but he surprised me with his opening line: 'What do you think of Obama?' It was the time of the US presidential campaign, but still, I was taken aback by his unusual way of flirting. He seemed to be, and eventually proved to be, different from the rest. He has been honest, no-BS, and a genuine person from day 1.
We met for the first time in person when he visited me in the Philippines in 2009. I was in a cab running late to pick him up at the airport when I got a phone call from an unfamiliar mobile number. "Hello Marylove, andito si Pranas," said the person on the other end. It was a porter at the airport; Pranas had asked him to check on me. Nangutos pa!
Pranas proposed on New Year's Eve 2010 while I was in Sydney visiting him. We've been married for six years now with a five-month-old son."
***
The girl who sought friendship in a foreign land—and caught feelings instead
Belle and Mel
Met through: Zoosk
Together for: 8 years (married for 3 years)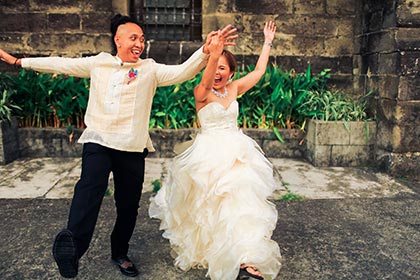 Belle: "I met Mel on Zoosk, one of Tinder's many predecessors, upon moving to Bangkok. Having a boyfriend was out of my game plan, but I wanted to make new friends.
I thought Mel was Filipino, but he turned out to be Malaysian. One of the first things we had in common was we were both fans of Urbandub and Typecast—I was amazed by how much he knew about our local bands.
For over half a year, I found comfort in the fact that I had a friend I could talk to in a country where most people have a hard time speaking English, but I really didn't see our online chat sessions as anything but platonic.
One day, he asked if I wanted to watch a gig with him so we could finally meet. I freaked out over this and ended up bailing on him at the last minute.
A few weeks later, he asked me out on a real date, to which I finally said yes. When I saw him waiting for me outside the train station with a big smile, I felt like he was someone I had known all along.
We've been together since that evening and now happily married for three years!"
***
The girl who played hard-to-find with the man who rose to the challenge
Michelle and Marcev
Met through: Tagged
Together for: 7 years (married for 4 years, with 1 kid)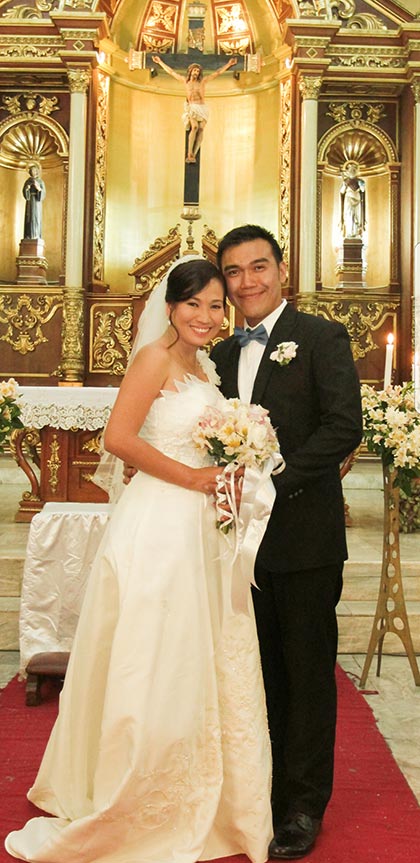 Michelle: "I met Marcev while I was moving on from a long engagement that didn't work out. Disillusioned about love, I decided to try online dating with low commitment. I didn't know that this was how I would find my one true love, who had just happened to sign up on the same site to play online games.
Marcev had seen my profile, and he began sending me messages. It took a while before I replied since I was not interested in him at first and had become very cautious about romance. One day, I just gave it a try and found myself hooked talking to him.
Once I was ready to meet him, I chose my family home as the meeting place; it was the safest place for me and that way, everybody in my family could meet him. However, I didn't make it easy for him; I shuffled the sections of my address and gave it to him like a puzzle for him to figure out and find me.
And find me he did. I realized how persistent he was, and he has been persistent in his love for me since.
Now, we are happily married, and God has given us the fruit of our love—our beautiful son Malachi."
***
The girl for whom an early dud turned into her greatest love
Tracy and Ant
Met through: Lovoo
Together for: 3 years (engaged)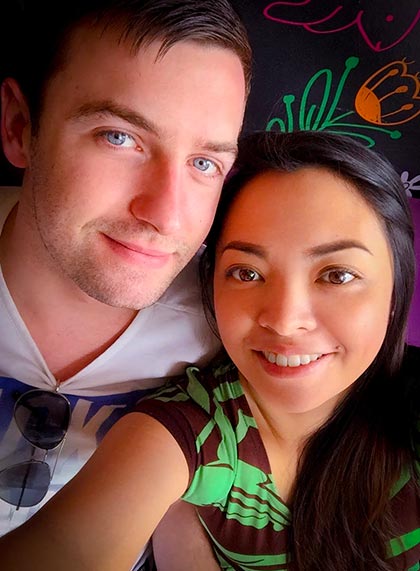 Tracy: "I met Ant on a dating app called Lovoo while I was on work training in the UK. However, sparks didn't fly immediately because we never even got to meet up while I was there due to scheduling issues.
Back in Manila and after a few months being off each other's radar, I happened upon him online on the app. We rekindled that lost connection and began chatting almost 24/7 online.
In an effort to make up for failing to meet him when I was in the UK, I made a promise to go see him on my next trip back, but that trip fell through. It wasn't long before he himself bravely flew to the Philippines to prove how serious he was in pursuing me. A very bold move, which I'm glad he did because I never would have known how truly awesome he is otherwise.
We are very grateful for how technology nowadays has made it so easy to connect with each other despite the distance. After doing the long-distance thing for three years, he proposed to me earlier this year, and I said yes. In the next few months, we'll be soldiering onto the next chapter of our lives together as husband and wife."
***
The girl who found love, thanks to rock groups and Yahoo! Groups
Joanne and Den
Met through: Yahoo! Groups
Together for: 15 years (married for 9 years, with 2 kids)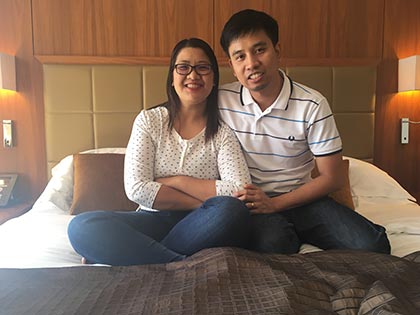 Joanne: "When I was in third year college, I was into OPM bands like Slapshock, Chicosci, and Cheese. I joined the Yahoo! Groups of these bands, which is how Den and I met.
Den had announced that he had a ringtone of one of Cheese's songs and posted his number so that group members could text him if they wanted it. I texted him, he sent me the ringtone, and that's how it started.
Den was dating another girl, so we were just friends at first. We'd talk about bands and gigs, and sometimes he'd ask me to send him picture messages through our Nokia 3310 phones.
A week before my birthday, he texted to say he remembered my birthday was coming up. He had just split with his girlfriend, and we began to communicate more often. My dorm roommates would often catch me glued to my phone smiling.
On the day of my birthday, I was out with my roommates to celebrate, and Den happened to be nearby. That's how we first met in person. On our second meeting, we officially became a couple.
Honestly at first, I didn't think it would last because we had only met online and kept it up through text. But look at us! We've been together for 15 years now."
Follow Cheekie on Twitterand Facebook.