Raise your hand if growing up you believed that "beautiful" usually meant tisay features like fair, "flawless" skin, big eyes, and a tall nose. And don't forget, long, straight, silky hair; and a 34-24-34 "pang-Miss Universe" body. Not fitting that mold probably got you branded as maitim, pango, singkit, mataba, or other words which often had negative connotations in this country.
Raise your hand if today, as a grown woman, you think most people still believe that.
In my teens, because I didn't see myself in any of the celebrities or models in mass media, I felt so ugly, it was painful. I hated my yellow-toned complexion, lidless, slanty eyes, flat, bridge-less nose; thin, pale lips; square jaw (or "blockhead"), and broad forehead (so broad it was a "fivehead") that necessitated what was to be a lifetime of bangs. It didn't help that my parents chose to praise my mental instead of physical attributes. "Pretty" was never a word used in conjunction with my name.
Try it: Google "beautiful woman" or search for it in stock images. What kinds of images come up?
So whoever would have thought, after I had amassed all these insecurities about my looks, that I would one day overcome them enough to have the audacity to attempt to become a model—an occupation that depended solely on one's physical appearance? Looking back, I realize now that I dared simply because I finally saw images of women who looked like me—succeeding at my dream job. Upon seeing photos of a fellow yellow-toned chinita model in a fashion spread in a newspaper, it occurred to my computer programmer self at age 21: "Hey, that could be me!"
Continue reading below ↓
Recommended Videos
"You cannot be what you cannot see," goes that oft-posted meme used to convey the fight for representation to achieve equality in gender, race, age, and beauty in diversity. Since we launched Cosmopolitan here 22 years ago, we have always pushed the envelope to show images of Pinays with all kinds of complexions, hair textures, facial features, sizes and shapes, as well as challenging common perceptions of certain physical features as "flaws" and turning them into our own unique assets. But as we know, narrow standards of beauty still persist here today. And it's not limited to our country, it's a global phenomenon. Try it: Google "beautiful woman" or search for it in stock images. What kinds of images come up?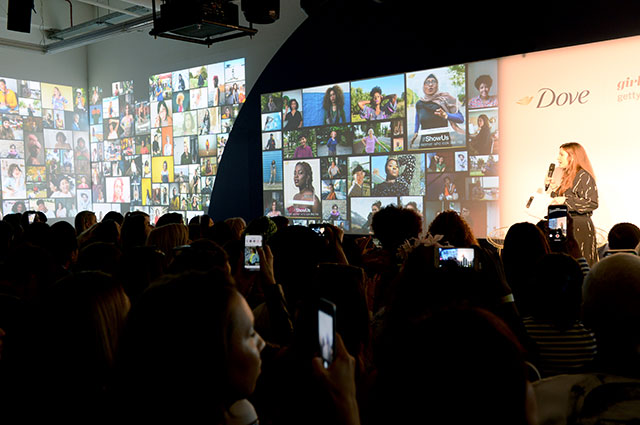 "70% of women say they still don't feel represented in the images they see every day," according to a Dove global research study of 9,000 women. "On a daily basis, women and girls face a relentless stream of media images displaying narrow, unrealistic, and outdated portrayals of beauty and what it means to be a woman," says Professor Phillippa Diedrichs, body image expert at the Centre for Appearance Research at the University of the West of England. She adds, "Several decades of scientific research show that exposure to these images has a negative impact on women's and girls' body confidence and beliefs about what they are capable of."
More than just our self-esteem, other aspects of our lives are affected as well, especially when it comes to body dissatisfaction, where women and girls "experience negative consequences across key areas of their lives, including their health and well-being, their relationships, and their aspirations in education and work settings," says Prof. Diedrichs, derailing them from reaching their full potential.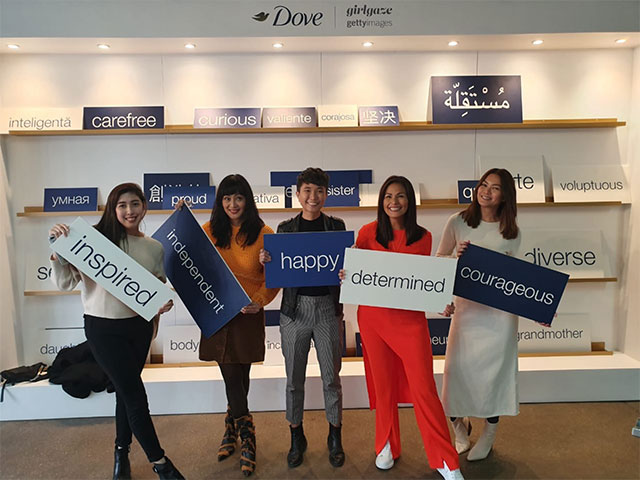 According to Dove research, this global "appearance anxiety epidemic" brought about by the constant bombardment of beauty stereotypes makes 7 in 10 women feel pressured to reach an unrealistic standard of beauty, impacting their lives beyond their looks and in these ways: from being assertive (30%) to wearing the clothes they want (49%) or expressing their true identity (37%). Women wish media and advertisers did a better job of portraying women of physical diversity with 66% currently feeling there are limited body shapes and sizes and 64% feeling characteristics such as scars, freckles and skin conditions are unrepresented.
Responding to the clamor, Dove partnered with Girl Gaze and Getty Images to launch Project #ShowUs, the world's largest stock photo library with over 5,000 images of women created by women and non-binary individuals to shatter beauty stereotypes. Women of various ethnicities, complexions, ages, body types, and cultures from 39 countries are represented in the images, which have been self-tagged, "allowing them to define their beauty in their own language, as seen through women's eyes, on their own terms, ensuring they feel realistically represented." The photos are also "True-to-life depictions, not staged sets," and have had "No digital distortion, to show the world unfiltered beauty."
During its launch on March 27 in London, Sophie Galvani, Global Vice President of Dove said,  "For over 60 years, we have believed in liberating women from narrow beauty ideals and have showcased beauty diversity in our advertising. However, this is not enough, and we cannot make the systemic change we need alone." She then made a plea to everyone to join Dove's mission to create the most inclusive vision of beauty: "We are now inviting media and advertisers to license Project #ShowUs images and join us to take real tangible action," and urged us to do our part in helping make this change: "We are also offering women around the world the opportunity to become part of the change and add their images to the library."
Dove also released an open letter on their social media and in various publications. 
Cosmopolitan Philippines witnessed the launch of Project #ShowUs in London together with actress Iza Calzado, filmmaker Sam Lee, influencer Dani Barretto, and Apples Aberin, Unilever Public Relations Head, who explained how the three were selected to participate in the global event: "Iza, Sam, and Dani are such empowered women who champion inclusivity and diversity in their own ways. As Sam Lee said, 'We are different women with different perspectives but a shared purpose.' And that is really to inspire others to love themselves, [and to] stand up and be proud of who they are while working on being their best selves. These three role models represent various perspectives of being a woman in today's world: Sam as a film director with a behind-the-lens view, Iza, a celebrity and co-founder of She Talks Asia and an advocate of the Body Love Revolution in the Philippines, and Dani being a much-loved and admired content creator."
The event opened with a heart-wrenching video depicting all-too-familiar scenarios about how young girls are affected by what they see in the world around them:
This was followed by an inspiring panel discussion about the importance and magnitude of the project with body image expert Professor Phillippa Diedrichs, Girlgaze founder Amanda de Cadenet, Dove Global Vice President Sophie Galvani, Getty Images Creative Insights Director Dr. Rebecca Swift, and South African Girlgaze photographer Masego Morulane. The talk was moderated by British TV broadcaster June Sarpong.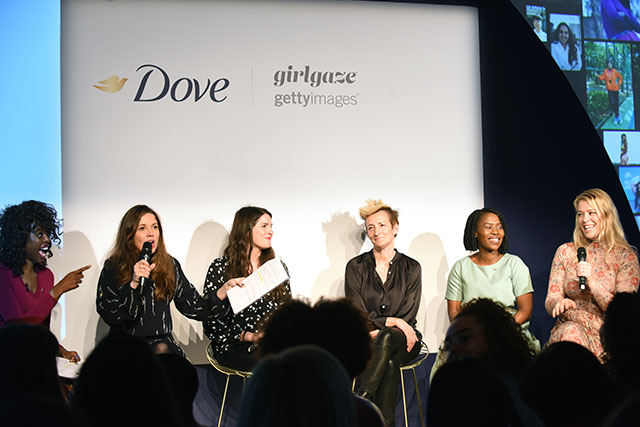 During the open forum, Sam Lee, best known for directing the films Baka Bukas and Billie and Emma, became a bit emotional when she asked Girlgaze founder Amanda de Cadenet if she had encountered any difficulties similar to the ones she has faced, such as constantly having to explain to brands and agencies why it would be better for women to be behind the cameras to create content for them.
Ever since she moved back to the Philippines from Australia in 2015 to make her first film Baka Bukas, Sam has been passionate about fighting for better representation of the LGBTQ+ community and women in local media. "When you're fighting for stuff like that in a country like the Philippines, it always feels like a shout into the void. To this day I am met with questions like 'Bakit kailangan 'yan?' 'Bakit gay film na naman ginagawa mo?" Sam said being at the event assuaged her doubts and uncertainties. "It's been quite a lonely, disheartening journey and today just felt like a giant hug of validation—to be in a room filled with women from all around the world with the same struggles who are fighting the same fight just makes the last few years all worth it."
Dani Barretto felt the same. "I found myself tearing up. Hearing these girls speak about their experiences made me emotional. It's crazy because I struggle with that every day. A lot of times I've felt like I wasn't pretty enough because bashers constantly remind me that I'm not. I tend to get insecure with the way I look and about my weight because everyone seems to like pointing it out on my social media platforms all the time."
"But you know what, I needed this trip and that talk. I've never felt this inspired and confident. I feel so restored. I feel like if those girls can get through it, I can too," she said, adding, "As long as I have a voice and the influence to help make a change, I will use it. This influence may come with a price, but being able to help young women fight through this makes everything so worth it. I want to be the voice of the women who are scared to speak up, because I know how it feels." Her vow to herself? "I promise to love and appreciate myself more. I am my own person, I may not be as 'beautiful' as the world expects me to be because I have beautiful sisters, but I am beautiful in my own way too. And I love the way I look. 'Flaws' and all."
It was also during this event where Iza Calzado made the bold move of pitching herself as an endorser for Dove, expressing to the panel that even if Dove shies away from using celebrities to represent their product, "I feel that my platform is very important to show [people] that even if you do not have the 'perfect' body, you can still make it."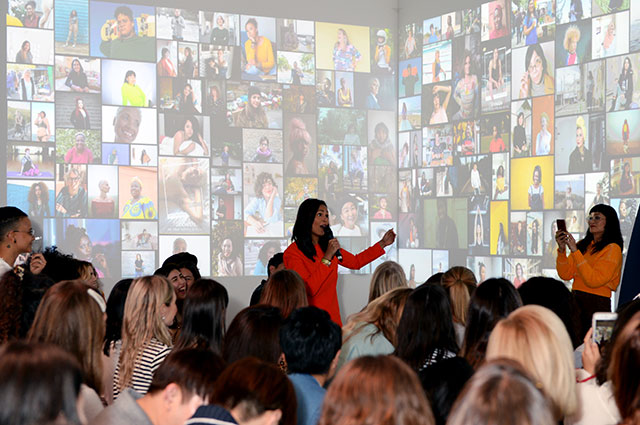 We spoke to her later about her struggles in overcoming self-doubt and poor self-esteem, and the way she summed up her journey hit the nail on the head. "To be honest, I think there may still have been some insecurities in me because of an unstable home, but if as I was growing up, media and advertising had shown me images of women of great diversity thriving and succeeding in life, then it would have made me believe that everyone in life, no matter their size, color, or shape, can be happy and successful."
***
Read more about Project #ShowUs and find out how to download and use images on gettyimages.com/showus. You can also participate and share your image (look for "Join Project #ShowUs" on the home page).
Follow Myrza on Instagram.