Where To Go
Visit Acqua Salon at 2/F, Mindanao Wing, TriNoma Mall (916-7558).

Choose Your Hair Personality
For its anniversary treat, Acqua Salon offers several packages to give your hair the glam new look it deserves: Princess, Diva, Rock Star, and Goddess. Whatever you go for, you'll come out stunning, we guarantee. Be prepared, though, to spend at least two hours in the salon. But then again, who would mind spending a little time to get their tresses all glammed up?

Rock On
Since I have worn my hair short for quite some time (and don't intend to grow it any longer anytime soon) I went for the Rock Star package, which lumps together a haircut, full head color, and highlights. The friendly senior stylist, Laila, began by discussing what cut I wanted and recommended the combination of head color and highlights (mine included purple!) that would suit the fresh new look I wanted. A relaxing shampoo session follows.

After getting the stylish short 'do I asked for, the hair color treatment followed. Full head color treatment takes about 30 minutes. Note that this color treatment is permanent and would not wash off unlike your usual cellophane treatments.

Foiled
After rinsing the hair color treatment, they apply the highlights. You can choose one, two, or three colors for your hair highlights. The stylist will wrap sections of your hair in foil after carefully applying the color treatment. You'll wait for another 15 to 30 mintues to let the treatment settle. After another relaxing session at the shampoo area, you'll come out with vibrant, fab-looking hair, worthy of a rock star (not that you have to be one to rock this look).

Bonus Pampering
Yes, the long wait for the color treatment to settle can be daunting, but the attendant makes it easy for you to relax as you get a bonus massage. They'll knead your scalp, neck, and back to put you completely at ease.

Rockstar Price
The Rockstar Package starts at P2,600 for short hair, which is totally reasonable considering how much you save lumping all these treatments together (which can be up to P980 for long hair). You can also consider adding a Total Repair Treatment (for an additional P600 for short hair) to ensure that your color-treated locks won't dry up.

Set An Appointment
For the rockstar package, be sure to call in advance and ask for Laila, who will be more than happy to give your hair a stellar makeover.

See the finished product (my rockin' new hairstyle!) plus an exciting promo on the next page.
[nextpage]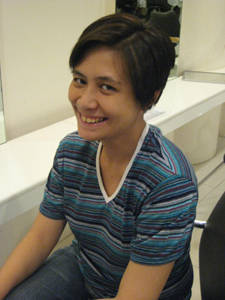 FREEBIE TIME:
We loved this treatment so much, that we'd love for you, our dear Cosmo readers, to try it for yourself, too!

Just post your answer as comment telling us why you want a Rockstar 'do. Be sure you are logged in so we can easily trace your real name and email address (make sure it's valid) to contact you if you are one of the winners. If you're not yet a registered member, you can opt to register here.

We will be giving THREE registered users with the best comments ONE gift certificate for a Rockstar Package each, which includes a haircut, full head color, and one color of highlights. Keep checking this post (and your inbox) to see if you've won! You have until next week to post your comments.
Continue reading below ↓
Recommended Videos