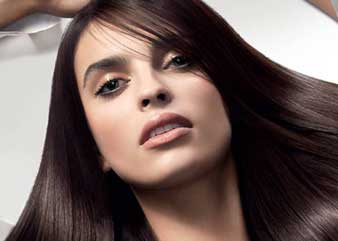 Do some prep work.

Apply a deep conditioning treatment before you go (just leave it on for a few minutes while you pack) so your hair has some extra moisture reserves to draw from. Try Kerastase Masque UV Defense Active (P2,227) to protect and enhance your hair while you venture out under the sun.

Call a truce with your natural texture.

You should spend your time off relaxing, not stressing out about unruly curls. If your hair is curly, comb a light cream conditioner through strands while it's damp and tie back into a loose, low ponytail. Try Dove Damage Therapy Daily Treatment Conditioner in Nourishing Oil Care (P149).

Loosen up.

Vacation is about fun, not perfection, so when you're hitting the town at night, try playful variations on classic styles. Instead of doing a prim and polished chignon, toss your brush aside and use your fingers to rake your hair into a low pony. Twist it into a messy knot and secure with a few pins for a chic-but-not-overdone effect. Tie a ribbon to make a headband, and pull out wisps for a flirty touch.

Stay sleek.

If you're frizz-prone and going to a humid locale, comb a non-greasy serum through your hair before landing to tame rebellious strands. Try Kerastase Serum Apres-Soleil (P1,536) to get a silky finish for sun-exposed hair.

Pack protection.

You'll probably be spending more time outside than you usually do...and with any luck, the sun will be shining. To save space, pack SPF that protects both your skin and your hair from UV rays. Check out Beach Hut Hair & Scalp Clear Spray Sunblock SPF 20 (P549). Hair extra: If your strands are chemically straightened, be particularly diligent about protection because it's even more prone to breakage in the sun.
Continue reading below ↓
Recommended Videos