Our good pal Kylie Jenner's no stranger to a hair switch-up—remember that sprawling blonde braid she sported at the poolside (it was only at the beginning of March, but that might as well be six years ago, I've lost all concept of time and space due to literally never leaving my house)?
And let's not forget the fact that she's reportedly filed a trademark for her precious mane.
But lately, she seems to be ditching the ever-changing hairstyles and iconic wigs (literally, who can blame her, I haven't washed my hair for what feels like centuries now).
A couple of weeks ago, she took out all of her extensions and opted for a cropped bob, colored a shade of golden brown that was way lighter than we expected her natural hair to look.
And now, as quarantine life kicks in and the world (yes, even the Jenners) continue to be confined to individual homes (or individual multi-million dollar mansions), celebrities like Kylie are l-e-t-t-i-n-g loose.
Case in point: Kylie wore a scrunchie.
Is this an insight into chill Kylie? Or Is it Stormi's scrunchie? Perhaps it's a fashion statement? Or a nostalgic nod to pre-COVID-19 innocence—a time of unbridled non-locked-down freedom and joy?
Continue reading below ↓
Recommended Videos
Anyway, no use overthinking it.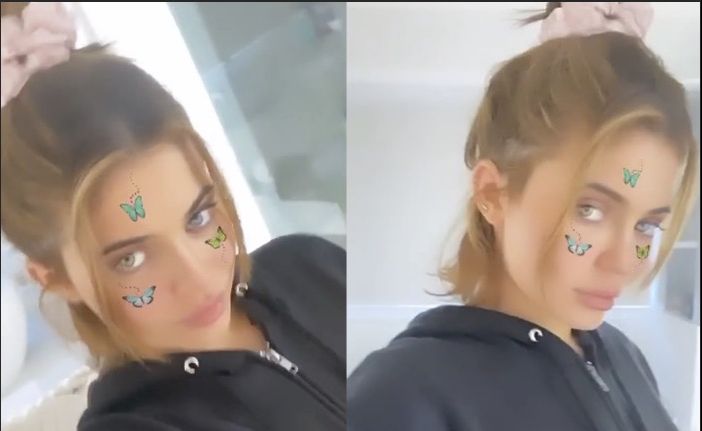 My theory? Glad you asked.
I think that Kylie's super aware of how much pressure we're all putting on ourselves on lockdown, and is sending secret aesthetic signals to let us know it's fine to be a little scruffy, it's fine to skip that HIIT Instagram Live you had lined up, and it's fine if you can't *force* yourself to be productive and would rather just DIY face mask recipes.
So let's just sit back, relax, and enjoy the fact that Our Royal Highness of Instagram has officially given us all permission to chill the f*ck out and put our goddamn hair in a scrunchie if we goddamn want to.
***
This article originally appeared on Cosmopolitan.com/uk. Minor edits have been made by the Cosmo.ph editors.