I'm Ravy Nopuente, and I work as a freelance artist and Twitch streamer. My stream consists of playing games or creating art, which means I stay in front of my computer screen for several hours. I have to look presentable on the stream since I talk with my viewers. As an artist, my job is to fulfill clients' commission requests. I also create designs to sell as stickers and art prints on my online shop. Sometimes, I make batch designs of subscriber badges and emotes for small Twitch streamers.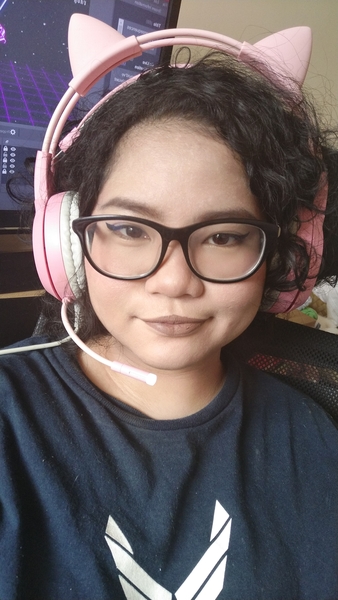 My usual routine starts with checking up on my two cats and feeding them treats. I usually feed them first because if I don't, they won't stop bugging me to feed them, LOL! My go-to breakfast is just fruits and water. After eating, I start my skincare routine to prep my skin before I glue myself in my office chair and use the PC all day. Since I have dry, acne-prone skin, my number one skin concern is redness. 
When quarantine started, I had more time to focus on my skincare. I wasn't obligated to wear makeup since we weren't allowed to film anymore. I tried different techniques and brands, but the best routine I found was following the 10-step Korean routine.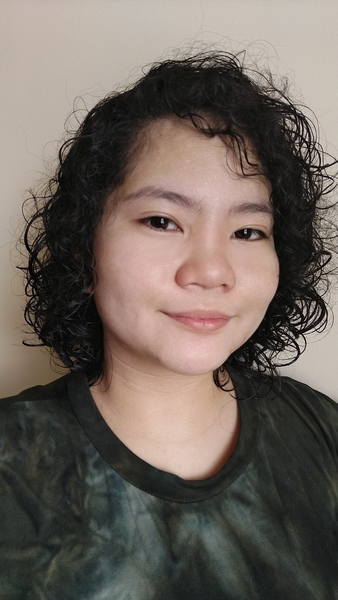 Continue reading below ↓
Recommended Videos
I also listen to my skin a lot so I tossed out products my face hated. I also make sure to use high quality products because the last time I wanted to be matipid, it did not end well and it caused my skin to burn. It lasted for months. Ever since then, I only use products that will hydrate and brighten my complexion. Every two weeks, I use a derma roller to massage my face and lessen acne marks. I *never* use it when I have active pimples.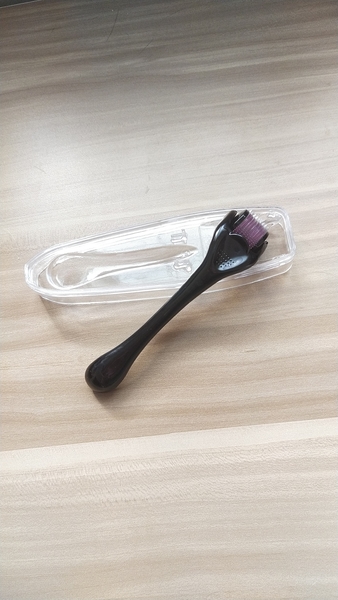 Here are the products I use daily:
Acne-prone skincare routine
Face Wash: Hello Glow 4-in-1 Whitening Soap
Why I love it: This brightening soap doesn't "melt" and it isn't harsh on my skin. I noticed that it made my skin ~glow~ after just two weeks.
Toner: Banila Co. Dear Hydration Toner
Why I love it: My dry skin loves this toner because of how hydrating and moisturizing it is. It also makes my makeup look bomb dot com!
Essence: True Water Light Emulsion
Why I love it: I just started using it and it doesn't feel sticky at all. Perfect for our humid weather!
Serum: Skinpotions Tomato Serum
Why I love it: Although this serum stings a little bit, I like its jelly-like texture and how it applies to my skin.
Moisturizer: Nekkid Acne-dote Treatment Gel
Why I love it: I don't use moisturizers that often even if I have dry skin. That said, I prefer gel moisturizers since they're light enough that I don't feel my pores getting clogged.
Eye cream: Estee Lauder Advanced Night Repair Eye Cream
Why I love it: A little goes a long way! I almost always stay up all night so this eye cream lessens the look of my ~suitcases~ the next morning.
Sunscreen: POND's Daily Whitening Sun Protect Face Sunscreen
Why I love it: I prefer sunscreens that feel lightweight, and non-sticky. I like being glowy and not shiny.
Makeup Remover: Biore Micellar Cleansing Water & banila co. Clean it Zero Cleansing Balm
Why I love it: This makeup remover isn't harsh and drying on my skin. The Clean It Zero cleansing balm has done remarkable work in removing makeup—even my SFX ones!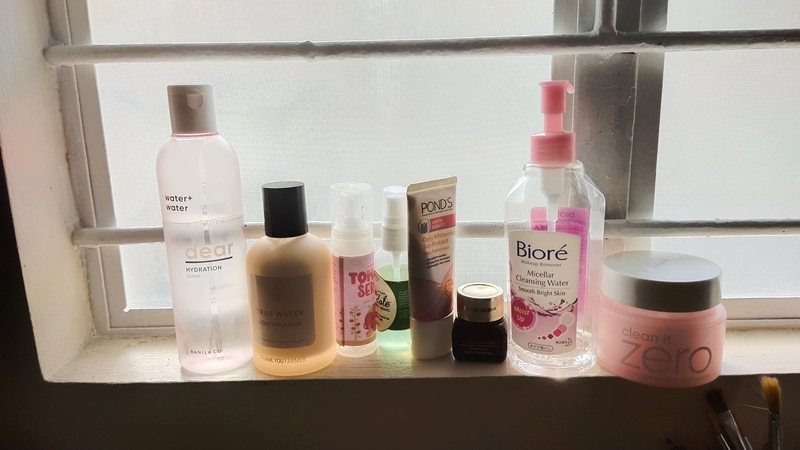 This ritual has helped my skin become glowy and hydrated. Before the pandemic, I only used a cleanser, toner, serum, sunscreen, and micellar water. Now that I know the products that actually work on me, my skin looks better than ever.
Since schools are closed and I wasn't enrolled in online classes, I had a lot of free time. I focused on working and streaming. Since I am on-cam most of the time, I always make it a priority to look like a ~*snack*~, lol!
Here are the makeup products I use:
Acne-prone makeup routine
Primer: Benefit The Porefessional Pearl Primer
Why I love it: This primer works well for working long hours with my makeup on. I never notice any smudge lines with the base I'm using whenever this is laid on my face.
Base: Peripera Inklasting Cushion in #2 Pink Beige
Why I love it: I started using cushions again since it doesn't feel heavy on my skin at all!
Concealer: Loreal Paris Infallible Full Wear Concealer in 309 Natural Rose
Why I love it: I'm a sucker for concealers so I tried different brands, but this is the one that hits the spot! I prefer it because it's full-covered, so I can really camouflage my pimple marks.
Blush & Highlight: Skinpotions Glam Pocket in Fo' Shizzle
Why I love it: This two-in-one product was a lifesaver when I was still coming to university—just applying the cream blush on my cheeks and lips made me look alive.
Bronzer: MAC x Disney Aladdin Powder Blush in Your Wish is My Command
Why I love it: I know this is a powder blush, but I use it as a bronzer since it compliments my skin tone. I always contour my cheeks and nose so I can have a little bit of dimension since I'm very pale.
Brows: Benefit Brow Styler in 3.5
Why I love it: This eyebrow product makes sure my brows are always looking ~fresh~!
Eyeliner: Kate Tokyo Super Sharp Liner EX2.0
Why I love it: I can't live without eyeliner! My talent is making sure my winged eyeliner look like twins.
Mascara: The Body Shop Lash Sport Waterproof Mascara
Why I love it: I laugh out loud on streams to the point that I have tears of joy, so waterproof mascaras prevent me from looking like a raccoon, LOL.
Lipstick: L'Oreal Infallible Pro Matte Les Chocolats in Bittersweet
Why I love it: This lipstick that smells like chocolate and complements my usual makeup look.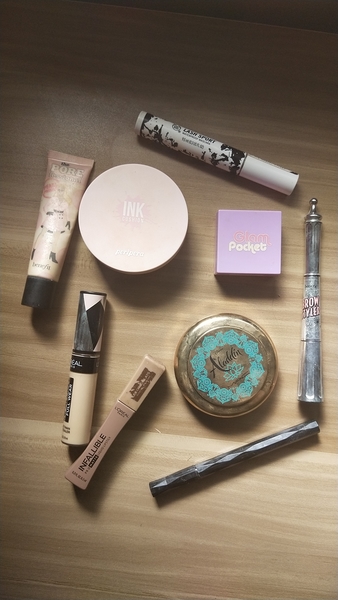 Follow Ravy on Instagram.
We know how much honest reviews matter. Help a fellow Cosmo girl out by sharing your thoughts in the comment section below.