Getting multiple piercings is pretty exciting. After all, there are a bunch of placements you can choose from.
If you've *finally* decided to level up from your lobe piercings, one of the advanced placements, a.k.a. cartilage piercings, you need to check out is the conch. Below, we break down everything you need to know about this one-of-a-kind piercing—from its pain level to its healing time! 
What is a conch piercing?
A conch is located in the inner part of your ear. It's a cup-shaped area that kinda resembles a conch shell, which is why it's named after that. Depending on the anatomy of your ear, you can either get an inner (the upper fold of the ear) or an outer (the lower fold of the ear) conch piercing.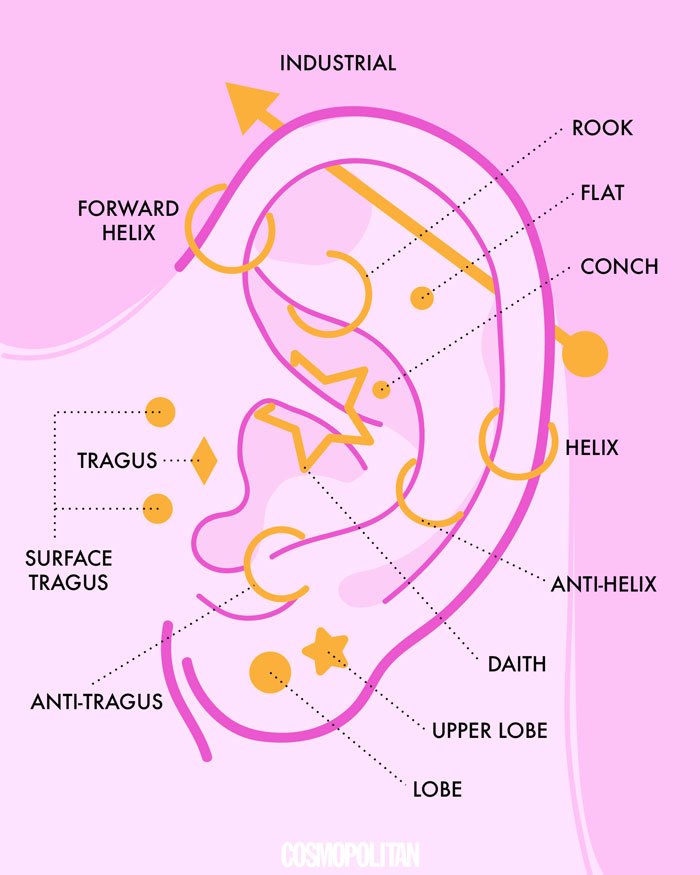 According to Cyndi Morales, the main piercer of Piercing Corner, the conch piercing is suitable for most ears. It also has a large area for you to experiment with. So once it has fully healed, it'll look great with all sorts of earrings! 
Does it hurt to get a conch piercing? 
The cartilage in your conch is harder than the other parts of the ear. That said, it'll obviously be more painful to get a conch piercing than a standard lobe piercing. However, Cyndi noted that pain is relative. For some people, it may hurt like a bitch. Meanwhile, others may not feel much. "It really depends on your pain tolerance," she explained.
How long does it take for a conch piercing to heal?
Just like its pain level, its healing time varies for every person. It will depend on how you take care of your fresh piercing. Generally, the professional body piercer said that "it takes six to 12 months" for a conch piercing to fully heal. 
Continue reading below ↓
Recommended Videos
How do I take care of my conch piercing? 
Avoid fiddling with your piercing. When you touch or twist your piercing, you're making the dry wound raw again. This can delay the healing process. 
Don't clean your piercing with alcohol. According to Cyndi, alcohol tends to dry out the skin and slow down the healing process. Instead, use a mild cleanser and water to clean your piercing. Just dab the soap on the skin and wash it all off with running water.
As much as possible, avoid swimming while your piercing is still fresh. 
Don't remove your earrings too soon! This may cause the piercings to close. (READ MORE: How To Make Sure Your Ear Piercings Don't Close Or Get Infected)
Interested in getting a conch piercing? Check out these pictures for inspiration: 
Conch + auricle + double lobe piercing

As it's located in the center part of the ear, the conch is a great spot for a statement earring like this diamond lotus stud. 

Conch + forward helix + lobe piercing

This combination looks clean AF. 

Conch + double flat + helix + triple lobe piercing

Keep your curated ear from looking too crowded by going for tiny, delicate pieces of jewelry. 

Conch + helix + double lobe piercing + tragus 

The diamond conch piercing is certainly a cool addition to this ear party. 

Conch + tragus + lobe piercing

This spaced-out trio is ~aesthetically pleasing~.

Conch + double lobe piercing

An unconventional conch piercing instantly elevates a double lobe piercing. 

Conch + double helix + rook + tragus + double lobe piercing 

Make your conch piercing stand out by surrounding it with simpler pieces of jewelry! 

Conch + triple flat + triple lobe piercing

Break up a triple flat and a triple lobe piercing with a gold hoop earring on the conch.

Conch

A lone flower on the conch looks striking on its own. 

Conch + double flat + tragus

This curated ear is so pretty. 

Triple conch + lobe piercing 

You'll want to show off this cool triple conch piercing! 

Conch + flat + orbital + lobe piercing

We love how this cluster of tiny flower studs is balanced out with an eye-catching orbital piercing. 

Conch + helix 

If you have a minimalist aesthetic, you'll love this combo for sure! 

Double conch + helix

Why settle for one conch piercing when you can have more?
READ MORE
All The Super Pretty Ear Piercing Ideas You Can Get On Your Cartilage
25 Minimalist Ear Piercing Ideas You Can Try This 2022
20 Lobe Ear Piercing Ideas That Aren't Boring At All