Creating a skincare routine from scratch isn't always easy, especially if you're still learning what works for your complexion and what doesn't. This is where skincare sets come in handy—they provide you with a complete regimen, from cleanser all the way to SPF! To make your life even easier, there are sets made for every skin type and concern, so you'll definitely find the one for you.
One of the local brands that offer affordable skincare sets is Hello Glow. They currently have three variants: Acne Defense Set, Advanced Rejuvenating Set, and All-Natural Whitening Set. In the name of ~science~, three Cosmo Girls with different skin concerns tried out each variant for a few weeks to see if they really live up to their claims. Read on to learn more:
What are the Hello Glow skincare sets?
Hello Glow currently offers three variants: Acne Defense Set, Advanced Rejuvenating Set, and All-Natural Whitening Set. Each set contains three to four products that target oiliness, breakouts, and dullness.
Check out the complete lineup of products for each set:
Acne Defense Set - Acne Solutions Cleansing Gel, Pore Tight Repairing Toner, Acne Spot Drying Cream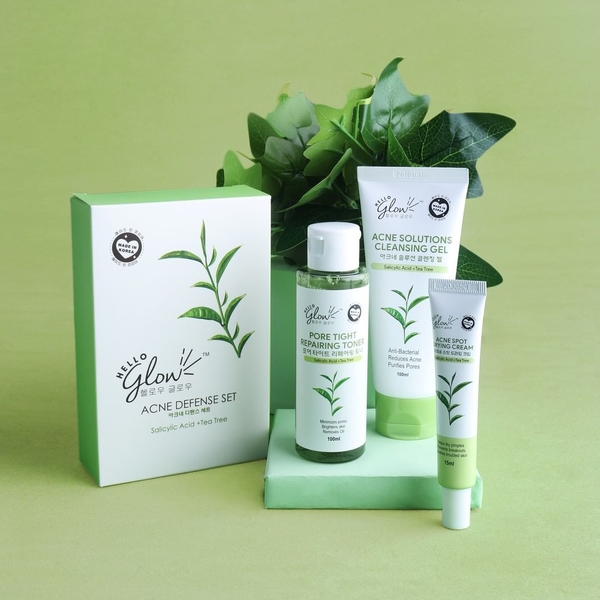 Continue reading below ↓
Recommended Videos
Advanced Rejuvenating Set - Low pH Hydrating Cleanser, Get Bright Pore Toner, Ultralight++ Matte Sunscreen SPF 30, Nourishing Night Cream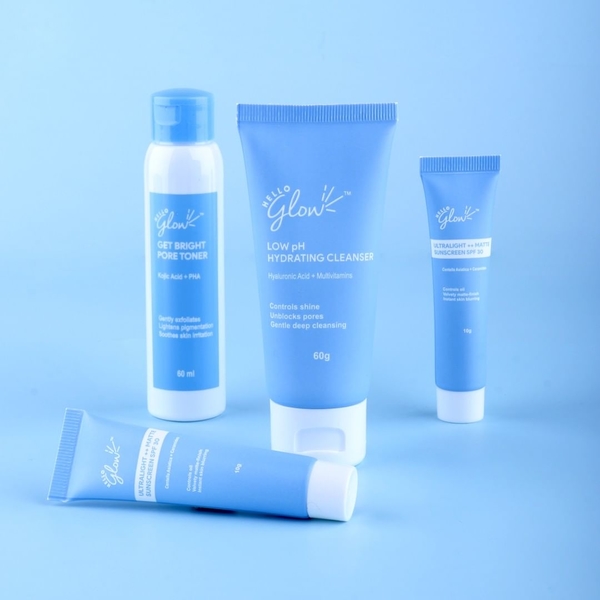 All-Natural Whitening Set - 4-in-1 Whitening Soap, Clarifying Toner, Sunscreen Cream, Whitening Cream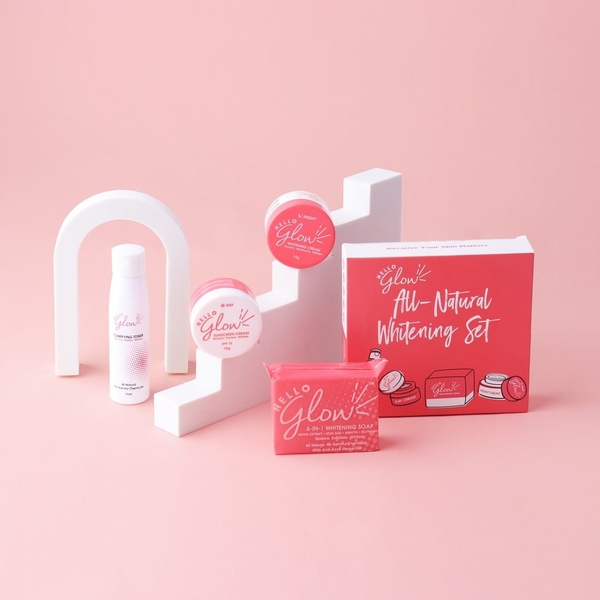 How much are the Hello Glow skincare sets?
All the sets cost P360—very sulit and affordable!
Where can you purchase the Hello Glow skincare sets?
You can purchase the Hello Glow skincare sets on the brand's official Shopee and Lazada stores.
REVIEW
Hello Glow Acne Defense Set
Tester: Cheska Santiago
Skin type: Oily and acne-prone
Current skincare routine: Cleanser, toner, hydrating lotion, chemical exfoliant (once a week), niacinamide serum, moisturizer, and sunscreen
First impressions: I'm very picky when it comes to cleansers—I don't like it when it leaves my face feeling taut—so I'm happy to report that the facial wash from the set didn't do that. As for the toner, I appreciated the fact that its scent wasn't strongly medicinal despite having tea tree oil as its main ingredient. I also love that it has salicylic acid, which is one of my go-to ingredients for my acne-prone skin. For the spot treatment, I wasn't really a big fan of the smell, but I could let that go if it meant it can actually dry out my zits.
Overall experience: TBH, in the beginning, I had doubts about trying out a skincare set that only had three products in it, especially since I was so used to my seven-step regimen. I wasn't comfortable leaving out my moisturizer and sunscreen since they are *vital* to my routine, but I did halt my use of chemical exfoliants and serums during my two-week review. 
I liked the Acne Solutions Cleansing Gel since it really washed away all the gunk from my face without drying it out. That wasn't the case for the Pore Tight Repairing Toner, though, as I felt it left my skin feeling a little too tight and dry for my liking. I was able to remedy this by spritzing water on my face in between steps to make my skin ~moist~ and ready to absorb the other products. I think the winner of the set is the Acne Spot Drying Cream since it was totally able to calm down my angry red zit that was very visible in my first photo. (I swear, I'm never picking at another pimple again, LOL.)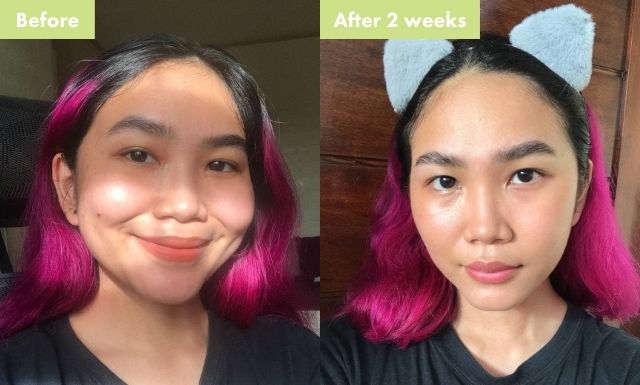 Hello Glow Advanced Rejuvenating Set
Tester: Jan Dolalas
Skin type: Combination
Current skincare routine: Facial wash, essence, eye cream, moisturizer, and sunscreen
First impressions: The cleanser's texture was very nice and it felt good to massage it all over my face. It didn't really lather or foam up like other facial washes I used, but it still left my skin feeling clean and ready for the rest of my routine. As someone who doesn't use a toner in her daily skincare routine, the one in the set was a pretty good addition, haha! It felt very refreshing to apply and didn't have the strong alcohol scent that most toners tend to have.
The consistency of the sunscreen is just A+. It has a matte finish, doesn't feel heavy on the face, and doesn't leave a white cast, which is very important for me. It also served as a good primer for my makeup! My only wish is that it came with a higher SPF. As for the night cream, it didn't feel moisturizing enough. I did appreciate its gel consistency which is perfect for our hot weather.
Overall experience: NGL, I had a few pimples and blemishes when I started trying the Hello Glow Advanced Rejuvenating Set, but I wasn't alarmed since I knew my skin was just purging. I'm happy to say they are now gone! My skin also looks brighter and its texture is smoother than when I first began the trial.
My favorite product from the set would be the sunscreen. I personally love the matte finish and how well it sits under my makeup. My least favorites are the cleanser and the night cream—they don't feel as rich and moisturizing for my skin. Overall, I would recommend this skincare set to those who are just starting to build their own routine.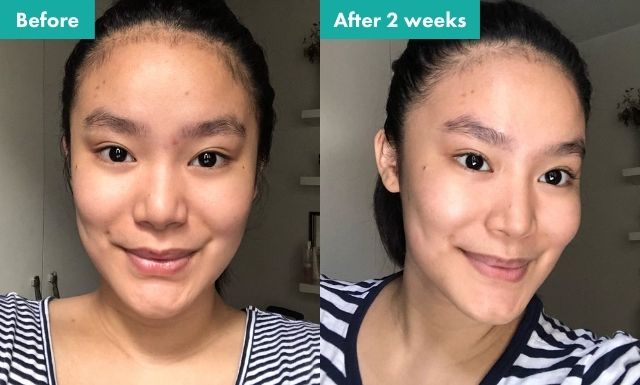 Hello Glow All-Natural Whitening Set
Tester: Rae Nopuente
Skin type: Dry, acne-prone
Current skincare routine: Oil cleanser, facial wash, toner, serum, essence, moisturizer, sunscreen, eye cream, and sheet mask or clay mask (once a week)
First impressions: I was initially worried about the 4-in-1 whitening soap "melting" because most whitening soaps are prone to that and I'm glad that wasn't the case for this one. The toner was an instant favorite for me because I loved the scent. It was hydrating and mild—it was like cleaning your face with water. As for the sunscreen and moisturizer, I found them too small for my liking—I wish they sold bigger jars. I wasn't used to skipping serum and moisturizer for this skincare set so it felt weird to me to put on sunscreen after using the toner. It wasn't a great feeling. It was also hard to get used to the moisturizer's scent since I have allergic rhinitis. The good news, though, is that I didn't experience any stinging or itchiness on my first day of using the set.
Overall experience: Each day and night skincare routine only had three steps each, which was something that I really appreciated because TBH, I have a LOT of lazy skincare days. The three-step skincare routine began to felt like a habit for me, but I still cheated and used my serums and essence at night because they're non-negotiables in my routine. I'm fairly impressed with the results because the products really brightened my skin. The soap and toner would probably stay in my routine. If I remember correctly, my skin started to itch after a few days of using the whitening cream so I switched to my old moisturizer. I think the soap had the biggest impact on my skin—I think it did all the work while the toner was there to balance things out and avoid my face from drying up.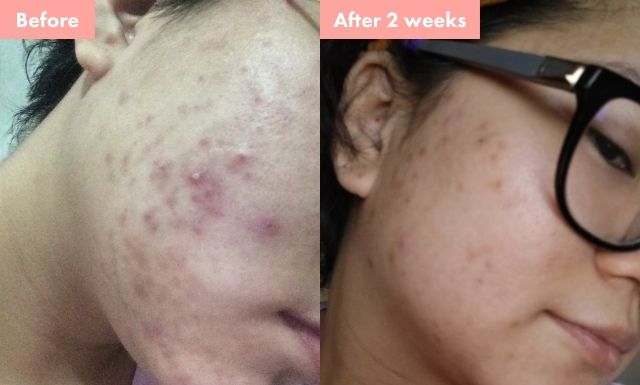 Follow Cosmo PH Beauty on Instagram.
***
Cosmo is now on Quento! Click here to download the app for iOS, Android, and desktop and enjoy more articles and videos from Cosmo and your favorite websites!
Have you tried and tested this product? Share to the community what you think! Leave your review in the comment section below.