I was initially shocked when I heard that Dr. Vicki Belo recommends a skincare routine that doesn't involve moisturizer. It was the complete opposite of what I have learned over the years. Before I became a beauty editor, I worked as a product trainer for a Korean beauty brand. There, I learned that hydration is important to balance the complexion's oil and moisture levels. I was taught that you need a moisturizer to stop your oil glands from being hyperactive. So, it's safe to say that I haven't skipped moisturizer since. 
I have oily skin, so I'm picky with what I put on my face, especially when it comes to moisturizers. I always go for gel types or those that say "oil-free" or "made for oily skin types." I am not a fan of sleeping with a film of sticky cream on my face, and I am aware that anything too heavy will trigger skin breakouts. I have to admit, I had my doubts about Dr. Belo's moisturizer-free skincare routine, but after ~studying~ each step, it seemed interesting to try.
Here's Dr. Belo's suggested regimen:
Morning: Cleanser, exfoliator, vitamin C serum
Evening: Cleanser, toner, vitamin A (retinol) serum
Dr. Belo emphasized the importance of exfoliating the skin to allow the skincare products to work better. This way, you can also free the pores from impurities. On the other hand, Vitamin C and retinol are both active ingredients that work to smoothen out the skin's surface.
Continue reading below ↓
Recommended Videos
I decided to give Dr. Belo's recommended routine a go because: 1) It has acids, and I'm a big fan of their exfoliating powers. Glycolic, salicylic, and lactic acids helped made my once acne-prone skin clearer and smoother. 2) It only has three steps! My current skincare routine has five to six, so I'm thrilled to save a little bit of time. Read on to find out what happened after 28 days of being moisturizer-free.
MY SKIN PROFILE
Skin type: Oily
Skincare concerns: Occasional pimples, fine lines, shine
Morning Skincare Routine
Cleanser: The Body Shop Carrot Wash
Since I'll be using retinol and vitamin C, I made sure my cleanser had gentle ingredients and was free of AHA and BHA. PSA: You can't mix vitamin C and retinol with exfoliating acids, especially when these products have *never* touched your skin. Doing so might irritate your skin and damage your skin barrier, which leads to a blemish-prone and sensitive complexion.
Exfoliate: Shisheido Waso Soft and Cushy Polisher
This facial scrub has super soft granules that almost feel like tofu against my skin. (Sounds weird, but that's the best way I can explain it!) I only used this twice a week—that's what it says on the label! BTW, you can sub this expensive face polish with an exfoliating facial wash (just make sure it's not made of nut granules or microbeads, as these will just produce micro-tears on the skin).
Vitamin C Serum: Kiehl's Powerful Strength Line-Reducing Concentrate
This has hyaluronic acid—a hydrating ingredient—so it kind of added a bit of moisture to the skin. But its main function is a serum, and not a moisturizer. I also like the Klairs Freshly Juiced Vitamin C Serum, which is a more affordable option.
Sunscreen: Innisfree Perfect UV Protection Cream SPF50+/PA+++
A morning skincare routine is never complete without sun protection! I got one that was made for oily skin. So far, this tube has never failed me. I like its matte finish and non-comedogenic formula.
Evening Skincare Routine
Cleanser: The Body Shop Carrot Wash
Toner: Son & Park Beauty Water
I've been using this gentle toner for months. It soothes my tired complexion, and it never triggered breakouts. Any alcohol-free toner (that's free of AHA and BHA) will do for this experiment.
Vitamin A serum: The Ordinary Granactive Retinoid 2% in Squalane
Retinol is a powerful ingredient that works on the most common skin issues. It is known for treating acne, reducing fine lines, and diminishing dark spots. It can also exfoliate the skin. Although it seems like an effective cure-all, it has a bad rep for triggering irritation because of its matapang formula.
That said, I was scared to incorporate a vitamin A product in my routine because my skin reacts badly to retinol. It would turn red and I didn't like the stinging sensation it sometimes left on my face. I heard about The Ordinary's Granactive Retinoid line which promises no irritation. I slowly introduced it in my regimen. I started putting it on every other night, before doing it every day. If you need more options, here are more retinol products you can try.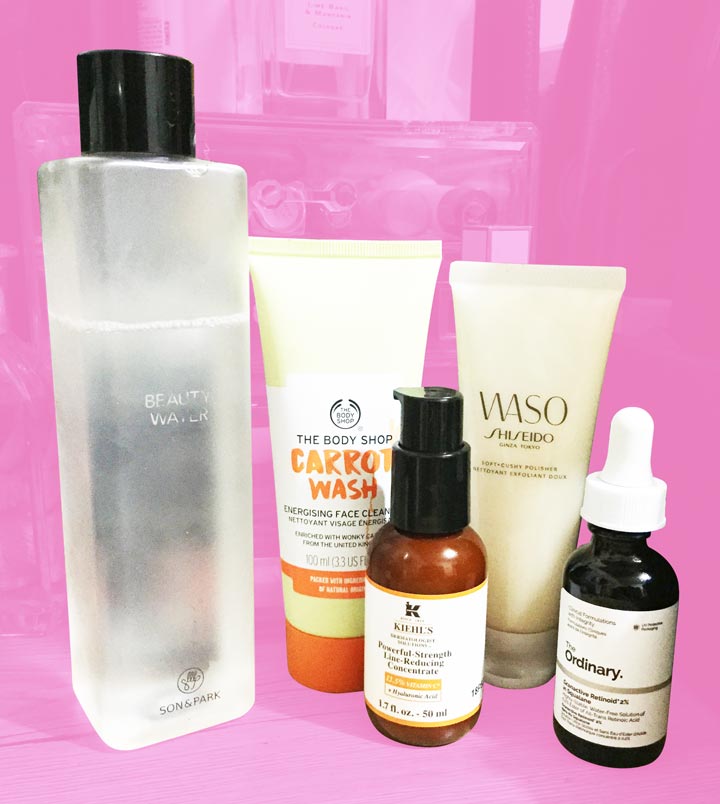 THE REVIEW
 I lived without moisturizer for 28 days, which is how long the skin's normal renewal cycle is. Check out my skincare diary below:
DAY 1
Morning: The three-step routine was no biggie. My a.m. beauty prep was short and sweet—I liked it! Also, my cushion makeup adhered better on my face. I suspect it was because my complexion was well-exfoliated and nourished before makeup application.
Evening: Okay, the vitamin A serum stung a little on my face, but I didn't see any scary red patches. The sensation was gone in under a minute.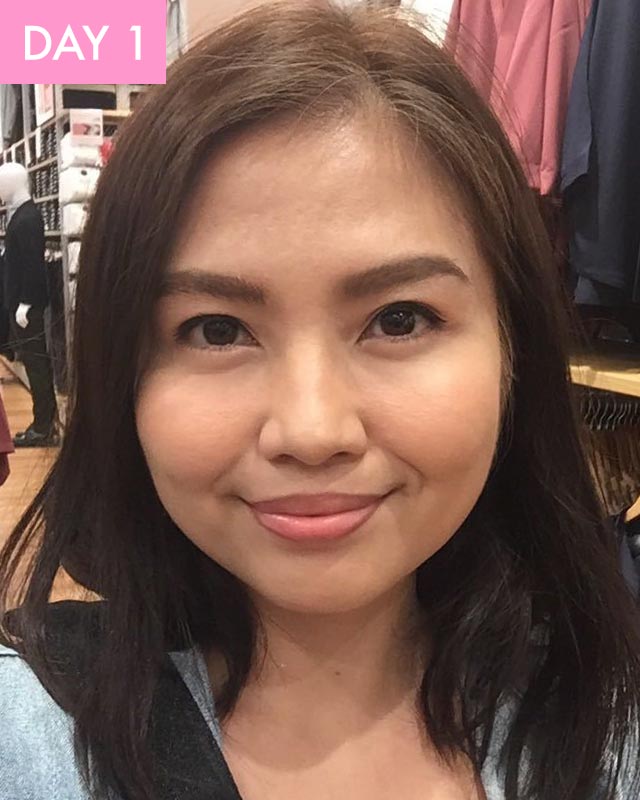 DAY 7
Overall, my complexion looked better—the texture wasn't visible unless you zoomed into my face. I had red spots on my forehead, though. I suspect it was from my retinol serum. This "purging" reaction was normal, according to the brand's website. I didn't really worry about it. I knew better things were coming, haha!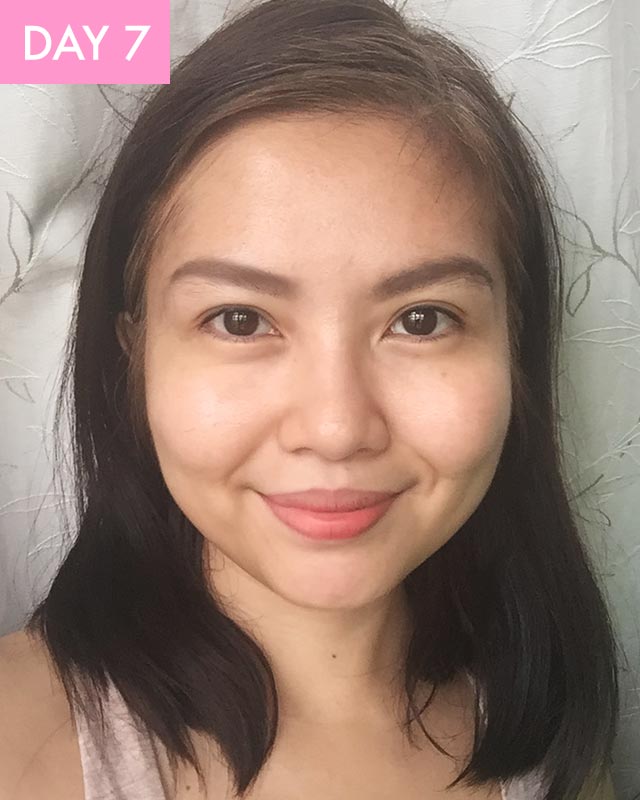 DAY 14
So far, so good! No skin breakouts and my friends kept on asking if I was seeing anyone because I looked blooming. My proud answer: "It must be the new skincare products I have been using! For the record, you don't need a love life to look blooming. *wink*"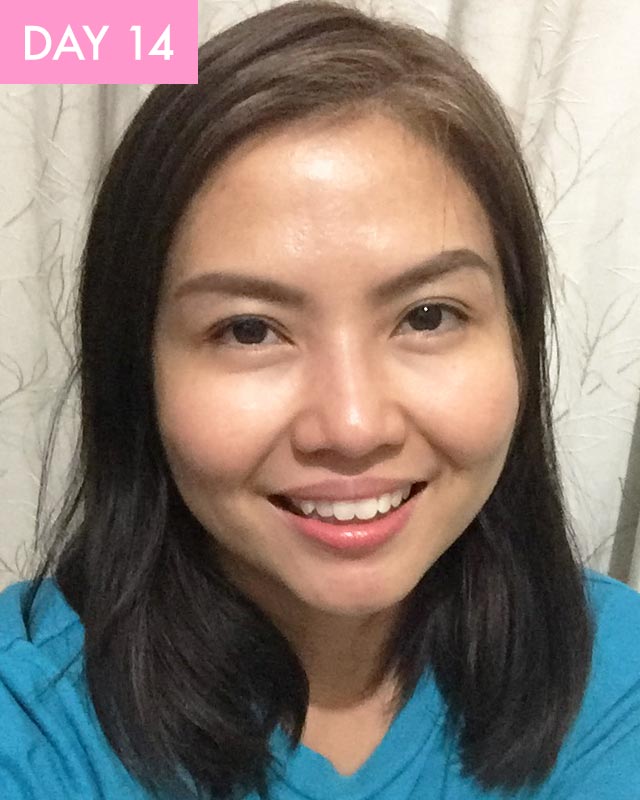 DAY 21
I've been convincing friends to add vitamin C and retinol to their skincare routines. After 21 days into this experiment, it's safe to say that I'm now retinol convert—I used to be scared of this ingredient!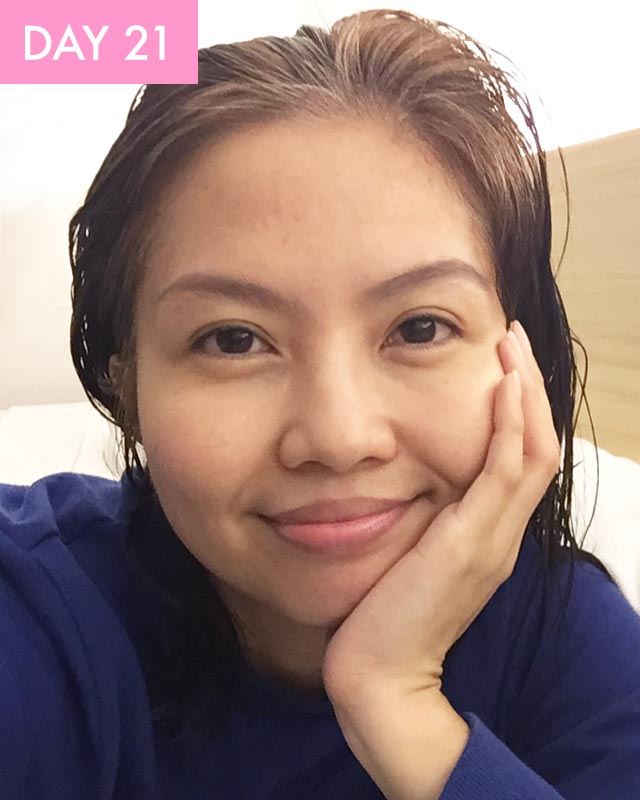 DAY 28
I usually get annoying skin breakouts before my period, but this time, my skin remained clear!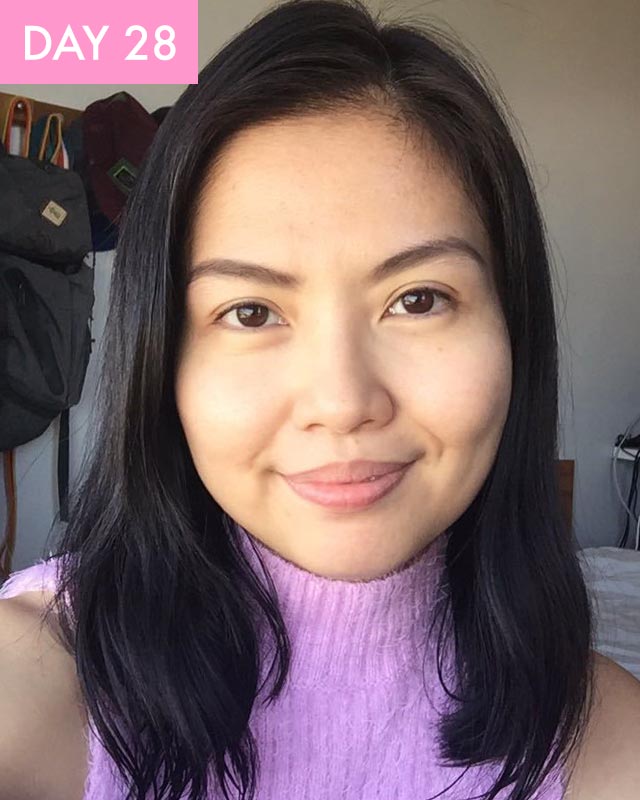 The verdict
As mentioned earlier, because of this experiment, I became a believer of retinol. I have always used vitamin C skincare products, so I knew what they could do for my skin. But retinol, wow. Why was I so scared of this before? My fine lines became less visible after just a month of using it. I don't think I'll ever go back to my old, retinol-free regimen. I still love my glycolic acid products, though. I'll probably alternate them with my retinol serum.
Living without moisturizer did not make my complexion extremely oily or matte. It became glowing—but not in a ~*glass skin*~ level. For me, it was just right. I believe that the hyaluronic acid in my vitamin C concentrate and squalane in my Granactive Retinoid served as humectants that drew moisture in my skin.
While I loved Dr. Belo's minimalist basic skincare regimen, I would not say that I would skip moisturizer for the rest of my life. I am still into the gel-based hydrators I have in my dresser. I still love how a moisturizer made my skin feel super bouncy, soft, and plump. 
Follow Ira on Instagram.