Pityriasis alba is pretty much a new term for most of us. It's slowly becoming common knowledge when Dr. Aivee Teo of The Aivee Clinic shared in her vlog that Kathryn Bernardo had the said skin condition after staying under the sun for long hours.
"Alam mo what happened to you? Nagkaroon ka ng pityriasis alba," the celebrity doctor said. "Pityriasis alba is a condition where after you get sunburned, white patches appear," she further explained.
Kathryn asked what would happen when she stays under the sun again. Dr. Aivee replied, "Lalong magwa-white 'yung white, magda-dark 'yung dark."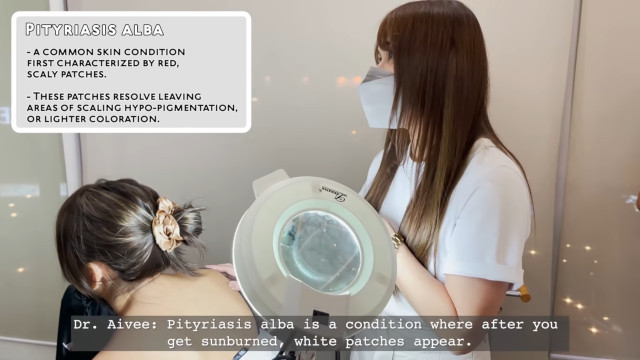 Continue reading below ↓
Recommended Videos
This got us curious about pityriasis alba is so we made a mini-investigation. Learn more about it below:
What is pityriasis alba?
According to the Board's Fodder by Gina Chacon, MD, and Meredith Hancock, MD, pityriasis alba is a type of hypopigmented skin condition or when there is a "reduced number of active melanocytes and decreased size and numbers of melanosomes in the affected area."
The skin condition is more common in children and teens than adults. The lesions appear white, dry, or powdery and with pink borders. They come in round, oval, or ill-defined shapes.
According to this study by Dr. Donald N. Givler, Dr. Hajira Basit, and Dr. Amy Givler, it said the pityriasis alba is "most commonly located on the face, arms, and upper trunk." It is also more noticeable in darker skin tones. 
Info in a nutshell: Pityriasis alba is described as light-colored scaly patches. They appear to be round, oval, or irregular. 
What are its usual causes of pityriasis alba?
The cause of this skin condition is unknown. From the same study of Dr. Donald N. Givler, Dr. Hajira Basit, and Dr. Amy Givler, it was said those with pityriasis alba may have a history of skin atopy. It is also not a "seasonal" disease or determined by one's race but it can be more noticeable during the warm, summer season when the skin becomes tanner. It is not contagious.
Info in a nutshell: The cause of pityriasis alba is unknown but it is more noticeable when the patient has a darker skin tone or becomes tanner. 
Is it possible to treat pityriasis alba?
There are instances when pityriasis alba goes away on its own, but doctors may recommending applying a moisturizer or cream on the affected area. Topical corticosteroids can help ease inflammation. In Dr. Aivee Teo's vlog, she prescribed skin treatments to help Kathryn. 
Info in a nutshell: Yes, but it may go away on its own.
Does pityriasis alba ever come back?
Healthline explained that pityriasis alba may return in the future. We highly recommend consulting a doctor when seeking to treat the skin condition.
Follow Ira on Instagram.
***
Cosmo is now on Quento! Click here to download the app for iOS, Android, and desktop and enjoy more articles and videos from Cosmo and your favorite websites!
***MORE DERMA ADVICE***
How To Get Rid Of Acne, According To A Dermatologist
Eczema Explained: What You Should Know About Atopic Dermatitis