In the unlikely event that you aren't aware, Ariana Grande is dating Saturday Night Live cast member Pete Davidson. If you don't ship these two already—sure, the couple did kinda come out of left field—be prepared for your fandom to go from zero to 100 after diving into this timeline of their relationship because it turns out they've been flirting for years!
March 2016
Ariana appears on SNL and hops on stage with Pete. Based on their body language alone we should have known something flirty was up. "Normally, putting your hands in your pockets is a sign you're hiding something or holding back," according to body-language expert Blanca Cobb, adding that Ariana let Pete know she was interested in him by holding eye contact and pressing her lips together in a wide smile. Wow, basically me when I look at pizza!
May 10, 2018
News breaks that Ariana has ended things with her boyfriend Mac Miller after two years of dating. (Please note that two years have also passed since Ariana and Pete made ~eyes~ on the SNL stage.) Initially, Ariana sends out a sweet message of support on Instagram, calling Mac "one of my best friends in the whole world and favorite people on the planet," and saying "I respect and adore him endlessly and am grateful to have him in my life in any form, at all times, regardless of how our relationship changes or what the universe holds for each of us!" But then she unfollows him, so...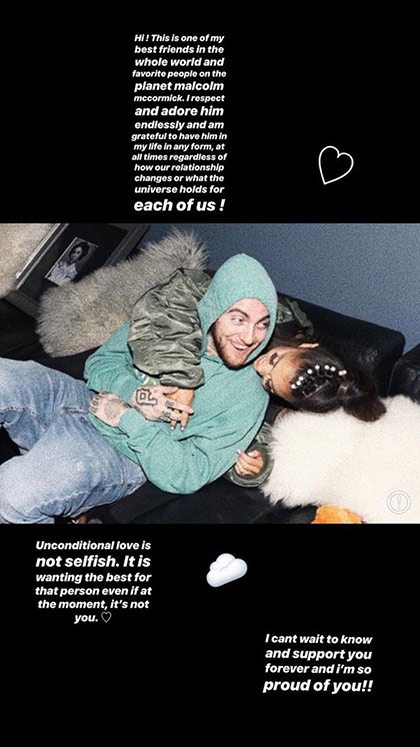 May 12, 2018
Ariana is allegedly spotted "hanging out with Pete and his mom at the SNL after-party at Zuma." Not much more is known about this particular hang-sesh, but Ariana is already meeting the other woman in Pete's life (aka his mom) so things must be getting serious!
May 16, 2018
Pete confirms his breakup with Larry David's daughter Cazzie David, saying "We're not together anymore" and that she's a "very talented girl, she'll be great and she'll be fine. Yeah, I think she'll be okay."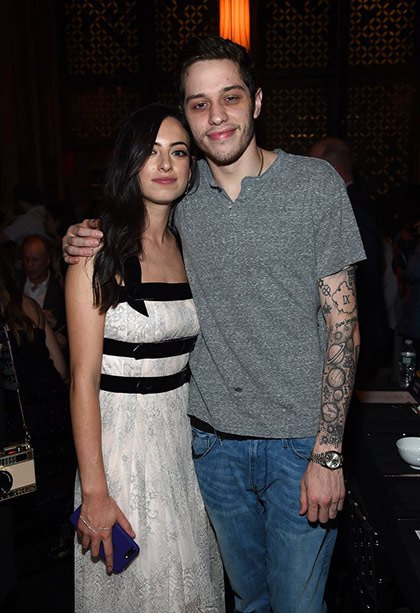 May 20, 2018
People reports that Pete was chilling by Ariana's side after the Billboard Music Awards, with a source musing, "After Ariana's performance, they were backstage and he had his arm around her. They seemed very lovey-dovey. He was hanging out with her and her friends with his arm around her. She seemed quite smitten."
May 22, 2018
News officially breaks that Ariana is dating Pete! Us Weekly reports that "Ariana and Pete are dating and it's casual," and that the relationship "just started."
May 23, 2018
Ariana claps back at a fan who suggests she should have stayed with Mac Miller instead of moving on with Pete. "How absurd that you minimize female self-respect and self-worth by saying someone should stay in a toxic relationship because he wrote an album about them, which btw isn't the case (just Cinderella is ab me)," she wrote. "I am not a babysitter or a mother and no woman should feel that they need to be. I have cared for him and tried to support his sobriety & prayed for his balance for years (and always will of course) but shaming/blaming women for a man's inability to keep his shit together is a very major problem."
May 23, 2018
The internet realizes that Ariana and Pete definitely maybe have matching cloud tattoos. Everyone is appropriately shookt by this very serious step in a relatively new relationship.
May 25, 2018
Pete Davidson shuts down internet trolls who say Ariana shouldn't date him because of his mental health. "Normally I wouldn't comment on something like this cause like f*ck you," Pete wrote on Insta Stories. "But I've been hearing a lot of 'people with BPD can't be in relationships' talk. I just wanna let you know that's not true. Just because someone has a mental illness does not mean they can't be happy and in a relationship. It also doesn't mean that person makes a relationship toxic."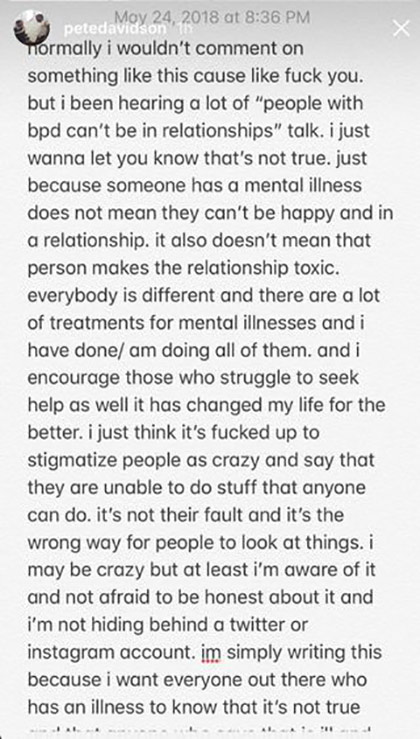 May 25 to 26, 2018
Ariana and Pete amp up their Insta-flirting, and the Insta account @CommentsByCelebs comes through with the receipts:
May 30, 2018
Pete and Ariana are Instagram official thanks to this nerdy-but-wonderful Harry Potter-themed couples photo.
For what it's worth, Ariana commented this:

Welp, what a note to end on! FYI, this list will be updated as Ariana and Pete's relationship progresses into even more flirty territory, so stay tuned.
***
This article originally appeared on Cosmopolitan.com. Minor edits have been made by the Cosmo.ph editors.