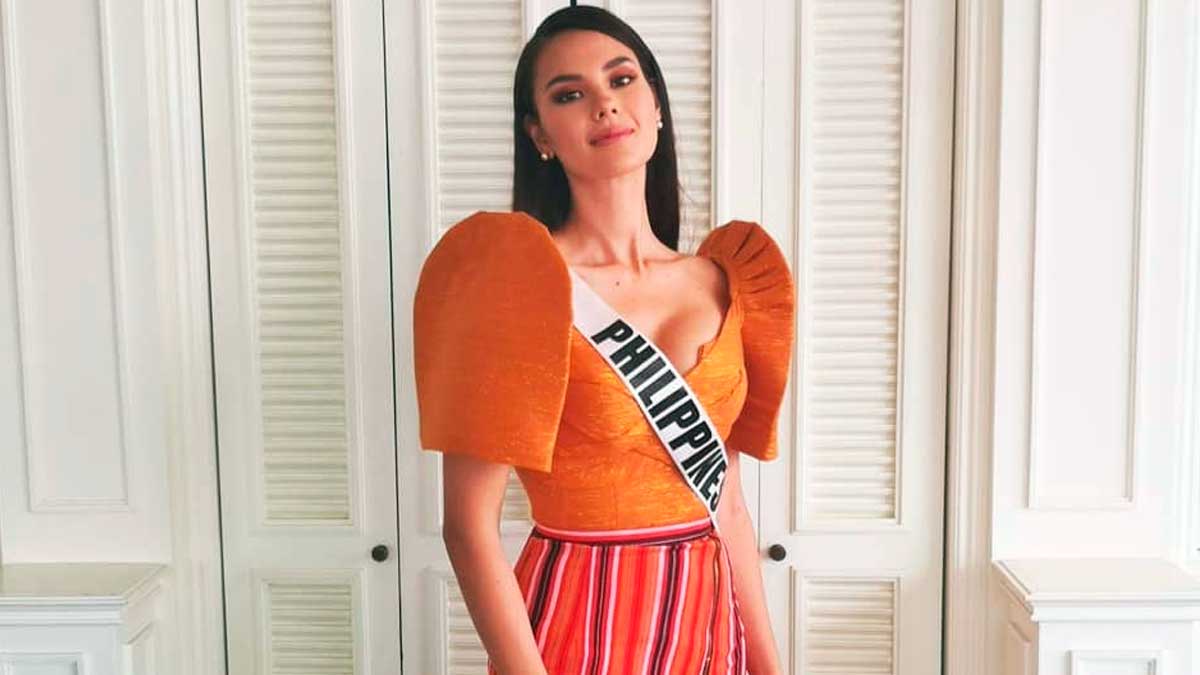 Miss Universe Philippines 2018 Catriona Gray is currently in Bangkok, Thailand for this year's competition and there's no doubt that we're all rooting for her! Despite the fact she experienced some technical problems with her national costume on Monday, Catriona wowed us all with her ensemble.  
Here's a little trivia: The Australian-Pinay beauty actually has a diploma course in Music Theory! She studied at the Berklee College of Music in Boston, Massachusetts, USA. It's no big deal, really. Berklee's only one of the largest independent colleges of contemporary music in the world.
So we know our girl's ~musically-inclined~. And here's more proof: Back in 2012, when Cat became part of Cosmo's 8 Sexiest Models, we shot this video of her singing the iconic Bonnie Raitt song, '"I Can't Make You Love Me!" Check it out below: 
ICYDK, Catriona sang a rendition of "Moon River" during the talent preview for Miss World 2016! The beauty queen also released her first single called "We're In This Together" on November 25, in partnership with Young Focus International, an organization dedicated to helping children and poor communities in Tondo. 
This year's Miss Universe coronation night will be held on December 17 at the Impact Arena in Bangkok, Thailand. We can't wait! 
Follow Lily on Instagram.
READ MORE STORIES ON MISS UNIVERSE 2018 HERE:
What You Need To Know About Miss Universe Vietnam H'Hen Nie's Touching Backstory
Ashley Graham Took A Huge Tumble During The Miss Universe Pageant And Has A Giant Gash To Prove It
The Internet Reacts To Vice Ganda's Tweet About Miss Universe Host Ashley Graham
Catriona Gray's Instagram Hits 2.4 Million Followers After Miss Universe Win
These Brands' Congratulatory Messages For Catriona Gray Are Funny AF
Our Favorite Hairstyles From Miss Universe 2018
You Have To Watch Catriona Gray's Parents Shed Tears Of Joy When She Was Crowned Miss Universe 2018!
We Are Loving These Twitter Reactions To Catriona Gray's Miss Universe Win
Catriona Gray's Lava Gown At Miss Universe 2018 Is Everything!
Catriona Gray Just Slayed Again With A 'Slow-Mo Turn' At Miss Universe 2018
You Have To Read Catriona Gray's Winning Miss Universe Answer!
Miss Universe 2018: Top 5 Q&A Transcript
We Are Living For This Pinay's Catriona Gray Makeup Transformation!
Miss Universe Canada Looks Like The Brunette Version Of Taylor Swift
Miss Spain Received A Standing Ovation During The Miss Universe Coronation Night
Clint Bondad To Catriona Gray: 'You have the whole arena behind you'
Catriona Gray Hits 1 Million Instagram Followers Before Miss Universe Finals
People Are Spoofing Catriona Gray's Miss Universe Moments And We're All Here For It
Catriona Gray And Pia Wurtzbach Are Asking For Support To Win The Miss Universe Crown
Tyra Banks Approves Of Catriona Gray's Slow-Mo Twirl At The Miss Universe Prelims
Here's What We Love About Catriona Gray And Clint Bondad's Adorable Relationship
Filipino Gowns On Display At Miss Universe 2018 Preliminaries
LOL At Maris Racal + Inigo Pascual Copying Catriona Gray's 'Slow-Mo Turn' At The Miss U Prelims
A Guide To All The Miss Universe Philippines *Signature* Walks
Here Are The Design Sketches Of Catriona Gray's Miss U 2018 Gowns
A Thai Princess Designed Catriona Gray's Pink Swimsuit At The Miss U 2018 Preliminaries!
Catriona Gray Explains How She Did That 'Slow-Mo Turn'
We Love How Catriona Gray Wore Patriotic Ear Jewelry Again!
The Most Epic Twitter Reactions To Catriona Gray's 'Slow-Mo Turn' At The Miss Universe Prelims
You Have To Read The Story Behind Catriona Gray's Ibong Adarna-Inspired Gown
We Can't Get Over Catriona Gray's Jaw-Dropping Miss Universe Preliminary Competition Performance
OMG, Catriona Gray's Preliminary Interview Outfit Is Stunning
For The First Time Ever, Miss Universe Will Have An All-Female Panel Of Judges!
The Internet Can't Get Over These Details From Catriona Gray's National Costume
You Have To See Catriona Gray's National Costume For Miss Universe 2018!
Miss Universe Japan Will Dress Up As Sailor Moon For Her National Costume
This Is How Much Miss Universe Tickets Cost, In Case You Were Wondering
Check Out The National Costumes Of The Miss Universe 2018 Candidates
Recommended Videos