In K-dramas, we often encounter characters who seem to have it all: They're good-lucking, smart, and rich, plus they're loved by *everyone*. Take for example Yeo Jun from At A Distance, Spring Is Green—from afar, you'll think that his life is perfect. But once you get to know him more, you'll realize that behind his flawless and happy exterior is a struggling person. 
At A Distance, Spring Is Green paints a realistic picture of the youth and how they face the troubles attached to growing up. From family squabbles to inner turmoil, you'll be able to relate to the scenes that are shown in this series. Park Ji Hoon, who plays Yeo Jun, revealed that he actually accepted the role because he can see himself in the lead character.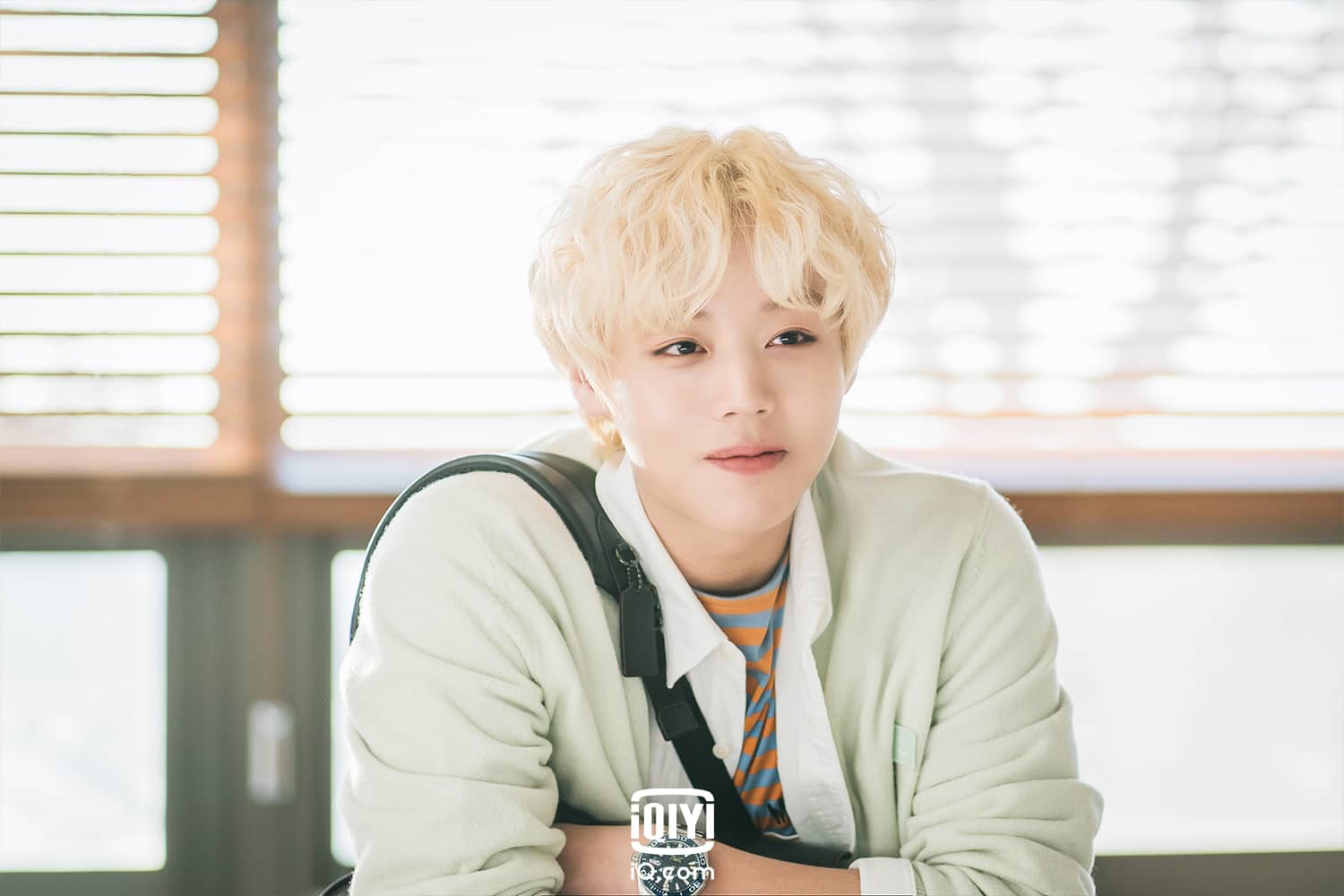 Continue reading below ↓
Recommended Videos
The K-pop-idol-turned-actor, along with Kang Min Ah (True Beauty) and Bae In Hyuk (My Roommate Is A Gumiho), share more about their youth and personal life in an exclusive interview with Cosmopolitan Philippines:
What made you decide to join At A Distance, Spring Is Green?
Park Ji Hoon: I read the webtoon version and it was fun. I wanted to try out the role because the webtoon seemed oddly charming. Also, I could relate to Yeo Jun in a way that he has to show only his bright side, whereas his inner self is dark. As a celebrity, I also have to show my lively sides and not my dark sides. That's why I was more attracted to the drama.
Kang Min Ah: When I first read the script, I realized every character in this drama has their own pain and that no one is perfect. So I sort of felt bad for them and relate to them at the same time. I thought the viewers would feel the same way. That's why I decided to join At A Distance, Spring Is Green.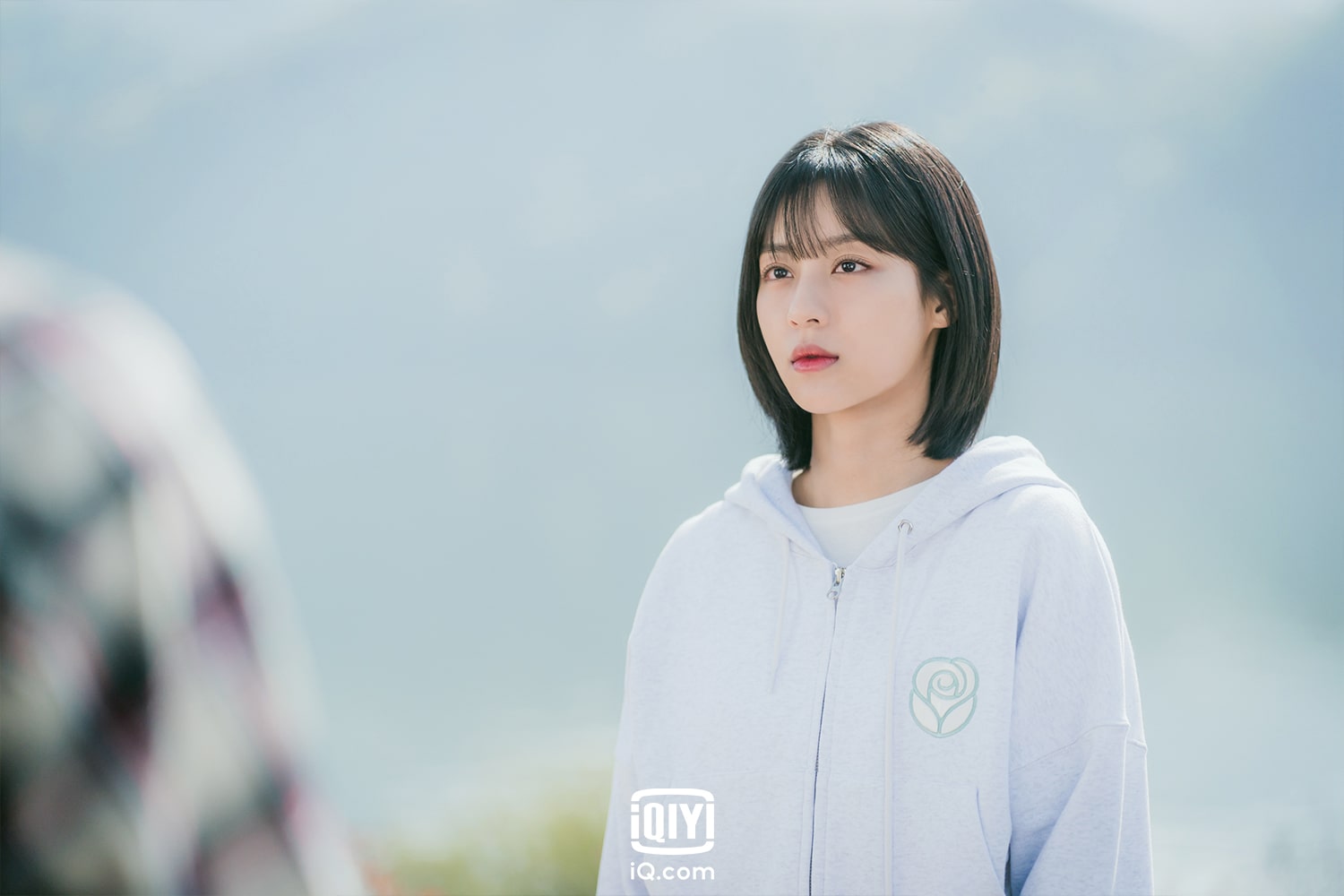 Bae In Hyuk: First of all, it deals with the realistic pain and conflicts that the youth face, and I could relate to them. I was able to see the conflicts that the characters had. The webtoon and the characters were really charming, so I'm really glad that I could join the drama. At A Distance, Spring Is Green also helped me grow.
Please describe your character in three words.
Park Ji Hoon: Masked, love, youth.
Kang Min Ah: Courage, overcoming, growth.  So Bin could seem timid and frustrating at first, but she grows up a lot as the drama progresses. That's why I want to describe her using positive words.
Bae In Hyuk: A perfect man. He had to do everything on his own as the breadwinner of his family. I felt bad for him, but I also thought he was perfect.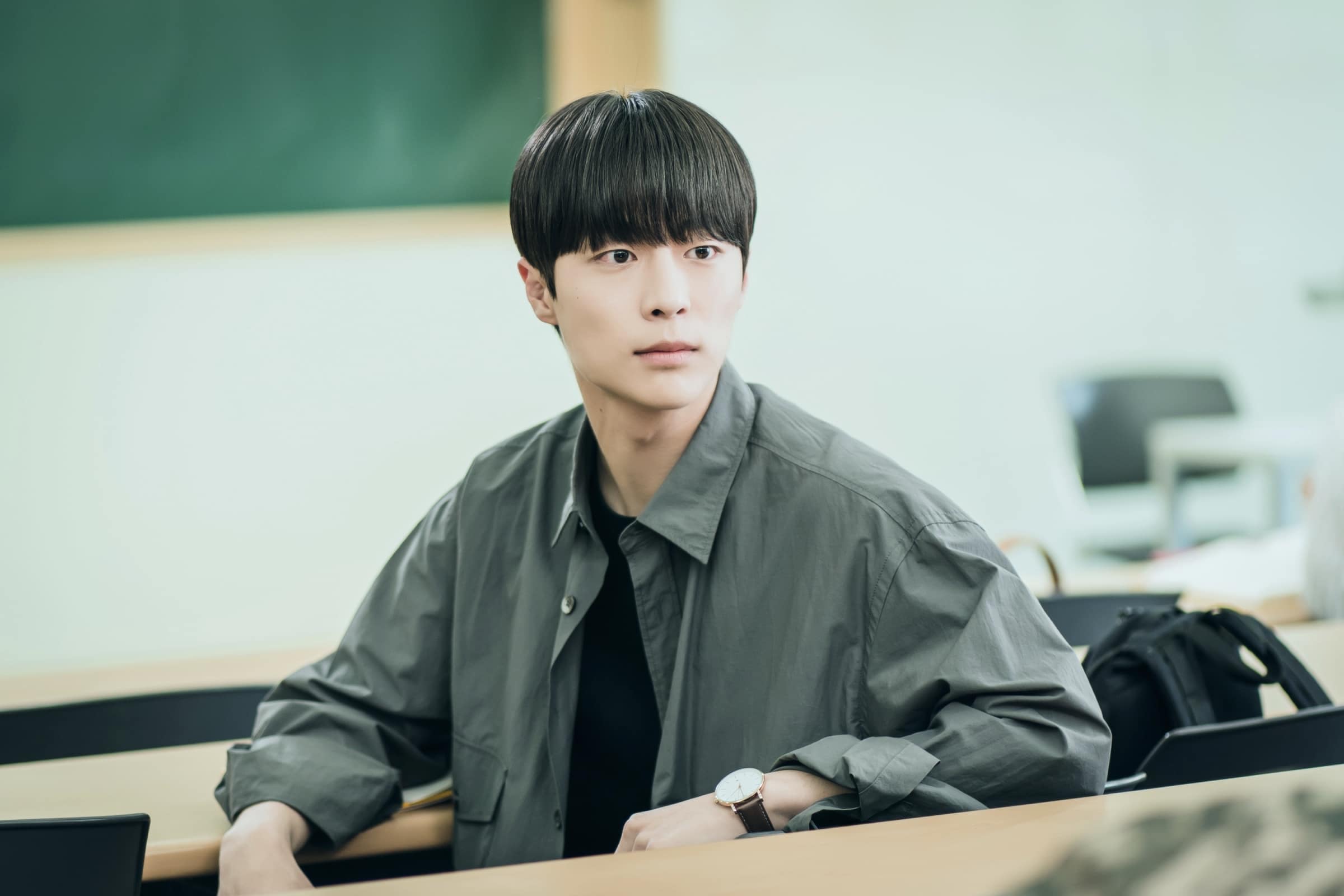 What difficulties did you experience while growing up?  
Park Ji Hoon: I debuted when I was really young, so I missed doing ordinary things. That's why it was really hard for me to make friends at school.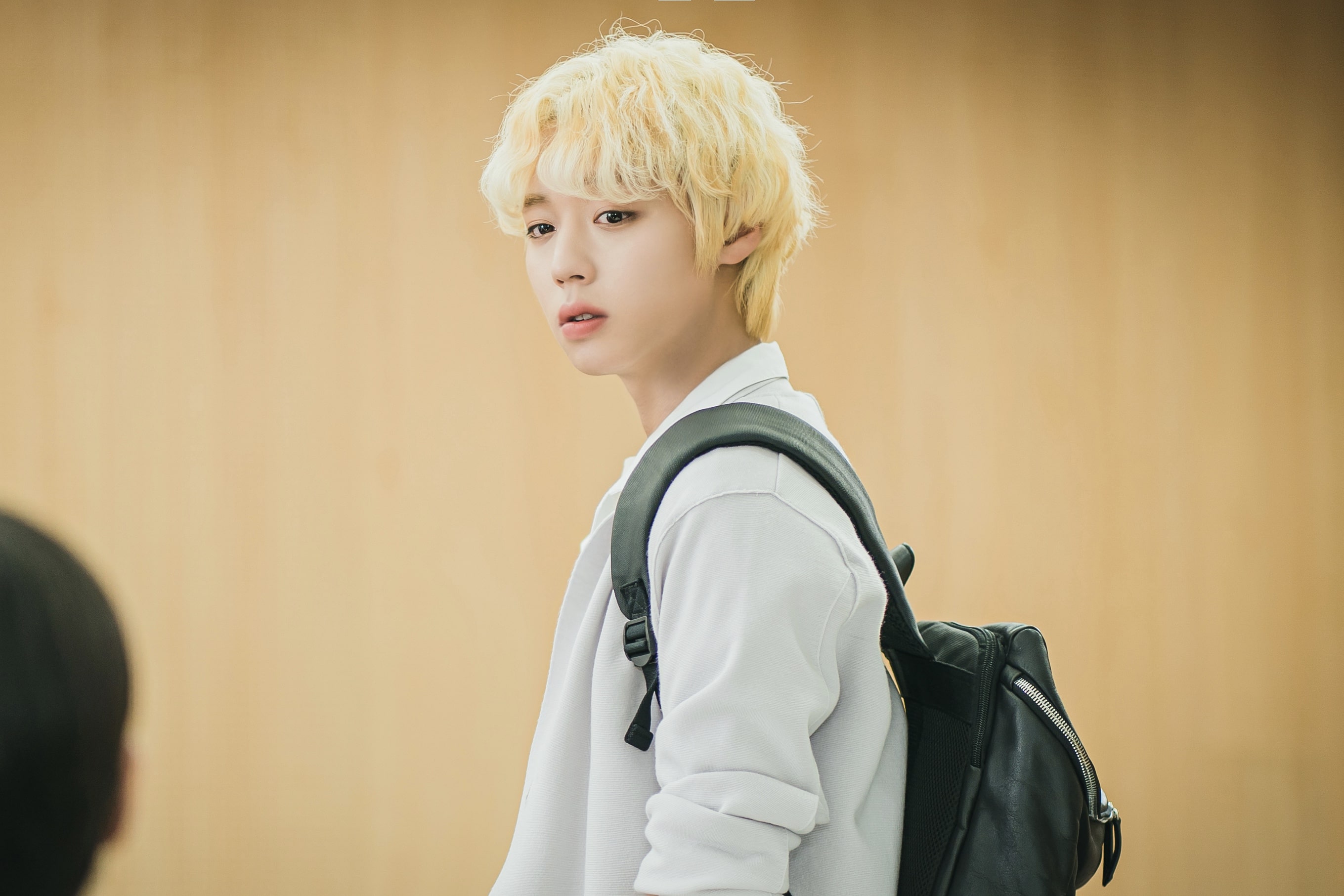 Kang Min Ah: There was a friend who'd express how much he liked me by pulling a prank on me. I wondered why he had to express his feelings that way, and when he went overboard, I didn't want to go to school. But he apologized later on. Other than that, I had to work as a child actress, so it was difficult to go to school and work at the same time.  It was hard to stay awake during class on the days when I went to school right after the shoot.
Bae In Hyuk: I don't think I had any difficulties. I tried to enjoy as much as I could, and I actually did.
What's your favorite memory from your school days?
Park Ji Hoon: I enjoyed playing dodge ball and soccer when I was in elementary school, and I still remember how I loved playing along with my friends. Those moments I spent with my friends while playing sports are really precious to me.
Kang Min Ah: Actually, there aren't many memories of school because I started working when I was still in school.  I remember the day when I had to leave early for the shoot. Out of the quiet hallway, I walked on a street lined with trees and there was a cool breeze. It felt as though I was alone in a different world from my friends. I loved those moments. When I think of the school days, those moments are the ones I remember the most.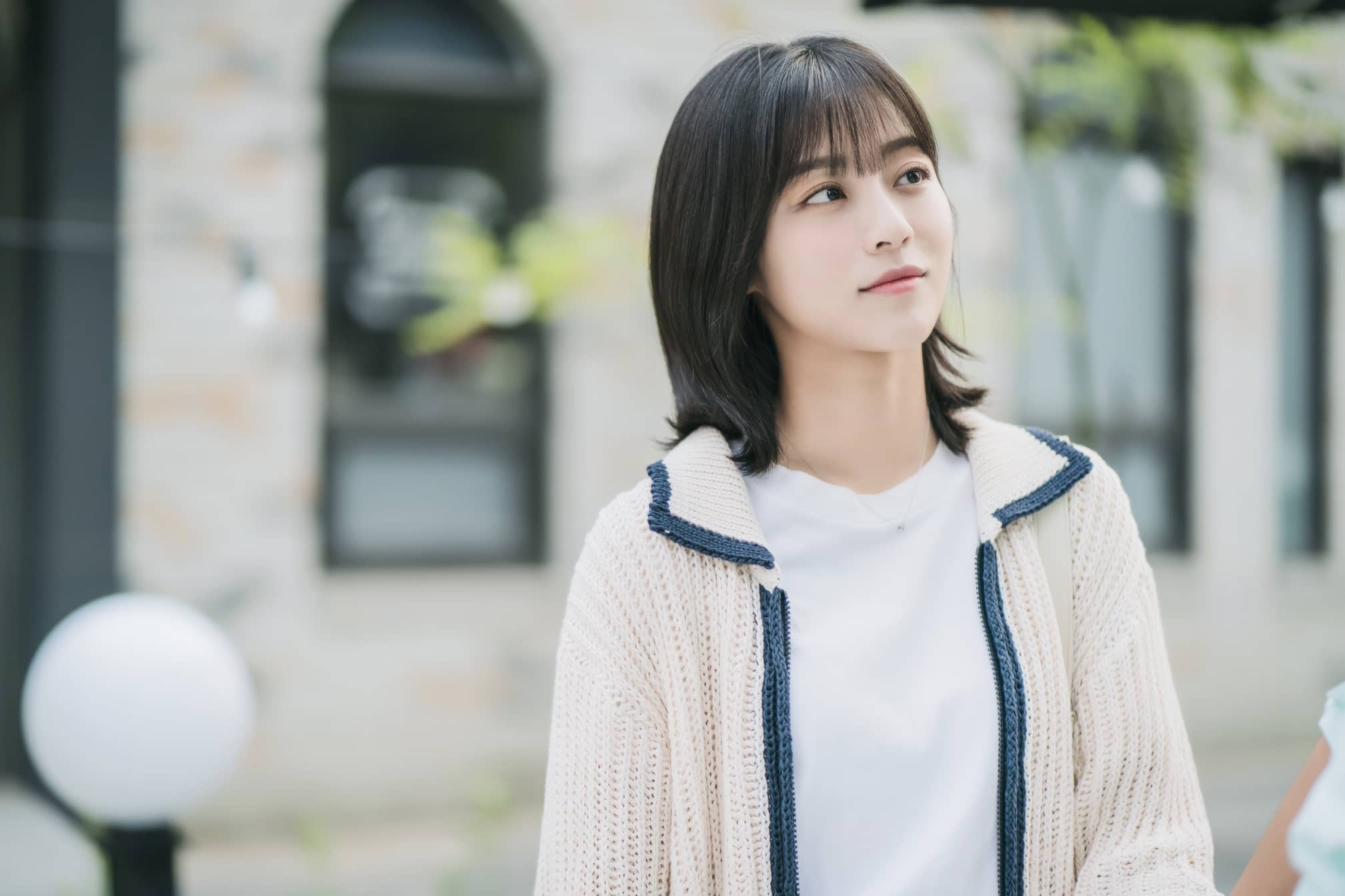 Bae In Hyuk: My favorite memory from my school days is one where I play soccer with my friends. I love soccer, and I loved how I could play soccer with my good friends. But I can't play as often now, so it's a bit sad.
How is performing on stage different from acting?
Park Ji Hoon: On stage, I express myself through music, but while acting, I express different characters using myself as a medium. That's the biggest difference.
What's the most memorable role you've played?
Kang Min Ah: I think So Bin is the most memorable one since the drama is being aired right now, and it was my first time to play a lead role. It'll remain as the first drama where I played the leading character.
You're cast in multiple projects this year. How do you manage your time?
Bae In Hyuk: I try to replenish myself by sleeping a lot. When I don't get enough sleep, I don't feel as great. So I sleep a lot, work out, and try to make the best out of the time I have.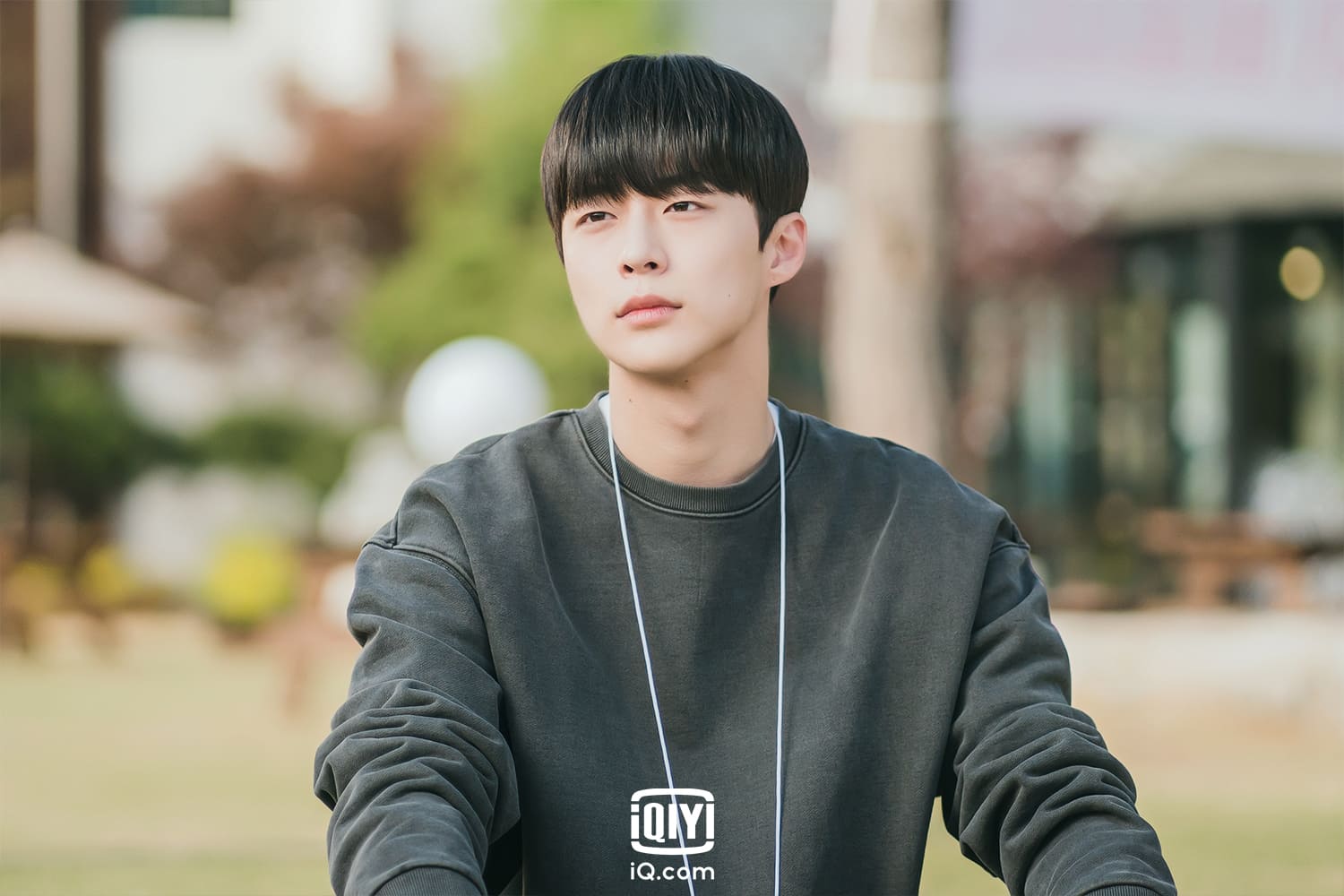 Which song do you listen to these days?
Park Ji Hoon: "Ride" by SOLE.
Why do you think you were widely loved as Soo Ah on True Beauty?
Kang Min Ah: Soo Ah is simple-minded, and I think that's what my fans loved about her. She's very honest, and she doesn't beat around the bush. She told Ju Kyung (Moon Ga Young) that she wants to be her friend because she really likes her. She also likes Soo Jin (Park Yoo Na) because Soo Jin is her close friend. She could seem a little slow, but she's just so adorable even when she's only smiling.
What did you want to become when you grow up? 
Bae In Hyuk: I wanted to become a soccer player. I loved soccer and I found soccer players cool, so I dreamed of becoming a soccer player.
You visited the Philippines for a Wanna One concert. How was your experience in the Philippines?
Park Ji Hoon: I visited Manila for our world tour and it was the last concert of our tour. It's a shame I couldn't spend a lot of time sightseeing as I was there for work. I love the food there, and it has a different vibe from South Korea, so I want to visit again.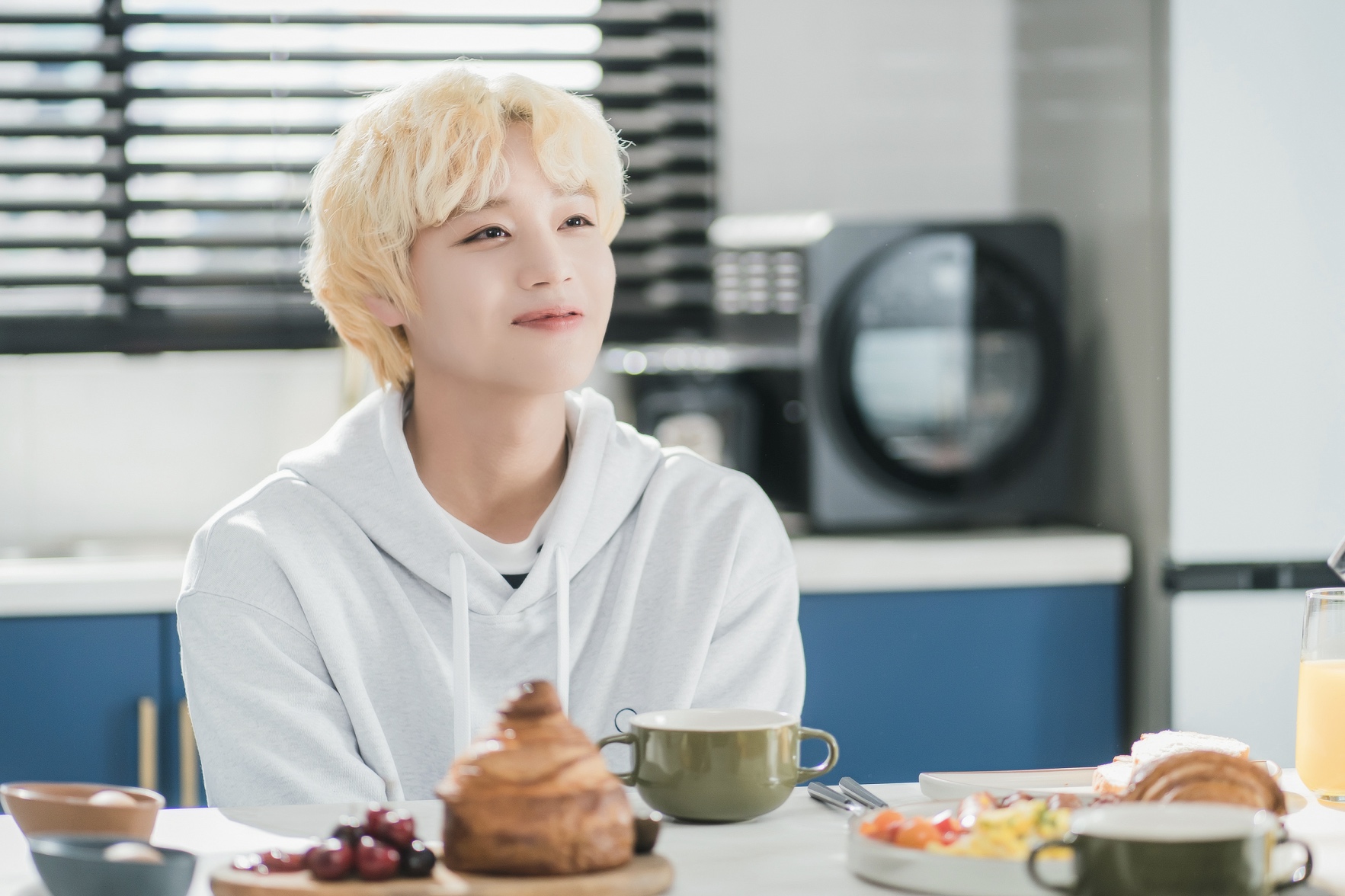 What do you do when you're under stress? Who is the first person you go to when you want to talk it out?
Kang Min Ah: I try to sleep when I'm stressed. Even if it's a short nap, I feel better after getting some sleep. I'm living with my family, and we talk a lot to each other. The person I talk to the most is my mom. I tend to talk to her first when something comes up because she knows best about me and my work.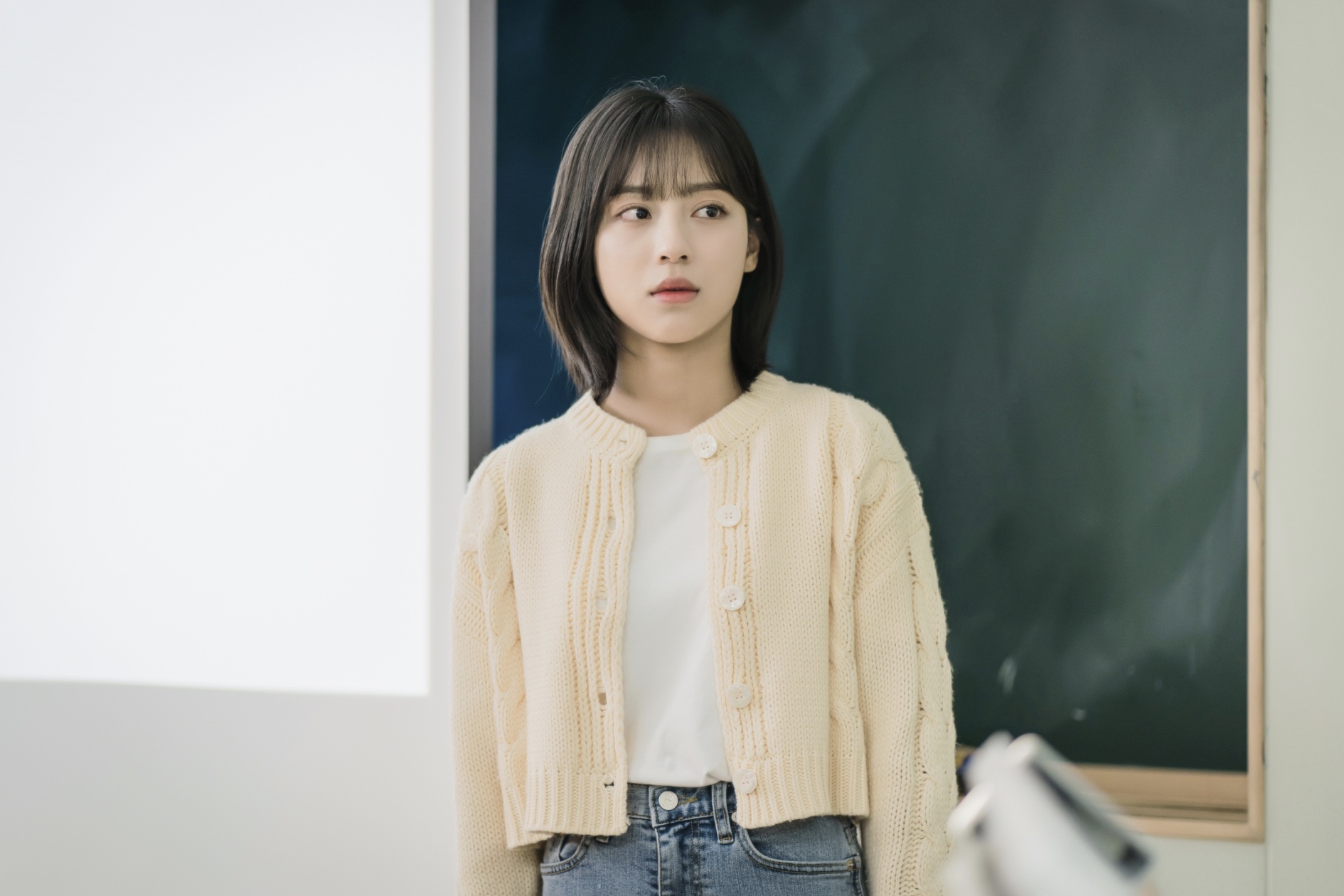 Is there a hobby you have?
Bae In Hyuk: I love playing soccer and bowling. I can't enjoy it as much due to COVID-19, but I play soccer or bowling as a hobby.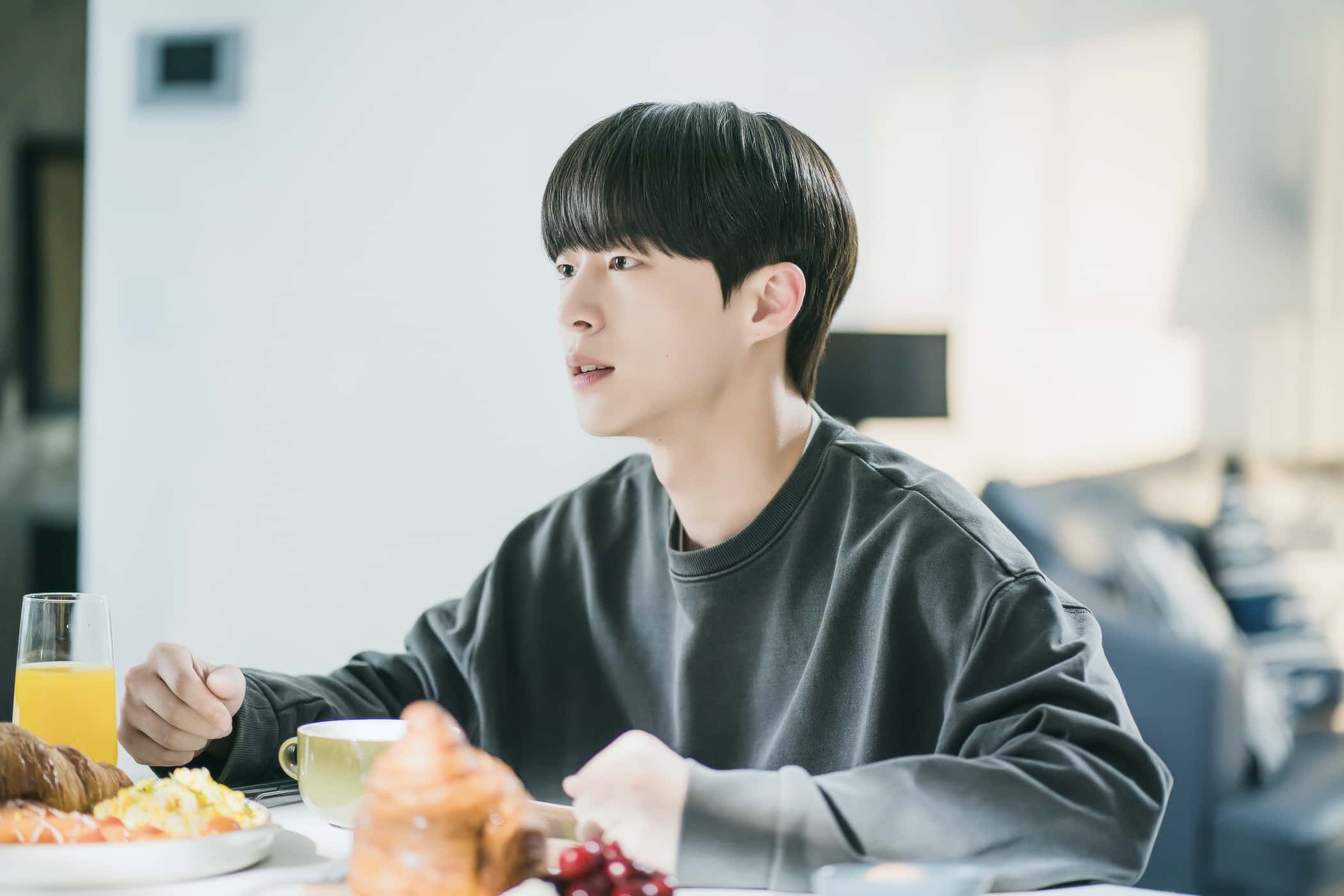 Which roles do you want to play in the future?
Park Ji Hoon: I don't want to limit myself to certain roles. I want to challenge myself to play various roles because trying new things is always is fun.
If you could make three wishes, what would they be?
Kang Min Ah: I want to stay healthy and be better at acting.
Is there any piece of advice you try to always keep in mind?
Bae In Hyuk: Someone once told me to shine but don't be blinded by the glory. It fits perfectly with the actor I want to become, and it's now my motto in life.
Please say a message to your international fans.
Park Ji Hoon: Thank you so much for supporting our drama, and I want you to know that I love you guys very much. I worked really hard on the drama, so please continue to show your support. I love you!
Kang Min Ah: I can tell that many of my international fans are supporting my dramas a lot, including True Beauty and At A Distance, Spring Is Green. It's giving me a lot of strength and I'm truly grateful for it. I hope I can meet you in person soon. I'll work more on different characters in different works, so please look forward to them. Thank you!
Bae In Hyuk: I'll try my best to show my different sides through different works, so please continue to support me. I'm very grateful for all the love you've shown me.
You can watch episodes of At A Distance, Spring Is Green on iQIYI.
*Answers have been edited and condensed for clarity.
MORE EXCLUSIVE INTERVIEWS, RIGHT THIS WAY:
Lee Hyeri Says She Has A Lot In Common With Her 'My Roommate Is A Gumiho' Character 
Park Bo Young On Working With Seo In Guk: 'I always thought I would meet him in a drama someday'
This Is How Seo Ye Ji's Philippine Fan Club Celebrated Her Birthday This Year
Follow Hanna on Instagram