Article updated: April 13, 2021, 6:00 p.m
Great news, everyone: We will get to watch Gong Yoo and Park Bo Gum's new movie Seo Bok on Sky Cable's pay-per-view service and iWant!
Early birds may avail Sky Cable's promo for only P200 until April 14, a day before the movie's release date. Xome April 15, the regular pricing of P250 will take effect. For more information, you may click here. As for iWant, you may Seo Bok online and have 48 hours of access via its website.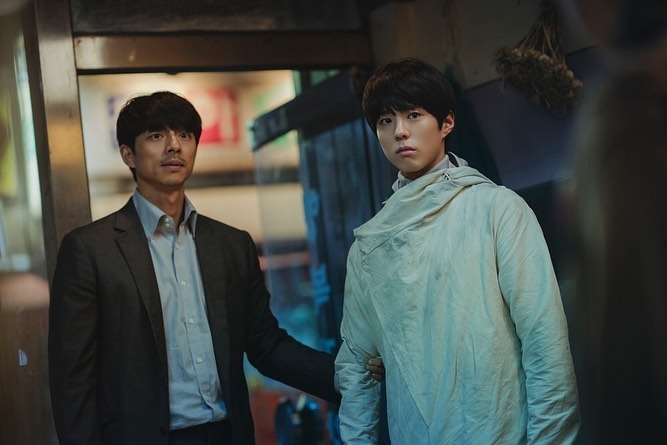 ***
Gong Yoo and Park Bo Gum fans, mark your calendars: The sci-fi film Seo Bok is set to premiere in South Korea!
MORE KOREAN MOVIES TO WATCH, RIGHT THIS WAY:

The story revolves around Ki Heon (Gong Yoo), a former intelligence agent who discovers the first human clone named Seo Bok (Park Bo Gum). Several groups are on the hunt for the clone, and Ki Heon gets entangled in danger while protecting Seo Bok. Joining him is Chief Ahn (Jo Woo Jin), who hides Seo Bok from the public. The movie is the first Korean film about human cloning.
ADVERTISMENT - CONTINUE READING BELOW ↓
CJ Entertainment, the film's production company, just released new movie posters, and they already gave us the chills. We mean, what DO you do when you meet a human clone?!
Ki Heon is seen here caught up in a range of emotions, with the text that reads: "He lives in the present."
While Seo Bok's silhouette adds more mystery to his already mysterious character, along with the text "Live forever."
In a magazine interview, Bo Gum shared that his character's name translates to "living peacefully for a long time." "It's a film that allows us to think about the dignity of humanity, and it carries the message that humans shouldn't become overly ambitious. It also allows us to think about the advancement of life science technologies."
Seo Bok is Bo Gum's first film after four years. The actor is currently serving in the military, but has left his fans with a slew of projects to look foward to, including: K-drama Record Of Youth with Park So Dam, and another film with Gong Yoo entitled Wonderland, where Choi Woo Shik and Bae Suzy are also confirmed to join.
Meanwhile, Gong Yoo has recently reunited with the Coffee Prince cast in a documentary, and will lead in the Netflix Original series, The Sea of Silence starring Bae Doona and Lee Joo In. He will also make a special appearance in Netflix's Squid Game.
The film is scheduled to hit South Korean theaters soon. Viva International Pictures recently uploaded a teaser about the movie, which means that we will get to watch it here! Yay!
ADVERTISMENT - CONTINUE READING BELOW ↓
And here's the first trailer for the movie!
MORE KOREAN MOVIES TO WATCH, RIGHT THIS WAY:

Follow Hanna on Instagram.