The Long Plot, Sans Spoilers
Kim Jojo (Kim So Hyun) has a lot on her plate. She has no time to waste on Love Alarm, the latest app that's taken over her high school and the entire country. Unlike her classmates, who are giddy with excitement over finding out who and how many people within a 10-meter radius likes them, Jojo is busy working to save up for college and dealing with her hostile aunt and cousin, who begrudgingly took her in after her parents died in an undisclosed tragedy when she was a child.
She spends the rest of her time hanging out with her friends and boyfriend, but it soon becomes painstakingly clear that she's not interested in dating him anymore. Eventually, she breaks up with him. That's good news for Hye-young (Jung Ga Ram) who's been harboring a secret crush on Jojo for a while now.
When Sun-oh (Song Gang), Hye-young's childhood friend, returns from abroad, he learns of Hye-young's interest in Jojo and decides to test his friend's resolve by going after her himself. (Douche move, btw.) After Sun-oh and Jojo kiss, they fall in love, and Love Alarm confirms their attraction for one another. Loyal to a fault, Hye-young decides to pretend he's not bothered by this development (Wuss move, btw).
Jojo and Sun-oh start dating and go on a class trip where they get into a minor road accident. After leaving the ER, Jojo has a hard time getting in touch with Sun-oh. She immediately spirals, thinking the worst. Afraid of getting hurt, she finds a way to block him on Love Alarm.
He eventually goes back to school and can't wait to meet up with her, but by then she's determined to end the relationship. She goes on a preemptive strike and dumps him. And because she has put up a shield on her Love Alarm, she no longer rings his app.
Sun-oh knows she still likes him, but doesn't understand why Jojo says and the Love Alarm confirms she doesn't. His still rings hers, but hers no longer reciprocates. Heartbroken, he bitterly tells her that he'll get over her, too (just she wait and see) and calls her heartless.
Continue reading below ↓
Recommended Videos
Cut to the present. They are now in college. The three are no longer in touch, but typical to K-dramas, the universe finds a way to throw them back into each other's lives and 10-meter radius, as it were.
By now Sun-oh is in a relationship, but tellingly, he doesn't ring his girlfriend's Love Alarm. She's okay with this, saying their relationship just needs a little more time.
Meanwhile Hye-young, who has carried a torch for Jojo all this time, finally finds the courage to make his move. Unlike Sun-oh, he decides on an analog courtship. And despite her commitment to staying single and obvious residual feelings for Sun-oh, Jojo can't help but fall for Hye-young's earnest charm.
When Sun-oh finds out that Hye-young and Jojo are seeing each other, he feels betrayed. He confronts Jojo and is dismayed to discover he still rings her Love Alarm. He tells her to stay away from his friend, heartbreaker that she is. He also takes Hye-young aside and it's clear that things have put a strain on their friendship.
Where do they go from here? With Jojo's Love Alarm shield still up, will she be able to tell without the app who her heart really wants? And will the imminent release of version 2.0 of Love Alarm, which can now tell who you're going to fall in love with, complicate things even further?
The Short, Honest Plot
Live in a world where there's an app that lets your crush know that you're into them? Hard pass.
The Actors And Where You Last Saw Them
Kim So Hyun as Kim Jojo
So Hyun is a veteran in the business, having started her career as a child actress. She's best known for her role in Moon Embracing the Sun. You may have recently seen her as the younger sister (past life) of the titular character in Goblin, making a cameo in While You Were Sleeping, or playing one of the leads in Radio Romance. She's also been dubbed "Nation's Little Sister."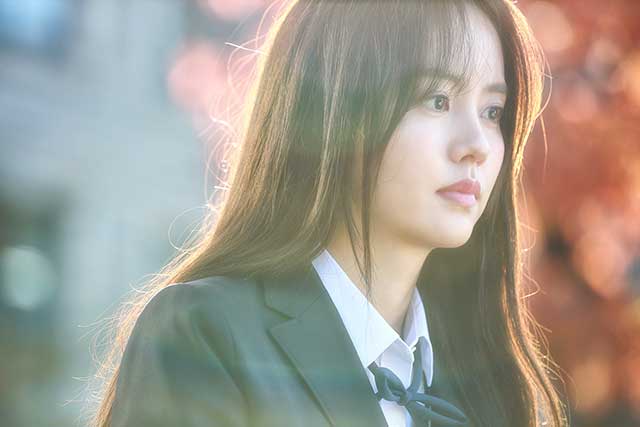 Jung Ga Ram as Hye-young
You may know the newcomer from dramas such as The Heirs, Mistress, and Heard It Through the Grapevine, or movies such as Believer, The Poet and the Boy, or Fourth Place, for which he won Best New Actor in the 2016 Daejong Film Awards.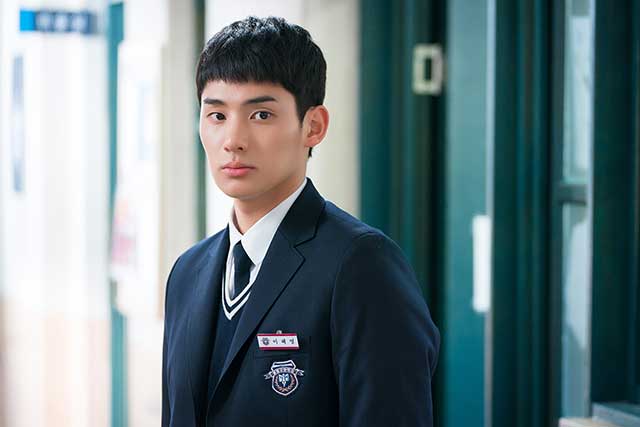 Song Kang as Sun-oh
The rookie actor who beat out 900 K-pop idols, models, and actors to snag the role of Sun-oh in Love Alarm. He also starred in Man Who Sets the Table and The Liar and His Lover, and the movie Beautiful Vampire. He had a short stint as a host of the music program Inkigayo and is part of the variety show Village Survival, the Eight.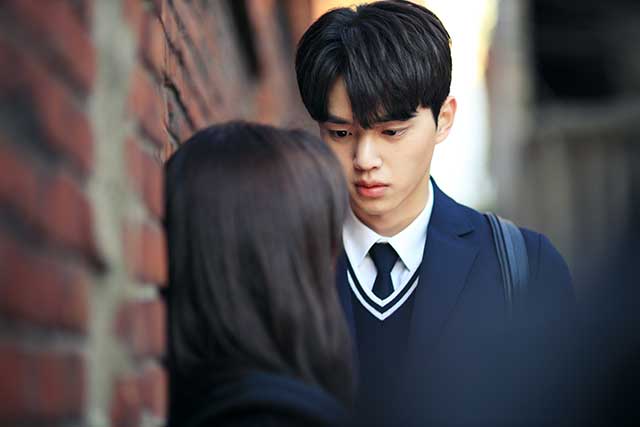 Did You Know?
1. Director Lee Na Jeong consulted with actual app developers and designers to come up with the look, functionality, and even the distinct alarm of the app as it appears in the series, as well as how they were going to visually represent how it works on the show. They did a pretty good job if you ask me!
2. Kim So Hyun was both Love Alarm webtoon author Chon Kye-young and online fans' first choice to play Kim Jojo.
3. Jung Ga Ram is a fan of the original webtoon (that this series is based on) and the character of Hye-yeong.
4. Kim So Hyun is also on Team Hye-yeong. (Sorry, Sun-oh fans!) At the press con for the series, So Hyun admits, "I became a Hye-yeong fan because he made me feel like, 'Wow, a person could love another person to that extent.'"
5. Lee Na Jeong also directed popular dramas Fight for My Way and Oh My Venus!
6. If you're in Korea, there's an actual Love Alarm app you can download on your Android phone via Play Store. Unfortunately (or fortunately) it doesn't reveal who's crushing on you or who you're crushing on. You just get to collect hearts by participating in promotional events and you get to learn more about the original webtoon.
What My Friends Think:
"I found the concept of the Love Alarm app so intriguing! The rest of the show seems like your typical teen K-drama, but the addition of the app makes it different and new. I can't wait to find out what happens next!" —Pandan Adan
"I like the chemistry between Sun-Oh and Jojo. Super bitin! There should be Season 2 soon. " —Alma Rivera
"I watched Love Alarm with no expectations since I really just wanted to watch Song Kang and Kim So Hyun. With Jung Ga Ram, I think the three had good chemistry. That was enough for me to binge-watch all eight episodes.
"What I don't like is that it's not clear how the app can zone in on who you like. Was there a set of questions asked? Is the user microchipped?  I don't know. It lost me there." —Lyra Maleon Dacio
What I Think:
On the one hand, I'm really blown away by how K-dramas are evolving these days, specifically how the more recent ones incorporate cutting-edge, sci-fi, techy themes into the stories. It gives them a unique flavor and injects a fresh twist to formulaic Korean television.
It also represents their culture in a new and modern way, focusing on the country's hyper-connected, über-digitized, and technologically modern society. It is as Korean as the poor girl-rich guy, forced cohabitation, love triangle, etc. tropes that their dramas are known for.
On the other hand, maybe I'm just not the market for young love K-dramas anymore, because I initially found the motivations of the characters a little irrational and mababaw. But after looking back on my teenage years and recalling that I was prone to blowing things out of proportion and being melodramatic about love and relationships at that age, too, I realize that the show is actually more truthful than I give it credit for. Maybe it just doesn't resonate with me anymore.
Nevertheless, I was excited to watch Love Alarm since it's directed by Lee Na Jeong, who also helmed my favorite K-drama, Fight for My Way. I love that show because, aside from the fact that it stars my main oppa Park Seo Joon, the story, the chemistry between the leads, and the themes feel very relatable.
Lee Na Jeong navigates the themes of Love Alarm expertly as well. Despite the app figuring prominently in the plot, she manages to steer your attention to and keep your focus on the relationships and the characters. Again, she finds a way to make their experiences familiar.
The concept of the app itself is intriguing, mostly because it seems so plausible. But I appreciate how Lee Na Jeong uses it to explore very human emotions and interactions. Does it change who we like, how we like, what relationships we pursue?
I can't really give a definite answer on what I think of the show as yet. It's still hard to tell where the story is headed having only seen eight episodes. Plus, a large part of the first season deals with setting up the plot and introducing the characters, so the story is really still in its early stages.
And can I just say, I'm not a fan of dividing romantic K-dramas into seasons? I really feel they're meant to be consumed in one go. Seriously, if there's one form of entertainment that's made for binge-watching, it's romantic K-dramas.
With the exception of Kingdom (which isn't a romance), I think they should release Korean dramas in full in the future. The problem with dividing them into seasons is that the tropes and themes are often so similar, and there are so many of K-dramas being released, it's hard to keep track of the plot and it's easy to lose momentum. Personally, I tend to lose interest when I have to wait several months to see the next half of a K-drama. I find I'd rather move on to another one instead.
I'd Recommend It To:
Younger K-drama fans will be able to relate to what Jojo, Hye-young, and Sun-oh are going through. Mind you, the show follows our characters from high school to college, so older fans may want to give it a chance, too.
Fans who are intrigued by the concept of the Love Alarm app will also enjoy the show, especially how it affects the way we relate to one another.
K-UPDATES