I bring this up whenever I have the chance: Darren Star's Sex And The City was one of the most influential pieces of pop culture I ever consumed as a pre-teen. As a wide-eyed Catholic schoolgirl, I was transported to the utterly ~cosmopolitan~ world of New York and fell in love with this city that I'd have never been to. What drew me in more were the drastically different lives that Carrie, Samantha, Miranda, and Charlotte led compared to the women I knew in Manila. They didn't have husbands or children (yet), had total control over their bodies and sex lives, spoke their minds, and absofuckinglutely killed it in their careers. 11-year-old me was like, "This is who I wanna be when I'm 30."
COSMO LOVES EMILY IN PARIS!
And here I am, 30 years old and closer than I've ever been to my childhood heroes—but just like everyone else, in the middle of a pandemic. Cue in Darren's latest rom-com series, Emily In Paris, which is the irresistible ~great escape~ everyone in this world needs. It ticks off most of the boxes that make a quintessential Darren Star creation: 1. A hardworking female lead with a cool media job; 2. It's set in a city with a character all on its own; 3. Said female lead's wardrobe is by Patricia Field no less; 4. There's no shortage of hot men at all; and, most importantly, 5. Healthy and inspiring female friendships that warm our hearts.
ADVERTISMENT - CONTINUE READING BELOW ↓
In a time where we can't travel for leisure, Emily In Paris takes us on a one-way ticket to France and follows Emily, an American millennial who lands a social media marketing job in Paris. She tries but fails to make her French colleagues adapt to her "American ways" in their workplace and, in turn, finds herself searching for meaning—and love—in the City Of Lights.
Cosmopolitan Philippines got the chance to have a chat via Zoom with Darren and two of Emily In Paris' stars: Lily Collins (who double hats as the series' lead actor and producer) and Ashley Park. We dug deeper about their experiences filming in Paris, female friendships, loving their work, and more!
Lily Collins and Darren Star
Being a producer and star of the show, were there any new discoveries about yourself and your work ethic that you learned?
Lily: That's a really good question. Yes, actually the work ethic was a really big thing for me because I [was] in Paris and [there are] so many distractions and things that I wanted to be able to do with everyone all the time. But I also had to remember that I'm in every single scene of the show and I talk a lot and I need to maximize and embrace as much sleep as I could because I was first in and last out every day in the cast. It was really hard to not partake in every celebration, but I'm so grateful to have been able to do all that I did and to be included in conversations that I've never been included in—from wardrobe to schedule to locations—you know, all that kind of stuff. So being asked to be active in that sense, as a producer, was really, really special.
Darren: I'll just add, I've never seen an actor work as hard on a show as Lily Collins did. Ever. She was, you know, [working from] sunrise to sunset every single day, and showed up with the most amazing attitude all morning.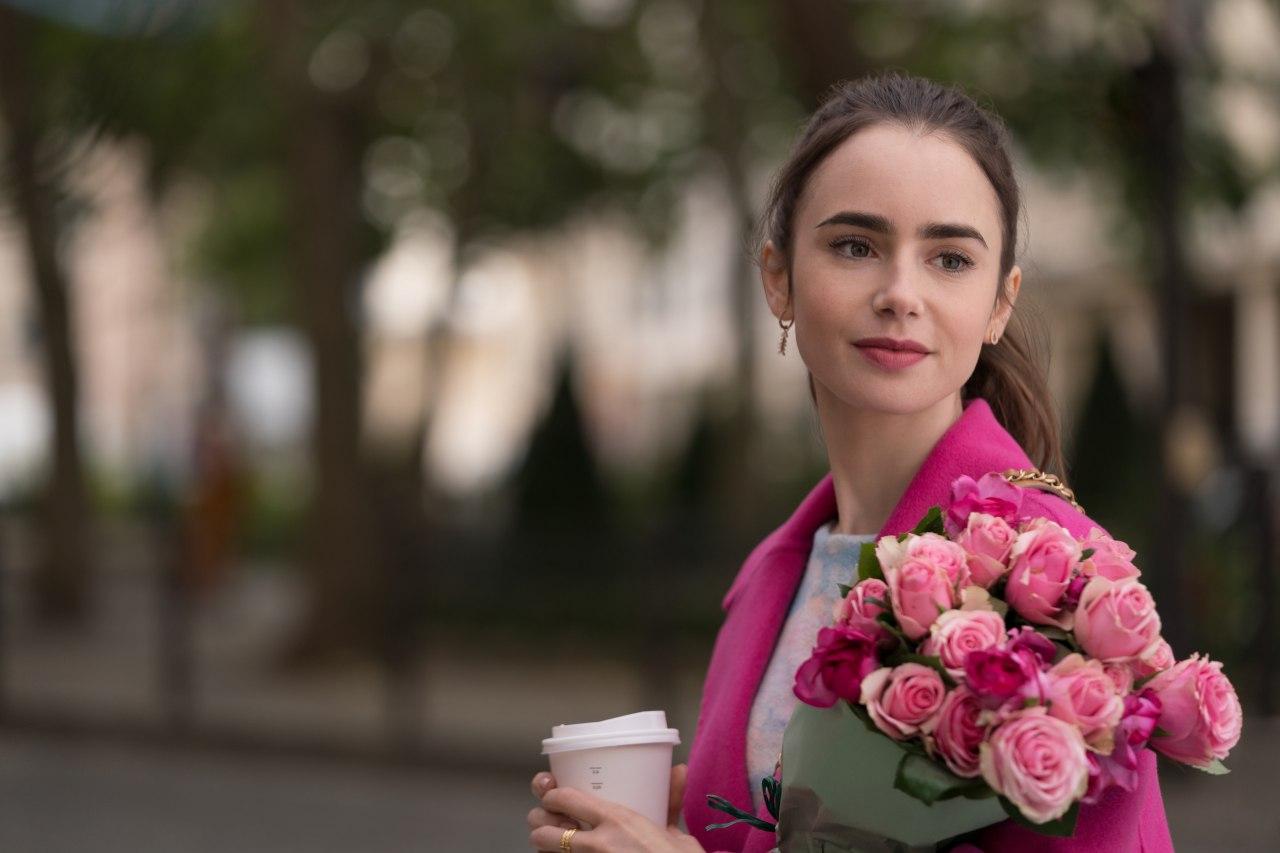 You've created shows with the most fun and fearless female characters that have inspired young women everywhere. What do you want a new generation of viewers to take away from Emily In Paris?
Darren: A love of travel, seeing the world, stepping outside your comfort zone, embracing other cultures. To me, that's the message of the show.
In Darren's previous shows (Sex And The City, Younger), the romantic male leads come and go, and what remains strong and solid are the female bonds. Who are the most influential women you have in your personal lives?
ADVERTISMENT - CONTINUE READING BELOW ↓
Lily: Well, I'd have to say my mom is definitely a strong female inspiration to me. As well as, you know—I've been really fortunate in the jobs that I've had since the beginning that I've been surrounded by incredible women within the entertainment industry that have, first and foremost, been moms but, at the same time, been amazing actors. And I'd be on set with their kids a lot, and just being able to see them have both and really prioritize being a mom but have these incredible careers. So for me, to be able to see women like that that didn't have to choose between the two but are super present within their personal lives as much as they are in their work lives is a real inspiration to me because ultimately I wanna have both too. It's hard work, I know, but [I'm] being surrounded by women that make it look so effortless.
Darren: My mother, my sister. A number of close female friends who are just like dynamos. And [they have a] great sense of humor. I think I've been lucky to have a lot of fantastic women in my life.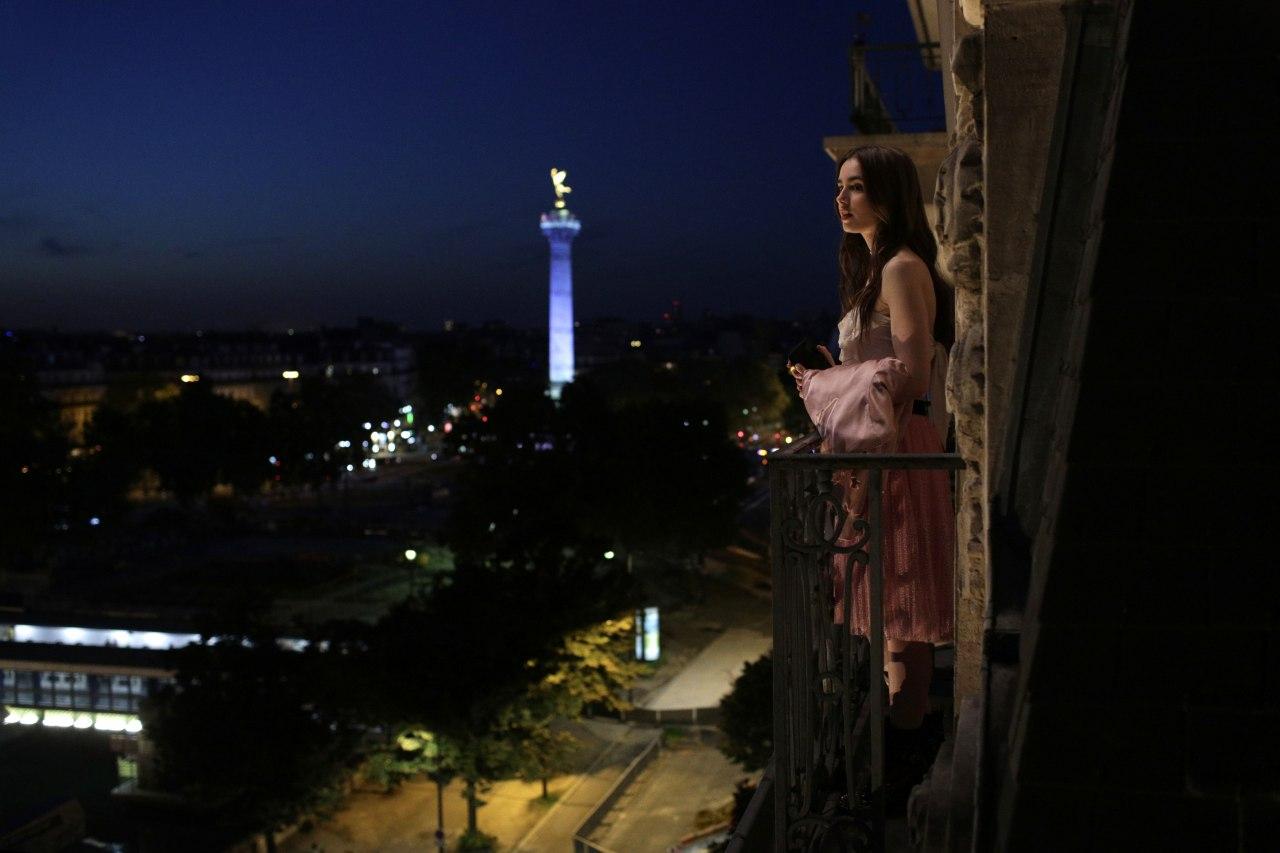 Ashely Park
What convinced you to take on the role of Mindy in Emily In Paris?
Ashley: The only thing that needed convincing is: I read in my audition [and] it said, Darren Star, Paris, Patricia Field, and Lily Collins. And then I read the scene and I fell in love with Mindy. And I was so excited to even have a shot at it.
Mindy is one of the few people of color in Emily In Paris who's part of the main cast. How important is it to have Asian representation in a mainstream series like this?
Ashley: I'm an Asian American. I grew up watching shows like Sex And The City and Friends. And I related to these characters and learned so much from them and fell in love with them and carried them as I'd grown into adulthood. The fact that I could relate in that way—and none of them were of color at all in a lot of these shows that I grew up with—I feel very honored by the fact that I think Mindy is relatable to a lot of people. No matter what she looks like. The fact that I am Asian American, I know that if I was watching the show growing up, it was something that would've meant the world to me. And I'm just so excited about that.
ADVERTISMENT - CONTINUE READING BELOW ↓
Mindy is a flawed character and has made many mistakes, but is there a choice that she made that you personally agree with and why?
Ashley: Oh, I love that! It's so funny! You know, when you play a character, you empathize with them the most? And a couple of people have said that, "Oh, my gosh, Mindy's a hot mess!" And I was like, "What? I thought she had it together!" What I love about her is that she follows her gut and her instincts except for when it came to singing. [But she opened] back up to it and [decided] to sing to Emily in the park because she was her friend. She almost doesn't sing again when her friends [pushed] her to do it, and [at] that moment, she [decided] to open her heart and do it again. So I was really proud of her for that and really happy.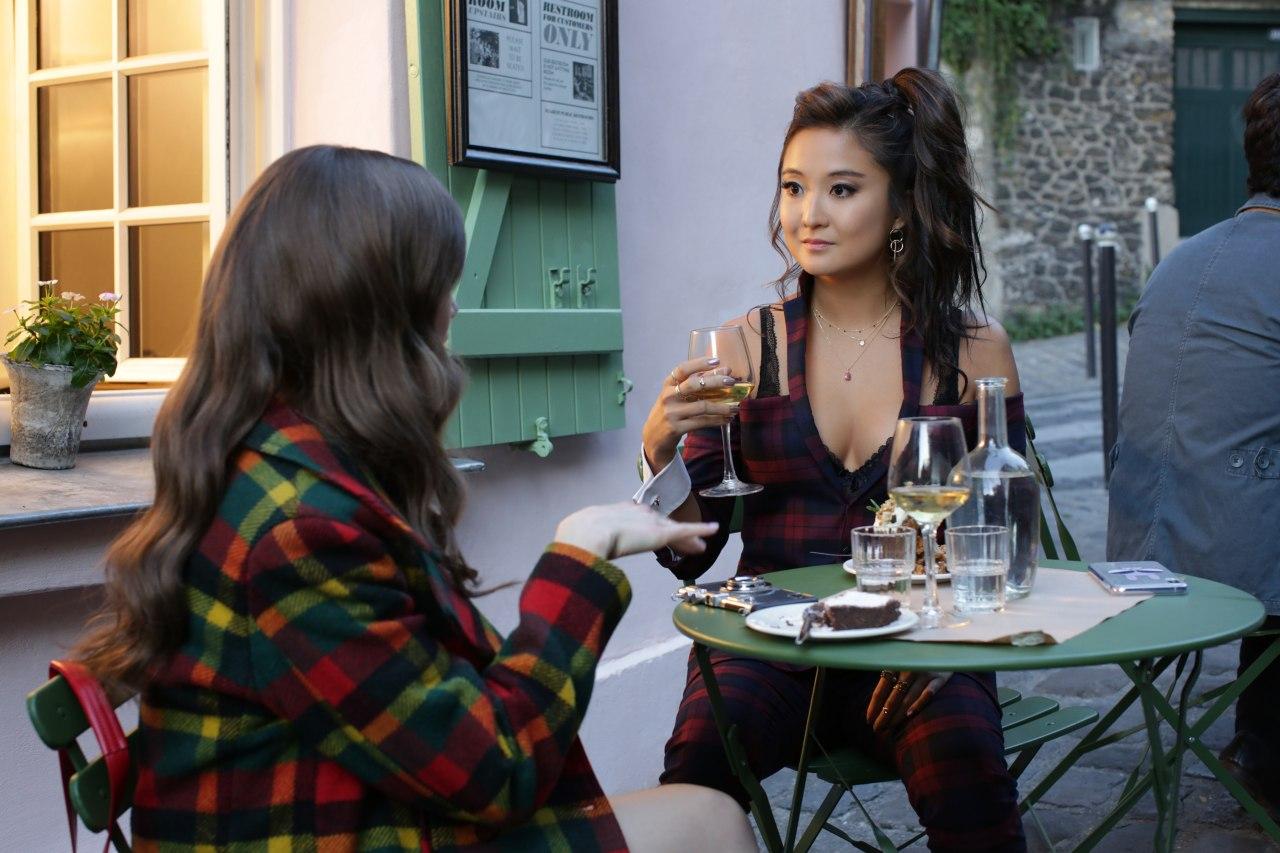 The show was filmed entirely in France, did you face any challenges while shooting?
Ashley: A lot of the hiccups that Emily made, I was making in real-time 'cause it was my first time in Paris. Whether it be stepping in poo or, like, the first time I tried to get on a metro [because] I was meeting Lily in a museum, I got on three wrong metros! I was like, I guess I'll take scooters from now on. But I would not call any of it a problem at all. Every moment was just actually magical and so fun. I had this entire cast and all the crew of French people who were so eager and excited to help me especially because they were experiencing Paris for the first time through my eyes.
Did you also grow up watching Sex And The City like many young women in the 2000s?
Ashley: I didn't watch it as it was coming out because it was a little risqué for me. I don't think I was allowed to [watch it]—[but] later in my teens and into college and in my early 20s. I think once I realized that New York City was the place that I wanted to move to especially, that's when I started to really get into that show. But I watched Younger when it came out and the cool thing about it is that [Darren] does such an amazing job of exploring these cities with each show that he does—whether it be at the West Coast or New York City. I remember growing up watching all these rom-coms and shows and saying, "Oh, my gosh! One day I'll be an adult like them!" And I remember saying to Lily on set one day, I was like, "I think I can be the version of myself that I've always wanted to be!" And she was like, "Whoa!" And I was like, "Whoa..." Not only because we were playing these characters but we were gonna be that for a lot of younger girls. And I kind of love that. As much as we make bad decisions and we have flaws and stuff, at the heart of Emily and Mindy are: They're both really smart girls, they're independent, they're supportive of each other, and they're good-hearted. I love that people will grow up wanting to have the same moral compass as these girls.
ADVERTISMENT - CONTINUE READING BELOW ↓
COSMO LOVES EMILY IN PARIS!
You mentioned the female bond between Emily and Mindy, can you talk more about the influential women in your life?
Ashley: I feel like I take a "lifer" or two—that's what I call it, a lifelong friend from every job or show that I have. Emily says this in the pilot, she goes, "I love work." You know, work is my life and I'm proud of that. I think there's a stigma with women that work shouldn't be your life, and for me, whatever I'm doing becomes my social life, my heart, my energy. And so, from every show, I have best friends—Kate [Rockwell], Erika [Henningsen], Krystina [Alabado] from Mean Girls. And I have ones from every show that I've done. Laura Linney was the first person—the only person—that called me the day of the casting was announced because I had done Tales Of The City with her and she was so proud of me. That is what means more to me than doing any kind of performance—being a person that has been a good friend to somebody. Lily is one of my best friends now. I'm very grateful for the people in my life.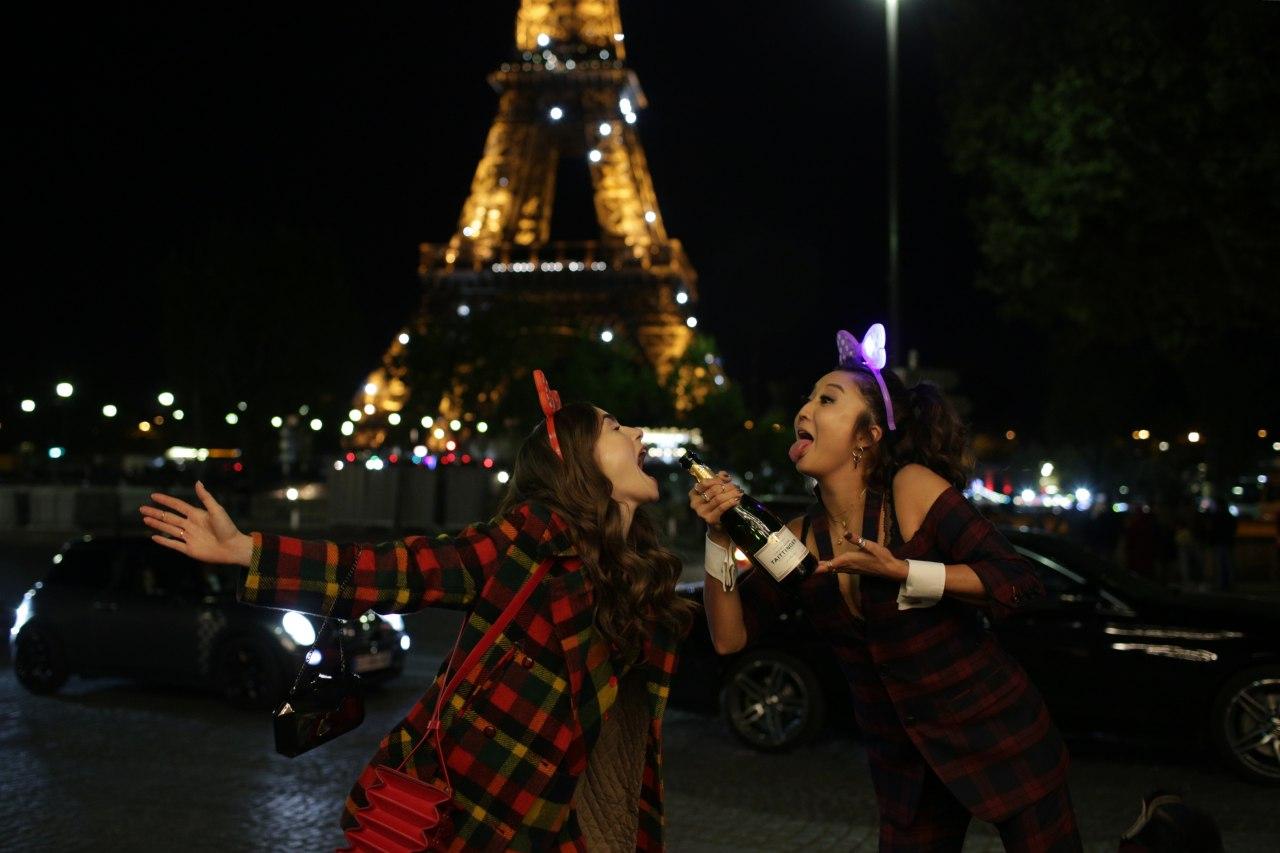 Emily In Paris is available for streaming on Netflix.
*Answers have been edited for clarity.
***
What does your zodiac sign say about you? Subscribe to Cosmopolitan Philippines and find out!
Follow Jacinda on Instagram.