Everyone's new favorite *thirsty* drama Nevertheless is only on its second episode, but we're already hooked! It stars fan faves Han So Hee and Song Kang, and their chemistry is SERIOUSLY INTENSE. Nevertheless tells the story of a quiet art major named Na Bi who just got out of a really toxic relationship. Enter Jae Eon, a guy who makes her heart flutter but whom Na Bi is sure is "bad for her heart." We're super excited to know what happens next in this *love story*, but in the meantime, here's a roundup of Nevertheless cast members and their Insta handles!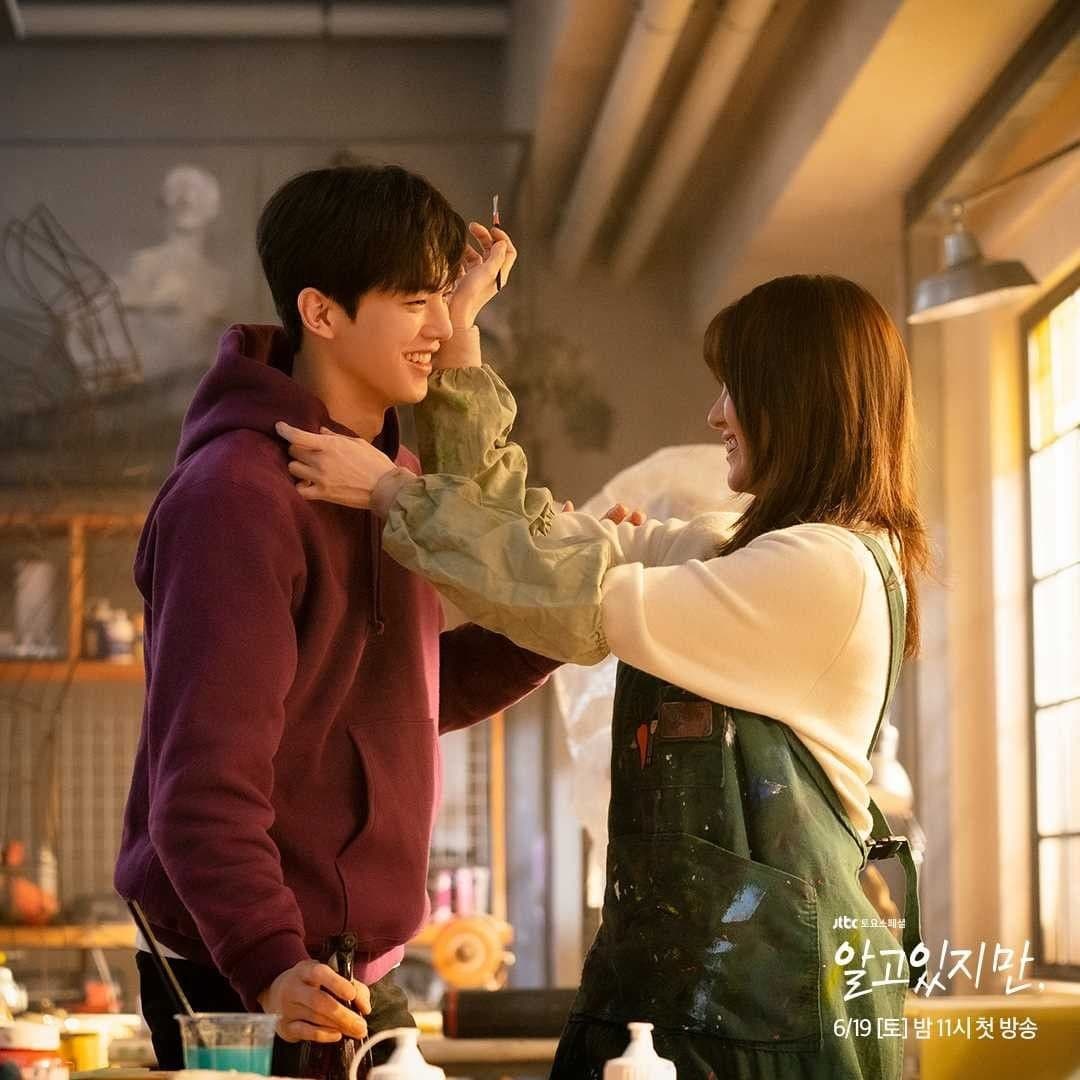 Here are all the Nevertheless cast members you need to follow right now: 
1. Song Kang as Park Jae Eon

Instagram handle: @songkang_b
Why you should hit the Follow button: Nope, Song Kang does not have a butterfly tattoo IRL! He does, however, grace his IG feed with the cutest selfies, and his photos prove just how dedicated he is to his acting roles. For more fun facts about Song Kang, click here. 
Continue reading below ↓
Recommended Videos
2. Han So Hee as Yoo Na Bi 
Instagram handle: @xeesoxee
Why you should hit the Follow button: Han So Hee has officially graduated from A World Of Married Couple and is now a certified leading lady. We basically see everything from Na Bi's POV in Nevertheless. Based on IG, So Hee's a total cat mom and she's also an artist! In fact, So Hee drew her own artwork in Nevertheless. 
3. Chae Jong Hyeop as Yang Do Hyeok

Instagram handle: @chaejh_
Why you should hit the Follow button: It looks like rookie actor Chae Jong Hyeop is ready to go full-on second lead and break our hearts in the process. Look, he's a cat person just like Han So Hee: 
4. Lee Yeol Eum as Yoon Seol A
Instagram handle: @yuleumlee
Why you should hit the Follow button: Seriously, new girl crush alert! Soompi tells us that her Nevertheless character is actually Jae Won's first love "who knows his dark side." So far, the actress has 137,000 followers on IG, but we're expecting that count to *soar* as the weeks go by. 
5. Yang Hye Ji as Oh Bit Na

Instagram handle: @hazzisss
Why you should hit the Follow button: It's time to show Na Bi's best friend some love! Yang Hye Ji's down to try the wackiest filters and poses, and we super love that about her. 
6. Lee Ho Jung as Yoon Sol 
Instagram handle: @holly608
Why you should hit the Follow button: Lee Ho Jung, who is a YG Entertainment artist, actually started out as a model (at only 16 years old) and we're totally copping her laid-back OOTDs! 
New episodes of Nevertheless drop every Sunday on Netflix.
***
We're officially on Viber! Be part of our growing community and subscribe to Cosmopolitan Philippines now!