ICYDK, Vanessa Hudgens has become quite the Christmas film ~kween~. For the second year in a row, she's starring in a holiday-themed Netflix Original film. Last year, we saw her shine in The Princess Switch where she played two characters: a duchess and an "ordinary" girl from Chicago who—you guessed it!—switch places.
This year, Vanessa stars in The Knight Before Christmas as Brooke, a high school science teacher who is disillusioned by love. She is joined by Josh Whitehouse who plays Sir Cole, a medieval knight who is magically transported to the present day.
Cosmopolitan got the chance to talk to The Knight Before Christmas lead stars and they told us about their holiday plans, favorite holiday snacks (Vanessa has tried bibingka!), and what it was like to film this holiday-themed Netflix Original movie:
Vanessa, this is your second Christmas movie. What made you want to star in another one?
Vanessa: I love Christmas time. I think it's such a fun time, one that I always look back very fondly on, and I thought that it's really special to do Christmas movies, it's special for families. And to do a film that you can watch around this time, bringing families together, having a little bit of escapism, and just believing in the love and the magic is a really beautiful thing. Like, if I can be in people's living room and ignite feelings of joy like that's a wonderful thing to be remembered by.
Continue reading below ↓
Recommended Videos
What was the difference between working on The Princess Switch and The Knight Before Christmas?
Vanessa: Well, with this one I'm not gonna have to play two characters, so it's a little bit easier.
How can you relate to your characters?
Vanessa: Yeah, I mean, I feel like in every project that I've done there's always a definite piece of me. But, I, myself, Vanessa, am a hopeless romantic and Brooke has been had by love. So you definitely meet her in a very different place from me.
Josh: And I mean I felt I could relate to the character, Sir Cole. As a guy who does art and music and various other creative forms, people have called me Renaissance man before, which is something that Sir Cole is referred to in the film. But, you know, I also like to be chivalrous and I consider myself a romantic.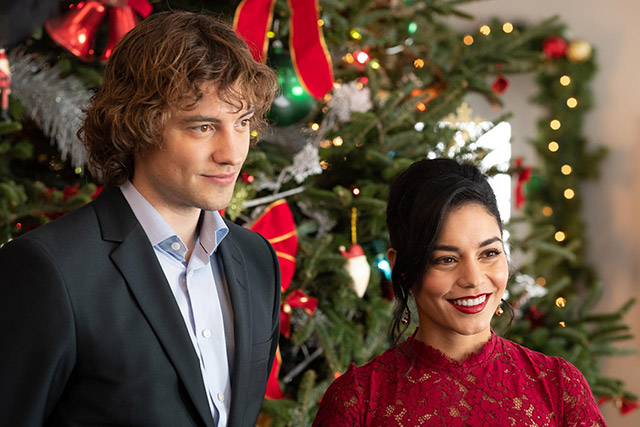 Christmas preps in the Philippines starts once September rolls around. How about you, when do you start preparing for the holidays?
Vanessa: Normally, after Thanksgiving. I normally wait until after Thanksgiving and put my tree up and do all that stuff.
Josh: Usually, sort of mid-December, a couple of weeks before Christmas.
Here in the Philippines, we have snacks that are specifically available during the holiday snacks, such as puto bumbong and bibingka. Do you have any Christmas snacks that you love having?
Vanessa: Oh man, shortbread, like shortbread fingers. Do you know what I'm talking about? They're just like, buttery goodness, heavenly, delightful. Well, See's Candies, I love See's Candies chocolate box. Those are the things that I think of during Christmas.
Josh: My mom is a great cook. And I love any of the cakes that she's putting out on the table. and anything that she's cooking in general. [There's] nothing, nothing like your mother's food.
Cosmo: We hope you guys get to try puto bumbong and bibingka soon.
Vanessa: I've had bibingka. I feel like I've got it at Goldilocks, and a little supermarket and restaurant here in California. My mom got it for me and she was like, "You need to try this, honey." I love halo-halo. Halo-halo's my favorite 'cause it's light and refreshing and delicious.
Josh: I'd love to try it.
Can you share your Christmas plans with us?
Vanessa: I'm such a homebody. I love just being at home during the holidays. I think it's just such a special time and I'm just going to spend it with my friends and my family—people I love. Then have some drinks, have some food, watch some Christmas movies, and reflect on the year that we've had.
Josh: It's really just the same thing I usually do, stay with friends and family. And sometimes, me and my brothers go for a walk in the woods, through the trees, and you know it's quiet, it's Christmas, it's cold. In London, I spend the night having a few drinks and some food.
Ready to hype yourself up for Christmas? The Knight Before Christmas is now available for streaming on Netflix!
Follow Karla on Instagram.