I'm no stranger to juice cleanses. I've tried before when it first *boomed* here in our country. If I recall it right, it was around 2013. What I vividly remember about that experience was that I felt deprived, and I just wanted to munch on a burger. I swore to myself that I'll never go on a juice cleanse again.
Fast forward to 2021, I've come to ~fancy~ the idea of juice cleansing again. And this time, I wanted to make it right, for it to be a pleasant experience. Before I opened the first bottle from The Skinny Juicery Nurture Skinny One-Day Cleanse Kit (P1,950; comes with a free thermal bag and two bags of tea), I did my prep work so I can get excellent results.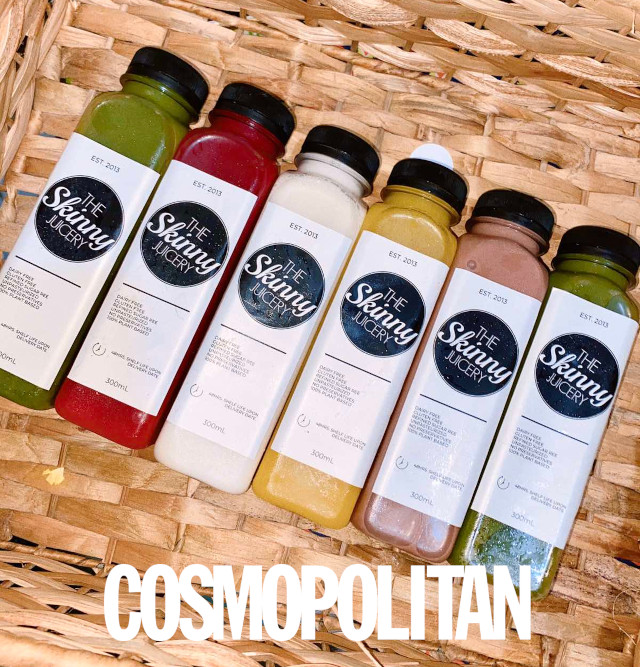 Continue reading below ↓
Recommended Videos
So, if you're also thinking of giving it a try, here are some things you must do first, based on my personal experience. Hopefully, these guidelines will make juice cleansing less traumatic and more beneficial for you!
It won't make you lose weight.

I'm sorry to say this, but a juice cleanse is not some magic spell that will shrink your body to your goal weight. It does help you lose the bloat and shed water retention. (My puson became noticeably flatter the following day!) It's also a nice way to jumpstart your body towards a long-term fitness journey.

You need to ease into it.

You can't just binge all your fave foods before going on a cleanse. If you do so, you'll feel sluggish and moody while guzzling up the pressed juices. A day before your detox, skip the junk and eat real food.

I had sinigang (pork in tamarind broth) and fried okoy (shrimp, fish, and vegetable patties) for lunch and dinner a day before juice cleansing. I also skipped coffee, which I have to admit was the hardest part!

It's better if you just stay at home.

I'm lucky to be working from home, so I didn't have many physical activities on the day of the cleanse. I did not need to fall in line to get on the shuttle or chase any buses. I just stayed in my room, safe from the smell of the delicious ulam that my family would be having.

Since I didn't move much, I did not feel dizzy despite the low-calorie intake. I also noticed that I had frequent trips to the bathroom, so I highly suggest that you do this on a weekend or your day off! 





You have to mentally prepare for it, too!

I'm telling you, by your fourth bottle of juice, there is a high chance that you'll fantasize about eating something! The good news is that it's all in your head. You must stay away from the deprived mindset. What you can do instead is to talk to yourself this way: My body will thank me for fueling it with veggies and fruits. (As someone who rarely eats fresh produce, I needed this sooo bad.)

Skinny Juicery included two types of almond milk in its lineup so it was like having a treat after drinking all those juices. I especially liked Thrilla Vanilla because it reminded me of Mcdonald's sundae. I'm not kidding!

Listen to your body.

Above anything else, if you feel like passing out, by all means, please eat something! You can grab something with protein to give your body an energy boost. But I would advise against ordering chicken nuggets or burgers. Munch on hard-boiled egg, chicken, or tuna. You can also reach for yogurt so it's more filling.
Follow Ira on Instagram.
***
We are officially on Viber! Be part of the Cosmo Viber Community by clicking here!