You've probably seen the pics on Instagram: A dark room, laser lights, and sweaty people on stationary bikes. It's like a Friday night party minus the alcohol, where everyone moves to the beat of the music while being led by an ~*energetic*~ instructor on a podium. If you think it's just a regular workout on a bike, think again.
What is indoor cycling?
Indoor cycling (aka spinning) is a low-impact cardio and strength exercise using a stationary bike. The workout originated in the US and was first brought to the Philippines in 2015 by Kris Sy, CEO, co-founder, and instructor at Electric Studio, Manila's first and largest indoor cycling studio. 
A regular spinning class is 45 minutes long, with more advanced classes ranging from 60 to 90 minutes long. What sets Electric Studio apart from other indoor cycling studios in Manila is how music plays a central role in the workout. You will never hear the same playlist twice in any of their classes!
Continue reading below ↓
Recommended Videos
Where is Electric Studio located?
BGC - 2/F 8 Forbestown Rd. BGC, Taguig (02) 833-6051
Podium - 4/F The Podium Mall, 12 ADB Ave. Ortigas Center, Mandaluyong (02) 636-5600
Salcedo - G/F Two Central 107 Valero St. Salcedo Village, Makati (02) 956-3537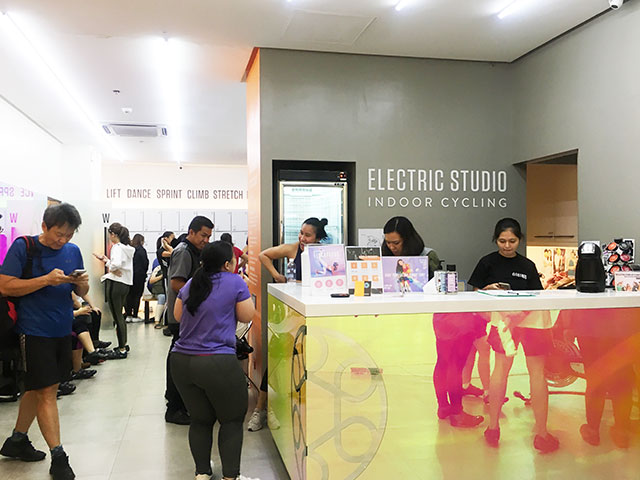 What do you wear and bring to an indoor spinning class?
Form-fitting sportswear (preferably leggings and a sports bra) is recommended. More importantly, choose an outfit you're comfortable sweating in! At Electric, shoes, lockers, towels, toiletries, and a water station are available. All you need to bring are your socks and a water bottle.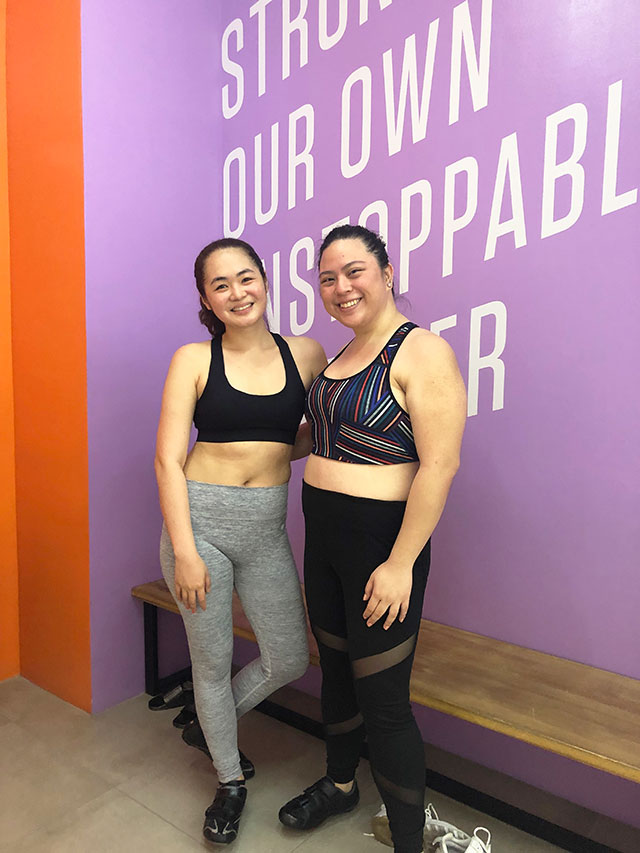 What are common indoor cycling myths?
If you're a little iffy about spinning because of stuff you've heard or read, we're here to bust common myths for you, with some help from Kris, who gave us the 411! 
You have to be young and fit to ride.
The truth: First-time fitness enthusiasts, moms, dads, students, working professionals, and triathletes ride at Electric. Electric classes are for all fitness levels as the workout is completely scalable. Each rider is in full control of their pace and resistance so they can turn it up or turn it down depending on their level of fitness.
Indoor cycling will make my legs bulky.
The truth: Your legs will only bulk up due to exposure to a tremendous amount of non-aerobic resistance in a short amount of time, like heavy weight training or powerlifting. Indoor cycling is a low-impact cardio activity. Electric classes do repetitive leg movements through low to moderate resistance which enhances tone and definition in your legs without the bulk.
It will hurt my knees.
The truth: Quite the opposite. Indoor Cycling is a low-impact cardio exercise, so it's easier on your knees and ankles than other types of cardio like running. It's a fun and efficient workout that will get your sweat dripping but is friendly to your joints.
Indoor cycling is only for cardio and only works my legs.
The truth: All our classes include cardio, weights, and resistance training. While leg muscles are put to work, your upper body (arms and shoulders, upper/lower back, chest, and core) also gets a ton of attention. Did you know Electric does pushups and crunches on the bike plus uses hand weights in class?
Tips for indoor cycling first-timers:
Hydrate and eat at least two to three hours before class. It's important to properly fuel your body before you ride.
Show up 30 minutes early and get in the right headspace. Leave your cellphone in your locker and get your mind and soul in the zone. You made time for yourself, so breathe and enjoy the ride.
Have a positive mindset. Just like any new workout, the first time may be a challenge. However, having that "I can do this" attitude makes all the difference. Always remember that everyone in the class was a first timer once. At Electric, it's never about competition, it's about you feeling stronger inside and out after each Electric ride.
Why is indoor cycling such a great workout?
Jacinda: I first tried indoor cycling at Electric Studio last year because I was totally burnt out and mentally exhausted. It didn't help that the only form of exercise I had at that time was yoga which I barely practiced anymore. To get myself out of my funk, I challenged myself to try something new: indoor cycling, a workout I heard a lot about from colleagues.
Like all things new to me, I was so anxious that I would mess up, so I did my research days leading up to my first class. To make things a little less scary, I chose a Justin Bieber and Selena Gomez-themed class because I thought I might as well fail my first time while listening to music I loved! LOL! But in all seriousness, I never expected my first ride to be such a cathartic experience. Real talk: I was sobbing by the end of the class. I had all these pent-up emotions that were finally released, and the fact that I survived my first class felt like a huge relief.
TLDR: It was love at first ride.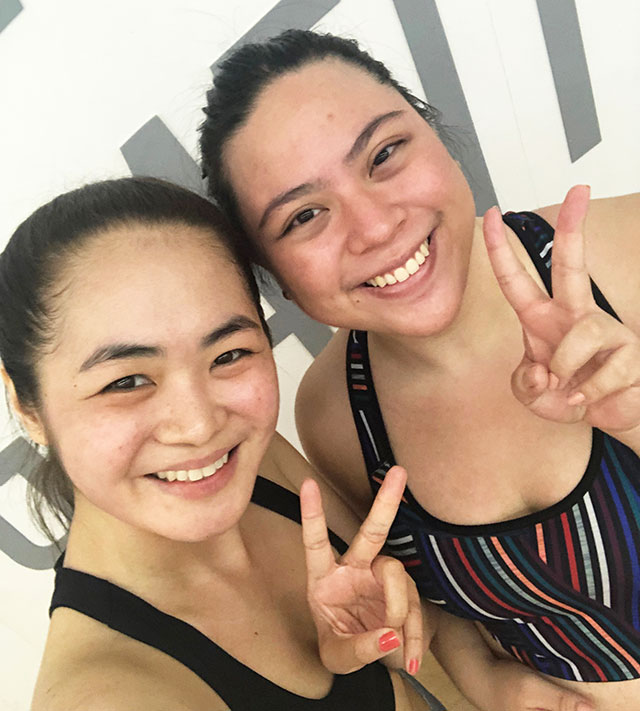 It's been almost a year since I started my Electric journey and I couldn't be prouder of how much I've grown as a person. I'm much stronger than I used to be, I live a way healthier lifestyle, and I try to live my life as positively as I can. To get to this point, I made it a habit to go to class twice a week—a kind of discipline I only learned with Electric. Although I would like to level up to do four to five classes per week like the more advanced riders, Electric's mantra of "listening to your body" was an important reminder to me that I shouldn't compare my journey to everyone else's.
Louise: My first indoor cycling class at Electric Studio was back in June 2018. It was a Pride Ride! Just like any first-timer, I was hesitant to try indoor cycling. I always tried to book a bike on the third row, because I was shy and I didn't want people to see me sit down on the bike while they're riding. Indoor cycling is such a great workout because apart from cardio, you also get to exercise your upper body. Honestly, there are times when I feel like I'm not working out at all. The good music and choreography make it seem as if I'm partying, LOL. I'm glad I found a workout that I really enjoy. It's something that I always look forward to. And as cliché as it may sound, the community in Electric Studio is like a family! As soon as I enter the studio, I am always welcomed with such positive vibes. Everyone supports one another through their fitness journey, and I think that's what makes the workout extra special.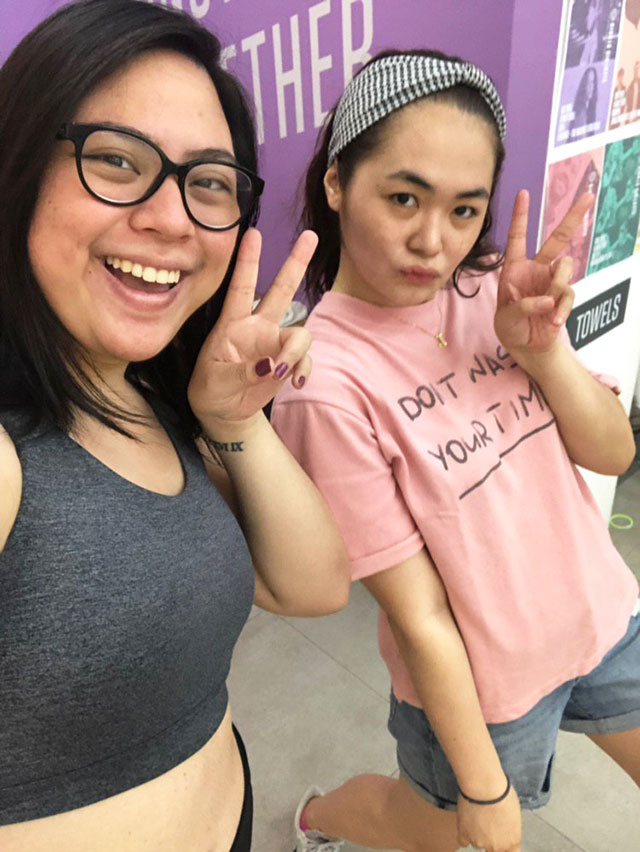 ***
Jacinda and Louise's ride diary:
We challenged ourselves to attend seven classes in 10 days. Read our ride diary here!
Day 1
Jacinda: Ride 1 – E90 (Instructors: JK and Nico)
I admittedly was nervous to try out my first Electric Endurance (E90) class (it's 90 minutes long or two back-to-back classes) but I was surprised (and super relieved) that I finished it! What I loved about the class were 1) The music selections by the instructors (they started off with The XX and The White Stripes) and 2) Even if the class felt like it was going on forever, it was totally bearable. Tip: Prep for the class by working out a few days before the E90 so your body won't get shookt by the exercises.
Louise: Ride 1 – E90 (Instructors: JK and Nico)
Let me start by saying that I got caught in Saturday morning traffic and almost did not make it to class! I was super thankful that I did though because that Electric Endurance class was something else! I honestly thought I was going to be super tired after the class (I mean, it's 90 minutes on the bike), but I'm I glad I finished strong. It really helps to stay hydrated and make sure you go at your own pace.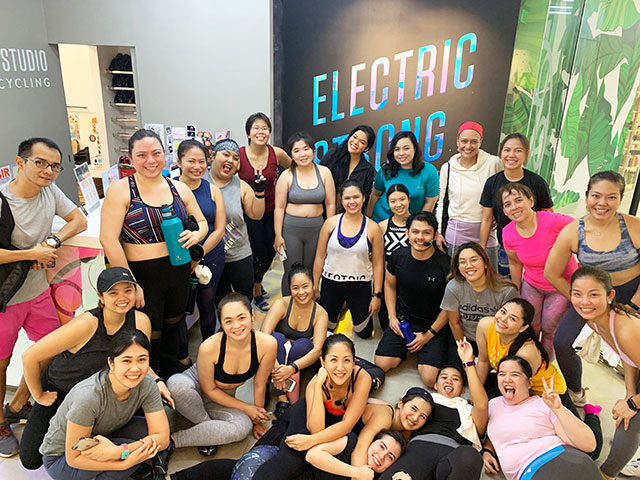 Day 2
Jacinda: Ride 2 – Hip hop and R&B (Instructor: Martin)
My muscles were sore from the E90 but it didn't stop me from enjoying the themed class! I felt some heaviness in my legs so I consciously slowed down and didn't exert 100 percent of my energy in the last 10 minutes.
Louise: Ride 2 – Electric Strength (Instructor: Kyo) 
I initially thought that taking an Electric Strength ride (a 60-minute session focused on building strength and toning your core and upper body) the day after an Electric Endurance class would be too much for my body, but it was bearable. It was only my second time to try a class in the BGC branch. Though I signed up for an Electric Strength class, I felt like I could have challenged myself more by getting heavier weights. 
Day 3
Jacinda: Ride 3 – Pure Electric (Instructor: Lopa)
This time around, my muscles were so sore! There was heaviness not only in my legs but my arms as well. But I enjoyed Lopa's class too much (her energy is THE BEST!) that I overcame the soreness in my body. #sorrynotsorry
P.S. A "Pure Electric" class is the signature 45-minute ride incorporating full body movements, music, and free weights.
Louise: Ride 3 – Pure Electric (Instructor: Lopa) 
Mondays are usually when I feel lazy to work out. Lopa definitely turned that around and gave riders that extra push. Her ride was just so full of energy and good vibes. It was definitely a great way to start the week! 
Day 4
Jacinda: Day Off
I took the day off because I came home late the night before and my body was telling me to recuperate.
Louise: Ride 4 – EMF: Selena Gomez x DJ Snake (Instructor: Nico)
I tried an EMF (Electric Music Festival) class for the first time today and I had so much fun! Even if my muscles felt slightly sore from the past three consecutive rides, the class did not feel like a workout at all because I was so invested in the good music and choreography.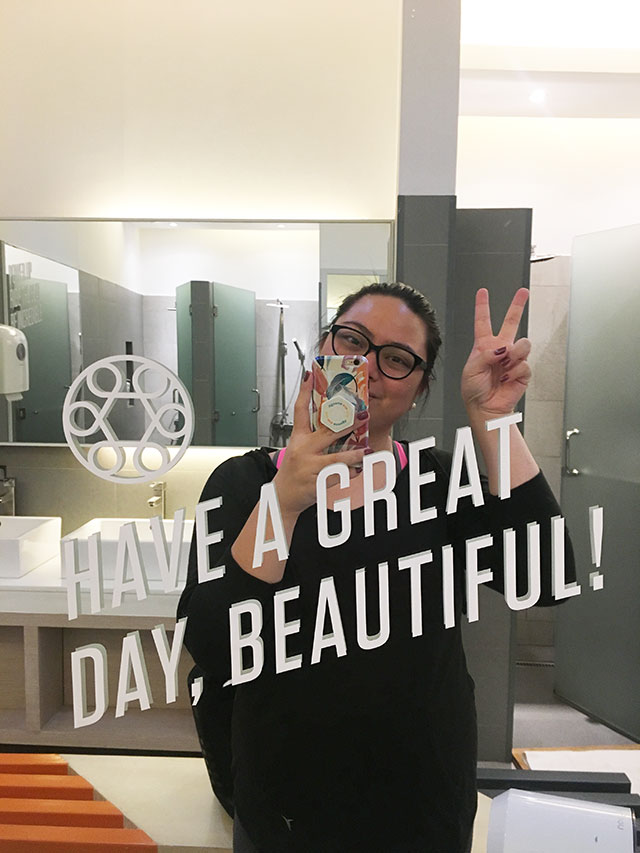 Day 5
Jacinda: Ride 4 – Pure Electric (Instructor: Nico)
I wasn't in the right headspace for a workout because I kept thinking about personal issues and work. It wasn't my best ride, but these things happen. There are always ups and downs.
Louise: Day Off
I thought of taking a class that day because I felt like my body can still manage a fifth consecutive ride, but I decided to let my body rest. 
Day 6
Jacinda: Ride 5 – EMF: Steve Aoki x Swedish House Mafia (Instructor: Kara)
It was my first time riding Kara's class and I found it a bit challenging since I was unfamiliar with her choreography. That didn't matter because she started off her class with two BTS songs. #ARMY
Louise: Ride 5 – EMF: Steve Aoki x Swedish House Mafia (Instructor: Kara)
This was one of my "okay" rides. The class was scheduled at 8:15 p.m. but I was already tired from work, hungry, and sleepy. I guess all those mixed feelings affected the overall workout. Plus, I only knew two or three songs from Kara's playlist.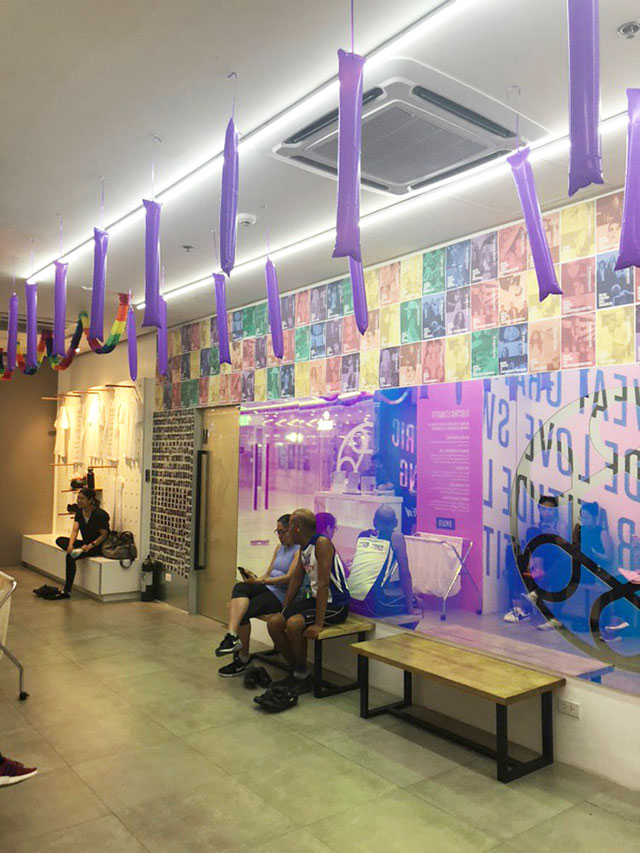 Day 7
Jacinda: Day Off
I was sluggish and tired because of work so I needed to take a break.
Louise: Day Off
I personally did not want to ride on a Friday night because I usually spend this time with friends and family. 
Day 8
Jacinda: Ride 6 – Electric Strength (Instructor: JK)
It's been over four months since my last Strength class and I totally forgot it was one hour long! But then I remembered why I loved them so much: They really train you to build your muscle strength (yup, those weight exercises were def challenging). Also, even if the class wasn't a themed class, I noticed JK played hip hop and R&B tracks from the '00s and even threw in the OPM hit "Mundo" by IV of Spades in the mix. I really appreciate how much thought is put in the playlist, especially JK's.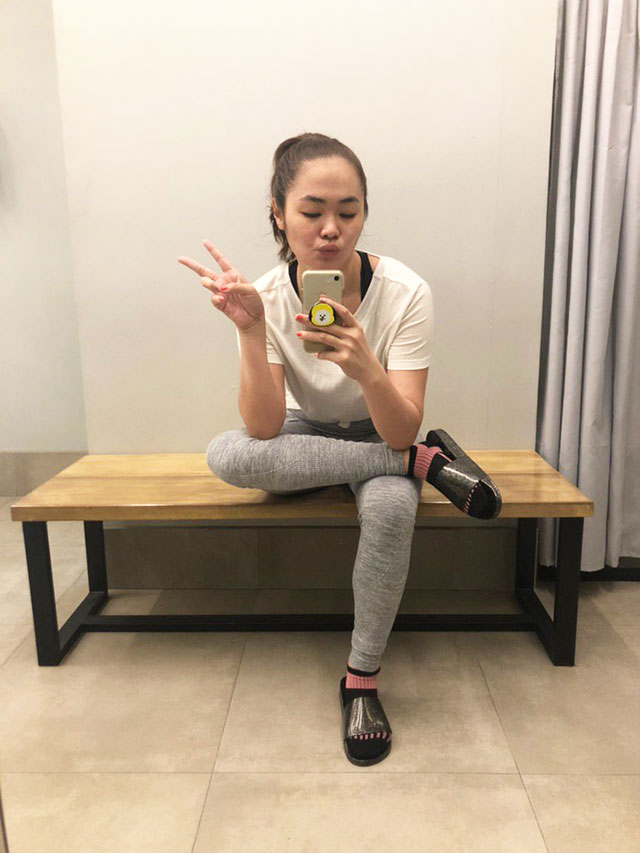 Louise: Day Off
It was my friend's birthday and she had activities planned for us for the whole day. I still got to exercise and put my leg strength to good use, though. I tried acroyoga for the first time! 
Day 9
Jacinda: Day Off
It was Mother's Day and I had whole-day plans with the family.
Louise: Ride 6 - EMF: Bruno Mars (Instructor: Gigo)
This has got to be my favorite EMF ride by far. After two straight days of not riding, I felt like my body was well-rested and that it was ready to go back on the bike again. I enjoyed Gigo's class too much that I found myself secretly singing to all the songs, LOL. His choreography was fun and I felt energized.
Day 10
Jacinda: Ride 7 – Pure Electric (Instructor: Ericka)
It was the first time I missed a class in my 11 months in Electric! It was the day of the midterm elections and I totally underestimated the time it would take me to finish voting. Lesson learned: DO NOT schedule a class during a nationwide event.
Louise: Ride 7 - Pure Electric (Instructor: Gigo)
I expected the choreography to be similar since Gigo was also my instructor the day before, but it was totally different. One thing I like about Electric is that their instructors get so creative with their choreography. They're always game to switch it up every now and then.
***
Electric Studio has an ongoing promotion for first-timers! The First-Timer Special is worth P1,000 for five rides. This promo is valid until May 31, 2019. 
You may also invite a friend to ride with you until May 31 and you'll get two free class passes! To get the free passes, your friend just needs to avail of the first timer package (five rides for P1,000) and take their first ride by May 31. Your friend gets one free class pass, too.
To know more about Electric Studio, click here or download the Electric Studio app on iTunes!
EXPLORE COSMO