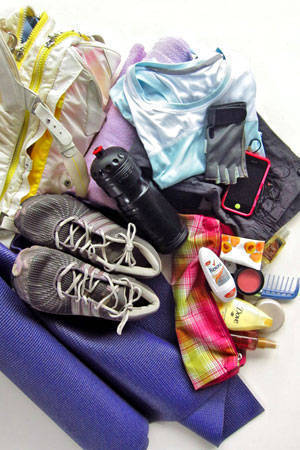 With your busy schedule, you may not have enough time to carefully plan the contents of your workout bag. To make it easy and less time-consuming, we came up with a checklist for you. Here are 10 things to remember:

During workout: 

1. Towels. Sweat running down your face and body can be very distracting. It may also cause B.O. in your underarms! So always have a towel on hand to wipe sweat off and keep yourself dry. Also, don't forget to bring an extra towel to dry you off after you shower.

2. Gym gloves. These will protect your hands from painful calluses.

3. Water bottle. You need to drink up if you want to prevent cramps and dehydration.

4. Gadgets. If you need an extra boost while working out, bring an mp3 player and load it with you favorite dance hits. If you get bored while running on the treadmill, pocket a video-viewing device. Your much-loved movies or TV series would definitely make time fly. 

5. Alcohol/wet wipes. Gym equipment are communal, so think about how many hands have touched the one you are about to use. Wipe it clean first!

Post-workout: 

1. A fresh set of clothes. Pack clothes and underwear that are appropriate for your chosen physical activity. Change clothes after every workout session to prevent bacteria build up or body odor.

2. Toiletries. Don't forget the essentials. Shampoo will save you from a sweaty, smelly, and flaky scalp. Soap will clean your skin and minimize bacteria. Lotion will restore the moisture on your skin. And because bathing won't stop you from sweating, use a deodorant. It will protect you from unwanted sweat spots and body odor all day.

3. Kikay kit. A workout session will give your cheeks a natural, beautiful glow. Complement this with a swish of coral blush, and top your look off with just the right amount of lip gloss. Don't forget to smoothen your locks with a brush or comb.

4. Rubber flip-flops. Your feet would feel more refreshed post-workout if you wear slippers instead of rubber shoes. Also, it's better to wear a pair in public showers to avoid fungal infections, such as athlete's foot.

5. Plastic bag for dirty clothes. Lock your damp workout clothes and towels inside a resealable plastic bag. This will keep your entire gym bag from smelling sour.

Keep this checklist on hand so you can quickly turn your workout mode on. With your gym essentials packed and ready for action, all you have to do is grab your bag and go!

Enjoy your workout!