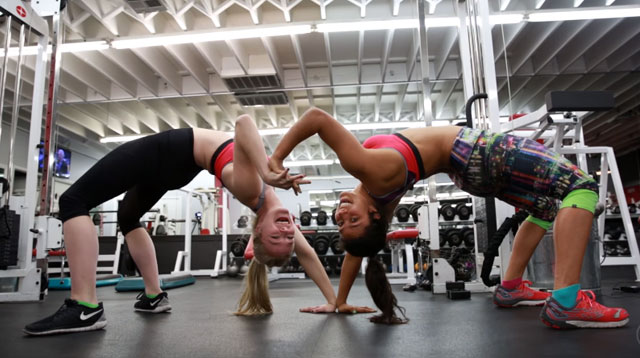 It'd be stupid to deny that when it comes to fitness, Victoria's Secret models dominate. Before this year's fashion show, Kendall Jenner reportedly worked out twice in one day (and look at us, we can barely get out of bed). Two BuzzFeed producers, Michelle Khare and Kelsey Impicciche, wanted to put their bodies to the test and trained like VS angels for seven days. 
The girls trained with model trainer Steve Zim, and they did it together the entire time. Michelle and Kelsey also wanted to hold themselves accountable so they promised to post a daily Instagram photo of their sweat sesh. 
In the video, Zim says, "For this, we're going to train for the look. This is not about function; this is about looking awesome." Understandably, the girls came face to face with a lot of their insecurities. Michelle said, "It's so frustrating because these models post on their Instagrams, and they look perfect… because that's their job—to look perfect." She continued, "Usually when I'm training, I have a specific goal in mind: 'Oh, if I do this, it'll make me faster when I run.' It feels weird to have a goal of, 'If I do this, I'll look better.'" Still, both Michelle and Kelsey enjoyed the experience, especially because they were in it together.
Follow Ysa on Instagram. 
Recommended Videos