I never thought I'd be the kind of person who used self-improvement apps. I always assumed I'd be able to navigate life's hurdles without having to resort to external help of that sort, because somehow the universe always provides. And if things went awry, I'd just shrug and think, "Eh, it do be like that sometimes."
But the past year had brought me unprecedented levels of stress, and just coasting along wasn't working. Besides the pandemic turning life as I knew it upside down, I had to find and adjust to a new job, study for my master's in psychology, and help take care of my dad who was seriously sick. When my dad passed away this year, I felt even more untethered, with the nice little bonus of grappling with my own mortality. I thought, "What am I doing? All this busyness, all these preoccupations—what is it all for?"
My dad's death was the catalyst that made me want to go back to my foundations: strengthen myself, support my family better, live with more intentionality.
My dad's death was the catalyst that made me want to go back to my foundations: strengthen myself, support my family better, live with more intentionality. I switched to a lighter workload and took a break from school to make space for these changes. It was around this time that a good friend sent me the link to a free trial of an app called Fabulous.
Continue reading below ↓
Recommended Videos
I took one look at the name and, reader, I grimaced. To me, "Fabulous" conjured up images of beautiful women sashaying around on vacation, clutching shopping bags and sipping fancy cocktails, lips parted in a permanent laugh-smile hybrid—not quite the change I envisioned. But I shushed the initial resistance. Because by then I was willing to try new things to become better—even if that thing came in the form of a self-care app.
It's been three months since I first grimaced at the name, and no, I'm still not that kind of "fabulous." But I do feel like I'm becoming better.
The Fabulous app
Fabulous is a habit-tracking and motivational app that aims to help you "make smart changes and build healthy habits" so you can improve your life.
Incubated in Duke University's Behavioral Economics Lab, Fabulous was developed based on research in behavioral science principles, specifically how creating small habits, and building upon them, can lead to lasting behavioral change.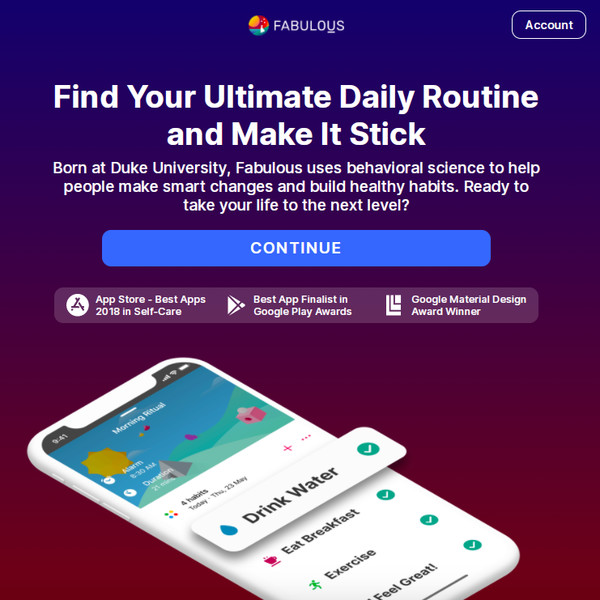 The result? An app that's like a coach in the palm of your hand, gently guiding you onward day by day by reminding you to stick to your habits and keep your eyes on your goal. Whether that goal is to feel more energized, get in better shape, be more productive, or become someone you admire, this app will create a plan based on the goals you input and encourage you to build habits that support these goals.
Fabulous has received some hefty honors: It was named one of the Best Apps 2018 in Self-Care by the App Store, was a finalist for Best App in Google Play Awards, and won Google's Material Design Award for Most Charming Engagement.
Fabulous is available to download for free on App Store and Google Play. To unlock premium features such as daily coaching sessions, unlimited habits, and more challenges and journeys, you can get the annual subscription for USD 39.99 (about P2,000). FYI, I'm on the premium subscription, so my review of the app will be based on the premium access I have.
PROS of the Fabulous app
First things first: the presentation.
When I first tried the app, I was totally charmed by it: the gamified style, the vibrant design, the storytelling, the conversational tone, all those cute tinkling sounds. It kept me engaged, and made me want to see more.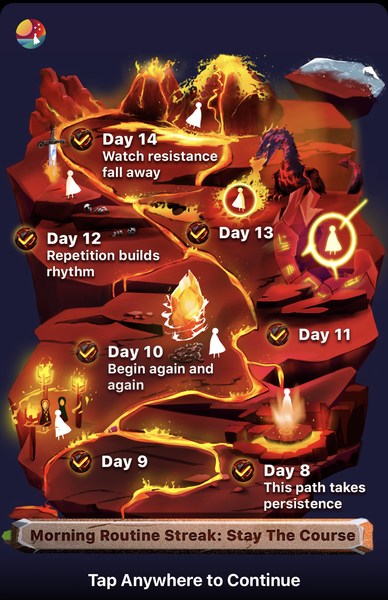 The motivation-boosting approach.
Fabulous presents your experience on the app as a "journey." The beginning of your journey involves establishing your foundation through your morning, afternoon, and evening routines. Each of these are in turn made up of different small habits.
 
Each time you tick off a habit as completed or complete an entire routine successfully, the app responds with words of encouragement and magic-like sound effects. Once you've completed a streak, the app rewards you with a new challenge or a special letter.
 
As a psychology student, I knew what the app was doing to me—conditioning me to repeat these behaviors by giving me rewards—but I fell for it anyway.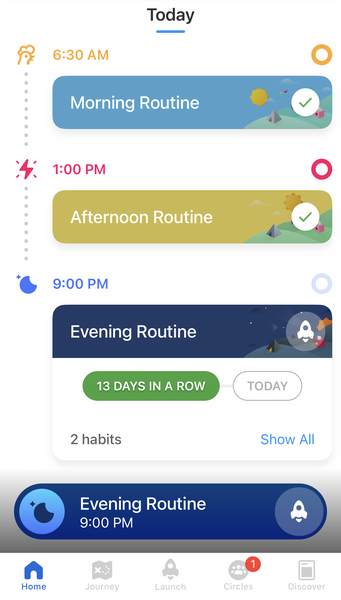 The small, totally doable habits.
I'm talking as small as "Stretch," "Shower," or "Make Your Bed." In fact, the first habit the app will ask you to do is to "Drink Water" first thing in the morning. Once you've been successful in doing that for three days, only then will it suggest a next habit: "Eat a Great Breakfast."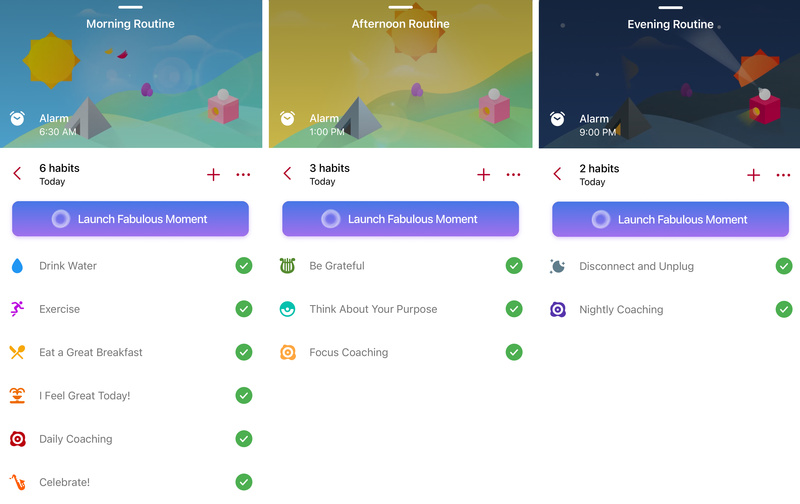 Even better, the habits are customizable.
The app will suggest habits, but you can choose from a list and add habits you want to add to fortify your morning, afternoon, or evening routines. Just try not to get too confident and pile on 10 habits all at once because…
Fabulous will be the first to discourage you from adding too many habits.
Stacking too many habits may overwhelm you and lead you to just throw your hands up and give up. I took their advice about starting slow, and sure enough, some of my habits have now become second nature to me.
The Circles feature!
This is where you get to read posts and advice by other people who are also on Fabulous. As you learn the struggles that brought them to Fabulous or gain tips on subjects that are also relevant to you, you'll feel like you belong to a community of people who, like you, just want to be better.
My favorite feature: the Coaching sessions!
These are recorded motivational messages apt for the morning before your day begins, the afternoon while you're in the thick of work, or the evening when you're winding down—all spoken in a warm, soothing voice. You'll start to hear the same messages again sooner or later—guess there are only so many messages going around—but for me, it still helps to hear someone (okay, something) assure me that I'm doing okay.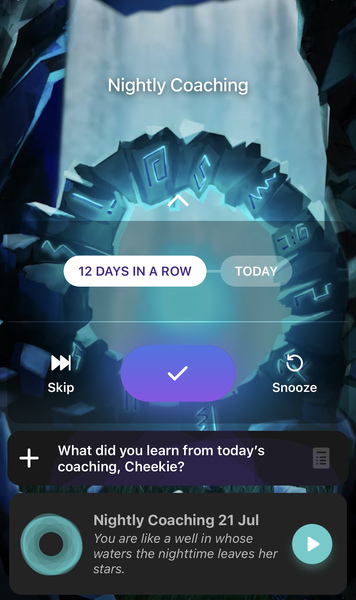 The gentle, encouraging tone all throughout:
Being on Fabulous is like being guided by someone who accepts you just as you are, no matter how many missteps you've made. Even on days when I fail to complete my routines, when I return to the app, it makes me feel like I'm still winning.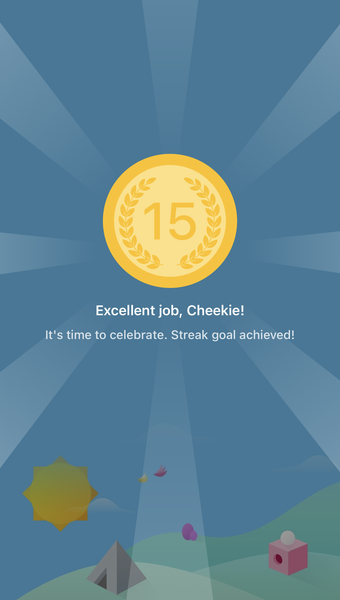 CONS of the Fabulous app
There's no way to schedule individual habits only for certain days. 
For example: I want to add "Exercise" as a thrice-weekly habit, but Fabulous can only accommodate it as a daily habit along with the rest of my morning routine. So I just go ahead and mark "Exercise" as done every day—even on days when I barely moved from my desk.
It's quite pushy about gifting a free trial to friends.
But hey, I've gifted that free trial to a few friends, and at least one of them has gone ahead with the subscription and now loves it!
It can sound a little corny.
Sometimes I catch trite encouragements or overly dramatic delivery in the voice-overs, and I cringe. But I guess it comes with the territory. 
With all its features, it can feel a bit much.
But know that you don't have to exhaust all of its offerings or act on every prompt that jumps out at you. Do what you can manage, do what feels right to you. There is no right or wrong way to use it, only that you complete your habits consistently to reap results.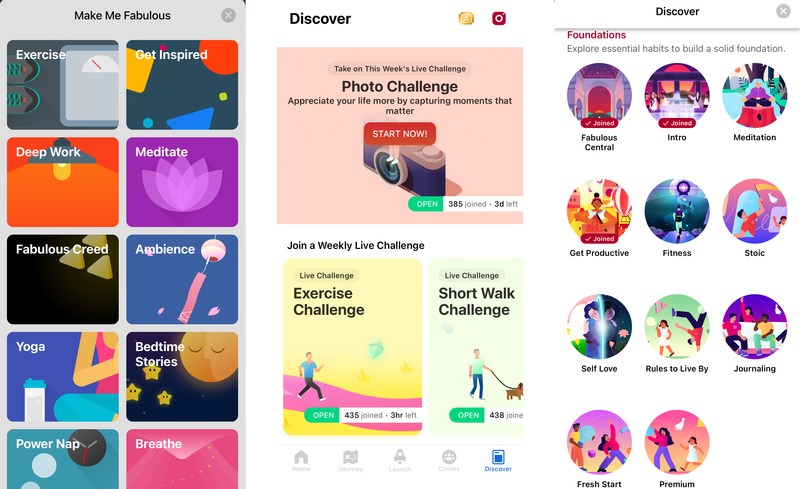 If you're on the free trial, know that once your trial period lapses, you automatically get charged for a full-year premium subscription.
If you don't want that, make sure to cancel well before the free trial ends. I feel the need to point this out because Fabulous has gotten some scathing reviews from customers because of it.
Got a complaint? Be prepared to make multiple follow-ups with customer service.
I found that out the hard way when I mistakenly signed up for another free trial, got charged for a full-year subscription twice, and had to chase down a refund. Tip: In case you run into problems, the Help & Feedback section is your friend.
My thoughts
Despite the snags I've encountered, I can't deny what a positive presence Fabulous has become in my daily life.
If you're stressed all the time, if you're plagued by anxieties, if you lack self-discipline, if you feel unsupported, if you're dissatisfied with something in your life but don't know how to start changing it—all things I struggled with before signing up—Fabulous might help you like it did me. But you have to be willing to make changes in your life; otherwise, you'll think this is all a waste of time. Personally, I benefited from the app because I started out already wanting to change.
Embrace anything that helps you become a better person—even if it's not something you normally would've turned to.
And it doesn't even have to be this app. It could be any self-care or productivity app. A book that teaches you self-improvement strategies. A Facebook group teeming with encouraging advice. Embrace anything that helps you become a better person—even if it's not something you normally would've turned to.
And really, the results speak for themselves. I've ticked off more goals in three months than I normally would've. I cheer myself on more. I allow myself to relax more. I take the time to be grateful. I look forward to the future more.
That I'm on a self-help app is one of the big plot twists of my year, and I'm still iffy about talking about it with others for fear that they'll think I'll start spewing inspirational quotes at them. But I've started telling a few friends because I thought it might help them, too. And now, I'm telling you.
Yes, YOU. Take help where you can find it, and laban lang.
TAKE CARE OF YOUR MENTAL HEALTH:
I Had My First Therapy Session In Over Six Years
Reading More Books Helped Me Get Through The Pandemic
I Started Biking To Get Over Burnout And It Changed My Life
***
Cosmopolitan Philippines is now on Quento! Click here to download the app and enjoy more articles and videos from Cosmo and your favorite websites!
Follow Cheekie on Twitter and Facebook.
Cosmopolitan Philippines is now on Quento! Click here to download the app and enjoy more articles and videos from Cosmo and your favorite websites!