I'm the kind of person who never says no to spam. I can have it for breakfast, lunch, and dinner—even if I know that nothing about it is good for my body. The truth is, because of how I was brought up, we lived off of processed food for most of my childhood. And I don't blame my parents at all; it's how they grew up and how we managed to survive, and I'm sure a lot of Filipinos can relate to that. But in my line of work, I'm exposed to a lot of food experts and fitness trainers; they've talked about how their bodies crave for vegetables and clean food, in general. That's such a foreign concept to me. Sure, I found myself craving a salad every time I saw a Kardashian have one, but I've also wondered, what's it really like to only eat food that's actually good for you?
To find out, I tried The Healthy House, a celebrity-favorite diet delivery service. After my initial inquiry, I was contacted by their nutritionist who asked me about my preferences, allergies, and fitness activity. I'm not a picky eater, and I'm not allergic to anything, so I just dove right in. Here's my five-day meal plan:
Continue reading below ↓
Recommended Videos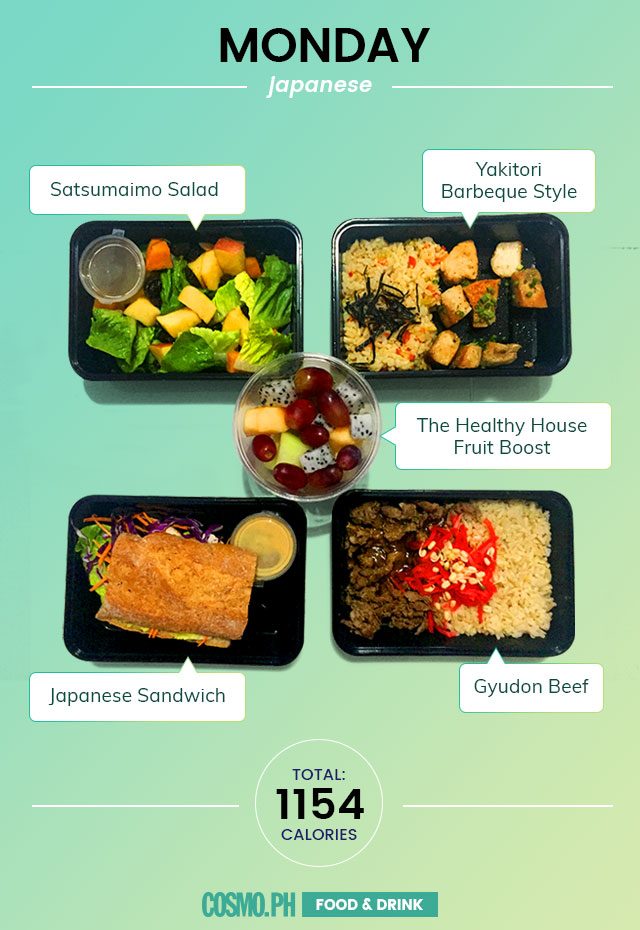 Monday
Calories (total): 1,154 
Favorite: Gyudon Beef
I'm a sucker for anything with pickles and the pickled ginger mixed in with the beef hit all the right spots.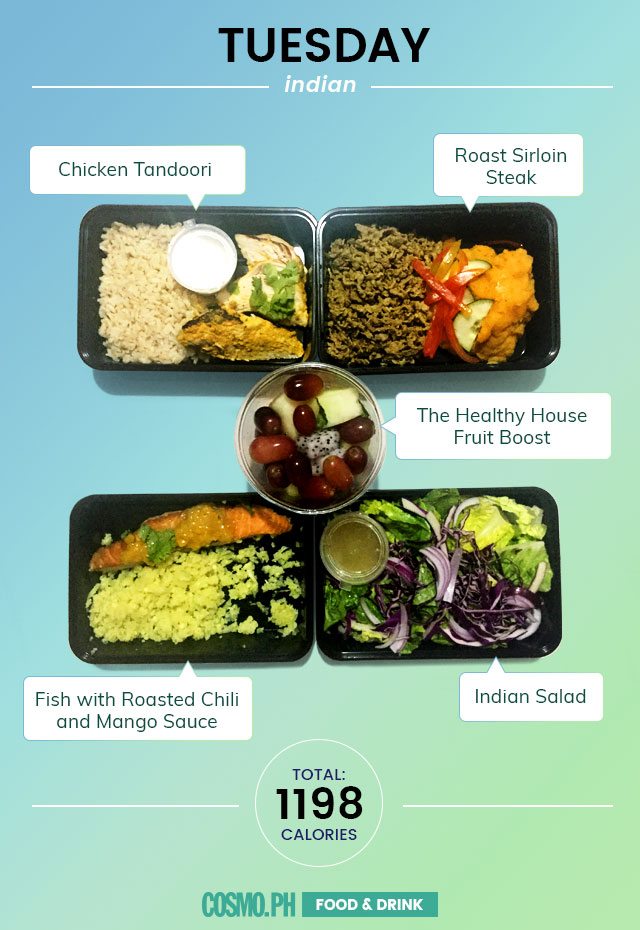 Tuesday
Calories (total): 1,198
Favorite: Roast Sirloin Steak
Steak for breakfast? BEST. DAY. EVER.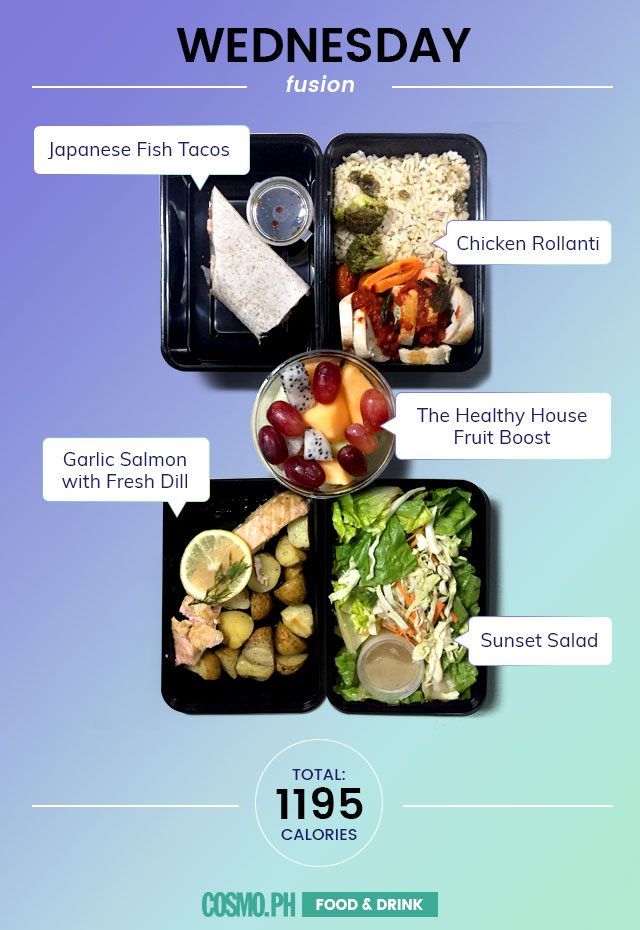 Wednesday
Calories (total): 1,195
Favorite: Garlic Salmon w/ Fresh Dill
I can't begin to tell you how much I love salmon, so when I got it for dinner that day, I was beyond thrilled.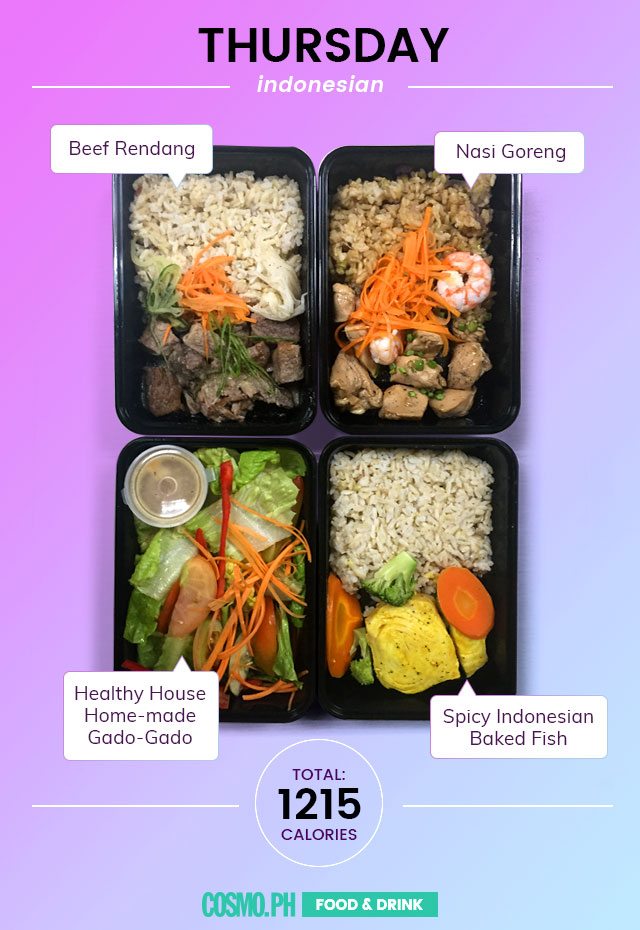 Thursday
Calories (total): 1,215
Favorite: Beef Rendang
Having spent a decade in Singapore, I grew up with beef rendang, so more than being delicious, this was a nostalgic experience for me. <3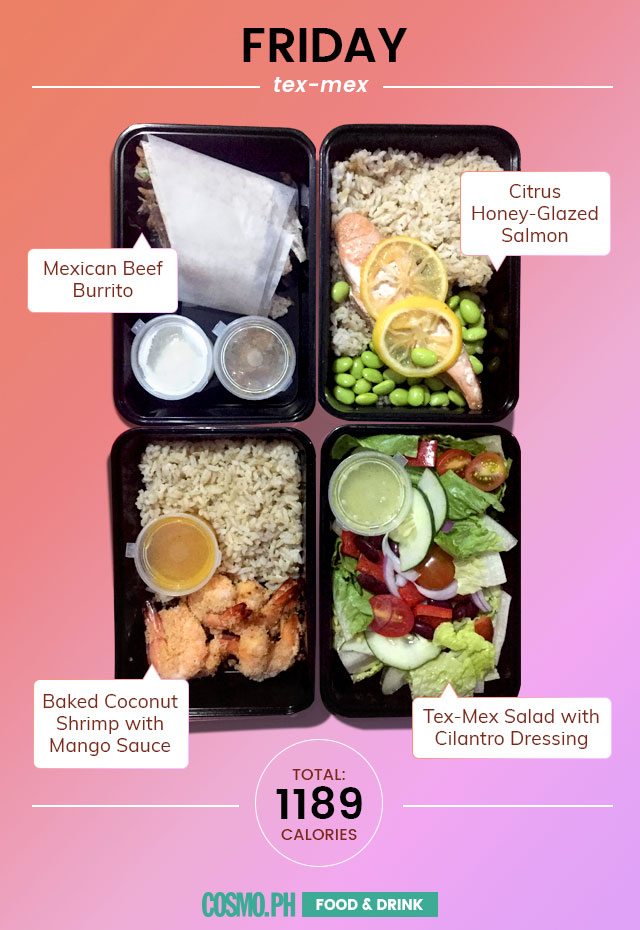 Friday
Calories (total): 1,189
Favorite: Mexican Beef Burrito
5 more, please. Huhu!
Overall experience: I was instructed to allow for a three- to four-hour interval between meals, and I gotta say, that really helped me last the day without diving into a bag of chips. 
As you can probably already tell, most of my favorites were the beef meals—hi, yes, I'm a carnivore. I was actually really happy that they weren't afraid to incorporate red meat into this meal plan; most of the time, I get A LOT of chicken breast, and that's nakakasawa. Also, I've always wanted to be the kind of person who only eats fish for dinner—I just have no clue how to cook it, LOL—so I finally got to experience that life. I'm all about it. 
Depending on the type and the duration of your plan, expect to spend anywhere between P450 to P1,135 a day. If you're looking to start a natural weight loss program, you can visit their website for more information.
Follow Ysa on Instagram.