If you're still on
Sex and the City 2
high, you might want to take your love for the TV series and its two movie versions to a whole new level by enjoying desserts inspired by the colorful, very unique personalities of fabulous foursome Carrie, Miranda, Charlotte, and Samantha!
Ice cream brand Haagen-Dazs came up with four super decadent creations in time for the release of the second movie version of the well-loved chick TV series. Enjoy each with your best friend, your boyfriend, your
barkada,
or your officemates the way the Fab Four would.


GET CARRIED AWAY WITH DESSERT!

Luscious Quirk
is a combination of two delightful treats: mango custard on butter cake topped with a butter cake ball, whipped cream, kiwi, and cherry; and a martini glass filled with little scoops of ice cream (including mango sorbet and
dulce de leche)
on the side to complement the fruity goodness you're about to taste.


ALTER-EGO:
Patterned after
Sex and the City
character
Carrie Bradshaw
(played by
Sarah Jessica Parker
), Luscious Quirk mimics the independence and open-mindedness that Carrie has. Fruits and butter cake is not a common dessert combination, but it works--much like how Carrie's fierce fashion risks and her passionate hunt for Mr. Right both pan out perfectly in the end.


ENJOY IT WITH:
Three of your girlfriends, of course, just like Carrie would! With everything going on in the whirlwind that is your life--the mad climb up the corporate ladder, crazy search for love, desperate attempt to balance it all with a social life, and all the drama involved--you need to take a breather and catch up with true friends! Have non-stop conversation and bonding over this delish delight that's good enough for a group of four--if you're not big eaters.

PRICE:
P420
See another dessert on the next page.
[nextpage]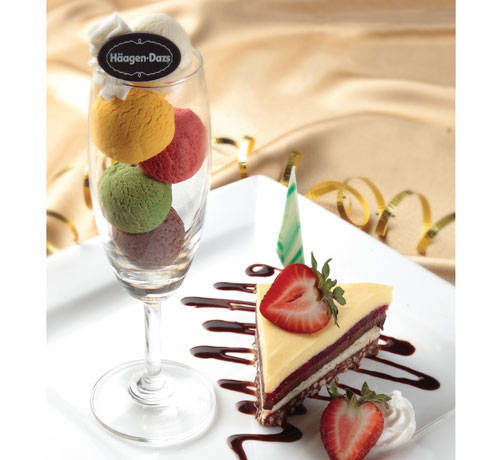 SENSUAL SORBET
Lust For Words
is a lustful combination of Dark Chocolate, Orange, Green Tea, and Vanilla ice cream scoops, plus scoops of Mango sorbet and Raspberry sorbet, served with a slice of cake made of layers of chocolate, chocolate crisps, mousse, and ice cream, plus strawberries.
ALTER-EGO:
Samantha Jones
(played by
Kim Cattrall
) from
Sex and the City
is the epitome of all things glamorous—and of course, sexual. Armed with a seductive zest for life, Samantha storms through anything from cancer to steamy, spur-of-the-moment relationships with just the right amount of flair and fancy, rising above all. Lust For Words is a mishmash of different elements that make for sinful passion and romance in one plate, resembling the ardent fighter and lover that Samantha is.
ENJOY IT WITH:
Your man of the moment. Whoever he might be, however you might have known him, you guys will surely enjoy sharing this plate of decadence. Feast on this after a hot dinner date or before movie night (at his place), and brace yourselves for a steamy night ahead.
PRICE:
P420
See another dessert on the next page.
[nextpage]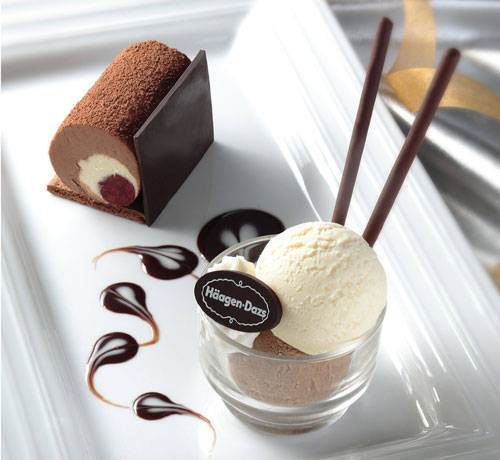 CHIC CHOCO MOUSSEChocolate Blush
features a chocolate mousse roll with cherry and vanilla filling dusted with cocoa powder and garnished with a slice of chocolate on the side, and two scoops of ice cream to enjoy it with.
ALTER-EGO:
Cute and conservative
Charlotte York
(played by
Kristin Davis
) of
Sex and the City
is best represented in this fun dessert combo. We know you, Cosmo chicks, love your chocolates, and this dish is definitely created to indulge that choco-love! Chocolate Blush is definitely comfort-food material, something to be enjoyed during alone time, which Charlotte definitely needs in the movie.
ENJOY IT WITH:
Your best friend or by your lonesome. If you're badly in need of me-time, especially if you're super stressed at work or going through a breakup, you can allow yourself to enjoy this sweet treat alone, or with one close gal pal at most, while you pour your heart out to her. It's guaranteed to make you feel a little better and lighter after--much like perky Charlotte.
PRICE:
P420
See another dessert on the next page.
[nextpage]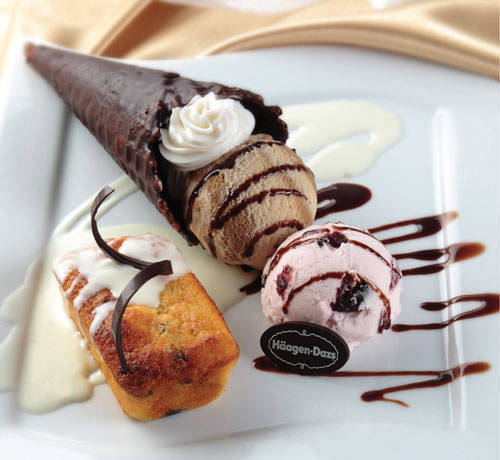 SENSIBLE SWEET

Smart Piece of Cake
is an illegally decadent combination of Dulce de Leche and Cherries and Cream ice cream, served with chocolate wafer cone and a portion of cake with raisins and nuts on the side.
ALTER-EGO:
Career-oriented
Miranda Hobbes
(played by
Cynthia Nixon
) from
Sex and the City
serves as inspiration for this scrumptious piece. Focused on making a name for herself in the world of lawyers and courtrooms, Miranda is a no-nonsense woman who knows what she wants and gets it. Just like Smart Piece of Cake, what you see is what you get. No surprises, no letdowns, just a straight-to-the-point mouth-watering treat.
ENJOY IT WITH:
Your office pals and closest colleagues during coffee break (if there's a nearby Haagen-Dazs branch) or after work. Smart Piece of Cake provides the Cosmo working girl with a sweet escape after a full day at work. Reward yourself with this cool combo after a mind-numbing presentation or when you've finally received that raise or bonus you've always deserved.
PRICE:
P420
On the next and final page, find out how you can win fabulous prizes by purchasing one of these tempting concoctions from Haagen-Dazs!
[nextpage]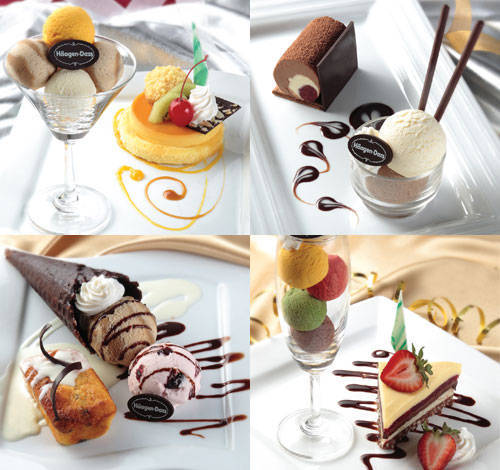 Get a free
Sex and the City 2 Journal
with Haagen-Dazs discount coupons for every purchase of selected Haagen-Dazs products, or by purchasing one of the
Sex and the City
-inspired concoctions featured in this article.
Promo lasts until June 30, 2010.
Also,
get a chance to win a free trip to New York City for two
and see the girls' apartment firsthand. Other prizes include brunch at Spiral, dinner at the award-winning La Cocina, or a spa session at Chi Spa in EDSA Shangri-La Hotel by purchasing your favorite Haagen-Dazs creation.
Haagen-Dazs is located in Corte de las Palmas, Glorietta, Greenbelt, Rockwell, Shangri-La Plaza Mall, SM Megamall, Robinsons Ermita, SM Mall of Asia, Eastwood Walk 1, and V-Mall.
Continue reading below ↓
Recommended Videos