There comes a time when you find yourself with some leftover rice and you're just not in the mood for the good old sinangag. If you want something with a bit (or a lot) of spice, try kimchi fried rice instead! Choi Han Gyul (that super cute guy played by Gong Yoo in Coffee Prince) swears by it as one of the best food to prepare when you just want to ~eat your feelings~.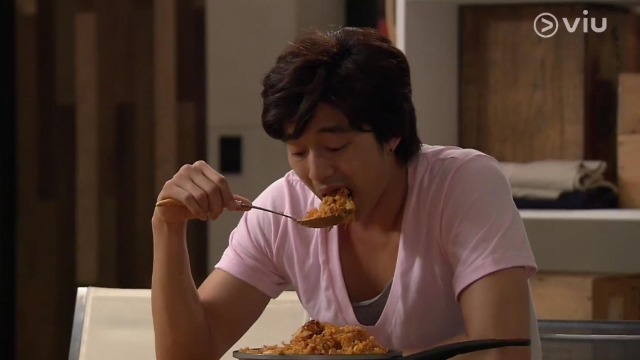 Whether or not you're a K-drama fan, kimchi fried rice is worth trying. You can choose the quickest, simplest recipe when you have limited ingredients, but you can also make fancier versions that combine interesting flavors.
Continue reading below ↓
Recommended Videos
How To Make Kimchi Fried Rice: "Basic" Recipe
Not all Korean dishes are complicated to prepare if you have the basic ingredients on hand. And, if you find yourself craving those dishes that K-drama characters munch on every once in a while, you need to know what you can cook and what you need to have in your pantry or ref.
For starters, you need to have good kimchi, which you can buy in Korean grocery stores, regular supermarkets, and some Korean restaurants. You can also make kimchi yourself and tweak the recipe to your liking. Once you have good kimchi, there are so many recipes you can do with it like kimchi jjige (stew), gimbap (rice rolls), pajeon (Korean savory pancakes), and—the recipe we're putting a spotlight on—kimchi bokkeumbap or kimchi fried rice.
Another must-have for this recipe (and several other Korean dishes) is sesame oil. The nutty aroma and taste complement spicy food well and, TBH, makes them quite addictive. Always have a bottle on hand if you're into Korean food!
Here's the complete list of ingredients you need to prepare for four servings (or, you know, just two servings for a really hungry couple) of kimchi fried rice.
Ingredients:
6 strips bacon, (use honeycured bacon), sliced into 1/2-inch pieces
2 cups kimchi, diced
4 cups white rice, cooled (or day-old rice)
Salt, to taste
2 tsp sesame oil
2 tbsp unsalted butter
4 eggs, cooked sunny-side up
Green onion, chopped
Sesame seeds
You will also need a skillet or wok and a spatula (non-stick utensils will be best).
Method:
Fry the bacon over medium heat. Flip the strips or stir occasionally until the bacon is cooked thoroughly and it loses fat. 
No need to drain the bacon drippings! Add your kimchi (with its juice) and sautee for three minutes.
Mix in the rice until the grains turn orange being covered in kimchi.
Add the final seasonings: salt to taste, sesame oil, and butter. Mix well and turn off the heat.
Serve and top with the fried egg, green onions, and sesame seeds.
Source: Yummy.ph
How To Make Kimchi Fried Rice: Vegetarian Recipe
You can totally enjoy this dish without the meat and other ingredients that are not vegetarian-friendly. Of course, you need to find or make vegetarian kimchi (regular kimchi uses fish sauce, ICYDK). The following recipe is good for two servings:
Ingredients:
6 scallions, whites and greens separated
2 cups kimchi, diced
1 tbsp gochujang
1 cup frozen vegetables (or any assorted fresh veggies you have on hand)
2 blocks smoked, fried, or boiled tofu, cubed
3 cups white rice, cooled (or day-old rice)
2 tbsp dark soy sauce or tamari
4 tsp sesame oil
Black sesame seeds (optional for garnishing)
Nori strips (optional for garnishing)
Method:
Stir-fry the white parts of the scallions with a drizzle of oil in medium high heat. Add in the kimchi and gochujang. Stir for about a minute.
Bring the heat down to medium, and mix in the veggies, tofu, and rice. Add in the soy sauce, and mix until the rice is fully coated in the sauce.
Mix in half of the green onions and the sesame oil, and fry for another minute.
Serve and garnish with the sesame seeds, nori strips, and remaining green onions.
Source: Okonomikitchen.com
How To Make Kimchi Fried Rice: Tipid and Toasted Kimchi Recipe
When you're gipit or gutom na, you only really need seven things for quick and easy kimchi bokkeumbap. Here's my personal recipe that I default to whenever we have lots of leftover rice. While on quarantine, we've tried eating the rice on its own and serving it with fried meatloaf. Both times, we were so happy and busog.
Ingredients:
2 tbsps canola oil
1 red or white onion, chopped
1 cup kimchi
4 cups day-old rice
1 tbsp gochujang
Salt, to taste
2 tbsps sesame oil
Method:
Stir-fry the onion in canola oil over medium heat.
Mix in the kimchi, rice, and gochujang. Stir until well combined and until the rice is well coated in the sauce. Add salt as needed.
Crank up the heat and stir the rice to toast some of it.
Turn off the heat, drizzle the sesame oil, and mix it in. Serve immediately.
Follow Ginyn on Instagram.