ICYDK, the BTS Meal is here only for a limited time. Millions have enjoyed it in the Philippines (and around the globe). We don't know until when we can enjoy the hyped sauces and the merch-worthy purple packaging. But we expect that one day, we'll be longing for that small 270-peso connection with the biggest boyband in the world—and when we call McDelivery or browse apps like FoodPanda, the BTS Meal won't be there anymore.
Hopefully, that day won't be soon, but fangirls need to be ready once that happens. TBH, the Sweet Chili sauce wasn't that memorable for me, and unlike in America, it's so easy to get your hands on a bottle of sweet chili sauce here. But the Cajun sauce—I don't know where to buy a similar one.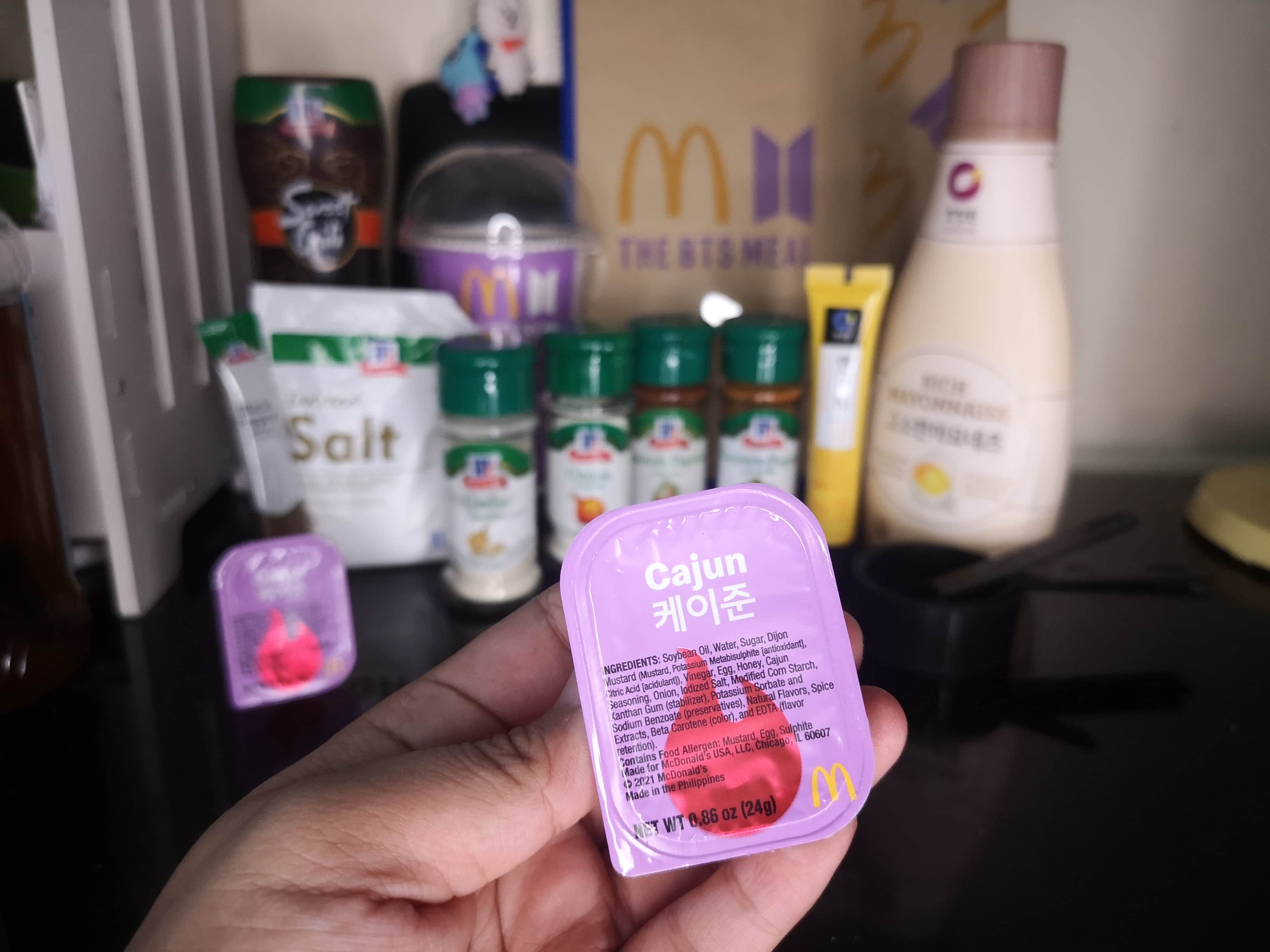 One day, I saw Joshua Weissman's TikTok video recreating my bias, the Cajun sauce. It filled me with hope that even in the post-BTS Meal era, I can still enjoy the combination of seasonings that broke into my heart like that.
ADVERTISMENT - CONTINUE READING BELOW ↓
ICYMI, here's the list of ingredients and quantities he whisked together:
1 cup mayonnaise
½ cup mustard
? cup ketchup
2 tsp cayenne
1 tbsp garlic powder
2 tsp nutritional yeast
1 tsp onion powder
? tsp turmeric
1 tbsp hot sauce
1 tbsp honey
Where to buy supplies for your own BTS Meal Cajun sauce
Of course, I had to try it for myself. I went through our poorly stocked pantry to see what we had and what we'll need to buy. We had turmeric powder, since we cook with it a lot. We also had packets of ketchup and hot sauce from pizza deliveries. We didn't have honey, but we did have a package of McDonald's pancake syrup, which we had in the fridge. I also don't know how someone in the house ate pancakes without it.
For the rest of the ingredients, I really had to buy them. Like our pantry, the nearby grocery store didn't have a lot of spices, so I resorted to one of my quarantine BFFs: Shopee. Lo and behold, there was a McCormick distributor there and then lots of Korean stores, too. I got my supplies for about P500.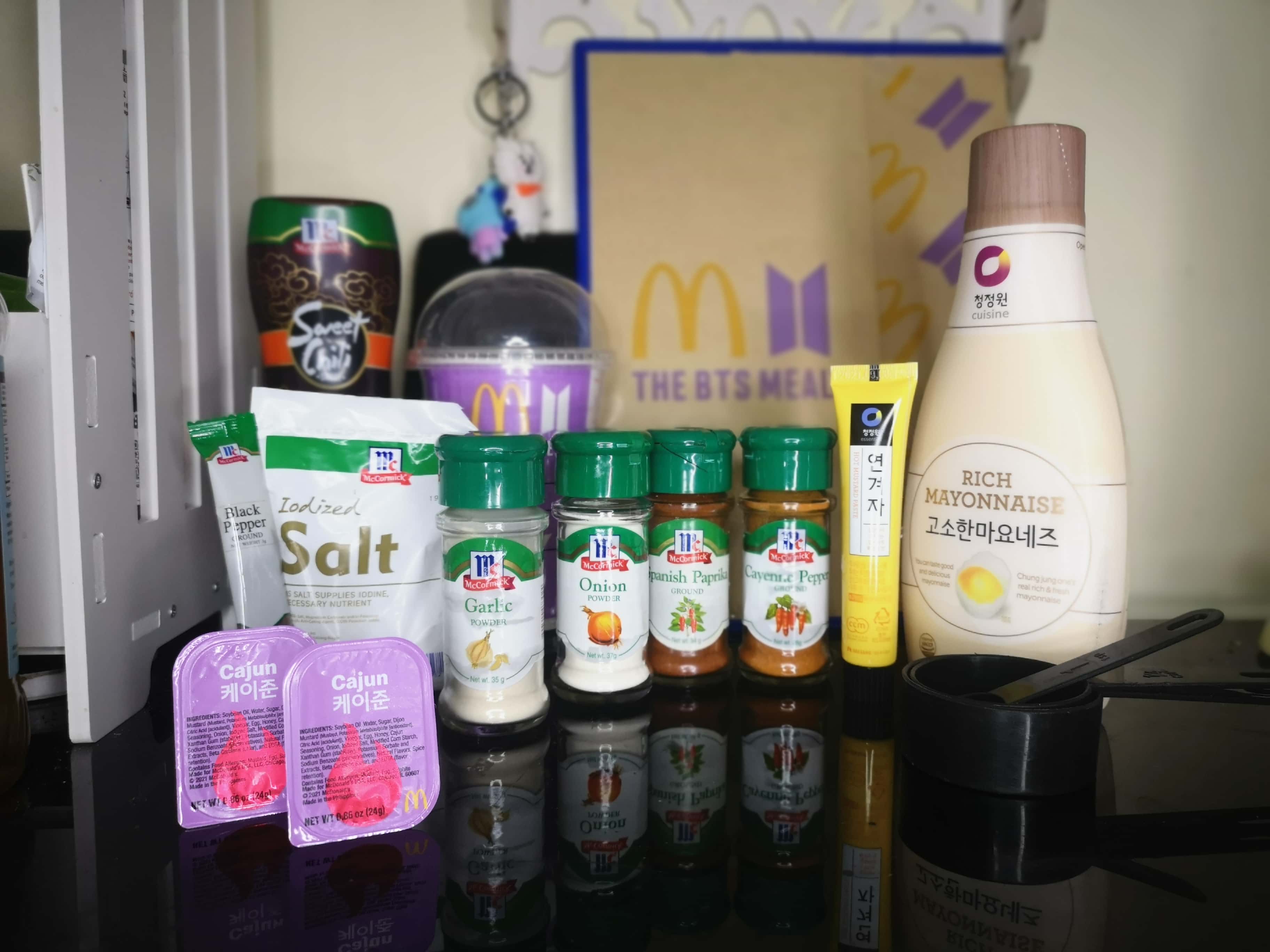 Okay, it's so much more expensive than a BTS Meal (or the extra Cajun sauce, which you can buy for just P17, BTW). But I'll be able to challenge myself, make the sauce anytime I want, and use it for different dishes—so just… okay? Okay.
Anyway, I ended up skipping nutritional yeast. I didn't know what it does, and couldn't find an affordable source for it. A bit of Googling said it boosts the nutrients of various dishes and gives it a cheesy, savory taste. Parmesan cheese, miso, and soy sauce seem to be recommended substitutes, but I just decided to prepare my sauce without it.
Making my own BTS Meal Cajun sauce
I had to tweak the TikToker's portions because I didn't want to end with a big bowl of possible failure. I adjusted the quantities to a quarter of what he used—but I ended up adding more or less of the spices I liked. In the end, here's what I used (at least an estimate of it):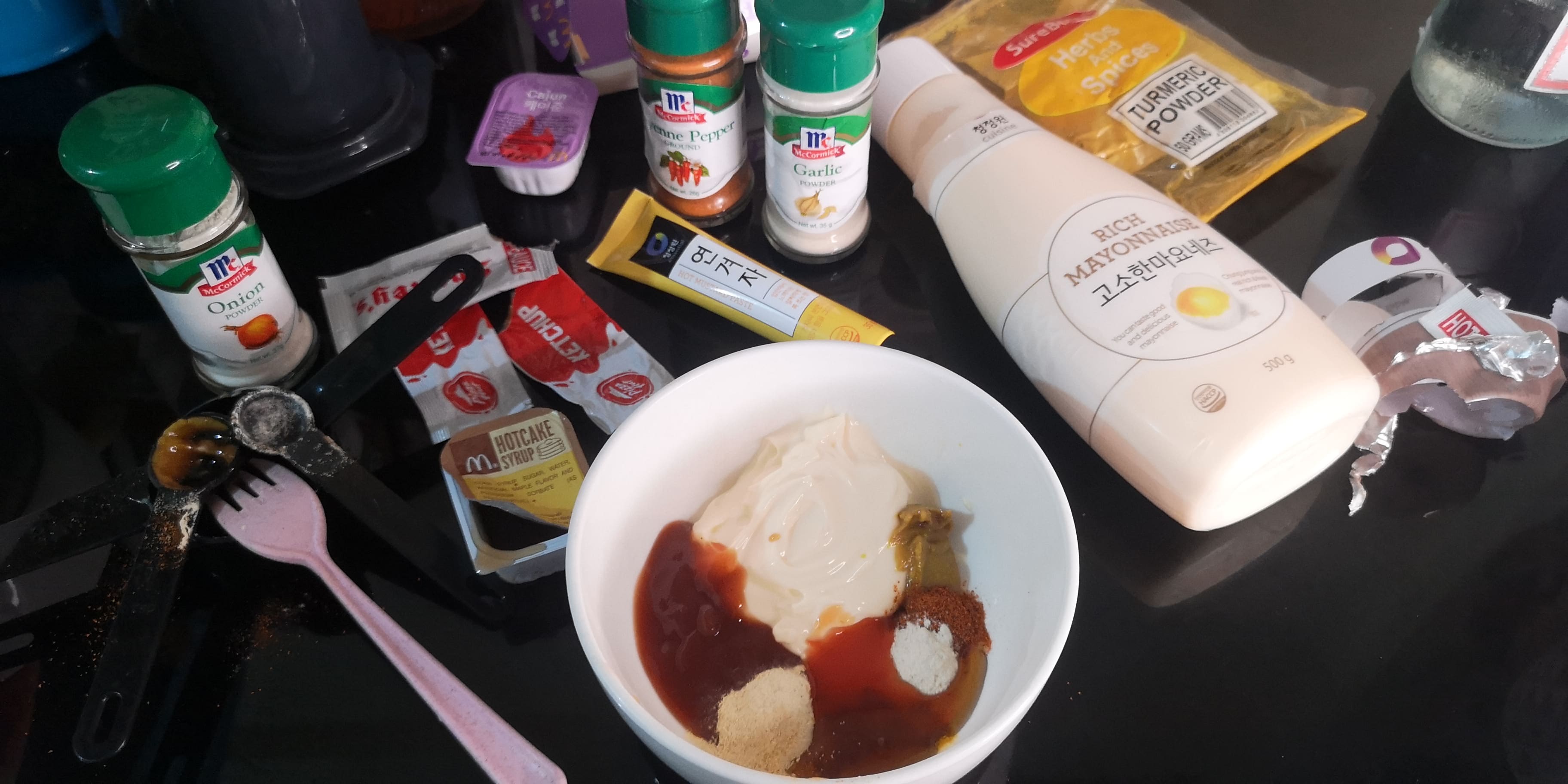 ADVERTISMENT - CONTINUE READING BELOW ↓
Ingredients:
¼ cup mayonnaise
1 tbsp mustard
1 tbsp or 2 packets of ketchup
½ tsp cayenne pepper
¼ tbsp garlic powder
¼ tsp onion powder
¼ tsp turmeric powder
1 tbsp or 2 packets hot sauce
1 tbsp syrup
Optional:
½ tsp vinegar
1 tsp Sriracha
Salt and pepper
Procedure:
Measure each ingredient. The ones above are just what worked for me. Prepare to use less or more, depending on your taste.
Mix it all together and adjust the seasonings to your liking.
Dunk nuggets (or anything fried) into it and enjoy!
Optional: Pair or blend it with sweet chili sauce for a hotter, sweeter, cooler faux-BTS meal experience.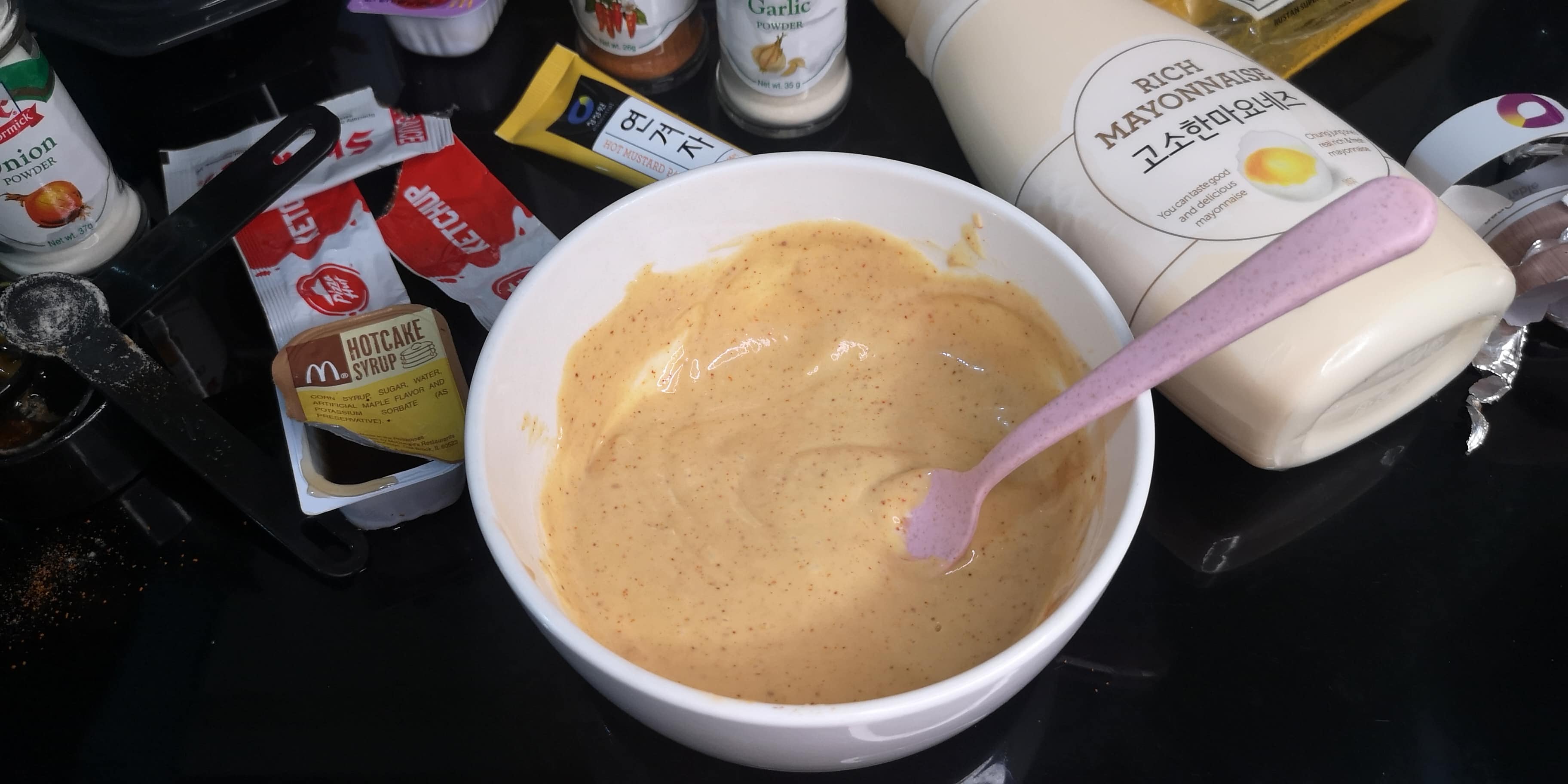 The verdict: Did I get it, let it roll?
For reference, I bought a pack of nuggets with two Cajun sauces (This is a cheaper way to get the sauce but the nuggets and drinks won't be in special packaging, FYI!) It was smooth like the original. It had a cool shade (stunner) that was just a tiny bit paler than McDo's. The taste? It was hot like summer, ain't no bummer!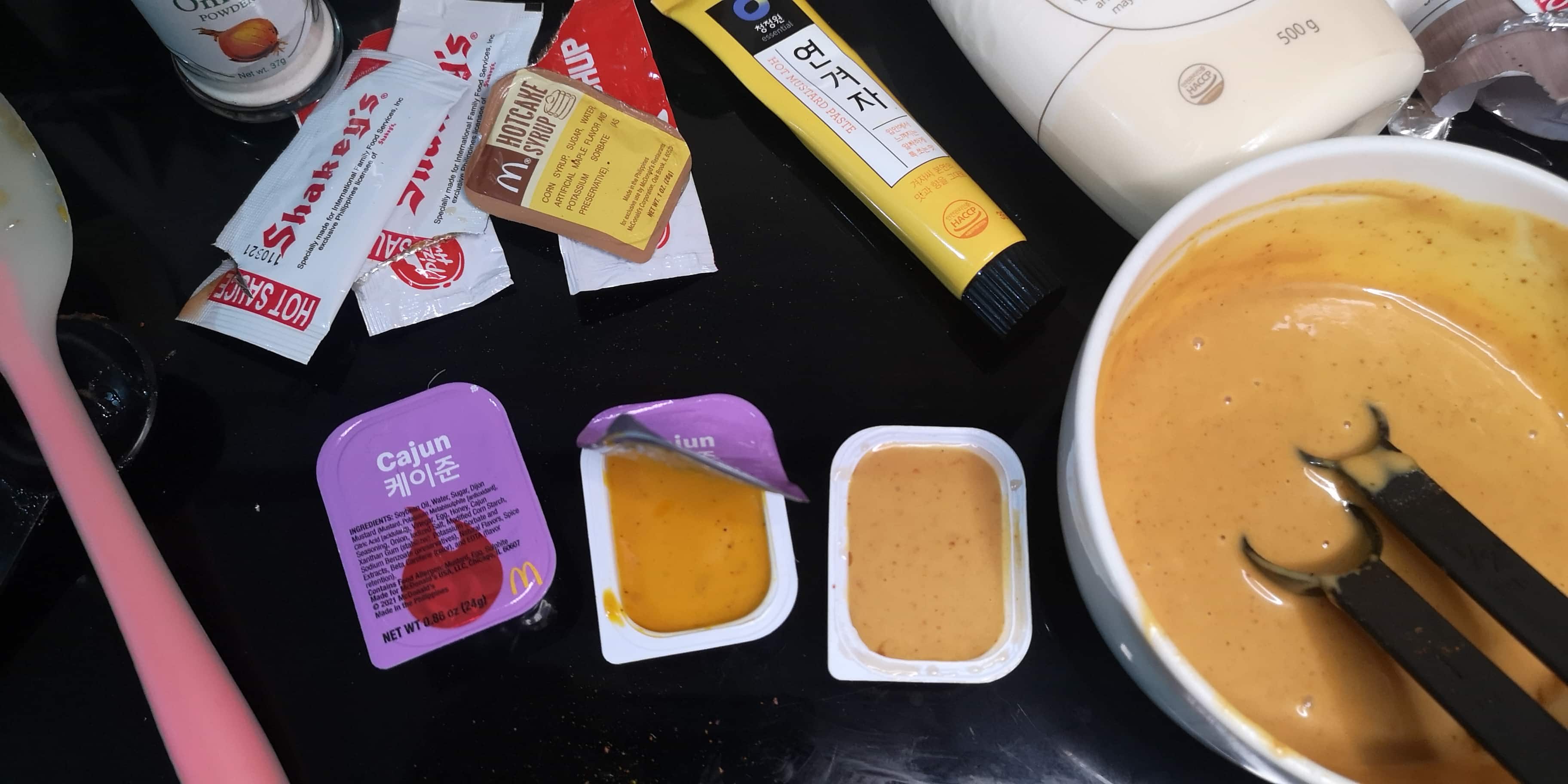 It wasn't a perfect replica, though. At one point, I was trying to figure out what was missing and read the ingredients of the sauce. A lot were not in Joshua's recipe like xanthan gum and egg (didn't want to add a raw egg, though!) There was vinegar, though, which is why I added half a teaspoon. I also tried Sriracha and just a pinch of salt and pepper. It was closer, but you won't be like, "Oh my God!" Still, it was yummy! On its own, with nuggets, even with pizza—all delish! I'll definitely make it again.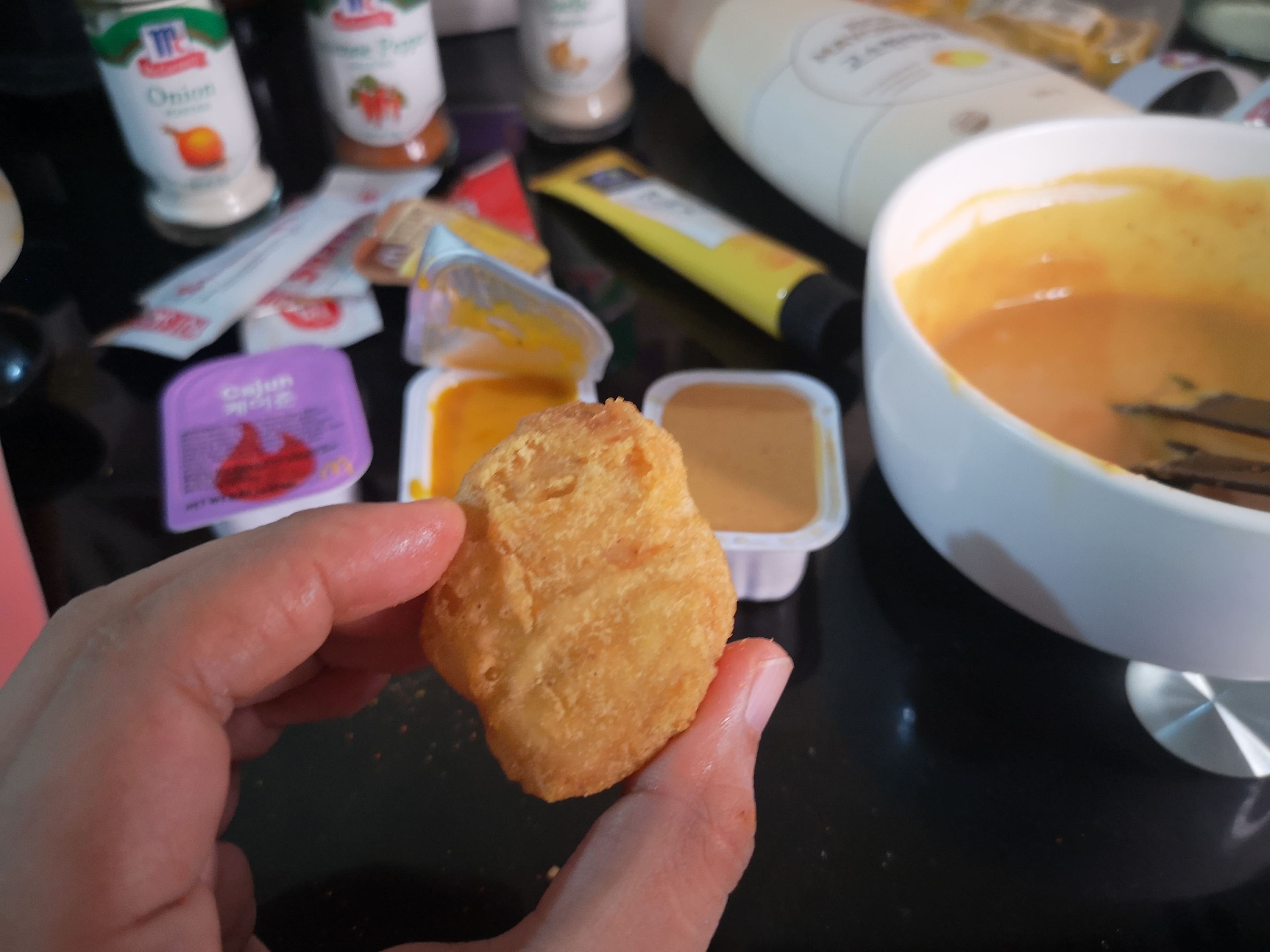 ADVERTISMENT - CONTINUE READING BELOW ↓
Oh, and I found a sweet chili sauce from McCormick and decided to give it a try (needed it to meet the free shipping requirement, too. Haha!) Surprisingly, it was much better than the other store-bought sweet chilis I've tried! Mixing it with my DIY Cajun sauce was also perfect.
So if you're also curious and if you want to experiment with it, I suggest: "Get it, let it roll!"
LOVE KOREAN FOOD? RIGHT THIS WAY:
My Friend And I Tried To Make Mochi From Scratch *Virtually* And It Was Actually *Super* Fun
I Tried To Make 'Bungeoppang' From Scratch And Here's How I Did It