It's been a while since we've given our honest food reviews on somethng that's not milk tea (see here, here, here, and here) or dessert. In fact, our last Is It Worth The Hype? review of a real meal was of Bolzico Beef! We decided to sit down for another real meal, and this time, we checked out Marugame Udon. Marugame Udon came to the Philippines in 2017. Well, it's 2019, and the hype is very much alive.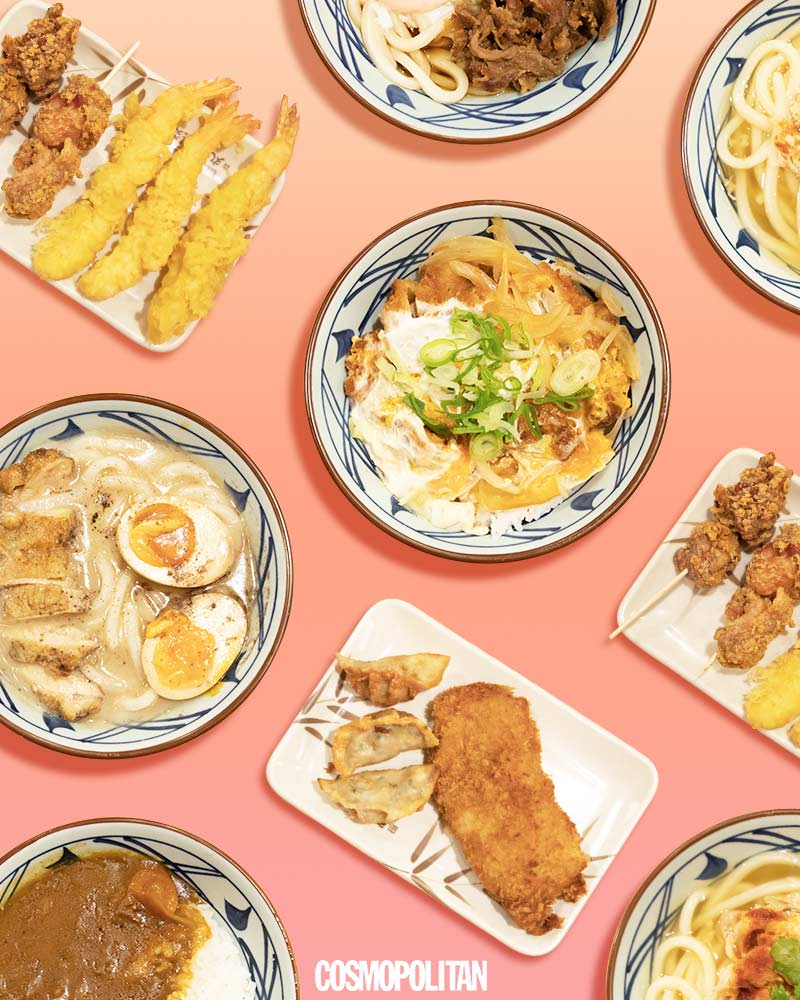 Our Honest Review Of Marugame Udon:
Lou: Japanese food is my second favorite cuisine. (FYI, the first is Italian because I think you can never go wrong with a hearty serving of carbs.)  I love eating katsudon, gyudon, tempura, and chicken karaage. Ramen, sashimi, and sushi are equally important to me, too,—but let's save that for another story. Anyway, I knew that Marugame Udon's menu had most of the dishes that I just mentioned, so you can imagine how excited I was when I found out we were doing a food review there. 
ADVERTISMENT - CONTINUE READING BELOW ↓
We tried most of their best sellers and some side dishes. In my honest opinion, I only truly enjoyed eating two out of the five best-selling dishes that we ordered: Beef Ontama Bukkake Udon and Katsudon. What I liked most about the Beef Ontama Bukkake was its tasty broth. The strips of beef were thinly sliced and easy to eat which partnered well with the firm udon noodles. The only downside was that our meal wasn't that hot. I wish it was served piping hot, LOL. As for the Katsudon, I think one con is that the pork was a bit tough to chew, but I'd like to say that the generous rice-to-meat ratio made up for it.
The three other best sellers—Chicken Paitan Udon (P200), Spicy Pork Udon (P165), and Curry Rice— were just okay. I even had to take several spoonfuls from each bowl just because I couldn't quite get the taste right. I like my broth flavorful AF and for me, that's what the Chicken Paitan Udon and Spicy Pork Udon lacked. The Curry Rice was good. The beef strips didn't drown in curry sauce and the rice serving was fair, but in general, the taste didn't really stand out.
Udon and rice bowls aside, I loved the chicken karaage and ebi tempura! The tempura was freshly fried and it was so fun to hear a crackling sound in every bite. It was that crispy! Even the chicken karaage had a crunch to it. The meat was juicy and I could taste how it was well-marinated with spices.
Overall, if you're on a budget and are craving Japanese cuisine, then Marugame Udon is a place you might want to consider. My officemates and I spent around P1,500 for five different bowls plus several side dishes. All their items are reasonably priced and the food is good. For the record, I've eaten in Marugame Udon thrice already. I try to get something new almost every time, so I'm sure I'll be back to try the other dishes on their menu!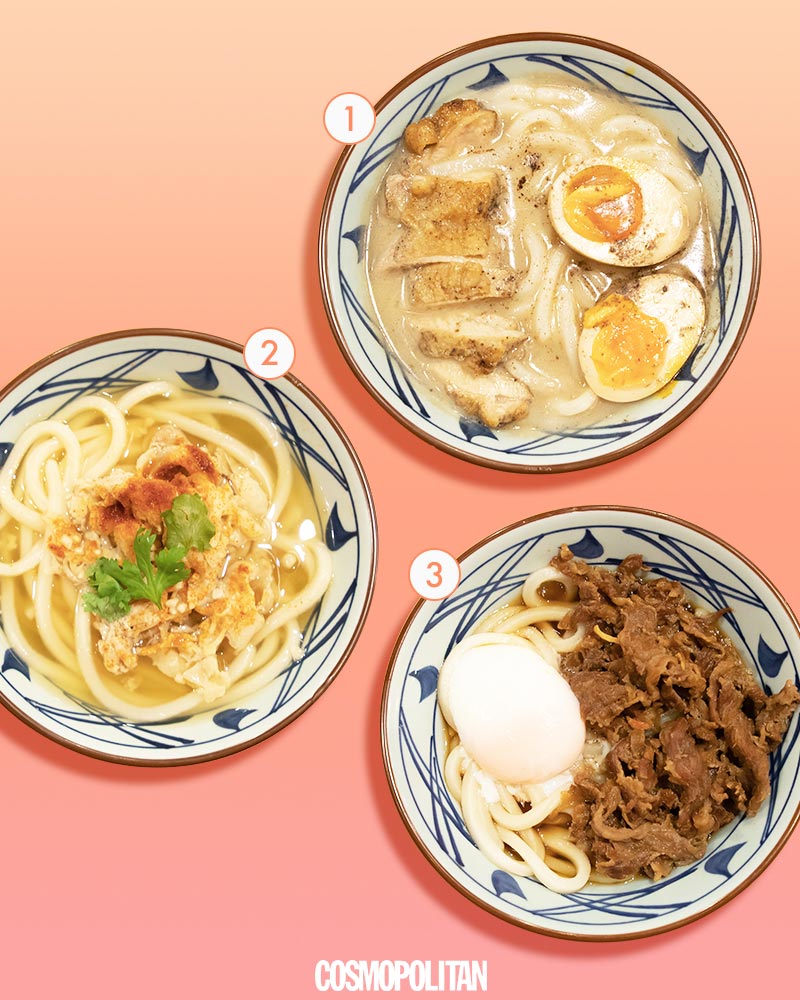 Ysa: I first saw Marugame Udon while I was in line for Tiger Sugar in BGC. It wasn't even technically lunch time yet and already, a line was forming outside of the restaurant. When I got back to the office, I casually told my officemates about it, and they all basically confirmed that people have been hyping Marugame up since it opened in Manila two years ago. When I found out there was a branch in Q.C. (shout-out to my North girls!), I wanted to see what all the fuss is about. We opted for the branch in U.P. Town Center because I was told there was never any line, especially on a week day. 
ADVERTISMENT - CONTINUE READING BELOW ↓
Like Lou said, we asked for their best sellers and decided to get five different bowls. TBH, I didn't get to taste all of it like she did because I devoured the Beef Ontama Bukkake Udon. Priced at P210, it was a STEAL. I couldn't believe how full and satisfied I felt after my last bite. In my entire life, I've only ever eaten udon maybe two other times before Marugame, so who knows if I'm just easily impressed, but the broth was freakin delish. I plan to go back for more of it.
I am a big fan of Japanese curry, with Jipan's as one of my go-to comfort foods, so I was curious about their Curry Rice. The serving was fair for P160, and I finished half of it. It was good! Not the best, but certainly not a let down. I also took a bite of the Spicy Pork Udon, but I've already forgotten how it tastes like, so don't bother. 
The sides were...okay. The Pork Tonkatsu (P75) was tough and had no flavor so I drowned it in the leftover broth of my beef udon. The only other side dish I had was the Karaage Mayo, which was 85 percent rice and not worth P55. I wouldn't waste money on their side dishes unless you're starving; I'd much rather just get dessert somewhere else afterwards. Perhaps the most disappointing part of this experience, however, was the service. ABYSMAL. And I'm not sure why? It was a Monday, and the place wasn't even full. Maybe I'll just endure the line at the BGC branch next time to see why people are so willing to spend hours waiting. You get what you pay for at Marugame, and that comes with pros and cons.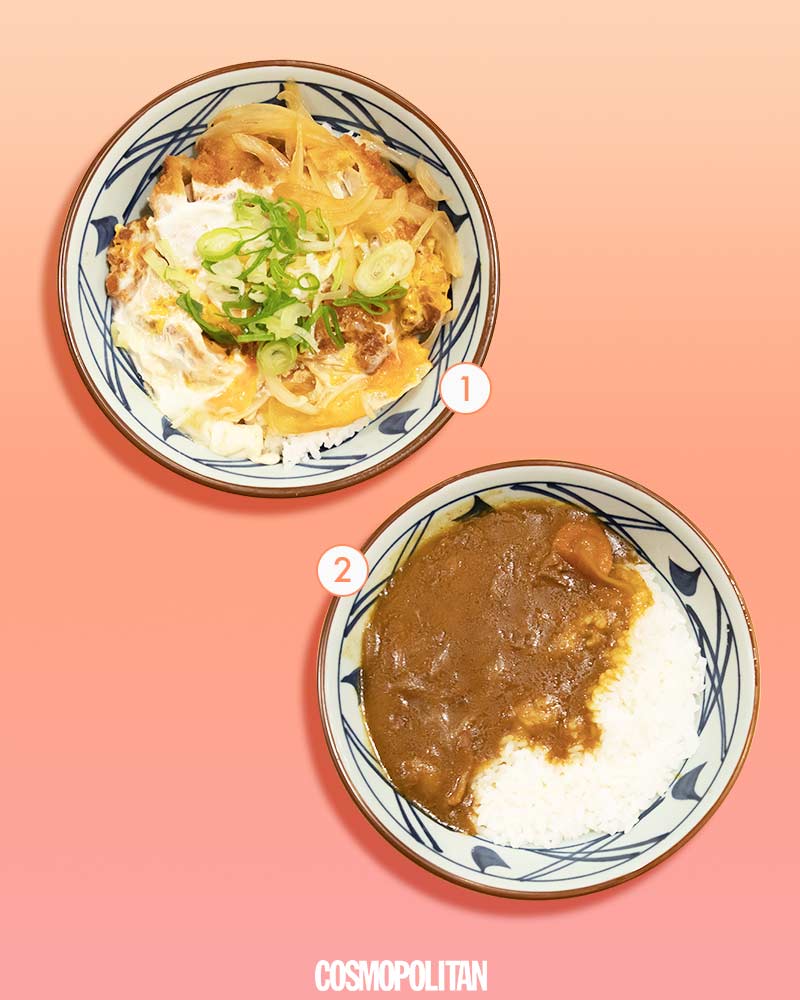 Mixi: Whenever I go to BGC, I would always pass by or suggest eating at Marugame Udon. But every time we go there, the line would always be long so we would end up going to another restaurant to eat. I'm a big fan of Japanese food so when I found out we were going to review Marugame, I was beyond excited. We went to the Q.C. branch. 
Their ordering style is like a self-service pantry—you grab your own tray, pick your main meal, then choose the sides before you go up the cashier to pay. I loved how you can customize your sides.
ADVERTISMENT - CONTINUE READING BELOW ↓
I was excited to try everything because they looked so delicious. My main meal was a Chicken Paitan Udon. I sipped on the broth first. I was surprised to find that the broth wasn't rich or tasty. It was a little bland for my liking.  It kind of tasted like a soup that's just salty but with no flavor. The broth-soaked chicken wasn't my favorite, too, because it was also bland. I loved the thickness of the udon, though.
After trying my udon, I proceeded to eat my sides. I picked three Gyozas (P120), two Karaage sticks (P120) and one Ebiten (P60). The gyozas, although it was small, were delicious! I could munch on a lot in one seating. The karaages tasted okay, nothing special. It wasn't the crunchy kind. I don't like tempuras in the first place, but I gave this one a shot. I didn't find its taste outstanding.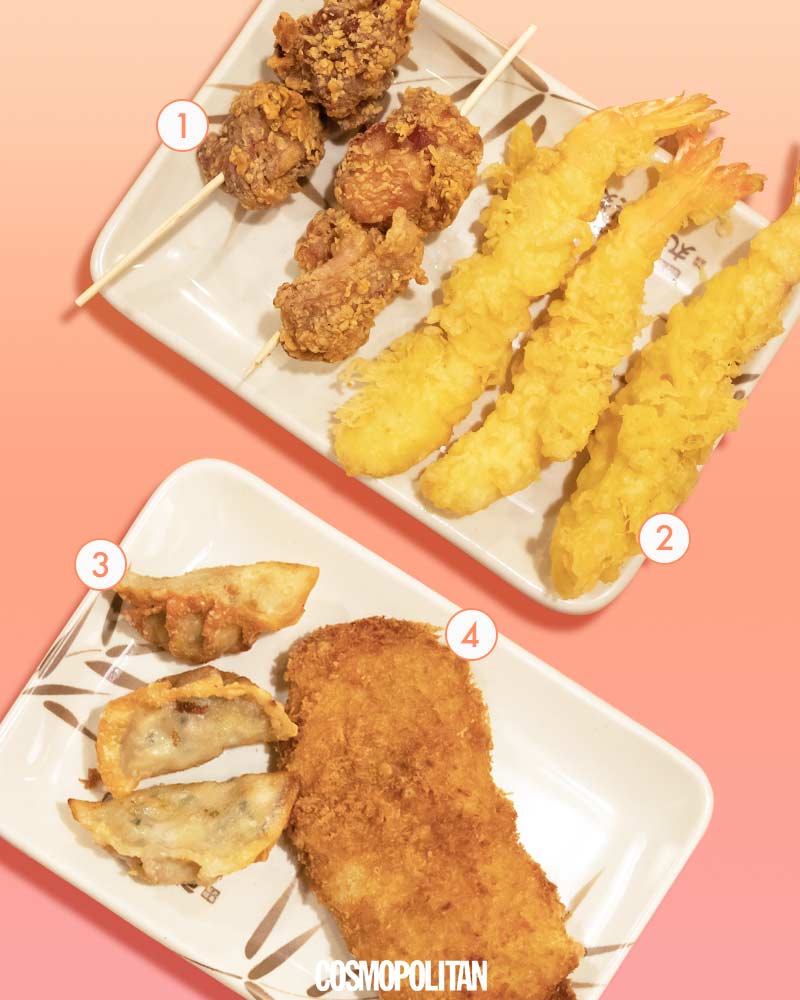 I also tried the Beef Ontama Bukkake Udon—its broth tasted better than that of the Chicken Paitan's. Its flavor is just the right amount of savory, it wasn't salty. I think I would've enjoyed this more.
The next dish that I tried was the Katsudon. Weirdly enough, it was my favorite out of everything we ordered. Although the pork was a little hard to chew, and the skin easily fell off the meat, it was delicious. The egg topping that came with it was to die for.
What I love about Marugame Udon is that it has a variety of dishes to choose from. I think that's the reason why people line up for it. It's perfect for friends who have a collective love for Japanese food without having to fight which type of Japanese food. 
TL;DR: It's worth trying out, especially if you're on a budget, but we probably wouldn't line up for this.