Whenever I travel to South Korea, one of the things I get most excited about is the gastronomic experience. I love Korean food as much as the next Korean culture enthusiast. The range of choices and the variety of flavors make choosing between eating my favorite Korean dishes every day and trying something new for each meal my greatest dilemma. So, for my trip to South Korea last May 2019, I made a promise to myself that I will try to keep a good balance between both for me to have no regrets.
I was browsing through my phone's gallery one day when I chanced upon all the food photos I took, and my stomach rumbled. Now, I came up with this list so you can join me in my Korean food cravings!
Must-try Korean food when you visit South Korea
1. Jjukkumi (baby octopus) with mozzarella cheese
Cheese lovers would understand my kilig upon seeing this dish served to me and my friend in a restaurant in Hongdae. The baby octopus which is the right balance of soft and chewy is covered with a sweet and spicy sauce that blends well with the melted mozzarella cheese.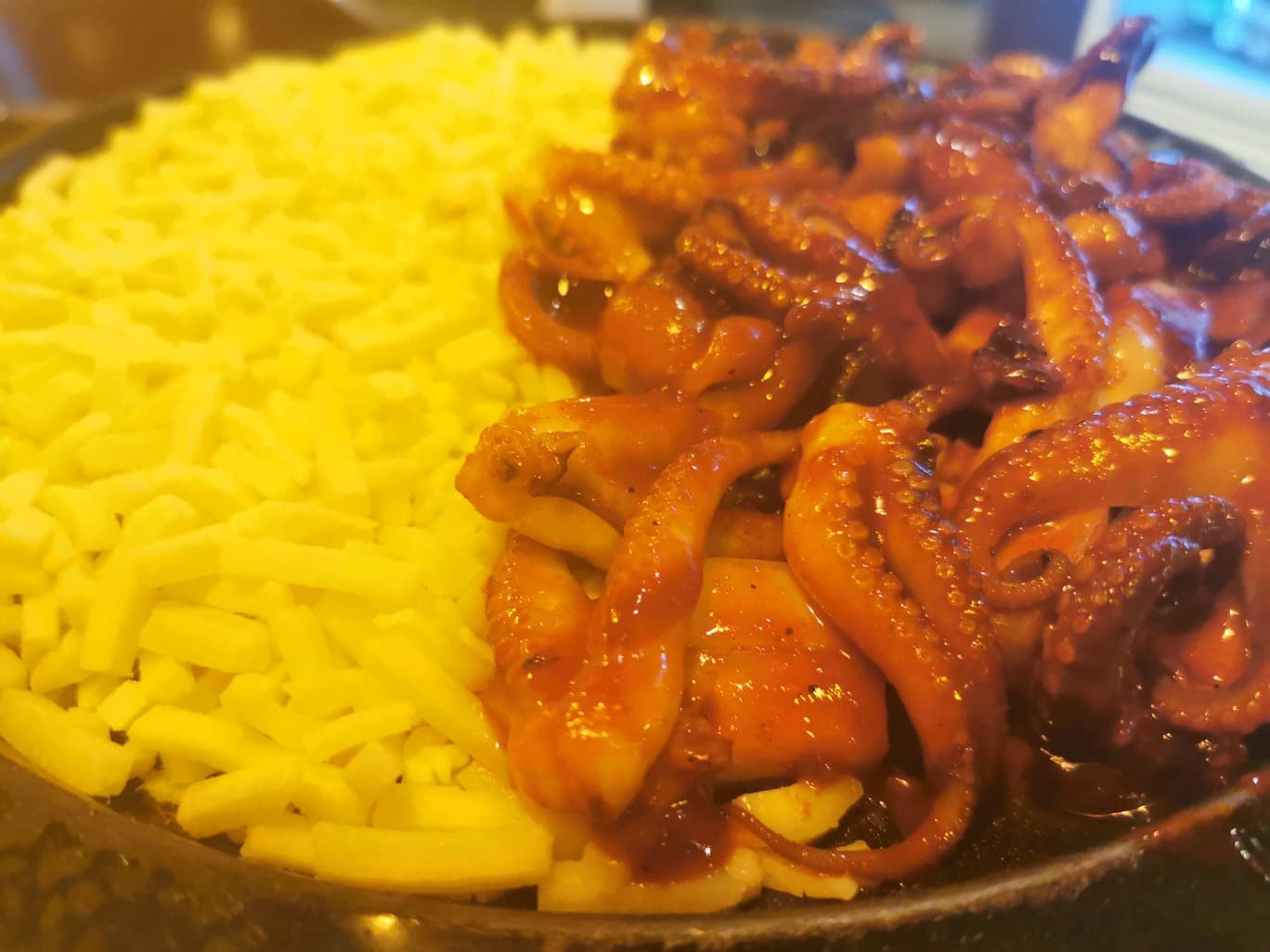 K-foodie special tip: Make a jjukumi wrap! I loved mine with perilla leaves, seaweed, and kimchi.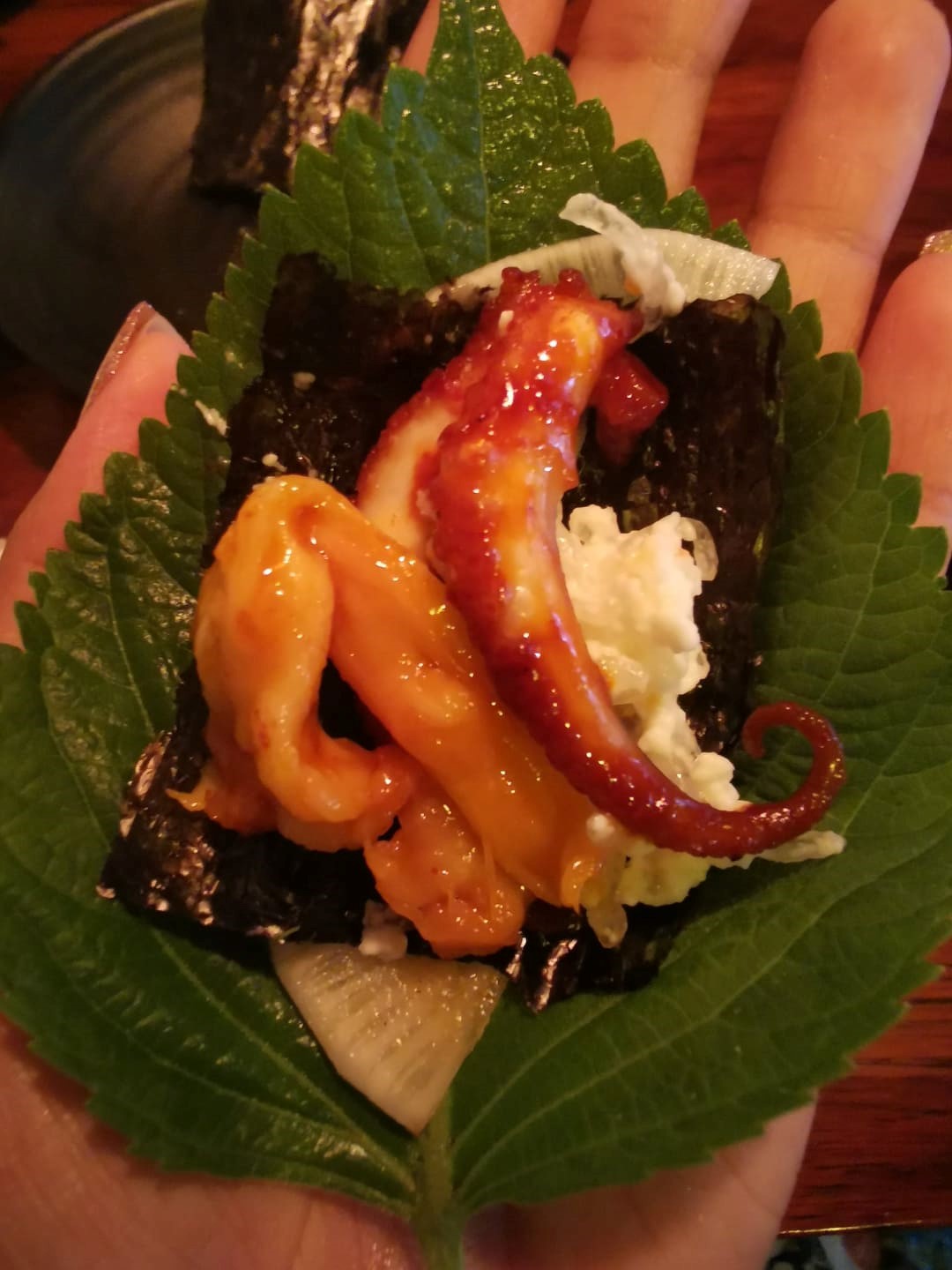 Continue reading below ↓
Recommended Videos
I'm drooling just thinking about it! If there's anywhere I can eat this in Metro Manila, please let me know.
2. Unlimited samgyupsal (Korean barbecue)
Of course, no South Korea trip would be complete without eating *authentic* samgyupsal. And you know what's better than authentic samgyupsal? It's unlimited samgyupsal! My friend took me to Gangnam Pig Company BBQ All You Can Eat (Dwae-ji-sang-hwe), the best unlimited samgyupsal restaurant I have ever tried in my life. If you're curious, the branch we went to is in Hongdae as well, near 943 King's Cross, the Harry Potter-themed café.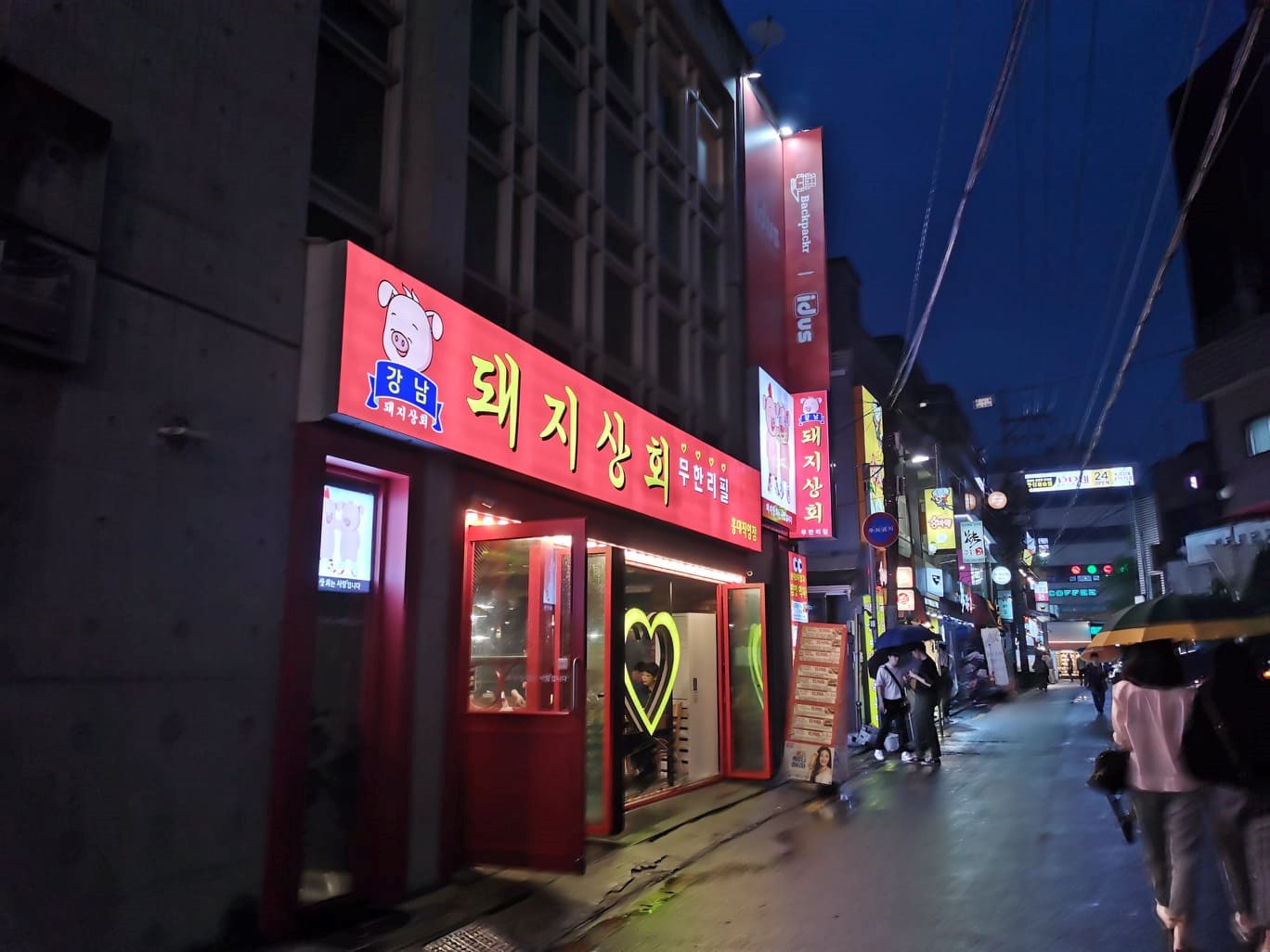 The restaurant had three types of unlimited offers you can choose from. And since my friend and I were on a budget, we just chose the cheapest one. But it didn't disappoint! We got our fill of sliced pork belly (galjip samgyupsal and daepae samgyupsal), beef brisket roll (woosamgyup), pork neck (moksal and hangjeongsal) and pork skin (dwaeji kkeopdegi). Plus, it also comes with unlimited bean paste stew (doenjang jjigae) and assorted vegetables. My friend and I finished eight servings of meat! It was that good. Super sulit!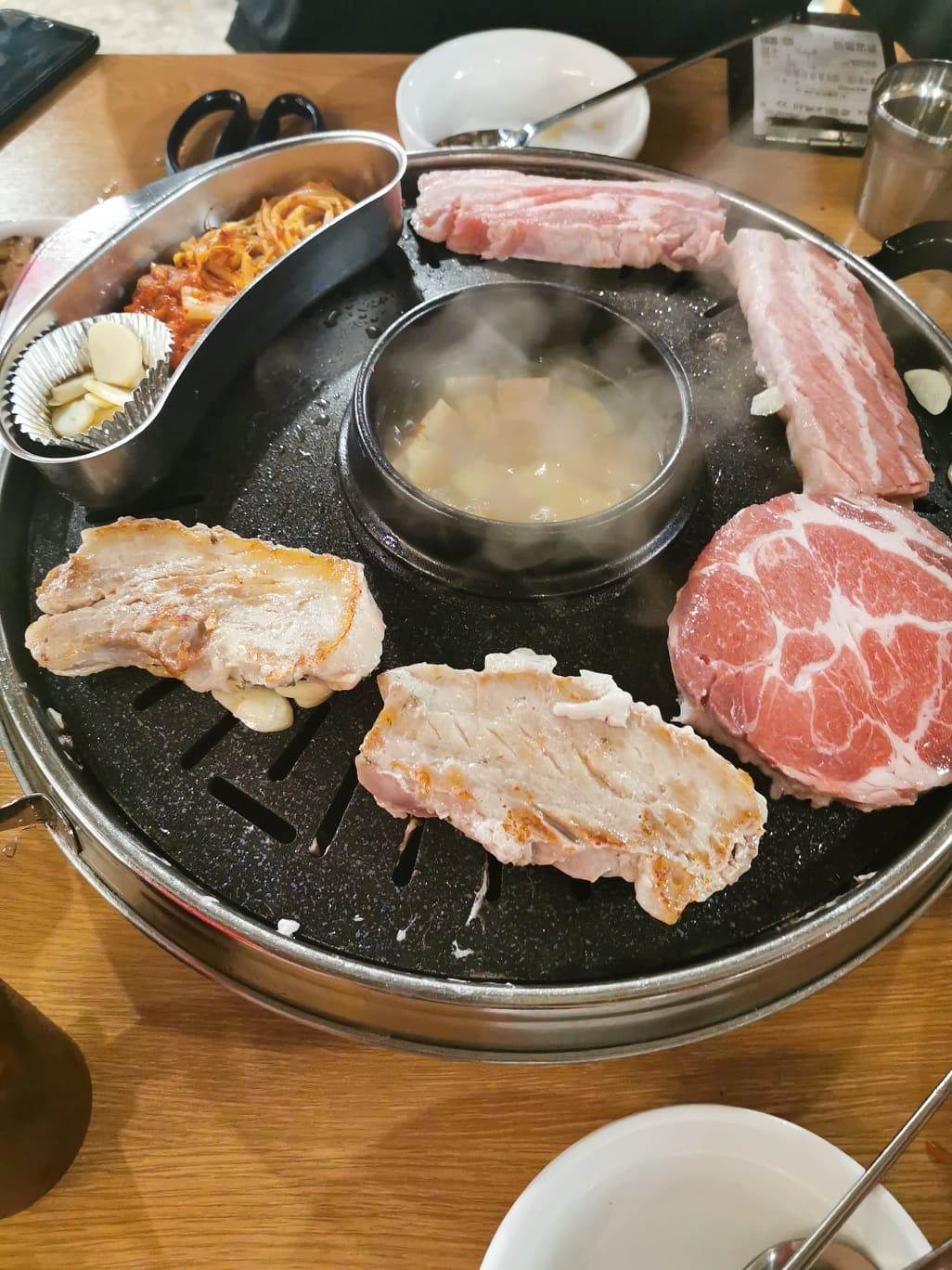 K-foodie special tip: I know this is cheating a little on my promise to try new dishes aside from my favorites, but I assure you, this will not leave your mind. So come back again another day before your trip ends!
3. Strawberry bingsu 
South Korea is never behind in the dessert space, either. One of the most popular is the bingsu, a Korean shaved ice dessert with different toppings of your choice. And because I love strawberries, especially the Korean ones, we ordered the strawberry bingsu. The shaved ice melts in your mouth and the strawberries balance out the sweetness of the milk with their sweet and sour flavor. The special red bean mochi on top is the icing on the cake!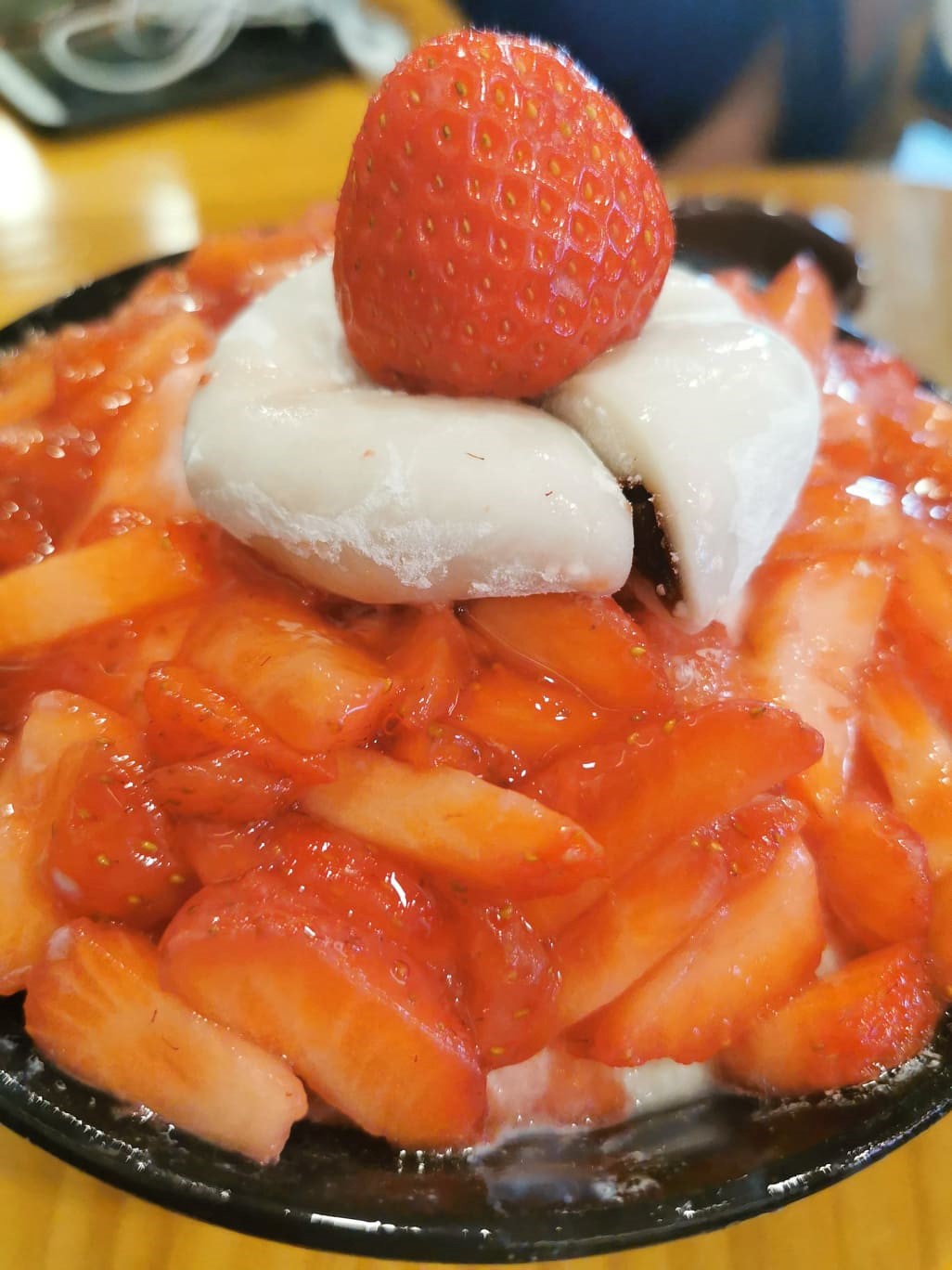 K-foodie special tip: Usually, the cafés have bingsu flavors of the day featuring a unique ingredient. Try those if you are feeling more adventurous! 
4. Pajeon (vegetable pancake)
I don't know what it is about Korean vegetable pancakes, but I can finish one whole serving all by myself. It's a light and simple dish paired with a sweet and tangy dipping sauce that's perfect for a heavy afternoon snack or a light dinner.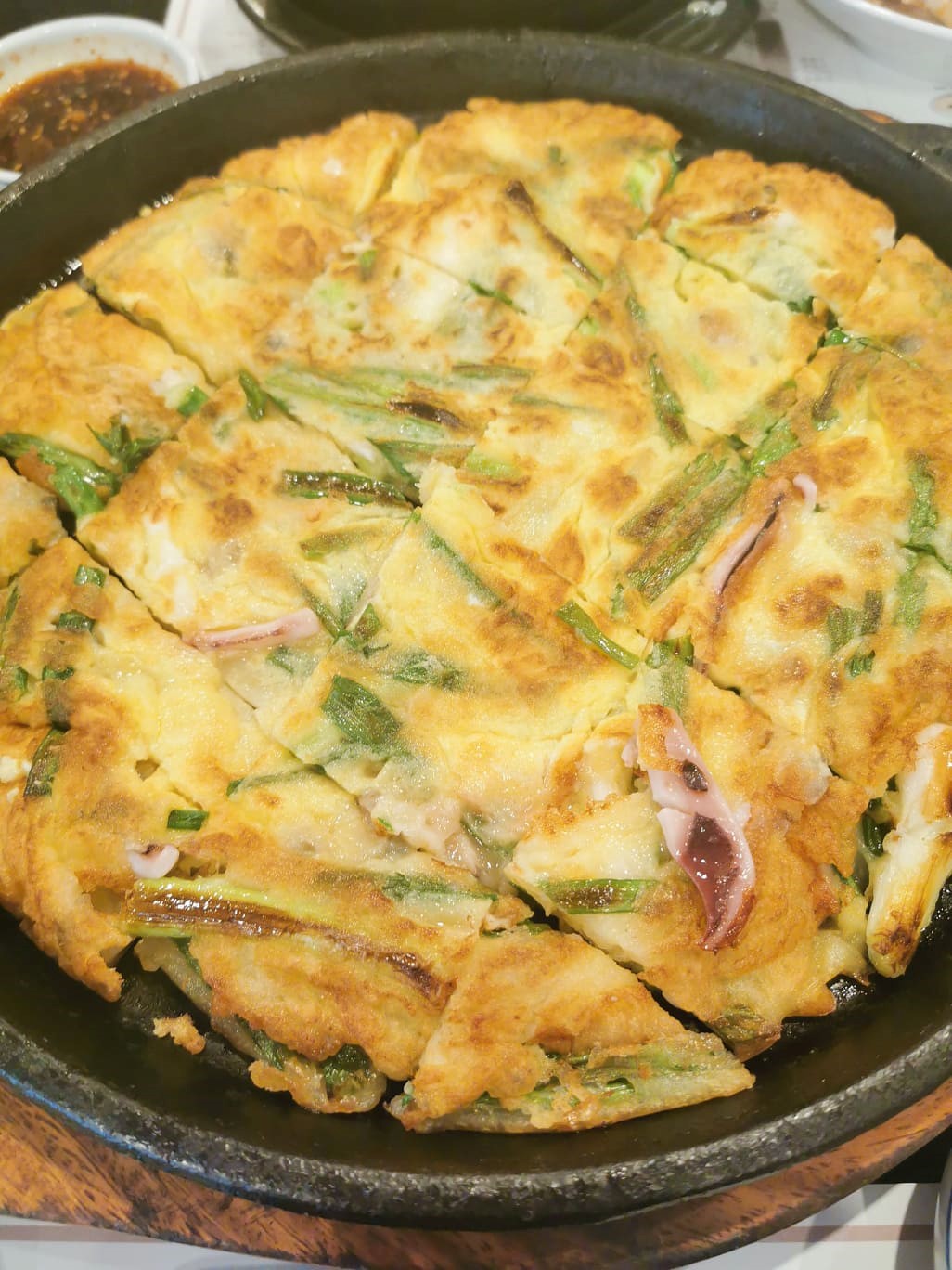 K-foodie special tip: Try the kimchi pajeon, too, and maybe you'll finish two servings by yourself. Just kidding! Or maybe not. LOL.
5. Samgyetang (ginseng chicken soup) 
The first time I ate samgyetang was during a cold, winter night and it was divine. It had that homey feeling, sort of like a tight hug from your mom. The flavorful soup alone would warm your stomach and the chicken (served whole!) is so tasty you're not sure which one's better—eating it alone or with rice.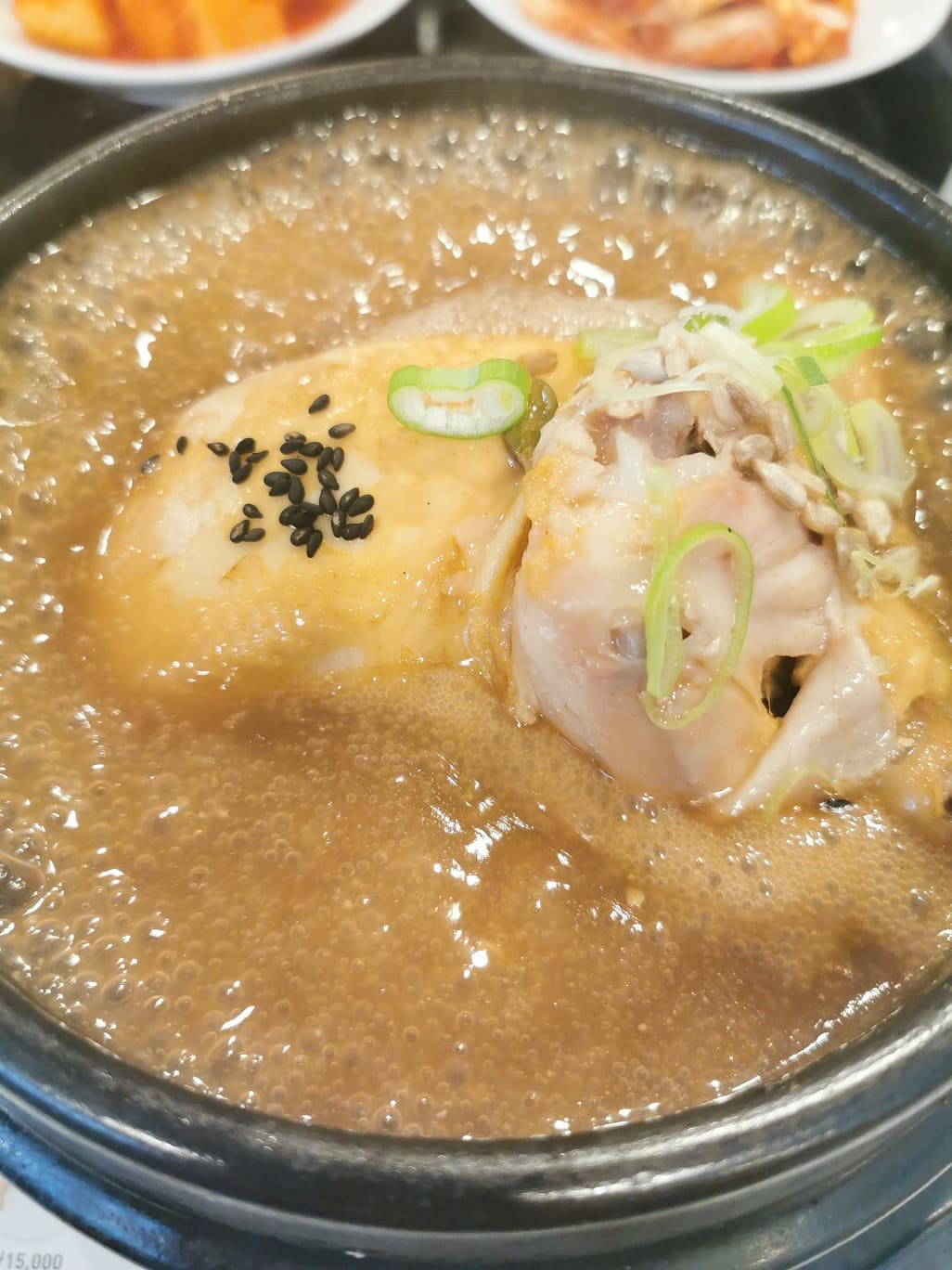 K-foodie special tip: One serving is usually good for two people so if you're with a friend, you can share one bowl then order another dish like the pajeon above.  
6. Mini Vienna sausages
For those on a budget like me, don't worry! South Korea's convenience stores have options that won't break the bank but are so delicious that they're good enough for an actual meal. On top of the list of my favorite finds is the mini Vienna sausages sold in one whole pack.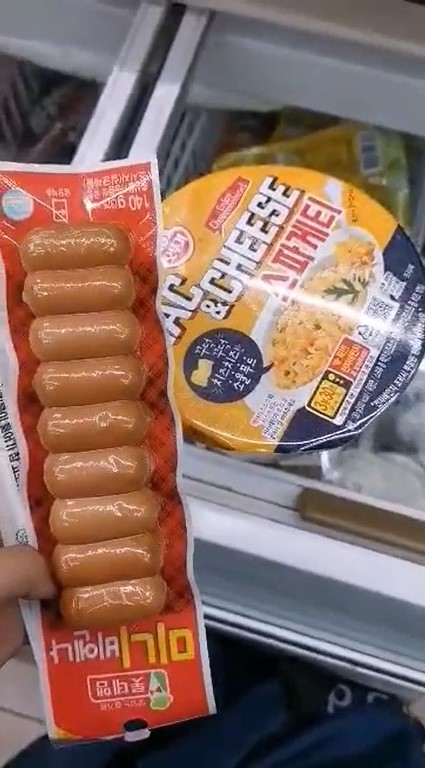 K-foodie special tip: Pair the sausages with instant noodles like ramyeon or, in this case, mac and cheese spaghetti. Also, use the self-serve microwaves to heat up those sausages. Taah-daah! You got yourself a meal with restaurant-level goodness.
Bonus: Whale
"Wait. What?? Did you just say whale?!" 
Yes, I did! Story time: This happened in one of my South Korea trips where my friends and I attended BTOB's fan meeting in Busan. After the event, we headed out to eat even though it was quite late at night since we haven't had dinner yet. Apparently, most restaurants close early and the only one that was open was this one small shop. The interesting thing was that besides drinks, rice, and other side dishes, they only had one dish on the menu. And because we were starving, we had no choice. We were served a plate of thinly sliced meat with some cucumbers and gochujang. We tasted the meat, and it was actually good but slightly different. We couldn't figure out if it was pork, beef, or fish because it didn't look or taste like anything we have ever tried. After our meal, we googled the name of the restaurant. That's when we found out. It was whale meat.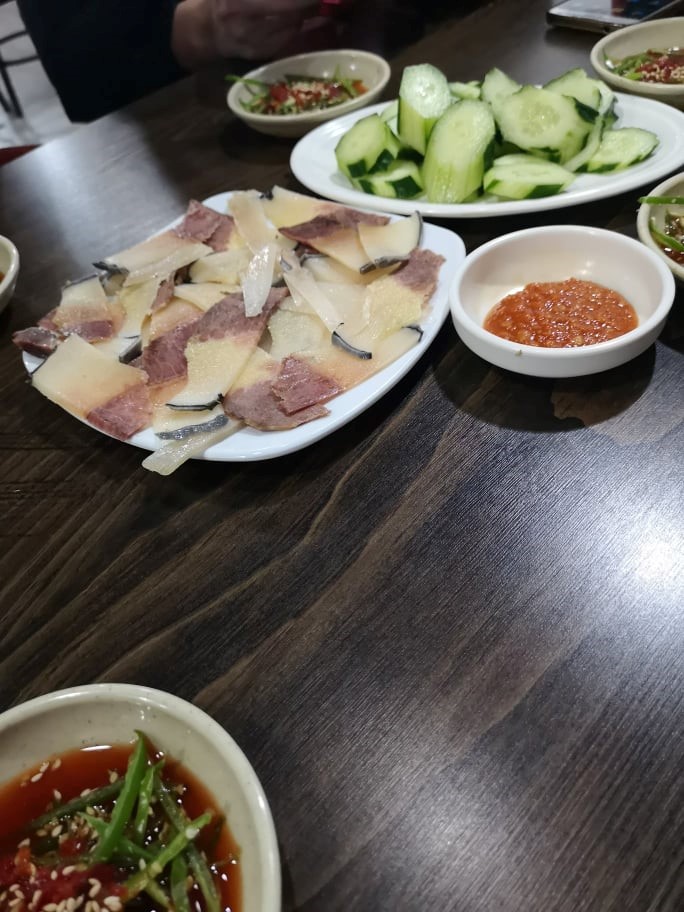 K-foodie special tip: They say it's best paired with alcohol. If you really want to try exotic food in Korea, you might want to go for this. 
Finishing this article made me hungry. I can't wait to be able to travel to South Korea and eat all my favorite Korean food again and try new dishes once more! Given the chance of going on a food trip to South Korea, which dish do you want to try first? Can't choose? Just eat them all!
LOOKING FOR MORE KOREAN FOOD? RIGHT THIS WAY:
Where To Order Tteokbokki In Manila If You're Craving It RN
Get A Taste Of Authentic Korean Rice Cakes From This Online Store!