I'm not the kind of person who declutters before the new year. I'm a packrat. My house is so full of old books and keepsakes that I can't bear to look at my mess without the feeling of overwhelming shame taking over me.
My mother says I should clean up. It would be good for me to clean my space before a new decade begins. Mom, of course, always knows best; but, on the last Saturday of 2019, being the chronic procrastinator that I am, I went to a  "Cleanse Your Life" Healing Class instead.
And it led to mind-blowing discoveries about myself.
What does "Cleanse Your Life" actually mean?
The class I went to is a combination of Reiki healing, Ho'oponopono, and Sound Bath meditation dubbed by the facilitators, Kimi Lu and Miqo Dionisio, as "Cleanse Your Life Meditation." 
TL;DR: This meditation class is a two-hour class combining different spiritual healing methods that use positive sound and touch exercises to tap into our personal energies. If you've ever done yoga or meditation exercises before, think of hardcore savasana or dead man's pose—but multiplied tenfold.
"'Cleanse Your Life' in a gist is letting go of all stress and tension from daily life. One can also assume that they're getting rid of all non-beneficial emotion forms and thought forms," Miqo says. Kimi says that you gain three benefits from "Cleanse Your Life": clarity, relaxation, and a lighter feeling.
Continue reading below ↓
Recommended Videos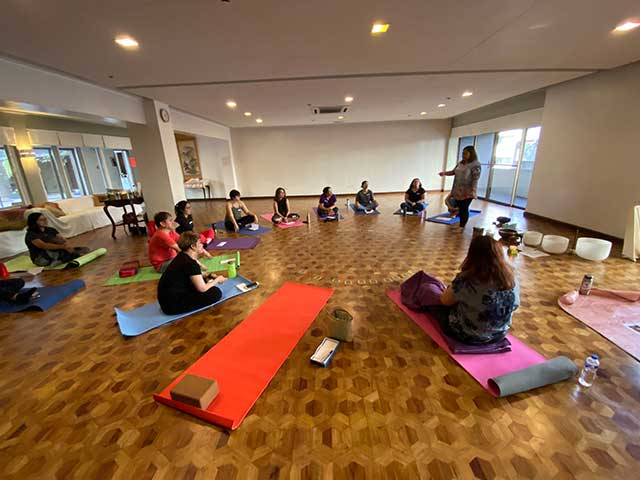 Ho'oponopono is an easy-to-use Hawaiian cleansing technique, explains Kimi. "Just say these four phrases: 'I love you,' 'I'm sorry. Please forgive me,' and 'Thank you.'"
Kimi explains further that the Hawaiians used Ho'oponopono to settle disputes between two people. The entire tribe would force the two to say those phrases to each other over and over again until they both mean the words.
Reiki healing basically uses the laying down of hands or touch to transmute energies. Kimi explains that Reiki healing works where it's supposed to: spiritual, mental, physical, emotional, etc. "Just surrender and trust!" she adds.
In Sound Bath meditation, high frequency instruments are used to create a meditation space filled with high-frequency sounds. 
"It's a lying-down relaxing meditation [exercise] that uses sound from different instruments such as crystals singing bowls, Himalayan singing bowls, and Celtic harp," Miqo said. For our class, Kimi and Miqo added Access Consciousness.
"[Access Consciosness] is a set of tools in the form of affirmations designed to rid your life of judgment and self-limiting beliefs that hinder you from experiencing your fullest potential," Miqo explained.
What should you prepare for a class like this?
You will be sitting or lying down for most of the two-hour session. Bring your own yoga mat and water canister. You can bring your own blanket if you get cold easily or if you want to feel extra comfy during meditation.
You can wear anything you want as long as you're comfortable in those clothes. I didn't know what to expect from the class so I wore my usual gym/yoga clothes just in case. Shoes are not allowed inside the meditation space so wear shoes you can easily put on or take off. Wear socks if you're not comfortable going barefoot on hardwood flooring.
The next class is on June 12, and they'll also be holding more classes in December 2020. The regular rate for a session is P2,200.
Cleansing My Life: My Experience
Because the whole program is a series of different meditation exercises, the step-by-step flow isn't set in stone. 
"While we do try to have a step by step, most of the time, it's intuitive. We have a roster of energy exercises designed to cleanse your aura," Miqo explained.
We were asked to pick a spot on the floor around a circle of cards turned face-down and lay our mats there. We started off by introducing ourselves to each other and declaring our intentions for 2020. Most of us in our group asked for intentions that pursued personal goals like romantic love and self-discovery. This is why for the next part, Kimi chose to use an oil for Valor for our group.
Next, we prepared our meditation space. Kimi poured oil into our palms, and we waved our palms as if fanning the scent of the oil to our faces and driving away the negative energies that we carried.
When we were done making the space, we were allowed to pick any of the cards in front of us. The cards are from the Ascended Masters Oracle Cards, which delivers positive and life-affirming messages.
When we were ready for the next step, Miqo distributed sheets of paper for us to fold into three columns. We labeled each column with one of the phrases used for Ho'oponopono: "I love you," "I'm sorry. Please forgive me," and "Thank you." And under each phrase, we would write the names of the people we want to say that phrase to the most.
I only wanted to write the names of the people who truly mattered to me.
For me, this was the most difficult part of the entire class. I have a nasty habit of saying "sorry" when I mean to say "thank you" to people who do nice things for me. I thought I would be filling the apology column more than anything else, but when we were only given 15 minutes to write all the names we want to write, I got my first mind-blowing discovery about myself.
I only wanted to write the names of the people who truly mattered to me. I was done way before the 15 minutes were up.
I didn't write my name at all. It didn't even cross my mind to write my name. While I learned that I prioritize the people who mattered most to me, I also learned that I wasn't on the list of people who mattered to me.
When we were all done, Kimi and Miqo asked a question that led me to my second most important self-discovery: "How high up on the list did you put your name?"
I didn't write my name at all. It didn't even cross my mind to write my name. While I learned that I prioritize the people who mattered most to me, I also learned that I wasn't on the list of people who mattered to me. At the risk of sounding overly dramatic, that was just life-changing.
From then on, I felt like I willingly melted into each of the following meditation exercises.
After writing our names, we chanted the four phrases while tapping at key points on our bodies like our foreheads, temples, cheeks, chins, etc. 10 times.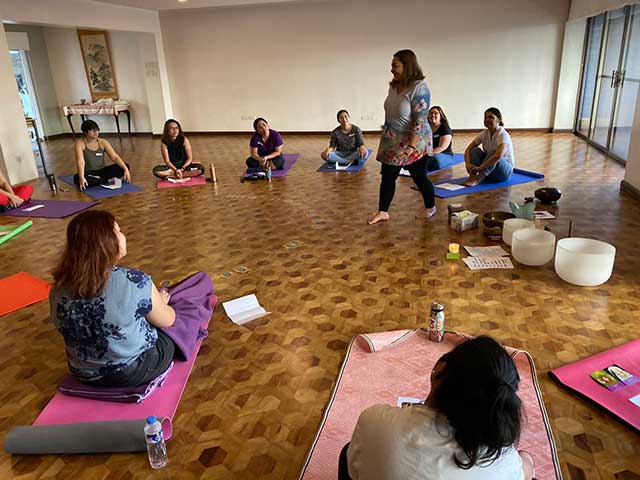 It was followed by the Access Mantra, where we chanted "All of life comes to me with ease and joy and glory" while we think about what ease, joy, and glory meant to each of us personally.
Finally, we did the Sound Bath Meditation exercise. We laid down on our mats with our palms facing up, closed our eyes, and allowed our consciousness to drown in the sounds that filled the room.
I knew I was awake and aware of the sounds because I could feel my body just lying on the floor and I smelled the incense that the facilitators lit as we meditated. But it felt like my mind was in that place between sleep and wide awake. I lost any sense of time, and before I knew it, the sound bath was over. About thirty minutes had already passed.
Our facilitators asked how we felt. Most of us felt lighter and more relaxed, but some in our group felt a bit more stressed than when they came. Miqo and Kimi explained that the sound bath has different effects on different people. Those who are used to the stressful sounds of the world like the traffic have less pleasant experiences with the sound bath. This is because their bodies are trying to correct their inner balance and harmony.
Needless to say, I came out of the class feeling like a gigantic load was taken off my shoulders. It may be from the lightheadedness from doing two hours of meditation or from my new discoveries about myself or maybe a combination of both, but I returned to my mess of a house feeling like a different person.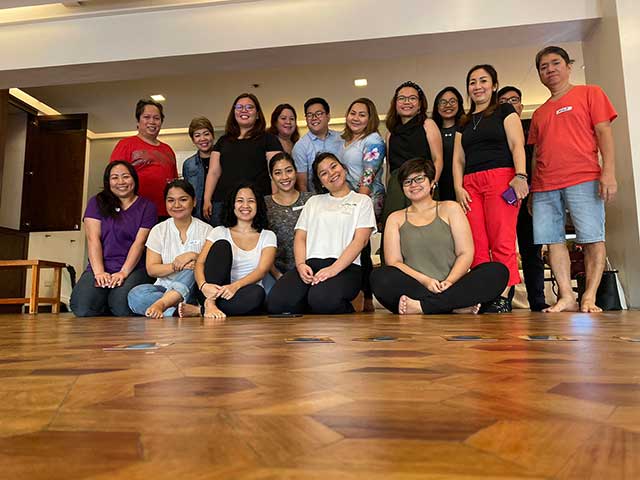 That was one heck of a decluttering session.
Maybe I'm already off to a good enough start for the new decade.
For the next Cleanse Your Life Meditation schedules coming this year, follow Kimi and Miqo on Instagram.