When you need advice, what's the first thing you usually do? Chances are, you'd probably call your BFF or a family member and just ~share your feelings.~ You'd start a convo and open up to them because they understand you better than anyone else. But let's be real, it's not always like this. There are days when the people you rely on aren't a call or message away. So, ano na? 
In an attempt to help you out, one good read is Bianca Gonzalez's book Paano Ba 'To. She wrote it in 2014 and two years later, it became a video series on her YouTube channel. In every episode, Bianca and her guests give advice on topics about career, love, life, and everything between. 
Just this month, she launched the same series as a podcast and we were so excited. We decided to check it out for our Slow Down With Cosmo series where very week, we listen to a podcast and share our first impressions, favorite episodes, and takeaways to give you an idea of what you can expect to hear. We pick a podcast, listen to the first episode, and then randomly choose four other episodes, depending on our own interests. (Editor's note: Since the podcast we're reviewing is relatively new, we only listened to four episodes in total.)
ADVERTISMENT - CONTINUE READING BELOW ↓
Our past reviews include the following: Skypodcast, Stories After Dark, Wake Up With Jim & Saab, and Ang Walang Kwentang Podcast. This week, we tuned in to Bianca's fun and insightful convos with celebrity guests in Paano Ba 'To: The Podcast. 
***
First Impressions Of Bianca Gonzalez's Paano Ba 'To: The Podcast 

In the pilot episode, The "#1 Rule" With Megan Young & Mikael Daez, the celebrity couple gave relationship advice, talked about commitment, and shared their thoughts on how to deal with life's lowest moments.  
***
"I've read Bianca's book, Paano Ba 'To, and have seen a couple of the interviews on her YouTube channel so it's exciting to see this project find life on another platform. It's also cute that it launched in February and that the first few episodes feature some of our favorite celebrity couples. 
I'm a huge fan of Megan and Mikael's podcast. Because of this, I sorta knew what to expect when it comes to their views on commitment. So for me, the surprise was actually hearing more from Bianca because so many of her interviews focus on the guests (understandably). She wraps up each ep with her input and it's like we're getting to know her just a little bit more. Make sure to finish the entire episode for a special treat. ;)" -Ysa
"Before I even started listening to this podcast, I quickly browsed through the episodes and read the descriptions for each one. Aside from the amazing lineup of celebrity guests, I immediately thought to myself that these topics all seemed so promising. TBH, I always look forward to talks and stories by Bianca because I know she's a good speaker. I've seen her empowering talk at Cosmo BEAUTYCON and I've read her story as a Cosmopolitan Women of Influence awardee. Mai-inspire ka talaga. So when I found out we were going to be listening to her podcast, I kinda expected to be inspired as well.
The first episode with Megan and Mikael was heartwarming and insightful. As a listener who isn't in a relationship rn, I can say na even if the topic was mostly about commitment, parang ang dami ko pa ring nakuhang ~life lessons~ from them. My favorite part was towards the end when Megan advised the letter sender to look at people's perspectives because it helps you see the bigger picture of things." -Lou
ADVERTISMENT - CONTINUE READING BELOW ↓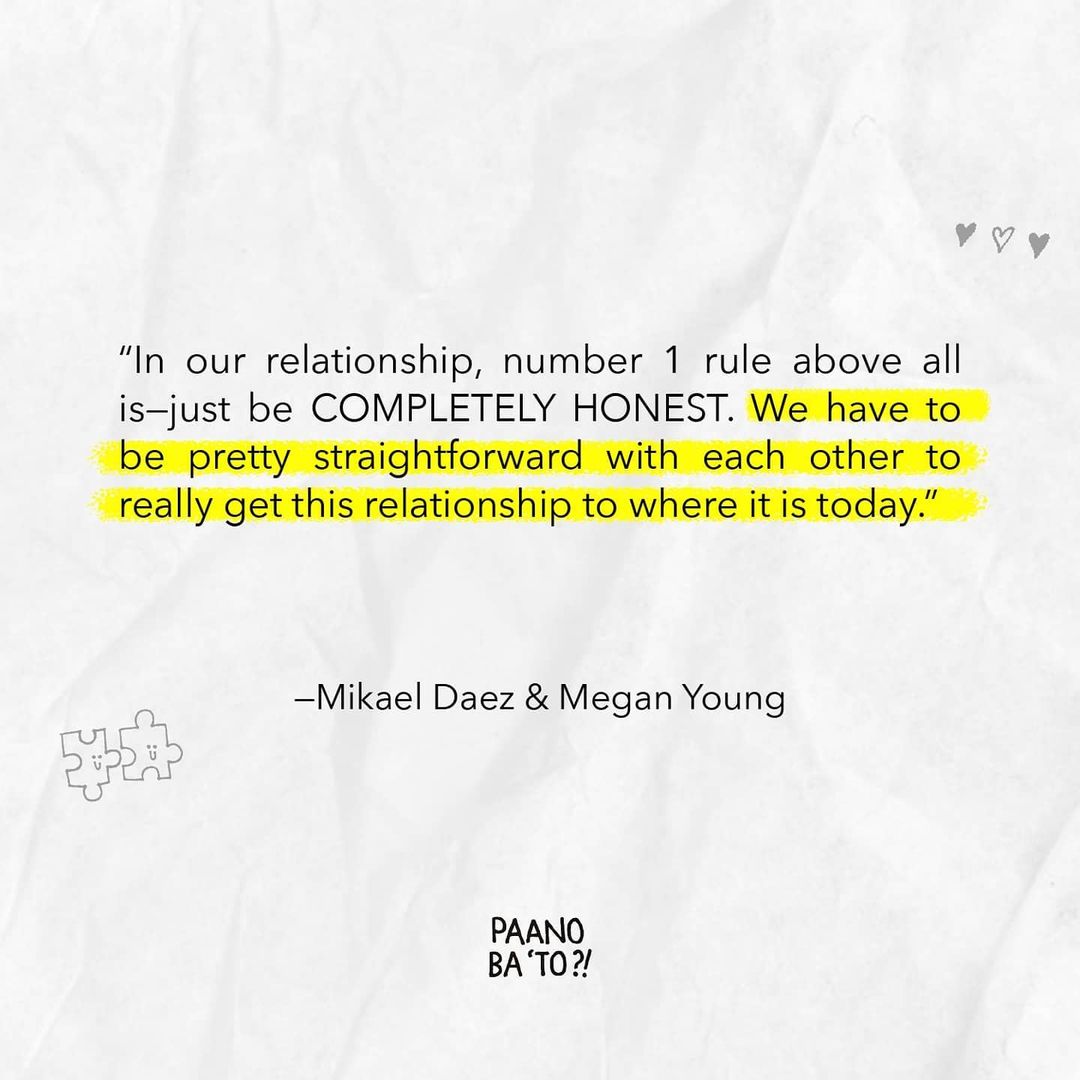 Favorite Episodes

The "FBI Technique" with Slater Young & Kryz Uy
"NGL: It was so, so hard to pick a favorite episode. But the most entertaining conversation, for me, was when Bianca interviewed Slater and Kryz. In that episode, they shared tips on communication and even revealed that they only have three to four fights a year! CAN YOU IMAGINE?! One of the tips they shared was the "FBI" technique, which stands for "Feelings, Behavior, Impact." Instead of speaking in absolutes like "You always do this, you always do that," it's better to be specific about an issue you want to bring up. First, how did he or she make you feel? Next, what exactly did your partner do to cause you to feel that way? And then what is that behavior's impact on the relationship? Slater says it's a good way to approach a problem without being confrontational because you're actually asking for help." -Ysa
ADVERTISMENT - CONTINUE READING BELOW ↓
"If you don't move, you won't move" with Hannah, Janina, and Frankie
"This episode was all about confidence, self-critique, and motivation and I've never felt more seen (read: attacked), haha. I think one of the main reasons why I also enjoyed listening to this episode so much is because Bianca's guests were young women who are ~close~ to my age. Their thoughts on improving themselves and practicing holistic health especially at a time like this were just *so* relatable. When Frankie said, 'Your number one priority should be taking care of yourself,' I. FELT. THAT."
Favorite Quotes
"In the 'FBI Technique' episode, Bianca shares her take on communication at the end, and she mentions tips from a conflict-resolution expert named Guy Harris.
On his list of things to avoid doing when you're in a confrontation, one of the tips is to refrain from apologizing for how others feel. Guy says, 'You can't apologize for how others feel because if you don't own it, you can't control it.' I'm super guilty of doing this and I'm challenging myself to remember this piece of advice. -Ysa
ADVERTISMENT - CONTINUE READING BELOW ↓
"In the 'If you don't move, you won't move' episode, there was a part where the guests were asked to give advice to women who are too hard on themselves. Hannah said, 'Progress is progress, no matter how small.' It was really good to hear that because sometimes, when we're working towards achieving a goal, we focus too much on our mistakes. We give all our attention to point out everything that went wrong when instead, we should really be acknowledging the *little wins.*"-Lou
Final Thoughts:
"I'm pretty excited to see who else Bianca decides to have as guests on her podcasts! I also listened to the one with Hannah, Janina, and Frankie and was a little lost because I guess I don't recognize their voices (yet) but it was lively and engaging; it made me want to get to know the girls a little bit more. (I'm currently watching Hannah's video on common assumptions people have of her, haha.)" -Ysa
ADVERTISMENT - CONTINUE READING BELOW ↓
"What I liked most about this podcast is that after each episode, I always have a list of takeaways and inspiring quotes. The questions from the letter senders are never left unanswered. And more than just getting solutions to life's problems, I really appreciated how the guests' advice were so pure and heartfelt, as in from experience talaga. Minsan kasi when people give advice, you know they're just saying it for the sake of having to something to say. Pero with this podcast, you'll really learn something. Hindi siya mema at all." -Lou
***
We're officially on Viber! Be part of our growing community and subscribe to Cosmopolitan Philippines now!