Every time there are beauty pageants, don't you just notice how it's always the Q&A portion that people usually look forward to? Maybe it's because through hearing the answers, we feel like we get to know the candidates a bit more—who they are, and what they stand for. That aside from all the glitz and glamour of the pageant world, there's more to a beauty queen than looks, swimsuits, and evening gowns.
So when we found out that Pia Wurtzbach (Miss Unvierse 2015), Carla Lizardo (Mutya Ng Pilipinas Intercontinental 2010), and Bianca Guidotti (Binibining Pilipinas International 2014) started a podcast where they *get real* and talk about life, we got excited and knew we just had to tune in for our Slow Down With Cosmo series. Every week, we listen to a podcast and share our first impressions, favorite episodes, and takeaways to give you an idea of what you can expect to hear. We pick a podcast, listen to the first episode, and then randomly choose four other episodes, depending on our own interests. (Editor's note: Since the podcast we're reviewing is relatively new, we only listened to four episodes in total.)
ADVERTISMENT - CONTINUE READING BELOW ↓
Our past reviews include the following: Ask Say: The Podcast, Paano Ba 'To: The Podcast, Skypodcast, Stories After Dark, Wake Up With Jim & Saab, and Ang Walang Kwentang Podcast. This week, we listened to Between Us Queens.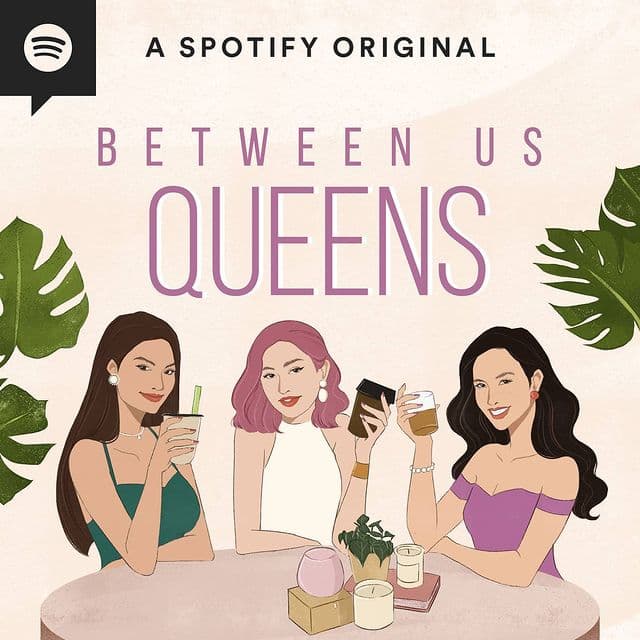 ***
First Impressions Of Episode 1: Between us Queens, kailan dapat magpakasal?
In the pilot episode, Pia, Carla, and Bianca talk about the right age to get married and the factors that should be considered before making this big life decision. 
***
"While the pressure to get married isn't something I can relate to personally, I know this is a burden many women still experience these days. I appreciate that three different POVs are present in Episode 1: Bianca's, who's already married; Carla, who's in a long-term relationship; and Pia, who's in a fairly new relationship (with Jeremy Jauncey). Carla recalled a saying that 'love is a choice, more than a feeling' because 'everyone goes through the honeymoon stage where everything seems perfect.' She also said that in our lifetime, we are going to change several times, which is something you should accept and embrace in the person you choose to spend forever with. 'It's really that choice to love that person all throughout those changes.'" -Ysa
"As a single woman, I gotta say that even if I'm currently not in a relationship and the idea of getting married isn't really part of the picture right now, I still gained a lot of insights from this episode. Bianca shared that when it comes to figuring out if you're *ready*, it's all about answering the important questions like 'How well does this person know me?' or 'How well does this person understand me?' At the same time, having an answer to the question 'How well do I understand them?' is just as significant. One of the things that also stood for out me was when Carla said 'spend a lot of time working on yourself.' She added, 'Dapat buo ka muna. The other person shouldn't be the one completing you.' That's something I'll definitely take note of when the time comes." -Lou
ADVERTISMENT - CONTINUE READING BELOW ↓
Favorite Episodes

Between us Queens, bakit ang hirap magpapayat?
"As a fat woman, I resonated with a lot of the struggles they brought up in this episode. For the longest time, I also wondered, when am I gonna get to the point when I feel okay with myself? Pia shared that she's had thoughts like, 'kailan ko ba matatanggap yung katawan ko?' And that hit home for me. At 30, I care less about what people say or think and have learned how to practice self-love when I'm feeling down, but I really feel like it's going to be a daily conversation I have with myself. Carla shared that when the lockdown happened, she said she didn't want to look like she 'let herself go' so she started working out and I internally flinched; but I'm glad they addressed the fact that that isn't a healthy mindset to have because exercise shouldn't be 'about the weight you're losing but the life you're gaining.' And she's right that we all know this but it's challenging to constantly have the correct mindset when our insecurities present themselves." -Ysa
ADVERTISMENT - CONTINUE READING BELOW ↓
Also listened to: Between us Queens, nag quarter-life crisis ka na ba?, Between us Queens, anong mga trip mo 20 years ago?
Between us Queens, nag quarter-life crisis ka na ba?
"Okay, I'm just gonna go ahead and say that I'm 25 so I kinda felt attacked right after listening to this episode, haha. I couldn't agree more especially when Pia said, 'Adulting suddenly becomes real now.' When I was still in high school, I honestly didn't think about adulting that much because I knew then that it was still light years away. I would just focus on getting decent grades and hanging out with my friends. Dati panuod nuod lang ako ng Lizzie McGuire and That's So Raven, lol. Well, fast forward about ten years later and here I am now. Ibang iba na yung mga nasa isip ko ngayon. From managing my own money, to growing in my career, there's definitely more serious responsibilities that need my attention. One of my key takeaways from this episode is that even if you're faced with so many concerns and challenges at this point of your life, it helps to break your goals and solutions into little steps to make them more doable and motivational." -Lou
ADVERTISMENT - CONTINUE READING BELOW ↓
Also listened to: Between us Queens, bakit ang hirap magpapayat?, Between us Queens, anong mga trip mo 20 years ago?
Favorite Quotes
"As always, lol, my favorite quote is from my favorite episode. Bianca said, 'My body is my own. Nobody else can tell me what I love about it, what I hate about it. They can't tell me who I am because they see my body a certain way.' I love this so much! I plan on writing it down on a Post-It and sticking it on my bedroom vanity." -Ysa
"NGL, I've come across this quote several times already but it was just so nice to hear it again: 'It's okay that we don't have everything figured out.' Especially now that we're in the middle of a pandemic, it's really difficult to plan ahead. Sometimes, I ask myself, 'Where do I want to be and what do I want to do in five to ten years?' While I do have some semblance of an idea, my honest answer is....I don't really know. And this quote gives me validation that that's perfectly fine." -Lou 
ADVERTISMENT - CONTINUE READING BELOW ↓
Final Thoughts: 
"The podcast is a little more on the serious side and I became a more active listener because of it. For the most part, the topics are very thought-provoking; it made me want to listen to it with a friend just so I had someone to bounce ideas with. Does that make sense? Haha, parang I really wanted to jump in to share my two cents. I felt this the most when they talked about going through a quarter-life crisis! Natawa ako sa part when they said na sometimes, wanting to go back to school is a sign you're going through something 'cause you yearn for that structure. Going back to school means you'd know what the next few years would look like and aaminin ko, naisip ko na rin 'to, lol!" -Ysa
"I think having three hosts for this podcast is such an advantage because ang dami mo talagang matutunan from each one. Pia, Carla, and Bianca's stories + experiences are all different and I think that's what makes their conversations so enriching. Plus, their topics are *so* real, I bet every Pinay can relate to at least one episode. Ang cliche pakinggan, but the Between Us Queens podcast reassures you that you're not alone in facing the *scary* thoughts of life and that there will always be people rooting for you. And if I were to describe that feeling, it's like getting a cozy, warm hug." -Lou
ADVERTISMENT - CONTINUE READING BELOW ↓
***
We're officially on Viber! Be part of our growing community and subscribe to Cosmopolitan Philippines now!