BRB, Taking A Break is a new Cosmo series that's all about hitting the pause button on whatever's stressing you out and taking the time to rest and reflect—two things we all need to do more of these days. 

***
I've always loved reading. My dad came home from work with books as pasalubong when I was nine years old. I remember reading the kid-friendly versions of The Adventures of Robinson Crusoe and Count of Monte Cristo. I was a huge English nerd growing up, and my favorite class assignment was writing book reports.
My grandparents also had a beautiful library with a rocking chair. I'd spend my weekend afternoons there, all cuddled up with Nancy Drew. The place smelled of old books, my favorite scent in the world.
When I was 12, my ninang lent me a copy of Harry Potter and the Sorcerer's Stone. And like many kids raised in the early 2000s, Harry Potter, Hermione Granger, and Ron Weasley were my heroes. I think every kid should read it at one point in their lives because it teaches you so much about friendship, courage, empathy, and love. I don't think any book has had the same kind of influence the way Harry Potter has had on me. I'm 30 now, read the books once a year, and still cry during the same parts.
"Why do you like to read?" my boyfriend asked me one afternoon. I was stumped. "I don't know. I just do," I replied. Maybe I like flipping pages. Maybe I like the smell of paper. Maybe I get easily attached to the characters. There was a quote I remember reading before, how turning the last page of a good book always feels like losing a friend.
I read books depending on my "life phase"

When I lived abroad, I picked up Sweetbitter by Stephanie Danler. The book was about Tess, a 22-year-old woman who moved to New York to find her own ground in a city where you could always start fresh. I was Tess. Then, I was a 26-year-old grad student in the United Kingdom—terribly alone and homesick—trying to navigate a very strange place.
I was hooked on Donna Tartt's A Secret History because I loved reading about a barkada's adventures in a New England college. I loved the murder mystery plot. I loved how the book depicted loneliness, the cold, forming friendships and then losing them. Maybe it's just me, but when you read something so dark and sad when you live by yourself, your emotions are heightened and sad books become sadder. 
Continue reading below ↓
Recommended Videos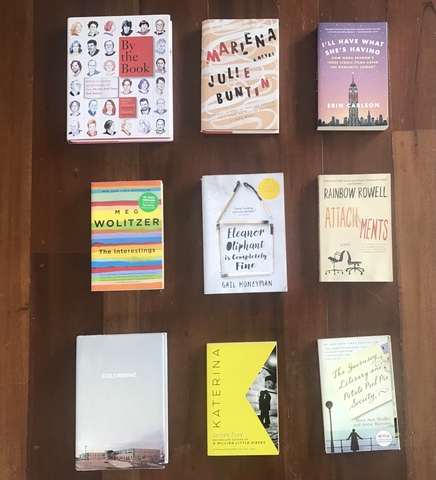 And then 2020 happened
When the pandemic hit, I found myself reading more. I eventually ran out of shows to watch on Netflix. I couldn't go to a bookstore, so I bought eBooks through my Kindle Paperwhite (a fantastic investment in a COVID-19 world, where you want to buy books but cannot leave the house).
Before the lockdown, my favorite weekend activity was to spend hours reading in cafes. When I traveled, I always had a book with me, because I could read anywhere: pubs, bus stops, trains, parks, and street benches. I have missed many train stops, because my nose was always buried in a book. 
Some book lovers are purists, and will tell you that listening to audiobooks don't count, but the Harry Potter audiobooks got me through my insomnia.
And while I don't have that luxury anymore, I have a nice, little reading nook outside my room. If the weather is good, I sneak in a couple of pages during lunch break or after a long work day as my way to relax and shut down. Some book lovers are purists, and will tell you that listening to audiobooks don't count, but the Harry Potter audiobooks got me through my insomnia. I used to wake up in the middle of the night and think about work, but I'd plug in my earphones and all would be well.
With all this uncertainty, the only thing that's certain is this: Ayoko lang talaga ma-stress.
I used to be obsessed with dark, whodunnit novels. But since the pandemic, I've gravitated towards books that are easier to read—anything that made me kilig, allowed me to travel, or had plots with hopeful endings. Yung walang gore or blood or pag-kidnap sa main character. Yung happy ending lang talaga! I guess that speaks volumes about the kind of material I want to consume these days. With all this uncertainty, the only thing that's certain is this: Ayoko lang talaga ma-stress.
How much I spent on books
If you're curious about how much I spent on books last year, below is a breakdown:

Becoming by Michelle Obama (P1,700)
Prep by Curtis Sittenfeld (P480)
When Breath Becomes Air by Paul Kalanithi (P480)
The Hate U Give by Angie Thomas (P576)
The Ocean at the End of the Lane by Neil Gaiman (P260)
Wangs vs. The World by Jade Chang (P480)
Shoe Dog by Phil Knight (P720)
Ninety-Nine Glimpses of Princess Margaret  by Craig Brown (P745)
Heartburn by Nora Ephron (P624)
TOTAL: P6,065
Reading books—is it an expensive hobby?
I think it's a common misconception that after reading, you have no use for the book, which is why a lot of people don't fully get into reading or think it's an expensive hobby. But I go on a lot of book exchanges with friends. I'm fortunate because I work in the publishing and marketing industry, so I'm surrounded by voracious readers. If I'm unsure about buying, I borrow instead.
Early this year, I also decided to join a book club with my officemates. I used to think book clubs meant that you had to read the same book every month, but we've come up with a pretty simple formula: Share a book you've read (or are still reading), and why you like or dislike it. There's no pressure to finish the same book at the same time, and come monthly meetings everyone is sharing something different. I meet my book club once a month via Google Hangouts. Reading online reviews is great, but nothing beats recommendations from friends.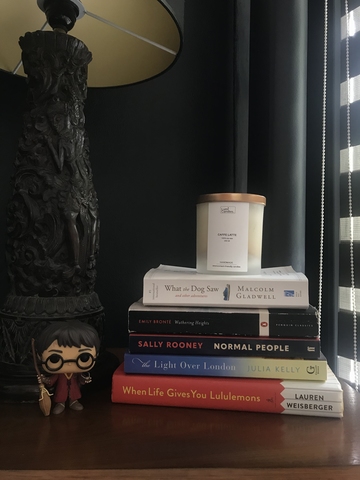 A few of my favorite reads
My favorite books change, depending on when you ask me (or where I am at life), but I highly recommend these three:
Attachments by Rainbow Rowell
Two officemates exchange life updates through email—and their IT guy reads everything. Cute yung love story, pero mas cute yung email exchanges and grammar jokes between the protagonists. I've read this book at least three times. It never gets old.
When to read: If you need a little kilig in your life.
Paris I Love You, But You're Bringing Me Down by Rosecrans Baldwin
Baldwin is an American copywriter living in Paris with his wife for the first time. He paints a rather different, untouristy picture of Paris: It's dirty, overwhelming, and can make anyone feel unwelcome. His observations are funny, and it's interesting to read what it's like to be an outsider living in a foreign city.
When to read: If you miss traveling or miss Paris.
Grace: A Memoir by Grace Coddington
Coddington was American Vogue's former creative director at large, and pens a witty memoir about working for one of the most iconic fashion magazines in the world. Coddington is one of my life pegs, so I've survived many work boo-boos with this motto in mind: "What would Grace do?"
When to read: If you like fashion and chismis.
How to get into reading
Start a Goodreads account if you haven't, and scour the web for book reviews if you're feeling a little stuck and in need of some inspiration. I also suggest buying an eReader. I bought my Kindle five years ago, and it's been one of my best investments ever. Don't get me wrong: I love staring at my bookshelves, and nothing can ever replace the smell of old paperbacks, but owning Kindle has been really convenient! It saves space, too.
I find that if you take the pressure off, it becomes easier to form the habit.
I also know of some people who like setting annual reading targets For instance, their goal is to read 21 books in 2021. This is a great start if you want to get into the habit, or see if it's something you want to do in the future. However, my suggestion is to keep things simple. You can set goals such as, "Today, I'll read three pages." Or, "I'll read one chapter tonight instead of watching one episode of a show." I find that if you take the pressure off, it becomes easier to form the habit. Also, sa dami ng stress sa mundo, hindi mo kailangan ma-stress dito.
Reading shouldn't feel forced, and I hope you find the same joy in it as much as I do.
Follow Sandra on Instagram. 
***
What does your zodiac sign say about you? Subscribe to Cosmopolitan Philippines and find out!
EXPLORE COSMO