I think we can all agree when I say that being prone to having greasy hair is the worst—especially when you're trying to lengthen the days between your designated wash days (a must for girls with colored hair, TBH!) I know how frustrating it can be to deal with that icky feeling that just makes you want to throw your hair up in a bun and deal with it or wash with shampoo more than you should.
As a girl who struggles with greasy locks—even if it's just been a day since my wash day—I totally relate to the struggle. Over time, I have discovered a bunch of ~shampoo hacks~ that have honestly worked wonders. The best part is you don't have to spend much to try these out—you either already have them at home or they're very affordable! Read on to learn more:
Easy Shampoo Hacks to Avoid Greasy Hair
1. Use apple cider vinegar after your regular shower hair routine.
For a total deep cleanse, try adding a ~vinegar rinse~ to your hair care routine. It involves using either a "hair vinegar" or a diluted ACV mixture to get rid of product build-up, detangle strands, and leave it soft and shiny.
After shampooing and conditioning your locks, apply a *diluted* ACV mixture (a few tablespoons of ACV with one cup of water) all over your scalp and hair. Make sure to use the pads of your fingers to spread it all over. Leave it on for five minutes before rinsing it off.
ADVERTISMENT - CONTINUE READING BELOW ↓
2. Add salt to your shampoo.
Here's another hack that involves something you definitely have in your pantry: Salt! Using a shampoo mixed with salt helps to control the overly-active sebaceous gland to control the amount of sebum it excretes. 
All you have to do is put a tablespoon of salt in your regular shampoo and give it a good shake to make sure the granules are dissolved. Lather and rinse as you normally would. You'll see a difference in just three to four washes!
3. Lather shampoo twice.
According to this TikTok video, you need two shampoos to really get rid of greasy locks (You can also use the same shampoo twice). The first round is to loosen up the gunk and oil, while the second wash *removes* the build-up!
4. Try a silicone scalp massager.
A scalp massager is a nifty little tool that's great to have in your bathroom. It can distribute the shampoo evenly to your scalp, promotes blood circulation, encourages hair growth, and dislodge product build-up! P.S. Make sure to get a silicone one so you don't hurt your scalp and cause wounds.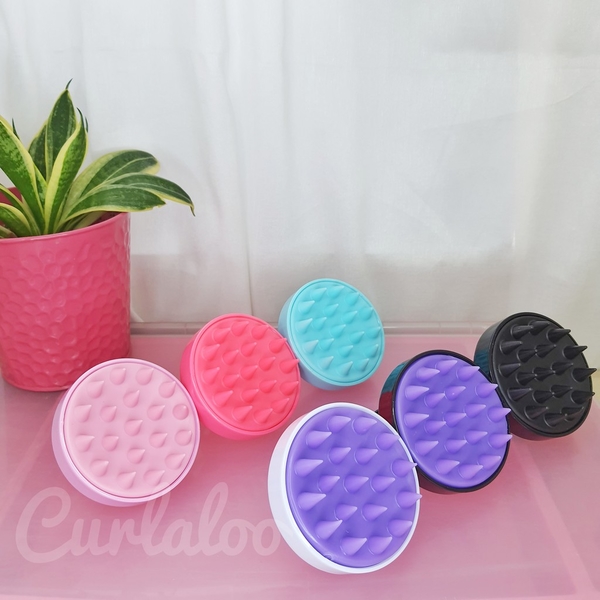 Silicone scalp brush and massager, P128, Curlaloo Shopee Store
Follow Cheska on Instagram.
Follow Cosmo PH Beauty on Instagram.
***