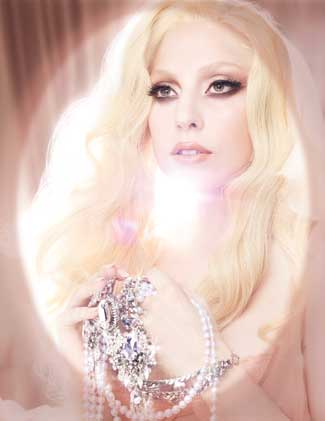 We know you're gaga about Lady Gaga, but as much as we'd love to cop her style, you just have to admit they can be (okay, okay, they are) too outrageous for us. But, while we can't normally pull off spikes on our shoulders (much less on our boobs or face!), we can at least wear the lip color she's wearing. And the best part? We get to contribute to the fight against a dreaded disease: HIV/AIDS.

A new shade of the MAC Viva Glam Gaga lipstick has been created and is in MAC stores for a full 12 months. Inspired by Lady Gaga and her passions, the beige-tinted MAC Viva Glam Gaga 2 comes in both lipstick (P1,000) and lipglass (P950) form. Every peso from the sale of these lip products goes toward the MAC AIDS Fund, which helps fight and spread word about the impact of HIV/AIDS on women, men, and children all over the world.

Now, if you want to know how to alternate that rather pale lip shade with more vibrant and colorful summer makeup, then turn to celebrity makeup artist Jigs Mayuga, whom we caught at a celeb event recently. Having worked with various local celebrities and fashion industry mavens, he's definitely an authority when it comes to makeup tricks and trends--and we asked him to dish his summer beauty secrets to Cosmo chicks!

Lips: To alternate with your pale Gaga pouters, Jigs suggests ultra bright lips—both in glitzy fuchsia pink and rich coral-orange hues.

Eyes: Neon shades are definitely hot this season—"the brighter, the better!" However, he discourages Pinays from sporting bleached eyebrows, saying that it's something that should only be reserved for the catwalk (and, perhaps, for those with a Gaga-esque attitude).

Face: Jigs encourages Cosmo girls to go light on the face this summer. Instead of putting heavy foundation all over your face, opt for light, tinted moisturizers, which are more practical in this hot weather, to avoid unsightly caking on your face. He says you don't even have to buy one just for summer--you can mix your own solution! Here's how: "Take one part foundation and one part of your daily moisturizer, then mix. This way, you also get to shorten your makeup application time everyday!"
Continue reading below ↓
Recommended Videos
Launch the gallery to view the MAC Viva Glam Gaga lip products and summer makeup must-haves from MAC, Human Nature, Lancome, and Paul & Joe that would help you achieve the look you prefer--be it nude like Lady Gaga's or colorful like that of a summer goddess.

1059