Listen, I get it. Coming up with a skincare routine for sensitive skin can be a huge pain in the ass. It can get frustrating because having this skin type means dealing with not only the usual issues—like acne, oiliness, and dryness—but there's also easily triggered redness, eczema, rosacea, and so much more. It can get frustrating because as soon as you test out a new product, there's a big chance that you'll experience some sort of flare-up. More often than not, you'll experience more skin woes than skin wins.
Not sure if you have sensitive skin? Here are a few tell-tale signs:
Your skin reacts to almost every product you try.
You notice a lot of redness in your complexion.
Your skin feels itchy and tight most of the time.
Sometimes, your skin stings and burns.
You develop a lot of rashes.
You're prone to breakouts.
It may be dry and you experience flaking and peeling.
You sunburn easily.
Sensitive skin is reactive skin—meaning it is easily irritated. Now you may be wondering, why is my skin sensitive? What causes it to react as such? Here are some possible reasons:
Reasons for sensitive skin
Overexposure to the sun

Too much sun exposure can cause your skin to sting and burn. Plus, it may cause your skin to be sensitive to some products.

Continue reading below ↓

Recommended Videos

Using the wrong products

The overuse of products, especially ones that are not fit for your skin, can cause your skin to be sensitive. You may also experience skin sensitivity when you use products containing alpha hydroxy acids and beta hydroxy acids.

Genetics

Your age, sex, and race may cause your skin to be sensitive. For example, aging causes our skin to become thinner and thinner skin is naturally easier to irritate.

Underlying health conditions

You may not know it, but you might be experiencing some health conditions that cause your skin to be sensitive. Some examples include eczema, rosacea, physical urticaria, and allergic contact dermatitis.
Oxecure pH 5.5 Gentle Cleanser
It has been said before but I'll mention it again: When you have sensitive skin, you *need* products that are fit for your skin. And that's where the Oxecure pH 5.5 Gentle Cleanser comes in. It was formulated especially to cater to those whose complexions are easily irritated. Plus, it was made to cleanse not only your face but also your body as well! After all, skincare doesn't stop with your face—every inch of your beloved body deserves to be taken care of!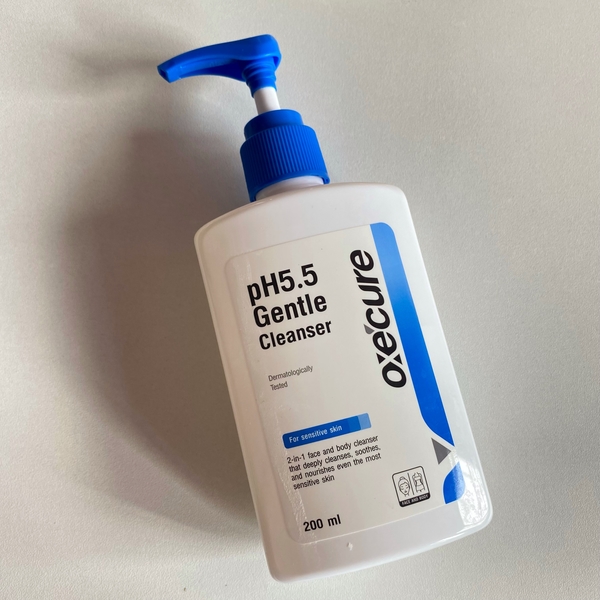 Oxecure cleanser: Ingredients
The Oxecure pH 5.5 Gentle Cleanser has three key ingredients that make it perfect for people with sensitive skin. First, the Dual Moisture Lock Technology (Glycerin & Vitamin E) hydrates your skin barrier and soothes skin while cleansing. The two other ingredients are Encapsulated Salicylic Acid which gently exfoliates dead skin cells and Mangosteen Extract that reduces the accumulation of bacteria while soothing skin that's prone to itchiness, irritation, flaking, and redness.
Oxecure cleanser: pH level
Aside from these ingredients, the product also maintains a pH level of 5.5 which is essential to keep our skin barrier at a healthy acid-alkaline ratio, allowing it to perform at its optimal level to prevent irritation and hypersensitivity. ICYDK, our skin requires a balance between alkaline and acidic to keep its barrier healthy
I tried the Oxecure pH 5.5 Gentle Cleanser for a week to see what it would do to my sensitive skin. Here are my thoughts:
The first thing I noticed when I got the Oxecure pH 5.5 Gentle Cleanser is the new pump packaging that makes it easier to dispense the cleanser on my hands. I'm a big fan of their Facial Liquid Cleanser but I prefer this new packaging. Especially since I'll use it not only for my face but also for my body as well—having this feature makes it easier to get more product! Kudos to the ease of use!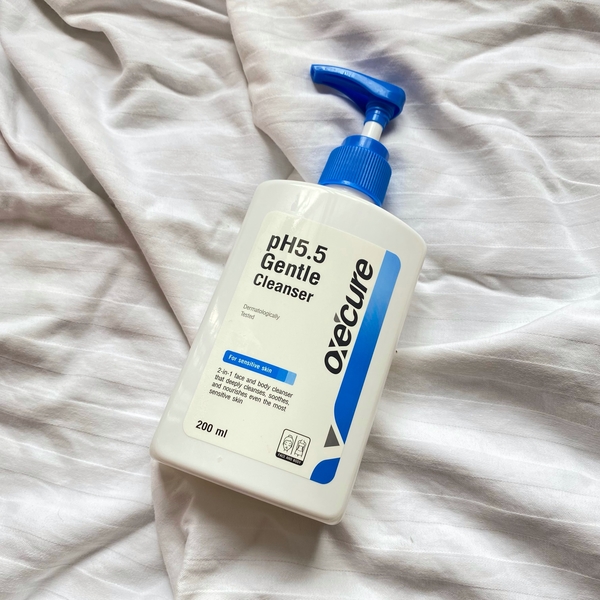 As for the formulation, I love how it lathers without being too harsh on my skin. I can feel that it cleansed my complexion without stripping off its natural oils—my skin felt free of dirt yet still very moisturized! It stays true to its claim that it's ultra-mild and non-irritating. Plus, there weren't any strong smells coming from the product! As someone with sensitive skin, I'm usually very wary of cleansers with fragrances as they may cause flare-ups of my multiple skin concerns, be it acne, rosacea, or eczema.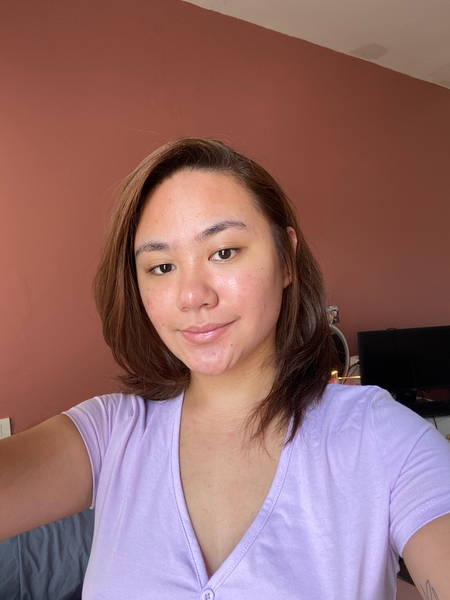 After a week of using the Oxecure pH 5.5 Gentle Cleanser, it's safe to say that it's weaseled its way into my skincare routine! Every day, I wake up with fresher and cleaner skin and it makes me so happy to have found a cleanser that keeps my skin issues at bay. I was going through some pesky breakouts, rashes, and really bad redness when I started using it. But by the end of my trial, my redness has subsided plus it helped clear my zits! I'm also glad that it didn't purge my skin because usually, I get lots of bumps (aka whiteheads and small pimples) on my cheeks whenever I try a new product. Needless to say, this has become my new fave cleanser!
You can purchase the Oxecure pH 5.5 Gentle Cleanser on Oxecure's official Shopee and Lazada pages for only P359/200ml and P759/500ml.
Follow Karla on Instagram.
Follow Cosmo PH Beauty on Instagram.
***
Cosmo is now on Quento! Click here to download the app for iOS, Android, and desktop and enjoy more articles and videos from Cosmo and your favorite websites!