With all the sheet masks that have come out over the last few years—for the face, hands, feet, and the neck—I'm not really surprised a vagina sheet mask now exists. I am glad it's locally available, because if there's anything more annoying about a cool product being released, it's that it's not available in our country!
But going back to the vagina sheet mask, clearly I had to try it. As someone who regularly waxes her bikini area and gets the occasional Brazilian wax treatment, my area down there has been through A LOT (*Wink, wink*).
Scroll below to find out what I think of the TWO L(I)PS Blackout Activated Charcoal Mask!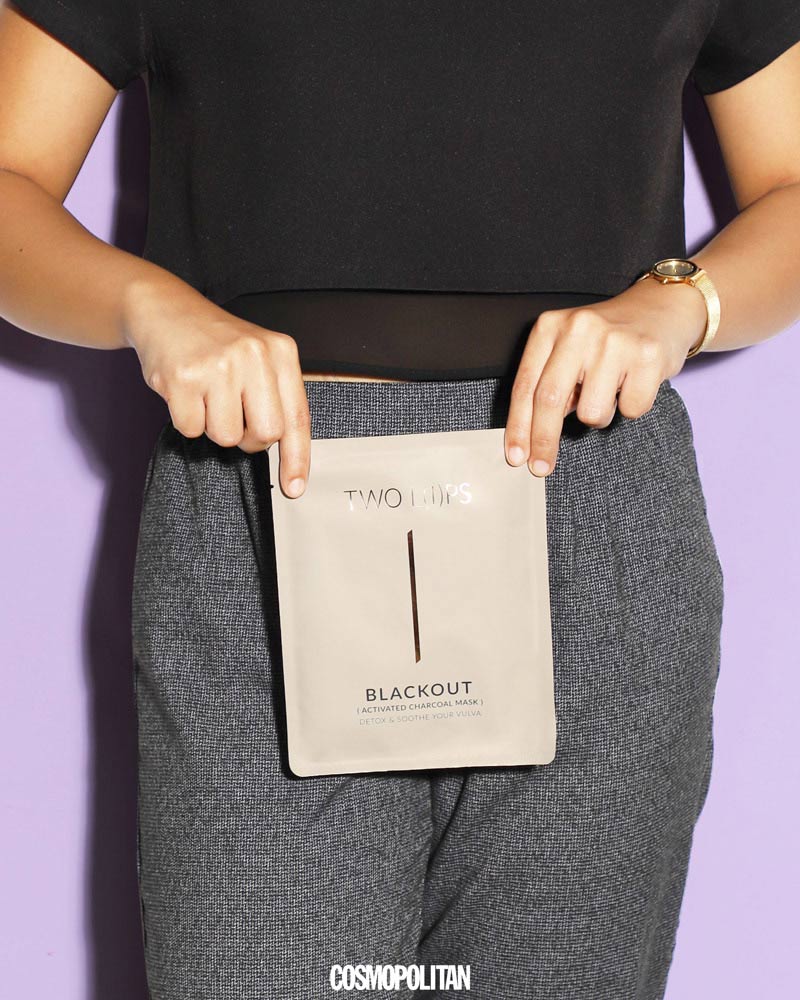 What is the TWO L(I)PS Blackout Activated Charcoal Mask?
First, this sheet mask is actually not for the vagina, but the vulva. ICYDK, the vulva is the external part of the vagina and is composed of the clitoris, the labia majora, the labia minora, the urethra, and the vaginal opening. The vulva is what is subjected to external aggressors such as waxing, shaving, and chafing.
ADVERTISMENT - CONTINUE READING BELOW ↓
The TWO L(I)Ps Blackout Activated Charcoal Mask comes in a sheet mask form. It aims to give the vulva some tender loving care (aka TLC). As the "world's first vulva mask," it claims to soothe, moisturize, detoxify, and rejuvenate the area down south, thanks to organic ingredients such as activated charcoal, flower extracts, white licorce, centella asiatica, aloe vera, and ylang ylang.
Main Ingredients
Water, Guar Gum Propoxylated, Biosaccharaide Gum-1, Aloe Extract, Centaurea Cyanus (Cornflower) Extract, Propylene Glycol, Sambucus Nigra (Elder) Extract, Centella Asiatica (Gotu Kola) Extract, Arnica Extract, Squalane, Opuntia Ficus-Indica Flower Extract, 3-Ethylascorbic Acid, Jania Rubens Extract, Tropaeolum Majus Extract, Dipotassium Glycyrrhizate, Glycerol, Ylang-Ylang Extract, Hayluronic Acid Sodium Salt, Hydrolysed Collagen.
How to use it
Wash your vulva with water and a mild soap. Pat it dry after.
Remove the Blackout mask from its packaging. Peel off the protective plastic film and position the mask on top of your vulva, tucking the flaps inside your inner thighs.
Make sure the mask is charcoal side down, lace side up.
Leave it on for 15 to 20 minutes.
Pat the excess serum on the skin.
Scent
Surprisingly, it smelled like a typical sheet mask! You know what I'm talking about: floral, sweet, and refreshing. But what's great about this one is it's not overly-scented. It won't overwhelm your senses as soon as you take it out of the plastic, and you won't be able to sniff it while it's doing its magic on your punani.
Texture
The serum was a clear, transparent liquid, but not sticky at all! I could tell from its consistency that it was the type that would be easily absorbed by the skin. As for the mask itself, it wasn't too slippery, so it could be easily handled. The black side felt really smooth. I have no comments on the lace side of the mask, because I still don't understand its purpose other than making it look like I'm wearing pretty underwear.
ADVERTISMENT - CONTINUE READING BELOW ↓
Price
P1,280 per sheet mask; P5,400 for a box of five masks.
Where to buy
It's available in all Strip Manila branches in SM Megamall, Serendra, and Greenbelt 5.
Skincare routine for bikini area
Water, mild soap, brightening soap, chemical exfoliator, body oil. For more tips on how to take care of your singit, click here!
Experience
Prior to using the sheet mask, this may be a little TMI, but my vaj was a bit sore. I had just come from the gym and had a quick shower, so it was not in its best state. I then proceeded to wash my vulva with water and mild soap as the instructions dictated and pat-dried it with a clean towel. I took the vulva mask out of the pretty millennial pink packaging and could not stop sniffing it! Honestly, it smelled so good and refreshing I wanted a perfume version of it.
Anyway, after removing the protective layer and positioning the mask charcoal side down, I spent the next few minutes constantly rearranging it between my thighs. Because the mask was wet, it kept coming off. But once it was in the perfect position, I couldn't stop myself from LOL-ing—I looked like I was wearing a pair of lacy granny panties WITHOUT A CROTCH!
ADVERTISMENT - CONTINUE READING BELOW ↓
Because I wanted to do my skincare routine while wearing the vulva mask, I stood up and had to walk like a goose to the bathroom. (Take note, the instructions say you should lie down or sit while wearing the sheet mask.) After cleansing my face and applying my serum and eye cream, I noticed 15 minutes was already up. I removed one flap of the mask first, but my clumsy old self didn't properly grip the rest so it slid down my legs and plopped on my bathroom floor! The sound it made was so funny and sad at the same time! 
Once I threw it out and cleaned my floor, I washed my hands before patting the excess serum on my vulva's skin surface. There was a lot left,  so much so that some of it ran down my legs. Amazingly, it absorbed into my skin pretty quickly. By the time I was already doing the last part of my skincare regimen, it was 90 percent absorbed. And the first thing I noticed about my vulva? It was no longer itchy, red, and dry, instead it felt really soft and smooth! In fact, the flaky chicken skin was gone the next day.
I'm glad I didn't experience any adverse reactions to the sheet mask because I have easily irritated skin!
Overall results + rating
I'm not going to lie, I began this experiment thinking the vulva mask wouldn't do much. So when it actually moisturized and soothed my V, I was really surprised. It's been five days and my vulva and bikini area still feel like they just drank a large glass of water—crazy, right?
While I'm definitely impressed with this mask, I still wouldn't use it every day or as the brand recommends—for five consecutive days. It does what it claims to do, but I'm still afraid of the serum eventually getting into my vagina, disrupting the pH levels that could lead to infections, irritation, and odor. As vaginas are self-cleaning, I think we should just leave them alone for the most part and let them do their thing. If it ain't broke, why fix it?
However, if you can afford this mask's hefty price tag and want to occasionally treat your vulva, go ahead and get one for yourself! I, for one, will gladly do it again when I feel like my vaj has been through a rough time.
Would you be open to trying a sheet mask for your vulva? Comment your thoughts below and don't forget to join our Cosmo Beauty Group for an exclusive CG chat!
Follow Tisha on Instagram.