*October 25, 2021 Update* 
Aljur Abrenica and Kylie Padilla seemed to be doing well after their separation in April 2021. ICYMI, the two got married in December 2018 and they have two sons named Alas Joaquin and Axl Romeo. When they split up, Kylie said that they were working on a healthy co-parenting relationship for their children. However, new information cropped up after Aljur broke his silence about their breakup—and actress AJ Raval and her family are now involved.
Here's what we know about Kylie Padilla and Aljur Abrenica's controversial split: 
February: Kylie's cryptic IG posts about "more self-love" and being "free" spark breakup rumors.
On Instagram, Kylie's shared a Story that reads "I'm submissive, not stupid," and a photo of her wearing a red dress with the caption "free." Kylie also shared a pic of her hand sans her wedding ring. Internet ~sleuths~ were quick to point out that all of this could only be related to her husband. 
ADVERTISMENT - CONTINUE READING BELOW ↓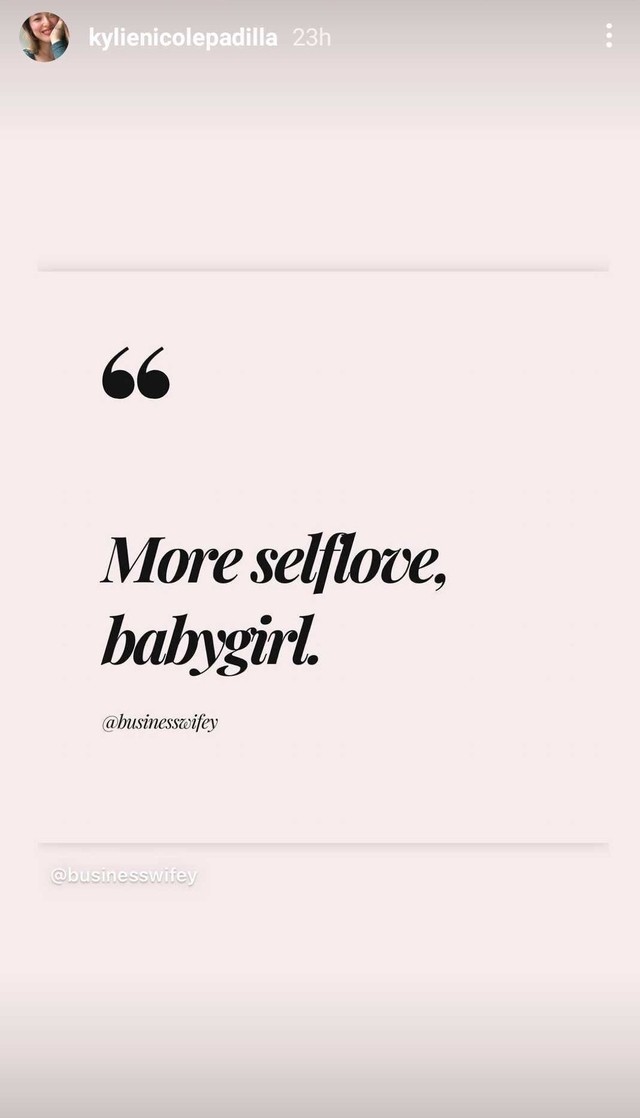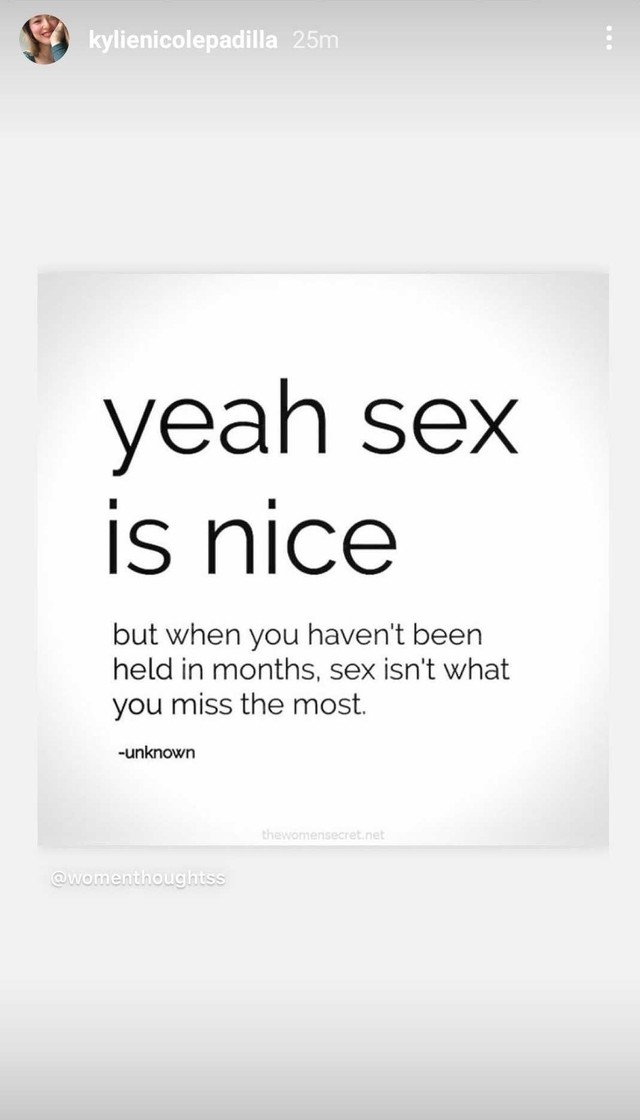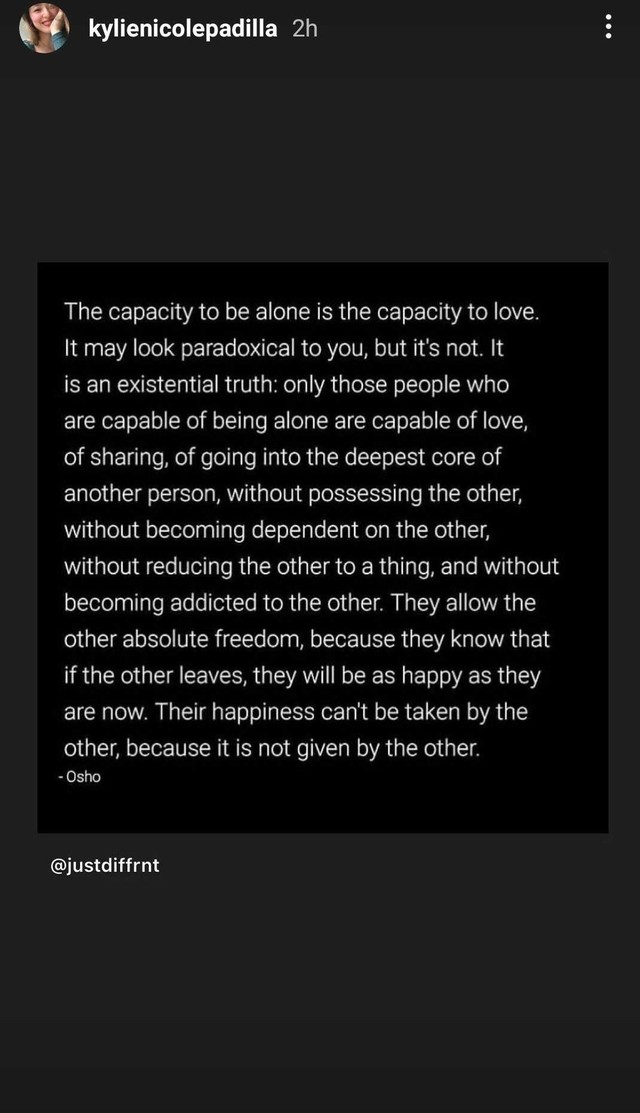 At that time, Aljur had an IG post that showed him clutching a rosary: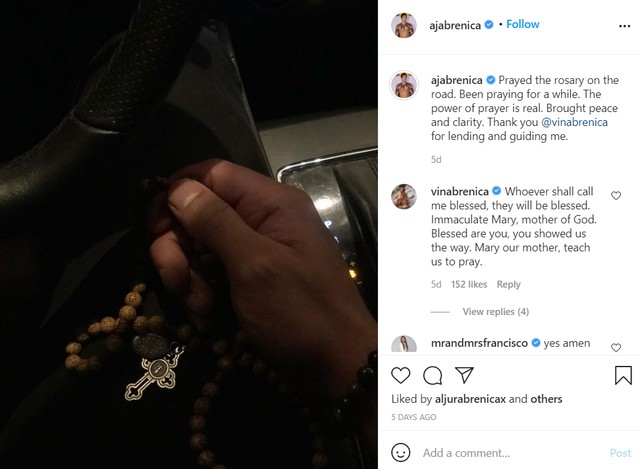 ADVERTISMENT - CONTINUE READING BELOW ↓
March: Aljur celebrates his birthday with Kylie and their sons. 
Netizens who were rooting for the couple were able to breathe a sigh of relief because all seemed well. Aljur shared sweet videos of him and the kids with his birthday cake, plus a cute selfie of him with Kylie.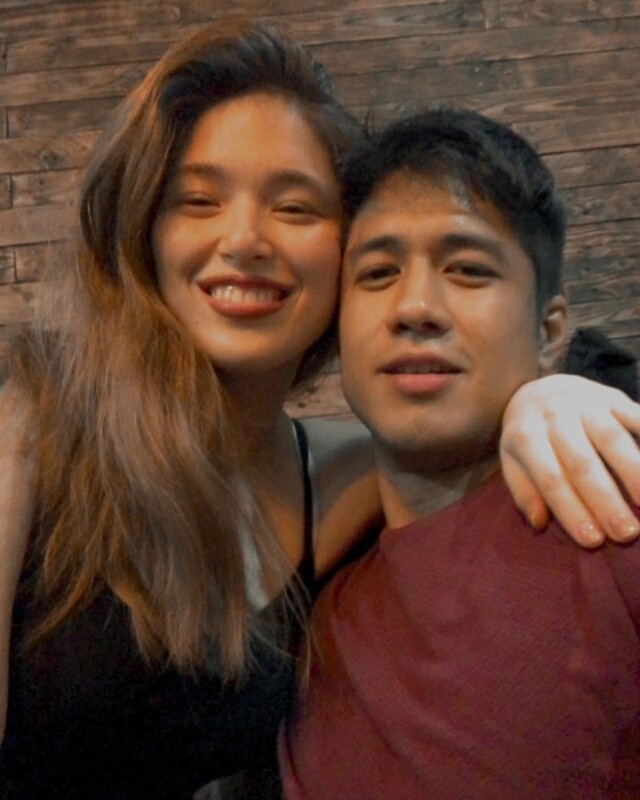 ADVERTISMENT - CONTINUE READING BELOW ↓
July 7:  Kylie's father reveals that they split up and that a third party was involved. 
According to Robin Padilla, Kylie was the one who broke up with Aljur, and that Aljur had been unfaithful to his daughter. He mentioned that the two were on good terms and even celebrated Father's Day with the entire family. 
July 8: Kylie confirms her split with Aljur. 
Kylie released an official statement confirming the split and asked the public to respect their decisions as a family. She said they were "working on a healthy co-parenting relationship" for their children. 
Some people later speculated that celebrities Cindy Miranda, Maika Rivera, and Erin Ocampo could be the third party, which Cindy and Maika denied. Erin introduced her new boyfriend to the public amidst the issue. 
July 14: Kylie denies rumors that she's dating JM De Guzman.
Kylie was asked by an Instagram commenter if there was any truth to claims that she led a luxurious lifestyle and that she has many wealthy suitors, including JM De Guzman. Kylie denied the rumor, saying, "Magkaibigan lang kami ni JM. This is not true."
ADVERTISMENT - CONTINUE READING BELOW ↓
July 15: People speculate that Kylie doesn't want to blame anyone for the split. 
Kylie posted a photo of herself on Instagram and wrote a seemingly relevant caption: "In the end, the best thing to do is not to blame anyone for the things that happened BUT to observe where you could have done better. Life is about growth. Silence the noise and make the best out of your life. Claim it, I'm happy, I'm healthy, I'm alive. I'm hoping the same for you." Netizens took this to mean that she didn't want to blame anyone for what happened to her marriage.
August: Aljur says he will always choose to be happy. 
"When it comes to my personal life, it has always been a choice to be happy or not," Aljur said during a virtual interview for his movie Nerisa. "So for everyone's sake—my kids, myself—I will always choose to be happy because if I'm not okay, everything else won't be."
ADVERTISMENT - CONTINUE READING BELOW ↓
August 24: Kylie shares that she's "happier" and "at peace." 
During a 24 Oras interview for her new series BetCin, Kylie shared: "I mean 'di ba, puwede naman sabihin na I'm happy just for the sake of it, pero I'm really, really happy now. Masaya talaga ako, especially after this project na sinasabi ko nga na naging therapy siya in a way, to get through what I was going through. But now, I feel happier talaga and I'm at peace now than I was." 
October 1: Kylie says there is no issue amid rumors that Aljur is dating someone else. 
Kylie also revealed that they split up in April 2021.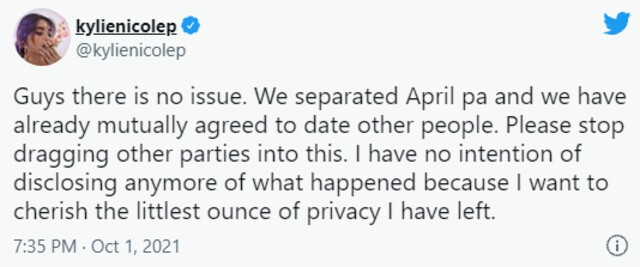 ADVERTISMENT - CONTINUE READING BELOW ↓

October 5: AJ Raval confirms that Aljur is courting her and that they're getting to know each other. 
In an exclusive interview with PEP, when asked about being romantically linked to Aljur, AJ said: "Yes, totoo. Hindi ako magpapakaipokrita. 'Di na ako magsisinungaling, 'di na ako magde-deny, kasi mukha lang kaming tanga kapag nag-deny kami...Well, totoo naman na nag-uusap kami." 
ADVERTISMENT - CONTINUE READING BELOW ↓
She added: "Nag-uusap kami. We understand each other. We care for each other. Pero wala pa kami sa point na may relasyon kami. Parang getting to know..." Aljur and AJ were also spotted holding hands at a mall. 
October 7: AJ Raval's ex-boyfriend Axel Torres dedicates "Traitor" to her. 
"Right now, I'm standing here with nobody to love and my ex is probably out having fun, hooking up with the person that she told me not to worry about. But it's alright," he wrote on Instagram. Axel also shared a series of Instagram Stories of what appeared to be throwback photos of AJ when they were still together, captioned with lyrics from Olivia Rodrigo's song "Traitor." 
AJ seemingly responded to these posts through her own IG Stories, and one of them was a photo that reads: "I don't understand how someone can tell so many lies and never feel bad about it." 
ADVERTISMENT - CONTINUE READING BELOW ↓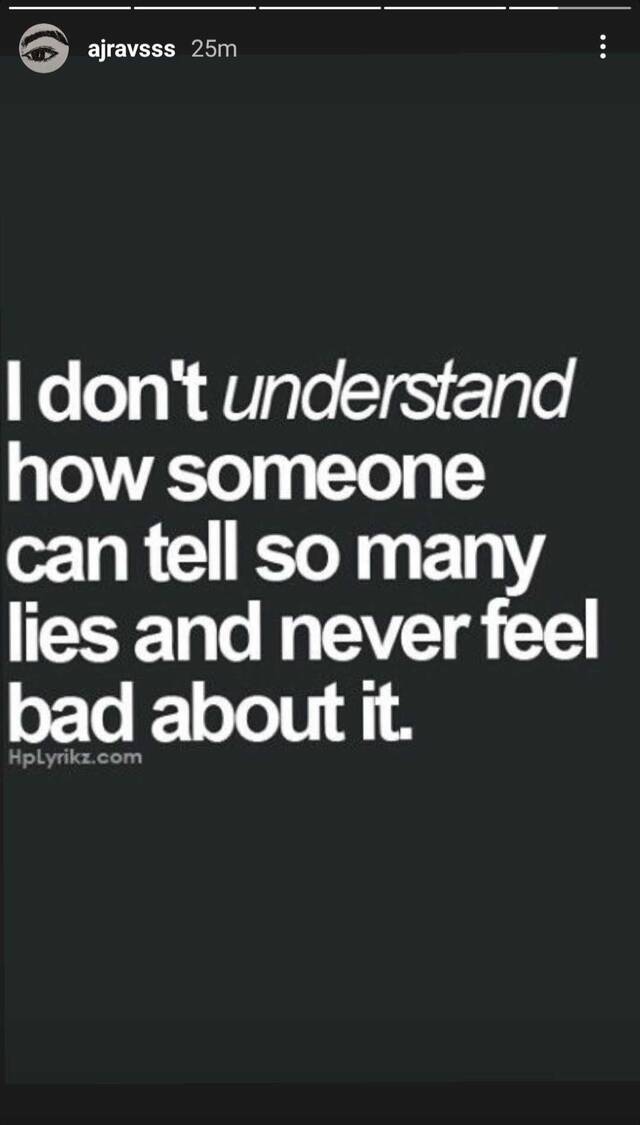 October 8: AJ's father Jeric Raval reacts to Aljur courting his daughter: "Magkaibigan kami ni Robin" 
According to Jeric's interview with PEP, one of the things he asked Aljur was: "Ano kaya ang sasabihin ko sa biyenan mo [Robin Padilla] kung aksidenteng magkita kami?'" 
He told PEP, "Kaya ko tinanong 'yon dahil, unang-una, alam ko na anak ni Robin ang asawa niya. Pangalawa, magkaibigan kami ni Robin, kaya hindi mo maiaalis sa akin na medyo mahiya sa sitwasyon dahil ayokong isipin ng mga tao o ninuman na ang dahilan ng pagkakahiwalay nila o third party, e, ang anak ko."
ADVERTISMENT - CONTINUE READING BELOW ↓
October 12: Kylie's quote about wanting Aljur to be happy goes viral: "Siya pa rin ang tatay ng mga anak ko." 
When asked for her reaction to Aljur's dating news, Kylie said: "Gusto ko lang maging masaya siya sa buhay niya. Kasi, siya pa rin ang tatay ng mga anak ko. Kahati ko siya sa pagpapalaki sa kanila. And kung nararamdaman ng mga anak ko na hindi masaya yung tatay nila, aba, hindi ko gusto 'yon. Gusto ko maramdaman nila na happy yung tatay nila." 
She added: "Kasi failure namin as parents yung nangyari, so kailangan na namin bumawi in some other way. Kailangan naming masaya in our own separate ways. Para makita nila buo pa rin sila, 'kasi happy yung parents ko,' ganun pa rin sila. Gusto ko ganun sila mag-isip." 
October 15: AJ denies being the third party in Kylie and Aljur's relationship.
AJ took to Facebook to say that she would never do something like that. 
ADVERTISMENT - CONTINUE READING BELOW ↓

October 19: Aljur breaks his silence and challenges Kylie: "Tell them who cheated first. Tell them who wrecked our family." 
For the first time, Aljur spoke about their split and insinuated that Kylie was hiding something from the public and that she cheated on him first. 
"I am sorry for asking these questions and for breaking our agreement of not speaking to the public," part of his statement reads. "When your dad (Robin) opened to the public his one-sided story, I maintained my silence because of our agreement. But now that people who support us still throw accusations and read your statements, it breaks my heart that you can sit still despite the truth." Read the full post below: 
ADVERTISMENT - CONTINUE READING BELOW ↓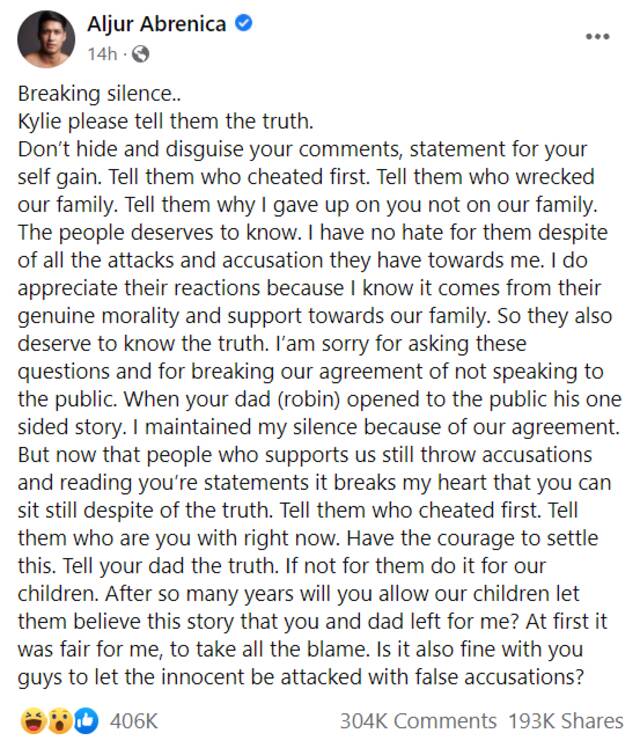 October 19: Kylie posts cryptic Instagram Stories that ~seem~ to be a response to Aljur's statement.
She shared the songs "Easy On Me" by Adele, "Happier Than Ever" by Billie Eilish, "Wrecking Ball" by Miley Cyrus, and "Smile" by Lily Allen. Kylie also posted a famous quote from Rihanna that reads: "Never underestimate a man's ability to make you feel guilty for his mistakes."
ADVERTISMENT - CONTINUE READING BELOW ↓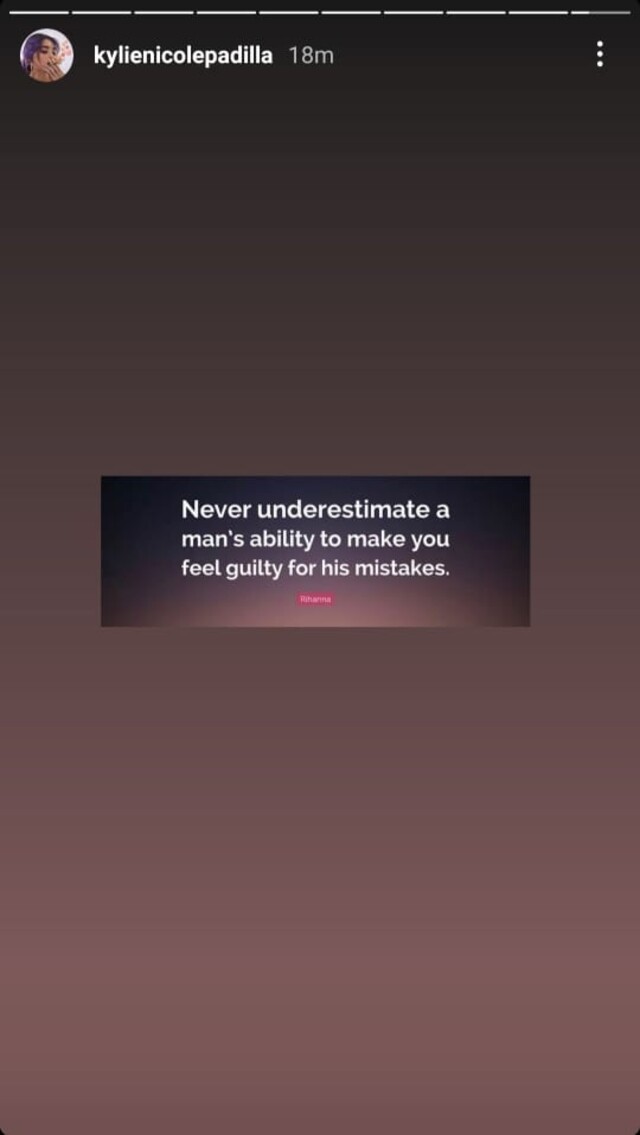 She also tweeted in support of the Divorce Bill. 

ADVERTISMENT - CONTINUE READING BELOW ↓
October 19: AJ Raval's mother thanks Aljur for speaking up: "Alam ko darating ang araw lalabas ang totoo."
AJ's mother Alyssa Alvarez took to Facebook to thank Aljur for speaking up on the issue, writing that Aljur told her everything from the start and that's why she "kept her mouth shut." Alyssa wrote: "Nagpapasalamat ako 'anak' kasi tinupad mo ang sinabi mong di mo kami pababayaan. Alam ko hindi lang ito para sa amin, pati na rin sa mga taong nagmamahal at nasasaktan para sayo..." AJ also shared Aljur's post on her verified Facebook page but it has now been deleted.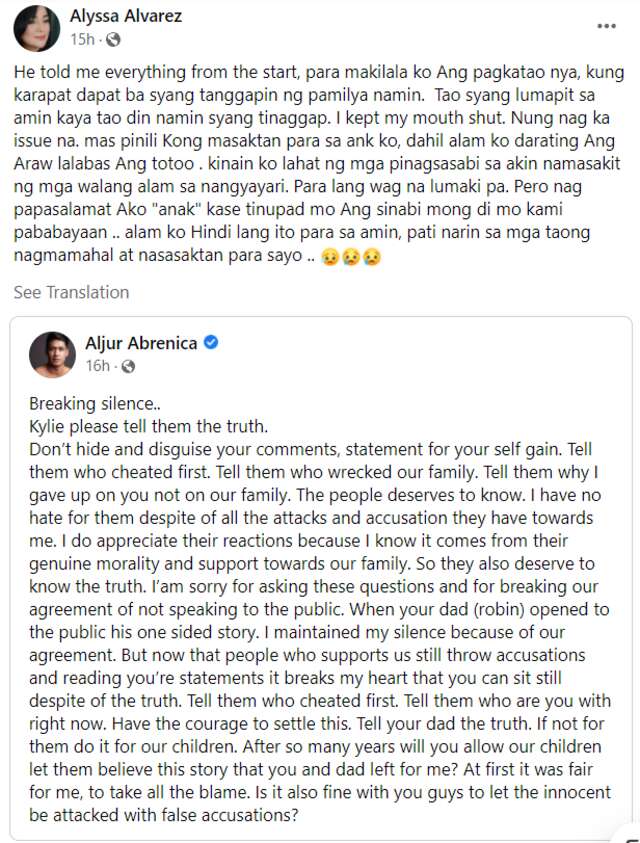 ADVERTISMENT - CONTINUE READING BELOW ↓
October 20: AJ Raval apologizes to Kylie for sharing Aljur's "tell them who cheated first" statement.
AJ issued an apology to Kylie and the general public after she shared—and then deleted—Aljur's Facebook post. According to AJ, she did it because she was protecting herself and her family after so many people accused her of being Aljur's "kabit." AJ added that she will be taking a social media break for her mental health.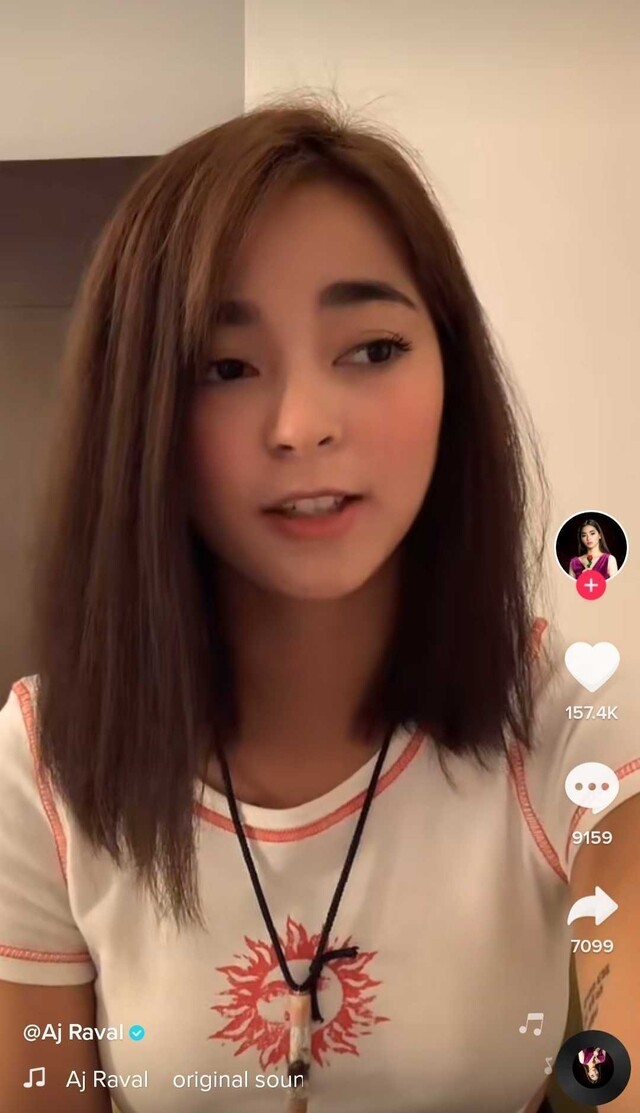 ADVERTISMENT - CONTINUE READING BELOW ↓
October 21: Kylie's cousin asks Aljur to have some decency: "Save some respect for yourself. Stop your LIES." 
A post from a woman whom netizens identified as Kylie's cousin made its rounds on social media. She claimed that Kylie never cheated on Aljur even when he "couldn't put food on the table," that Aljur owes Kylie money, that Aljur was an irresponsible husband who cheated on Kylie multiple times, and that Kylie did not know her dad Robin was going to tell the public about their breakup.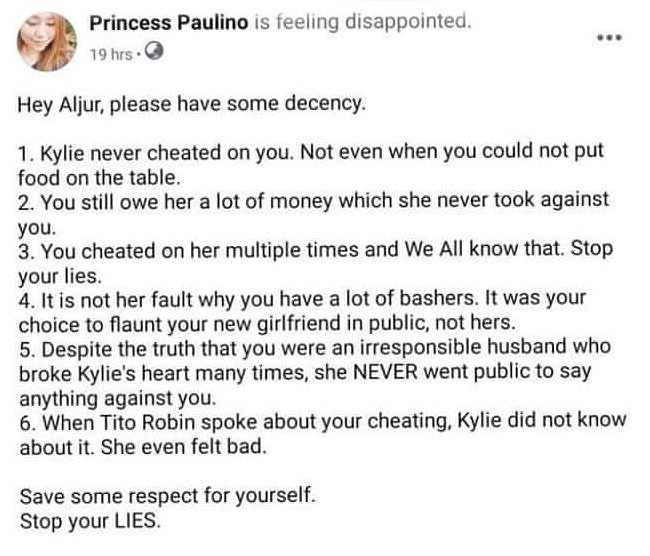 ADVERTISMENT - CONTINUE READING BELOW ↓
As of this writing, Aljur has not responded to these allegations. 
October 21: Netizens notice that Aljur has deleted his "tell them who cheated first" statement on Facebook.
Yup, it's really gone from his verified Facebook page.
October 22: Kylie claps back at Cristy Fermin: 'Nagtitimpi ako para sa mga anak ko.'
In now-deleted tweets, Kylie clapped back at Cristy Fermin after the latter said she has a "source" who claims Kylie would allegedly tell housekeepers not to cook food for Aljur before their breakup and that Kylie was always talking to "someone else" on the phone.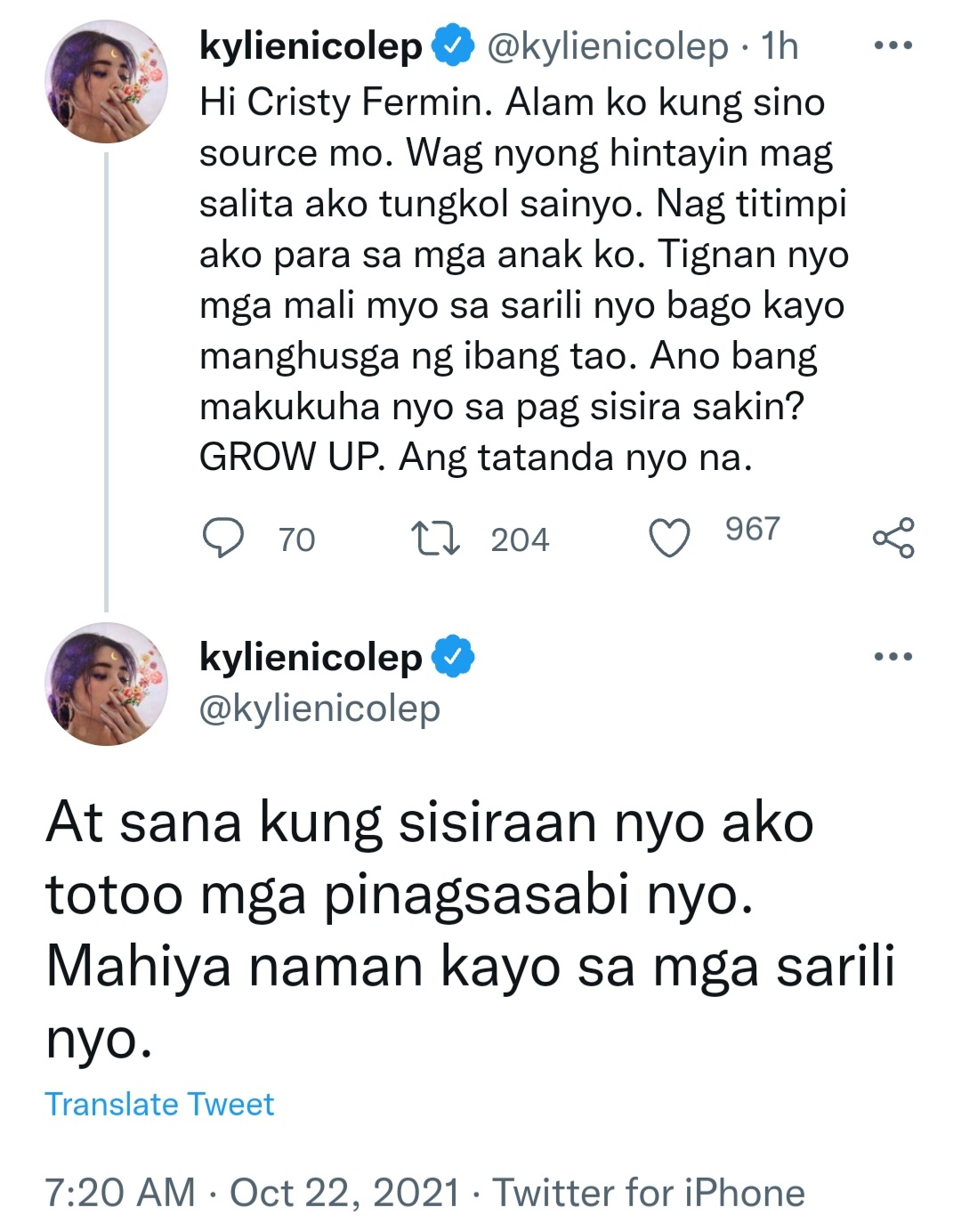 ADVERTISMENT - CONTINUE READING BELOW ↓
She commented on how someone's "pitting two women against each other," which could also be a response to Cristy's comments.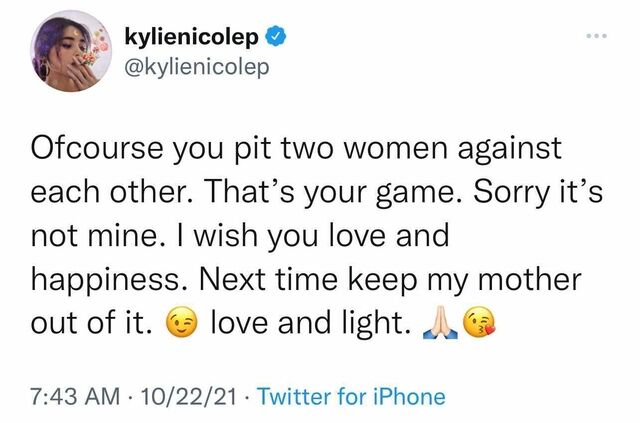 Kylie also posted a photo with her sons, writing in the caption: "I have all I could ever want already. Para sa lahat ng nag-aalala sa'kin, I'm really ok [praying emoji]. Masaya ako and I will protect my happiness. No matter what." 
ADVERTISMENT - CONTINUE READING BELOW ↓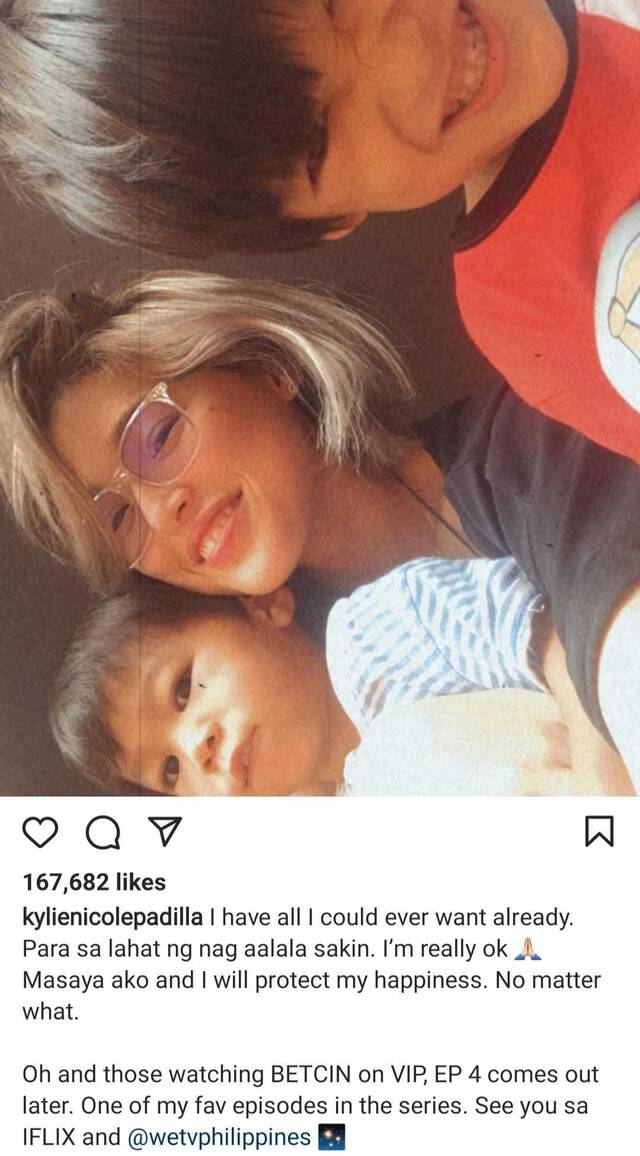 October 23: Aljur admits his controversial Facebook post was made "out of impulse." 
"I'm not proud sa nangyari. The reason why nagawa ko 'yon out of impulse, kasi I felt like nasadsad na ako e. Natulak. Lugmok na ko. Nabugbog na ko. So it was not my intention na maglabas ng ganoong post," Aljur said during a press conference for his movie Manipula.
ADVERTISMENT - CONTINUE READING BELOW ↓
Aljur also admitted that Kylie "was the love of my life." He said, "Talagang inaamin ko pa. I value our family more than anything. So I was really affected nung mangyari 'yon. And in respect, 'di ba? Pamilya ko pa rin sila." Read more about his statement here. 
October 24: Kylie denies cheating on Aljur while they were still together. 
During an interview with Jessica Soho, Kylie said she was hurt by Aljur's post because they had agreed not to talk about their separation in public and that she still wanted them to be friends. 
"In my defense, while we were formally married, I never had any extramarital relationships with other men. That is my truth. Okey sana kung ginawa ko e, pero hindi talaga e. And that's what they keep throwing at me. Paano ako aamin sa bagay na hindi ko naman ginawa?"  
Regarding AJ, Kylie said she wanted to talk to her and help her out on how to handle the situation to avoid any hiccups: "I've been on that side and I know how scary and confusing and sobrang nakakasira siya ng mental health, but I wish iningatan nalang nila. They can't blame me for that too, kasi we had an agreement din na we can both see other people. I wish you guys were more careful, don't blame it on me."
ADVERTISMENT - CONTINUE READING BELOW ↓
On ending her marriage to Aljur, Kylie revealed: "I believe in making it work. But I felt like, for the longest time, I felt alone in the marriage. Yung cheating was just the last straw." 
For a timeline of Aljur and Kylie's relationship, click here. 
***
We're officially on Viber! Be part of our growing community and subscribe to Cosmopolitan Philippines now!