Love Alarm is based on the popular ongoing webtoon created by Chon Kye Young, one of Korea's most beloved comic book authors. The story revolves around a mobile app that syncs with your emotions and notifies the user whenever someone who's crushing on them is within a 10-meter radius.
Now that sounds like a whole lot of trouble, especially in high school, when everyone's basically walking bags of emotions—and raging hormones. It certainly spells drama for Kim Jojo, Hye-young, and Sun-oh, who, in typical K-drama fashion, figure in a love triangle.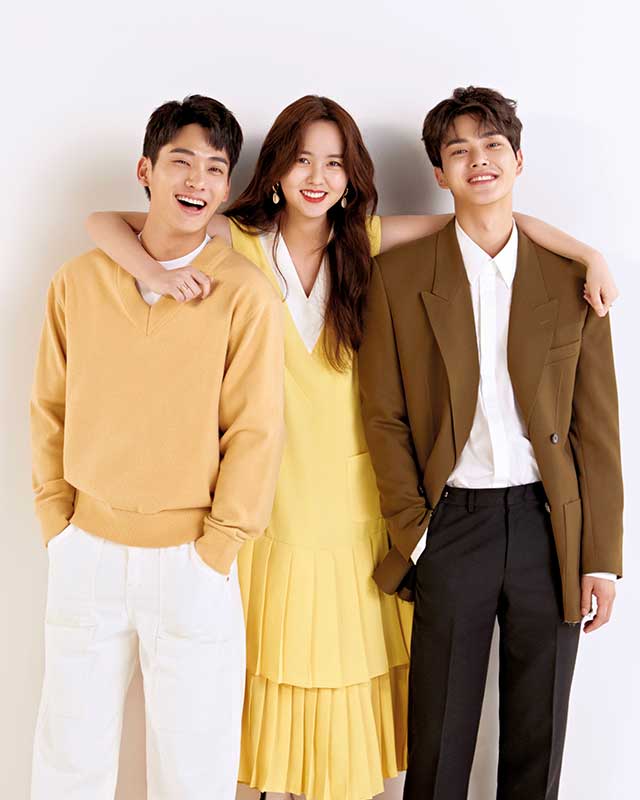 The tropes are familiar: Jojo (Kim So Hyun) is a plucky down-on-her-luck heroine who can barely afford her next meal, let alone her tuition fee; Hye-young (Jung Ga Ram) is a kind, loyal, upstanding young man whose mother works as the maid in his rich best friend's house; Sun-oh (Song Gang) is a poor little rich boy whose cold exterior hides a warm and caring nature.
It's pretty standard K-drama fare, but the addition of an app that lets you know when someone who likes you is nearby gives it a refreshing twist. I am totally loving how K-dramas are evolving and embracing sci-fi themes. It makes sense, given how Seoul is such a techy city, to focus on how technology can change and shape our lives. And although the technology in the more recent K-dramas (Love Alarm and Memories of the Alhambra) are too advanced to be real, they exist in the realm of possibilities, making their contribution to the plot more believable. 
Continue reading below ↓
Recommended Videos
Director Lee Na Jeong (Fight for My Way and Oh My Venus) agrees, "One of the defining characteristics of Korean society is the flexibility of embracing the fast-changing technological trends and the agility to apply those technologies. I believe that aspect of Korea is expanding the horizons of Korean dramas."
In Love Alarm, she manages to highlight human elements even as the story revolves around a mobile app. "Love Alarm is a romance of young people with an interesting imaginary concept, but it's also a story with depth that asks the question of what it means to 'love' someone," she shares.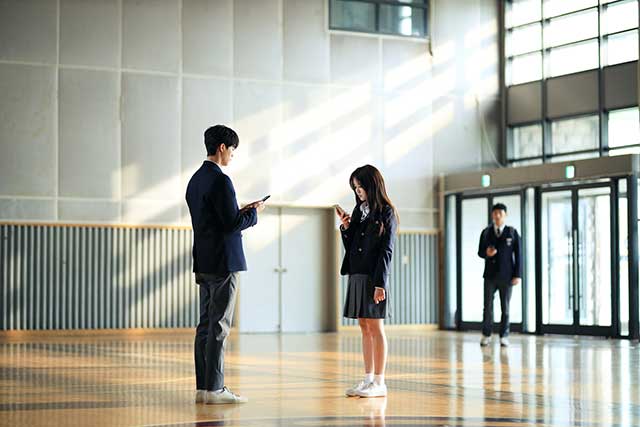 She adds, "I didn't approach technology as something good or bad. I thought what's more important is not people relying on technology, but how people use it. My approach to Love Alarm from the original story was that it started off as something positive to help people 'connect to each other.'"
I landed a day ahead of the press con for Netflix's newest K-drama, Love Alarm, and my interview with its three lead stars: Kim So Hyun, Jung Ga Ram, and Song Gang, so I had plenty of time to get some much-needed rest and sleep after my red-eye flight from Manila. When you're meeting with poreless K-drama stars, you need all the beauty rest you can get.
K-drama press conferences are not without their unique quirks. This is my second time attending one, but if you're new to the whole thing, it can be a pretty interesting first experience.
At the venue, just outside the ballroom where the actual press con is going to take place, you'll be greeted by huge posters of the stars, promotional posters of the show, and most noticeably gifts from the fans…in the form of bags of rice.
Called "fan rice," according to Wikipedia, the gift is meant to be donated to the celeb's charity of choice. At the Love Alarm press con, I, and the other press members from the Philippines, even spotted fan rice from our country for Kim So Hyun!  
Another idiosyncrasy is, at the end of the press con, during the photo op, the hosts instruct the stars when to face to the right, center, and left for them to do a heart sign, cute waves, etc. It's pretty fascinating and not a little amusing, but you'll appreciate how it makes the photo op session organized, highly efficient, and how it ensures everyone gets good photos wherever they may be seated.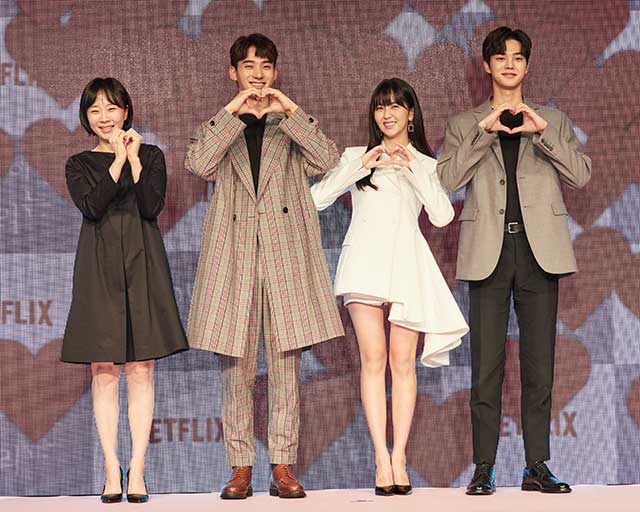 During K-drama press cons, only the host and the local press get to ask questions. Foreign press members listen in on translation devices but are given a chance to talk to the stars during their scheduled interviews after. The upside is you get to meet them up close (Korean skincare is for real, you guys!) and score exclusive sound bites.
For Cosmopolitan Philippines' interview, the three young stars arrived fashionably and impeccably dressed in ways only Korean celebrities are. They all seemed a little shy, but Kim So Hyun made eye contact as soon as she sat down and gave me a small, reassuring smile.
I appreciated that even though there was a language barrier, she seemed keen on making a connection. The boys, being newbies, appeared a little more nervous and often looked to So Hyun—the "veteran"— to take the lead.
I had only seven minutes with the young stars, but they were prepared and eager to answer questions and share a few things about their thoughts on and experiences filming Love Alarm.
On whether they'd download the Love Alarm app if it existed in real life:
Jung Ga Ram says he would: "Confessing your feelings for someone is a difficult thing to do. But if you think about it, the app can help you deliver your true feelings so I think it's good."
So Hyun, meanwhile, would rather keep things real: "I wouldn't download it. Because when you are checking your app constantly, you might get too caught up in the application rather than expressing your feelings yourself. So I won't use it."
As for Song Gang, he'd rather not expose him feelings so readily with the app. "I also won't download it. I fear my feelings being exposed. So since the app will let my heart be known to everyone, I won't download it. I would be too embarrassed," he says.
On why they signed on to do Love Alarm:
Kim So Hyun shared that, as a longtime fan of the series, she was grateful to be offered the lead. "The character Jojo is quite pitiful and you feel sorry for her, but at the same time, she has a very firm and strong inner side. She's also loved by many in the story. So I really wanted to play this role."
As a fan of the webtoon and part of Team Hye-young, Jung Ga Ram was more than thrilled to be in the series and play Hye-young. He was also interested in the app angle of the story. "I was very active in discussing how I felt about Hye-young and expressed that I really wanted to play the role. As for why I was drawn to the story, there's a lot of romantic dramas, but here we have an [app]. That's not all, each character feels different things and has their own story," he reveals.
"I auditioned for the role," admits Song Gang, who beat out 900 models, K-pop idols, and rookie actors for the role of Sun-oh. "I think I was really drawn to how the story revolved around an [app]," he adds.
On what makes their Love Alarm characters different from any they've played before:
Song Gang says, "I've played pure and naïve roles in the past, but Sun-oh is chic on the outside but has a fragile inner side. So he's very different (from [characters] I've played in the past)."
For Kim So Hyun, the love triangle angle proved interesting. "Usually the romance tends to develop in one direction, but for this series—while she's not in a relationship with both of them at once—the romance takes place with both of them, so it's really complicated. I thought hard about how to portray both 'love-lines' and that was quite difficult," she explains.
Jung Ga Ram, on the other hand, was eager to take on a romantic lead role. He shares, "I played tougher roles in the past, such as a professional athlete. It was my first time shooting a romance genre series. Working with actors mostly my age was also a first, and it was a lot of fun. I think viewers can look forward to seeing a new side of me."
On their favorite part about working on Love Alarm:
Jung Ga Ram names his co-stars as the best part about working on the series: "As I just mentioned, working with a cast around my age was great. We talked a lot about our concerns and hung out and I enjoyed that a lot."
Song Gang agrees, "Working with actors my age for this series, I learned how to communicate. And this has made me enjoy acting even more." He continues, "I really liked being able to shoot really beautiful scenery [in the] fall."
"For me, because we were creating something that was based on an original webtoon series, there were scenes that were taken directly from the webtoon and some that were newly created. Understanding these factors and creating something new from that was really fun and intriguing," notes Kim So Hyun.
Love Alarm is currently streaming on Netflix.