There is something about watching an opening scene with beautiful imagery, uplifting background music, and optimistic narration that makes you melt in your seat as feelings flow in the innermost parts of your being. 
This is exactly what I felt while watching the pilot episode of Twenty Five, Twenty One, where 18-year-old fencer Na Hee Do (Kim Tae Ri) runs animatedly on the streets, basking in the light of her youth; and 22-year-old Baek Yi Jin (Nam Joo Hyuk) rides his bike in a new neighborhood, wind on his face, and a goal in his mind.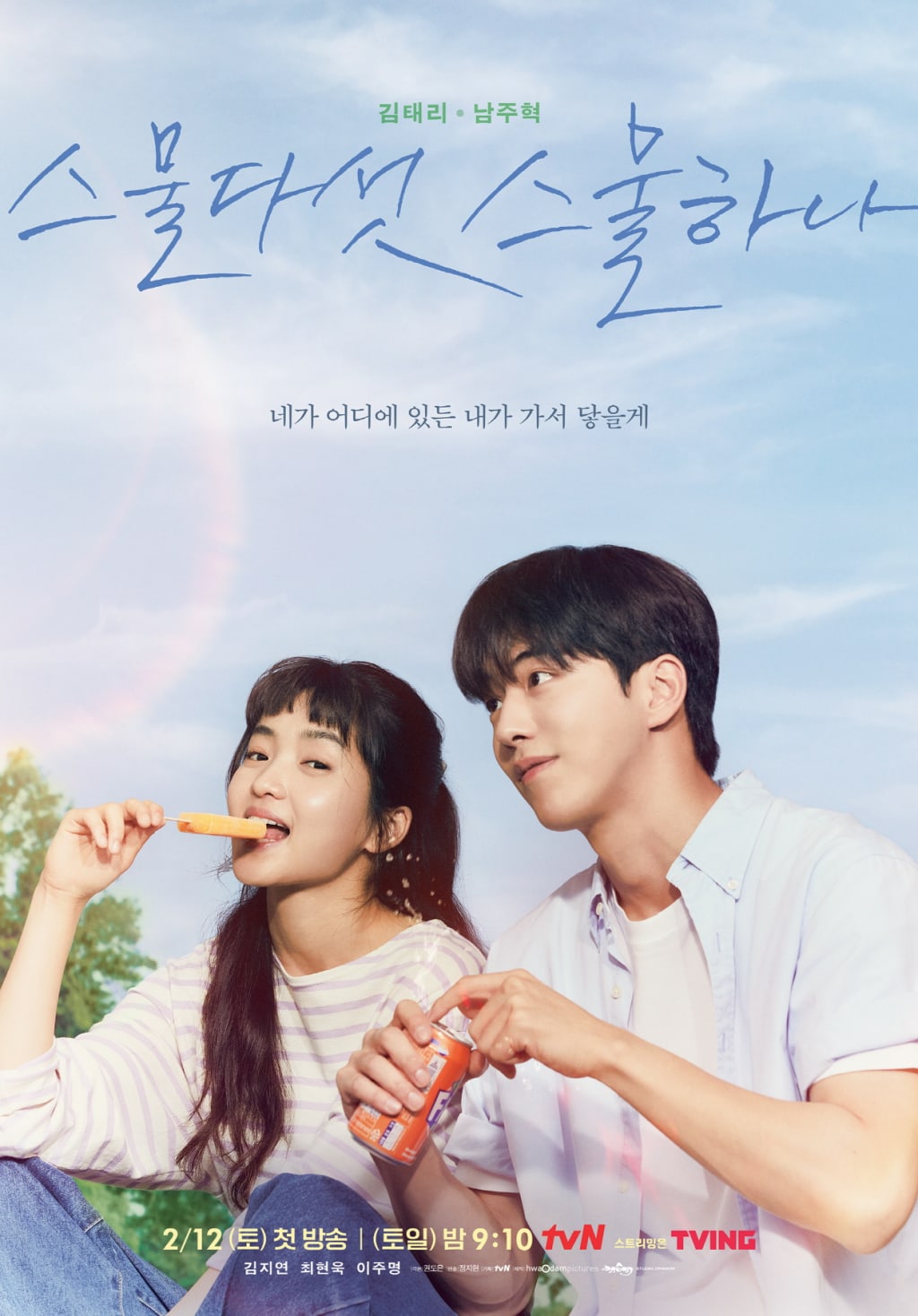 ADVERTISMENT - CONTINUE READING BELOW ↓
The refreshing introduction sent such a wonderful plethora of emotions that made me believe that the show will certainly top the list of wholesome dramas this 2022. I even remember expressing my *feels* on  Facebook and going on and on about how heartwarming it is, urging all of my friends to watch it.

At its heart, Twenty Five, Twenty One uses the power of nostalgia and friendship to appeal to different audience groups, from millennials to Gen Zs. I just love how the first episodes of the series made me want to pack my bags and begin my own trip down memory lane. But I should have slowed down and held onto my hat because what I thought was a smooth, easy ride on a warm, sunny day, turned out to be a roller coaster stuck in the middle of a loop, hanging upside down.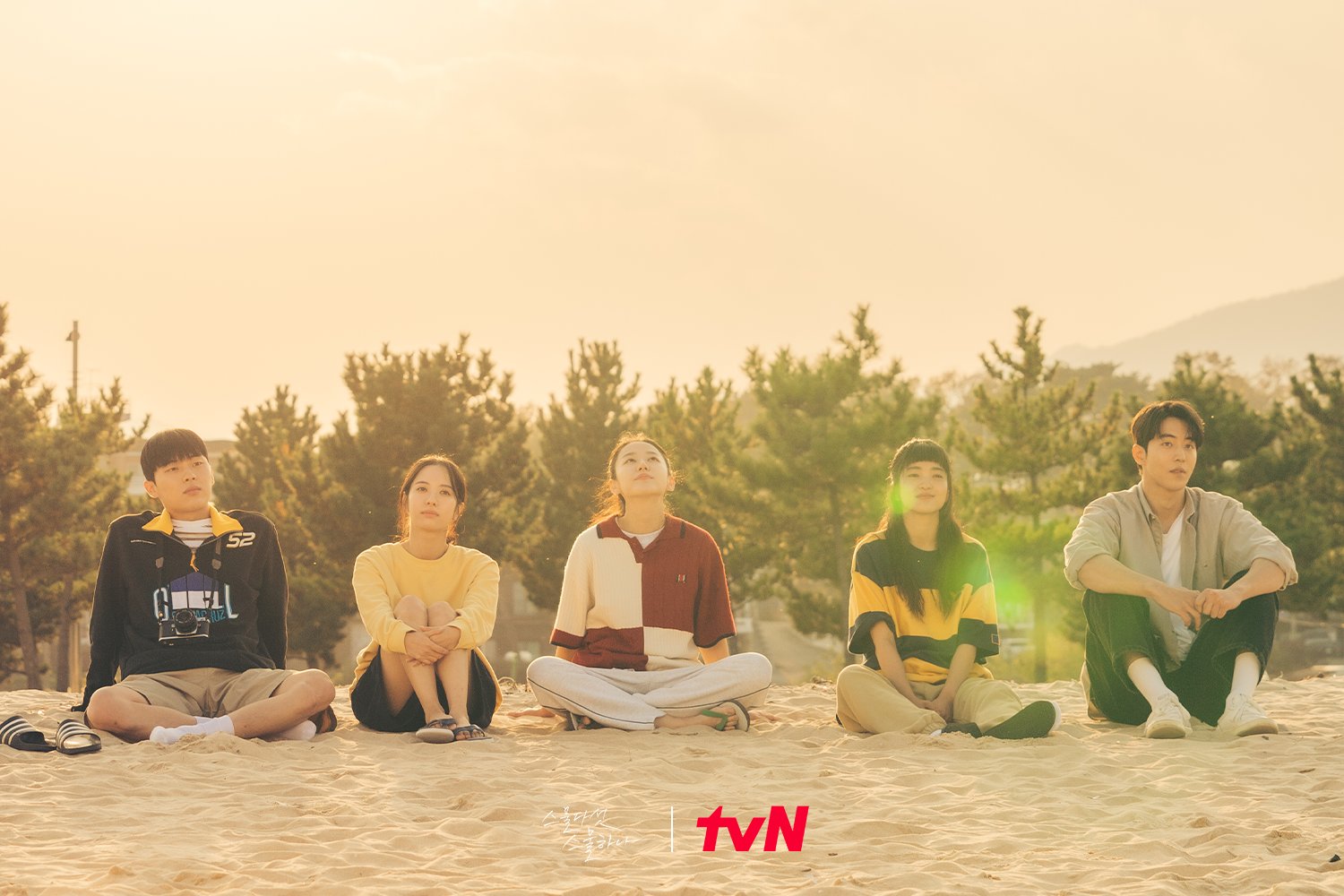 What is Twenty Five, Twenty One all about?
The show is introduced through the eyes of a young ballet performer, Kim Min Chae, who decides to quit ballet despite the support and encouragement from her mother, Na Hee Do. She retreats to her grandmother's home and finds her mom's diaries from the '90s. And so, another story from a different timeline unfolds.
Bold, unapologetic, and relentless—18-year-old Na Hee Do will do whatever it takes to advance in the fencing community and become gold medalist Go Yu Rim's (WJSN's Bona) rival. On her way up, she meets Baek Yi Jin whose life is spiraling down, going in the opposite direction. An unexpected, healing bond formed between them as they went through stages of personal discoveries through the years. 
Twenty Five Twenty One | Official Trailer | Netflix [ENG SUB]
The visually appealing cinematography paired with the addictive OST and of course, Nam Joo Hyuk himself, got me instantly hooked 15 minutes into the show. But I think what engaged me the most is how the series doesn't follow the usual romantic K-drama tropes that lean hard on the skinship and cheesy dialogues.
ADVERTISMENT - CONTINUE READING BELOW ↓
It's refreshing to watch a strange yet innocent relationship grow over the course of time, without any romantic expectations. Rather than surfaced attraction, it's the characters' appreciation and support for each other that drives their connection. As someone who grew accustomed to dramas pushing their leads together as early as episode one, I appreciate the new approach this show gave. It's the kind of story that feels natural, wholesome, and is surprisingly addictive—and I believe it's Twenty Five, Twenty One's greatest strength.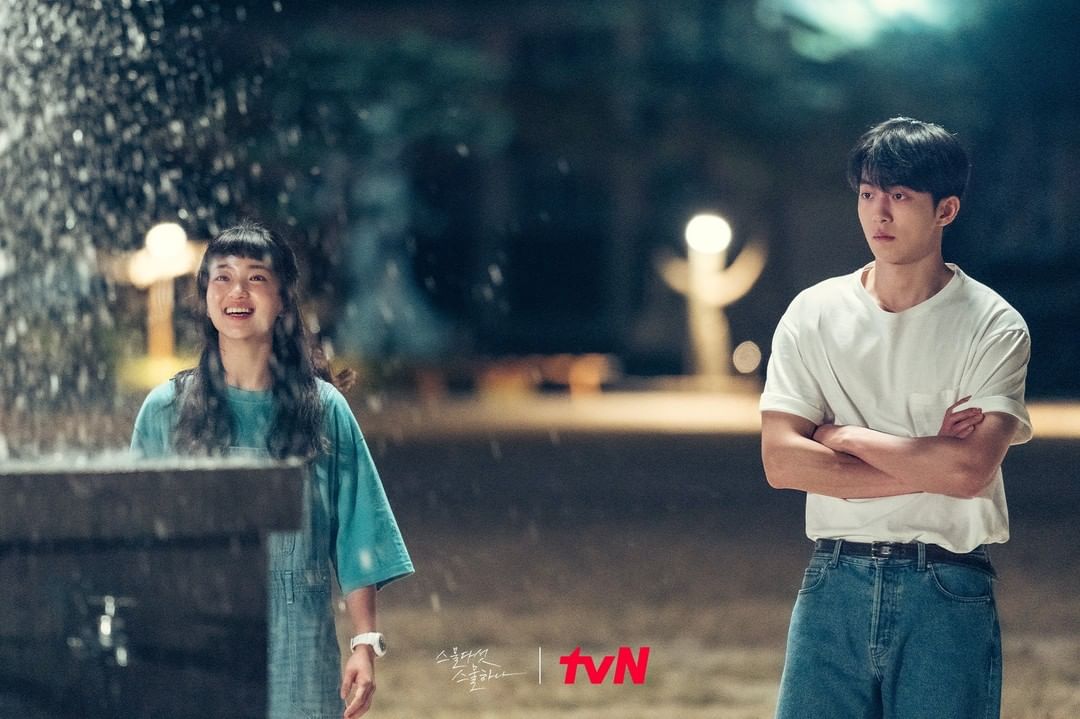 ADVERTISMENT - CONTINUE READING BELOW ↓
Aside from the well-written story, the compelling characters completed the brilliant ensemble. It was such a wonderful, bittersweet journey, meeting and watching the characters grow throughout the years. It's like watching your own children grow up, seeing them overcome hardships, and rooting for them to live and love without regrets.
The Twenty Five, Twenty One cast members
1. Kim Tae Ri as Na Hee Do
The character: As a fencing prodigy who lost her dad at a young age, Hee Do struggles to keep her title and eventually falls far off the fencing rankings. Growing up with underlying grief and a TV anchor mom who barely has time for her, fencing kept her going. Despite the discouragements from the people around her, she continues to fence with winning in mind. And with the help of an aspiring reporter, Baek Yi Jin, nothing—not even the times— can stop her.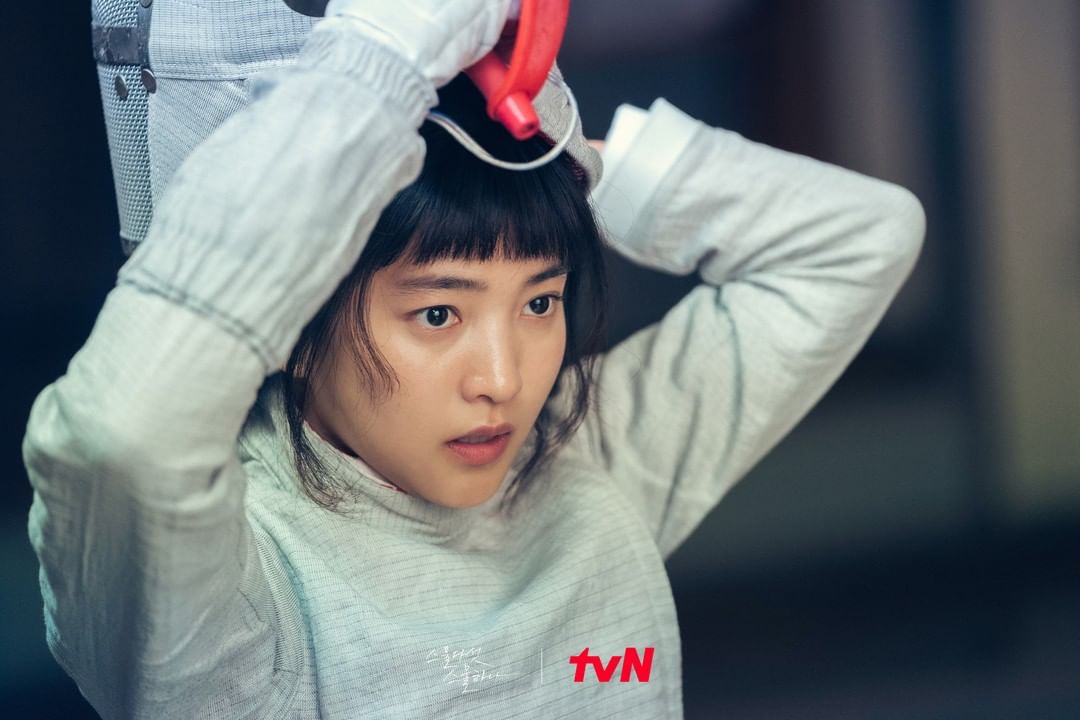 ADVERTISMENT - CONTINUE READING BELOW ↓
The actress: If I would be honest, I only knew Kim Tae Ri from her endearing role in Netflix's sci-fi film, Space Sweepers. But after watching her multifaceted performance in Twenty Five, Twenty One, I am determined to check her other works and add everything to my watchlist. I'll start with the 2016 box-office hit, The Handmaiden, where she bagged multiple awards. This further proves how brilliant of an actress Tae Ri is, and I'm excited to see more from her!
2. Nam Joo Hyuk as Baek Yi Jin
The character: At 22, Yi Jin is forced to enter the world of adults and face the aftermath of the IMF crisis brought upon his life—bankruptcy, divorced parents, and creditors chasing their family. What strikes me most about Yi Jin is how selfless he is. He goes beyond what's expected of him, walks the extra hundred miles, and wears himself out just for the people he loves. Despite everything, he learns to brave through the ups and downs of life with patience and a great perspective. And through Hee Do's support, he starts to dream big and hope again.
ADVERTISMENT - CONTINUE READING BELOW ↓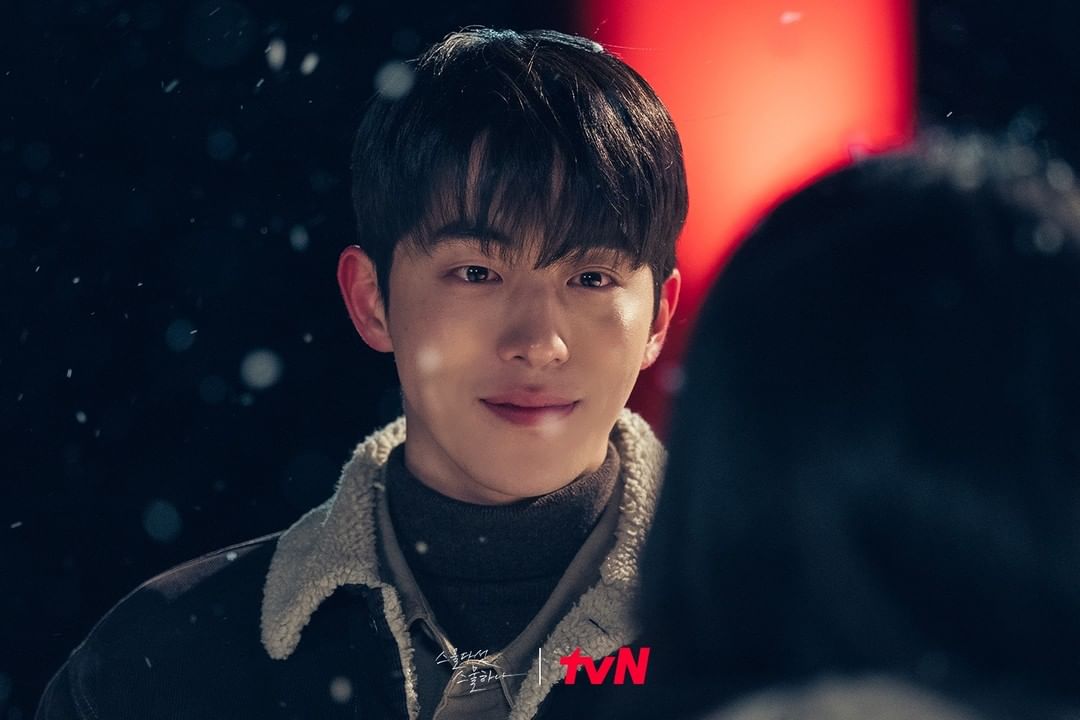 The actor: Every K-drama fan knows Nam Joo Hyuk from the popular rom-com, Weightlifting Fairy Kim Book Joo and buzzworthy drama, Start-Up. But before he entered the acting industry, Joo Hyuk was already making a name in the modeling scene. And it was only this year when I realized that he actually appeared in the music videos of my favorite songs from AKMU, "200%" and "Give Love"! This piece of information floored me, TBH. I can't believe I had overlooked it for years. This goes to show that Joo Hyuk is everywhere yet I still can't get enough of him. More, please!
ADVERTISMENT - CONTINUE READING BELOW ↓
3. WJSN's Bona as Go Yu Rim
The character: Yu Rim is introduced as a fencing star that everyone loves and Hee Do idolizes. As a fencer, she is confident and flawless. But behind the fencing mask is a fragile girl wounded by her family's misfortunes. This fencing sweetheart exudes a graceful and kind demeanor that it was a surprise to see her treat Hee Do with open resentment. Yu Rim's cold shoulder heightened the rivalry between the two but I never felt annoyed at her. In fact, all of it was a great build-up for an exciting lump-in-the-throat showdown! And an unexpected, heartwarming turn in the end.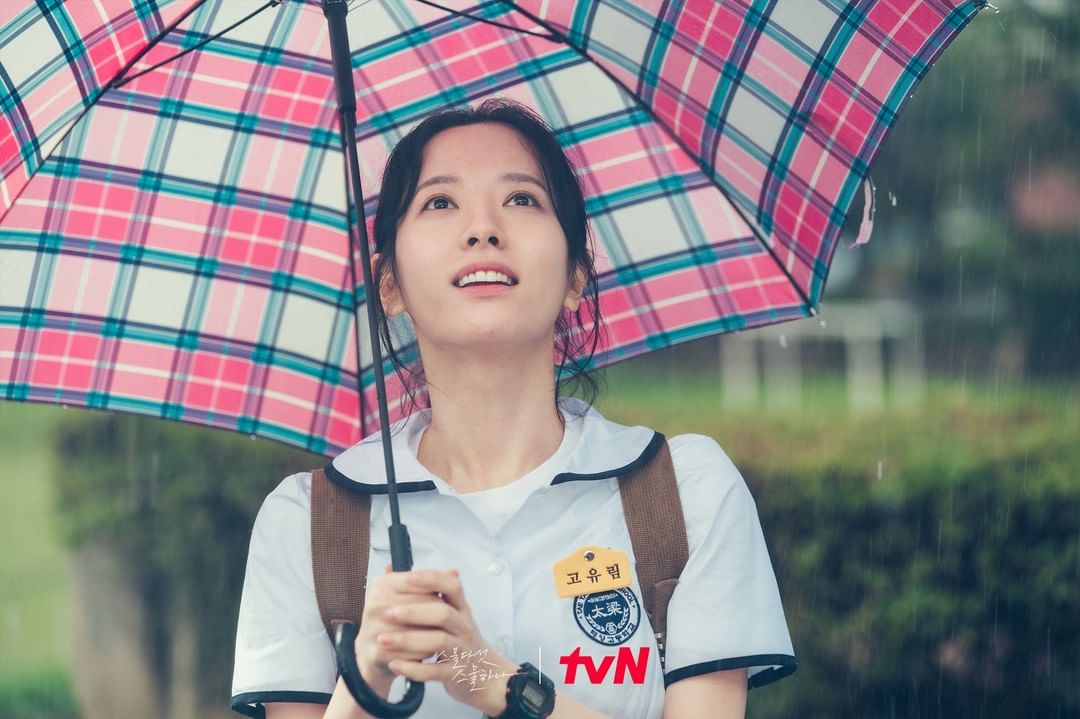 ADVERTISMENT - CONTINUE READING BELOW ↓
The actress: Kim Ji Yeon or better known as Bona, is an all-rounder for the K-pop group WJSN. She holds the lead dancer, rapper, vocalist, and visual position in the group. Talk about range! But hold your horses, because the list of impressive things about Bona doesn't stop there—she's also an award-winning actress. A jack of all trades, indeed! I just can't help but *fangirl* hard.
4. Choi Hyun Wook as Moon Ji Woong
The character: Dubbed the pretty boy from class three, Ji Woong is that character that strips away the melodrama vibe to lean on the humor at just the right times. A boy-next-door who also radiates a sweet kind of confidence, Ji Woong doesn't shy away from his attraction toward Yu Rim. He knows what he wants from the start and expresses himself unapologetically. As a friend, you can count on him to throw his charming antics to bring the sun into his friends' lives. Trust me, after watching this series, you'll want a friend like Ji Woong. There's never a dull moment with him!
ADVERTISMENT - CONTINUE READING BELOW ↓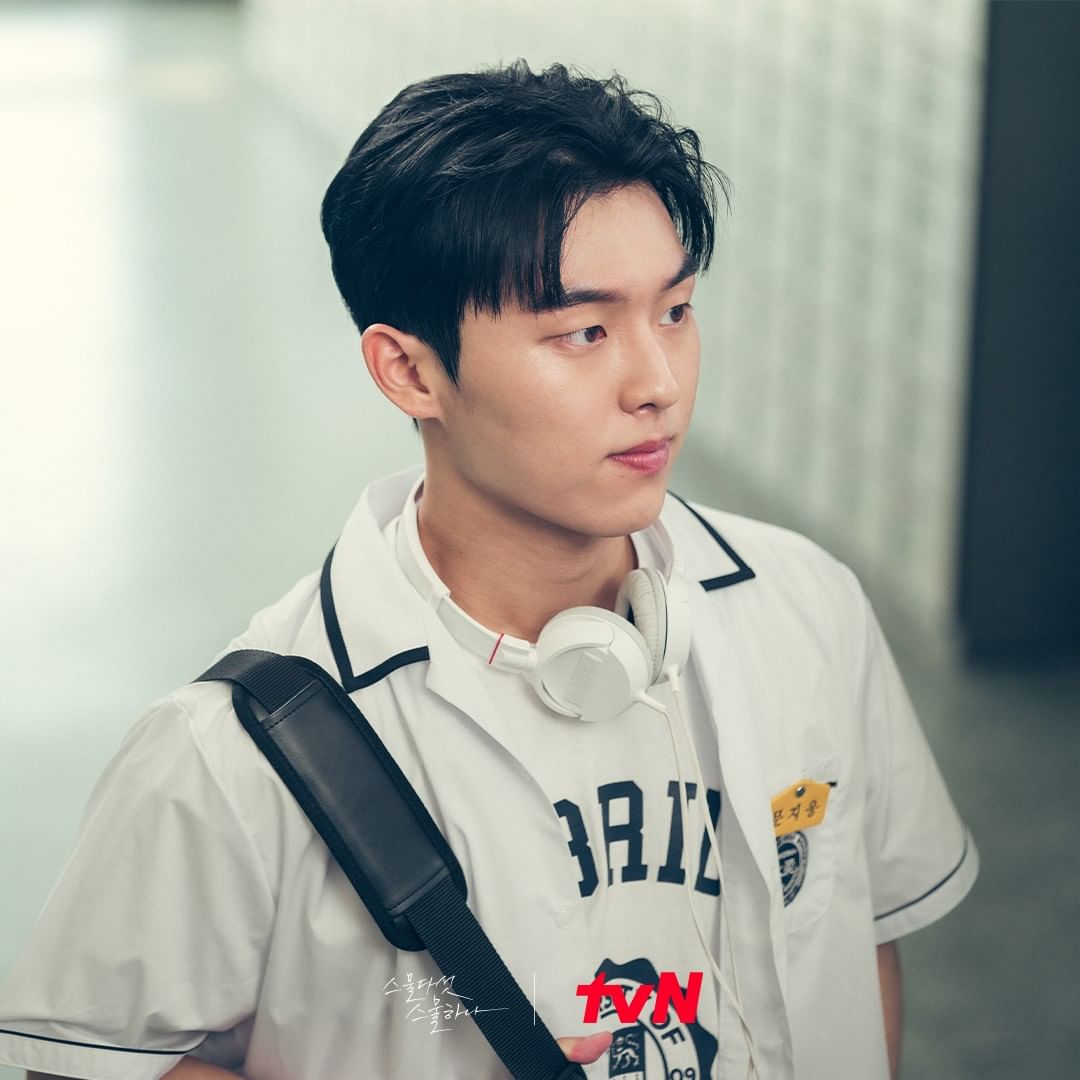 The actor: A fresh-faced star on his way to prominence, Choi Hyun Wook certainly made many hearts flutter because of his perfect portrayal of Moon Ji Woong. In fact, the rising actor has so much in common with the character he played that even the director said "This is Ji Woong" right after he auditioned!  For instance, they are both fashion-savvy high schoolers who share the same goofy personalities. Cute, right?
ADVERTISMENT - CONTINUE READING BELOW ↓
5. Lee Joo Myung as Ji Seung Wan
The character: One can not mention Ji Woong without Ji Seung Wan. As diaper besties (friends since childhood), they come as a package deal. But Seung Wan is more than just Ji Woong's friend. On her own, she is a reliable top student who will never turn a blind eye to injustices. She is intelligent, confident, and brave enough to call the shots. She brings that solo heroine vibe that I can see this character totally pulling off her own badass lead story.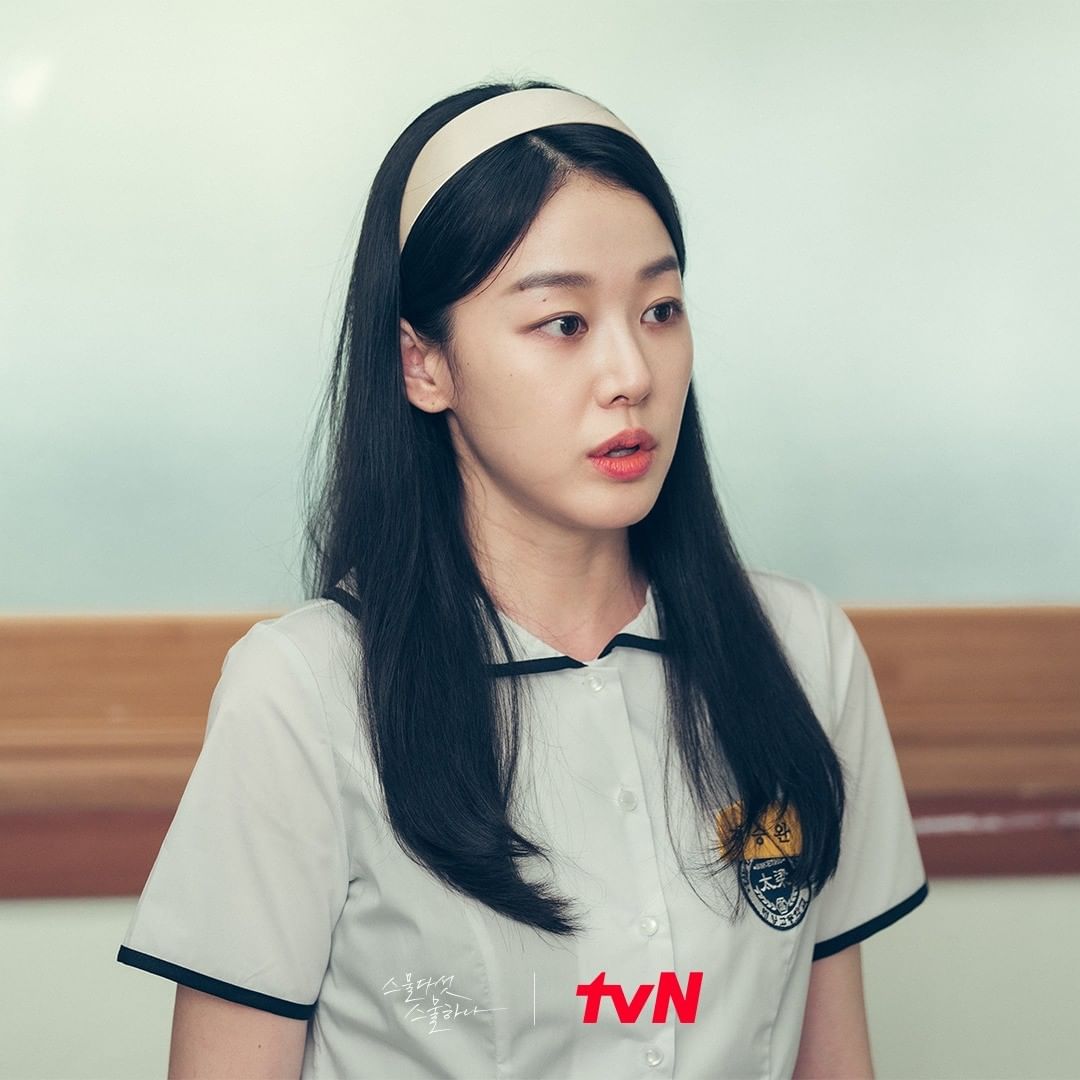 ADVERTISMENT - CONTINUE READING BELOW ↓
The actress: Without a doubt, I know I've fallen for Lee Joo Myung. I couldn't help it—she exudes that sophisticated girl crush aura that even different cosmetic brands love. She has modeled for a number of well-known labels from South Korea and has appeared in Yang Da Il's "Don't Leave" music video. Just like her Twenty Five, Twenty One co-stars, Joo Myung doesn't fall short when it comes to acting skills. She was once nominated as the Best New Actress for her role in Kairos at the 2020 MBC Awards. Joo Myung might have just entered the scene, but with her charm and impressive work, I just know that we'll get to see her in another buzzworthy project soon!
Why Twenty Five, Twenty One deserves a spot on your watchlist
A brilliant story told in two different timelines
What intrigued me at first is how the drama connected two timelines (1998 and 2021) through a common conflict—the IMF crisis and the COVID-19 pandemic. The show perfectly catches the parallels between the two and brings viewers from different generations to a realistic connection. It's genius, and I have to blink my eyes and give mad props to writer Kwon Do Eun for coming up with a story that snatched my wig.
ADVERTISMENT - CONTINUE READING BELOW ↓
Speaking of parallels, it's also worth mentioning how the drama shows two different mother and daughter relationships: Between Hee Do and her mom, and Hee Do with Min Chae. I love how Hee Do, as a mom, recognizes her mother's shortcomings before and strives to not let her daughter experience the same issues she encountered in the past. It's wholesome, healing, and gives us a beautiful familial wrap-up.
Kim Minchae comforting her mom (Na Heedo) | Twenty Five Twenty One Ep 13
You're up for an unexpected roller coaster of emotions
In the second half of the drama, feelings of anxiety have gnawed my insides. The thought that the ending may not roll out the way I want it stayed with me. It was quite an emotional torture, waiting for the answers to unfold and feeling your heart float, sink, and eventually fly out of the room. And I have to give it to the production team for presenting such an impressive and nail-biting set-up. It was a great way to build suspense and have the audience guessing right up until the last episode.
ADVERTISMENT - CONTINUE READING BELOW ↓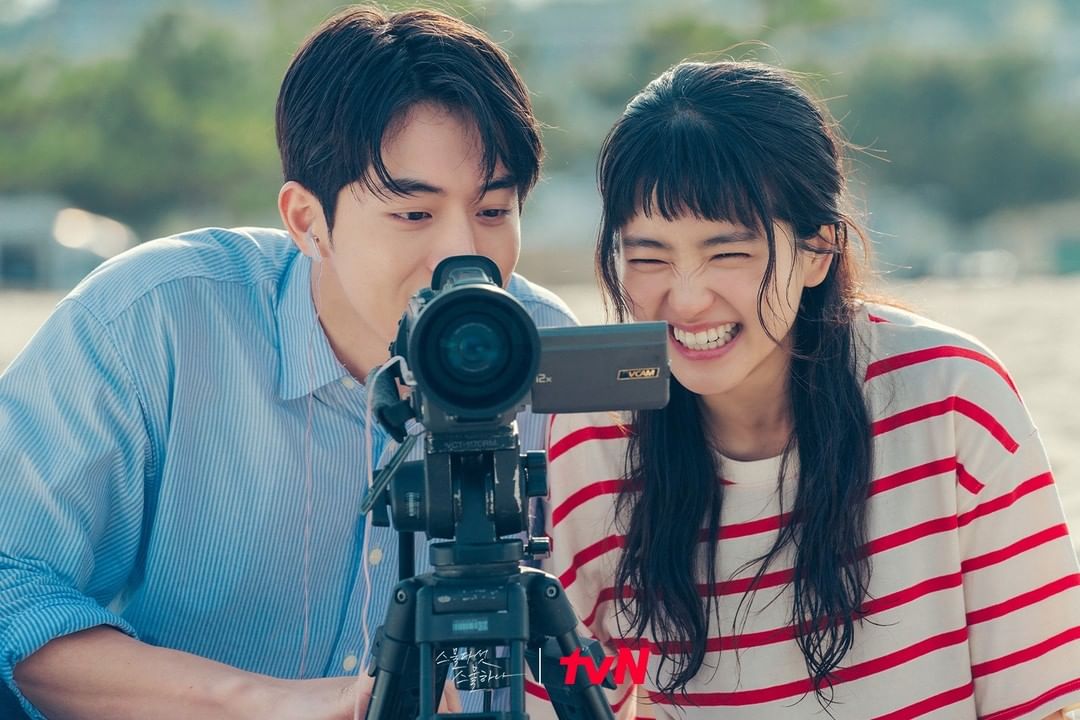 There's a K-drama squad to root for
What makes a good K-drama unforgettable? Bring in a vibrant squad that will make your heart well up with laughter and tears, and overall will make you want to contact your own group of friends and just hug them. Twenty Five, Twenty One did an awesome job portraying different individuals and how they all fit together perfectly, like pieces of a whole puzzle. The actors' chemistry as a group is just *chef's kiss*. They absolutely nailed the idea of an endearing squad to perfection.
ADVERTISMENT - CONTINUE READING BELOW ↓
Taeyang Squad saw me laugh, weep, and grip my chest all throughout the show's run-time. They will make you reminisce the uncomplicated days of your youth with your childhood and teenage friends. And how at some point, you spent a moment with them without realizing that it was your last time together. This drama has a certain way of making heartache feel sweet in the midst of nostalgia. And that's something only a few K-dramas have managed before.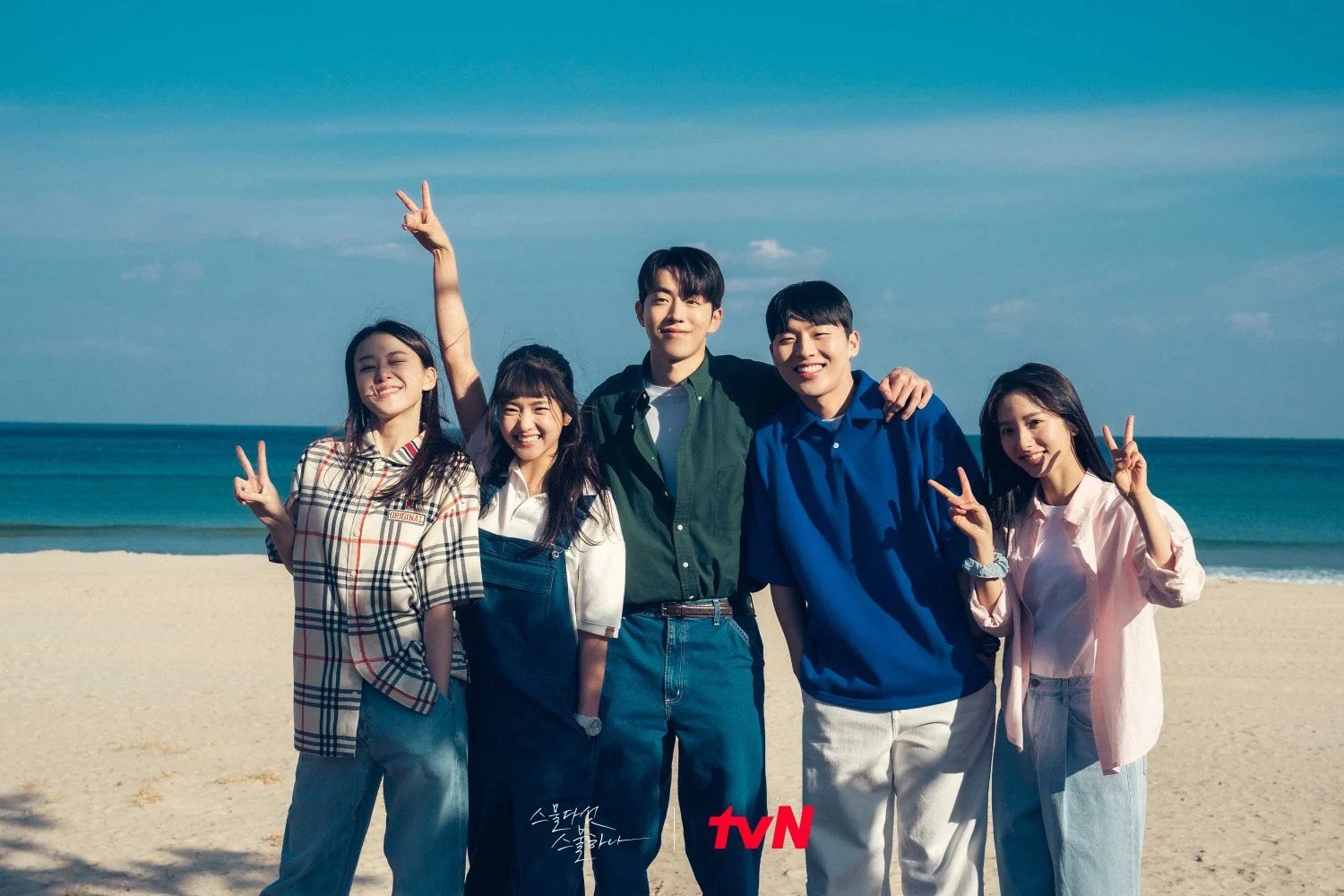 ADVERTISMENT - CONTINUE READING BELOW ↓
The takeaways about life, dreams, and love
This drama showed me life through different eyes.
In the eyes of Hee Do, I saw how dreams can keep a person going. And it's having a heart that continues to be hopeful that will ultimately make you win in the end.
Yi Jin, on the other hand, taught me that not living your dream doesn't mean that you've failed at life. And living your dream doesn't mean you've succeeded either. Sometimes, just being able to survive for one more day is enough. And maybe in between, you'll find people and moments worth living for.
At its core, Twenty Five, Twenty One juggled many themes—sports, career, friendship, family, and the beauty of first love. It will take you to the highs, lows, the strange, and beautiful moments that form a patchwork of different memories. An overall reflection of how life consists of brief moments that slowly flow away with time. A bittersweet, poignant drama that will make you ache in the most beautiful way.
ADVERTISMENT - CONTINUE READING BELOW ↓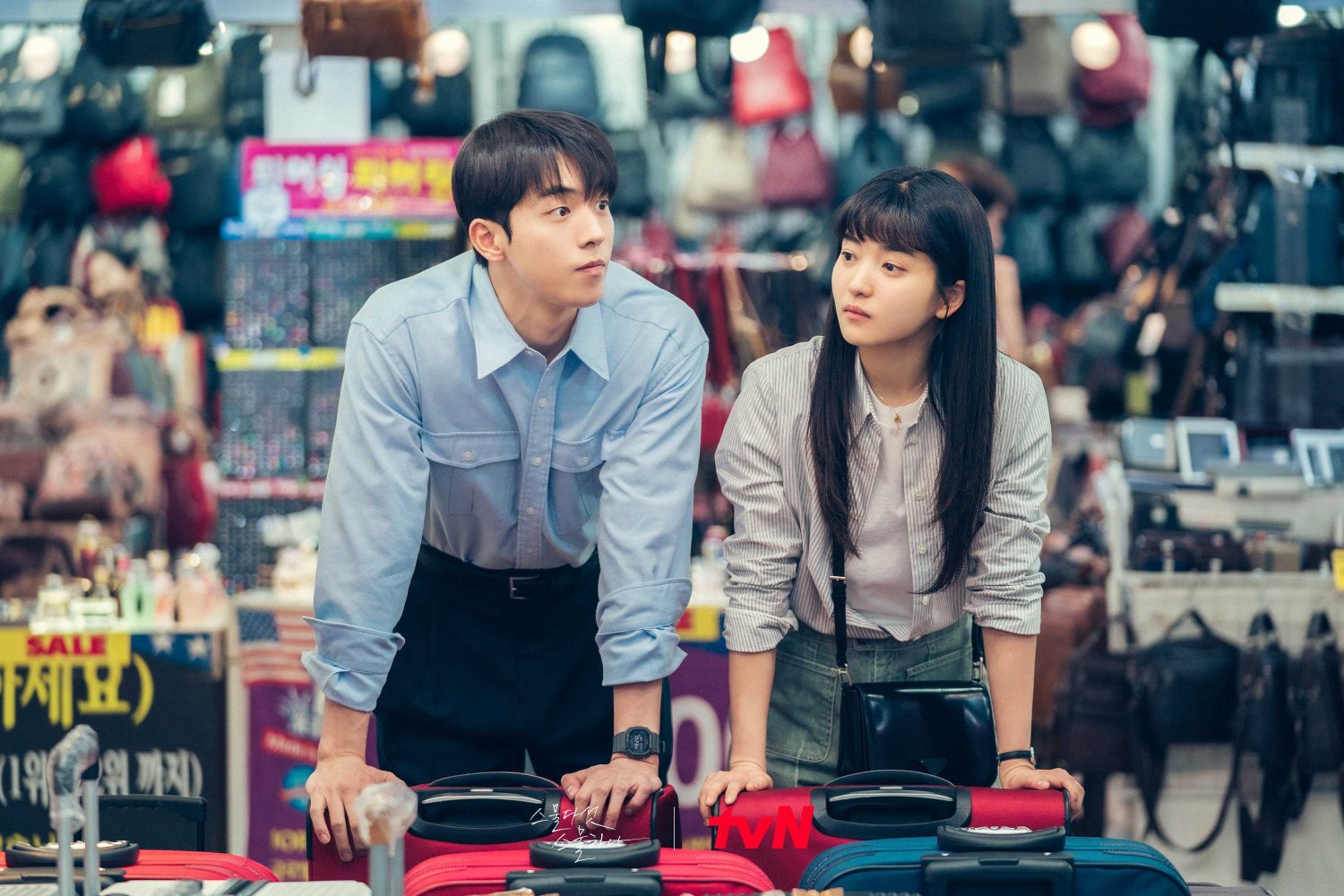 Twenty Five, Twenty One can bring the deepest of heartaches, but it will also give you the most beautiful realizations. It will make you hug your loved ones tighter, hold on to passing moments longer, and ultimately teach you to love without regrets. The drama taught me that there are moments in life that we think would last forever, but they won't. And it's okay. At least it happened. At least in our memories, it's still alive, real, and breathing. 
ADVERTISMENT - CONTINUE READING BELOW ↓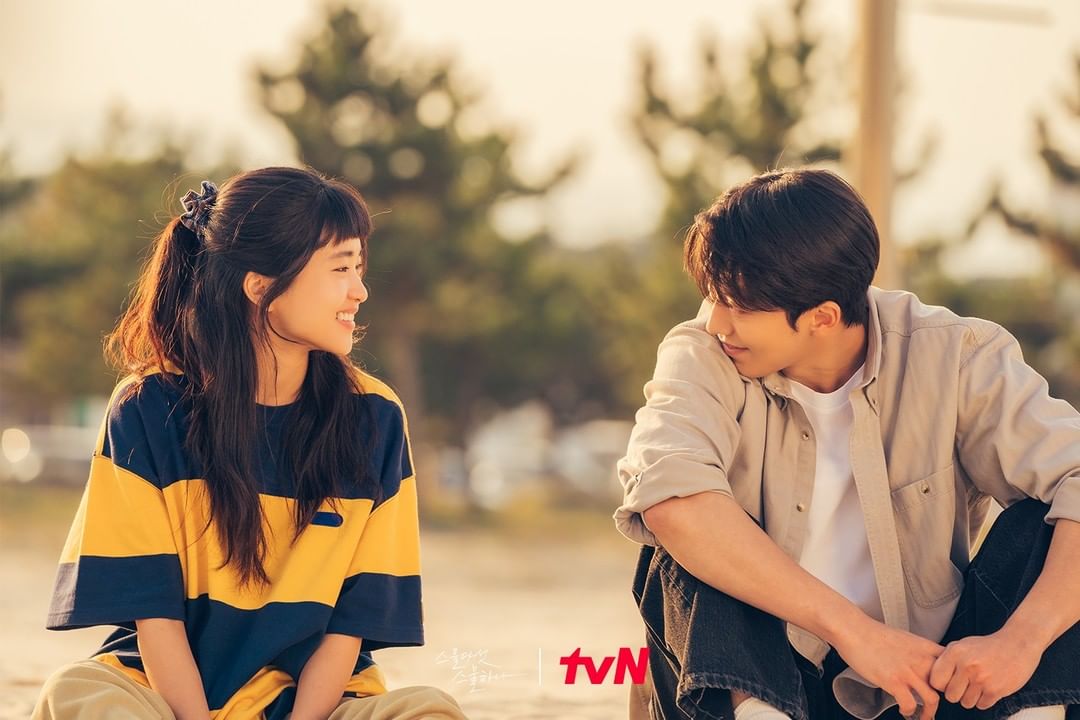 MORE K-DRAMA REVIEWS RIGHT HERE:
'Vincenzo' Is Probably The Best K-Drama I've Ever Seen, Here Are All My *Feelings*
'Our Beloved Summer' Is A Sweet Reminder That Nothing Is More Important Than The People You Love
Trust Us, 'All Of Us Are Dead' Is The *Must-Watch* Zombie K-Drama You Shouldn't Miss
ADVERTISMENT - CONTINUE READING BELOW ↓